Searching for the best wallet to stake your cryptocurrency? Choosing the best staking wallet to stake your cryptocurrency and generate passive income is challenging because there are so many cryptocurrency wallets on the market.
Satoshi Nakamoto introduced proof of work, the world's first and popular consensus algorithm for blockchain development. In proof of work, a network of computers solves a puzzle known as a cryptographic hash function for the generation of a new block. In this whole process, thousands of computer work to find out a solution which required a huge electricity consumption as well. Proof of work also suffers from security issues for example 51% attack.
Proof of Stake (PoS)
Proof of stake algorithm was developed to overcome the issues of Proof of work. Instead of the requirement of investment into mining hardware and electricity consumption, in PoS participants make invest in the token itself. Proof of stake is highly energy-efficient because it eliminates the high-powered computing requirements from the consensus algorithm. Due to the efficiency and advantages to PoS over PoW, Ethereum announced "Ethereum 2.0", the migration from PoW to PoS.
Recommended Article: List of Crypto Exchanges Support Easy Staking of PoS Coins
Staking Wallets | Best Wallet To Stake Crypto
Looking for the best wallet to stake your crypto? There are many cryptocurrency wallets are available in the market that makes it difficult to choose the best staking wallet for you to earn passive income through staking your crypto. Here is the list that is prepared to give you an idea about the same.
The field of cryptocurrency is a war and everyone wants to win this battle. Tools like cryptocurrency wallets are adding more and more functionality like builtin exchange, staking, etc. to attract more audiences to use it. We are listing secure, trusted, easy to use, and popular staking wallets supporting the "one-click" staking mechanism so that users can earn extra while storing them.
Atomic Wallet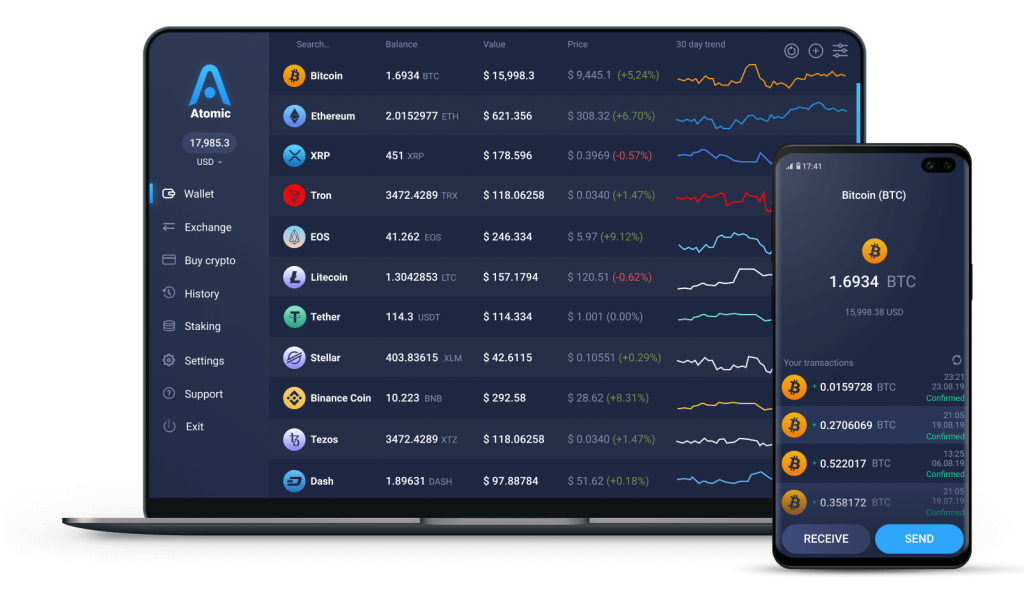 Atomic wallet is one of the most secured, decentralized, and anonymous multi-cryptocurrency wallets where users can store multiple coins and tokens. It allows users to buy cryptocurrency in USR, Euro, and local currency as well. Atomic wallet is currently available for desktop and mobile platforms including Windows, macOS, Ubuntu, Debian Fedora, Android, and iOS. Users can delegate their crypto assets to validators to earn staking rewards with no fee. Atomic wallet is equipped with builtin exchange to swap cryptocurrency. Get Atomic Wallet
Binance Exchange Wallet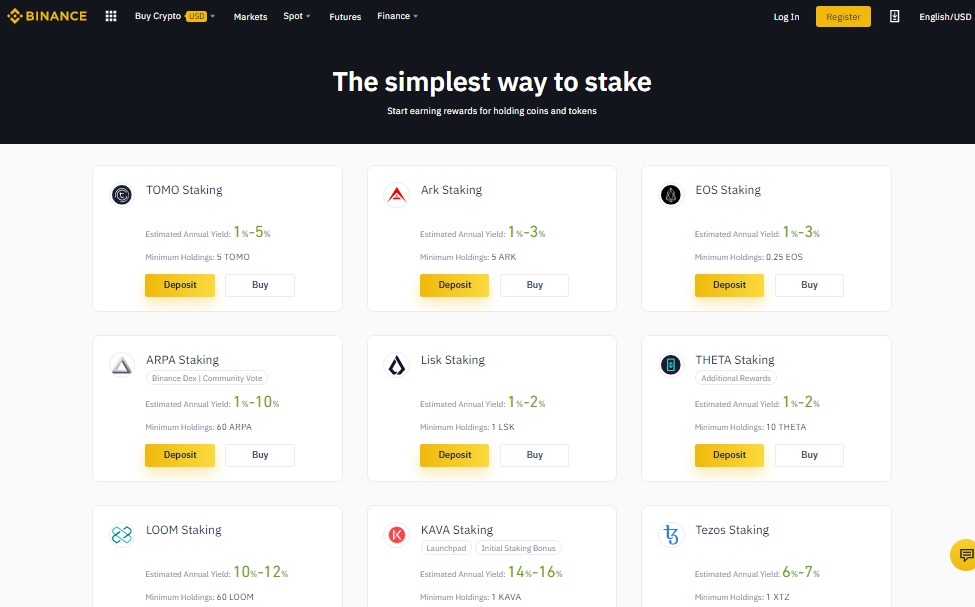 Binance is the largest cryptocurrency exchange that has launched many cryptocurrency products including, Binance Dex, Biance saving, Binance Launchpad, Binance Staking, and many more. Binance staking platforms allow users to stake a few popular cryptocurrencies and earn regular passive income. Since Binance is an exchange platform it allows users to trade cryptocurrency against the staking coin balance and the balance and rewards will be adjusted accordingly. Though it is a little risky to store huge funds in online exchange storage but users can make it secure using the activation of 2factor authentication by Google authenticator. Join Binance For Staking!!!
Guarda Wallet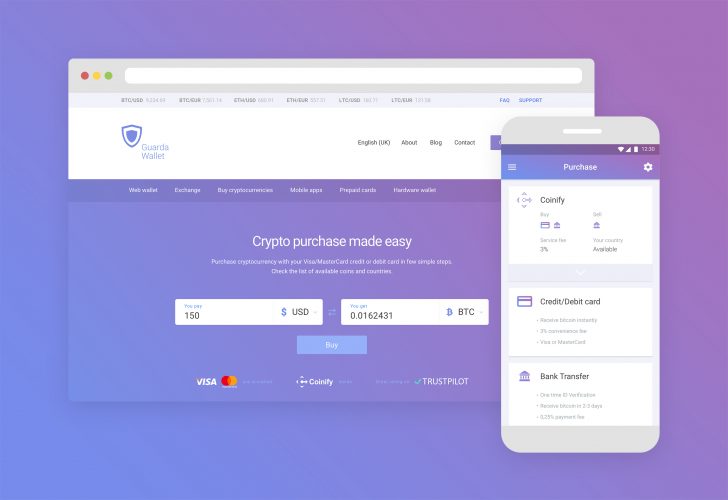 Guarda is an easy to use, secure, multicurrency wallet that supports more than 100 crypto assets. It is a non-custodial, multi-signature wallet available for web, desktop, chrome browser (extension), and mobile platform. Guarda wallet allows users to have complete control over their private keys while the multi-signature feature allows more than one users to sign transactions. Guarda wallet supports staking for PoS coins so that users can earn while holding them. IT is also equipped with features like buy, and exchange cryptocurrency within the wallet. Get Guarda Wallet
AirGap Wallet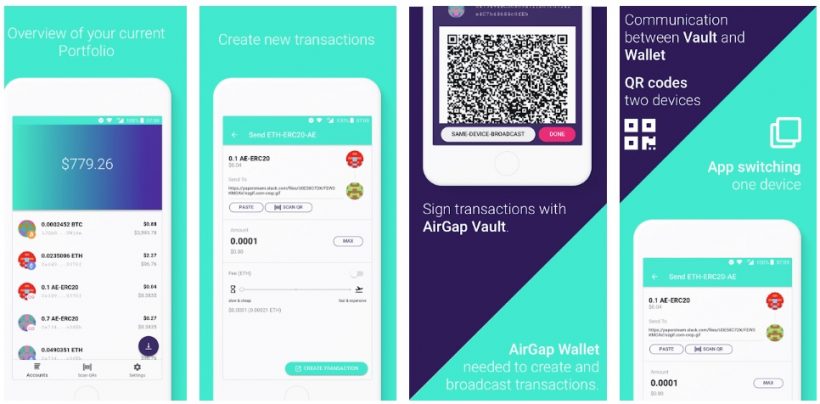 Airgap wallet is a secure multi-currency wallet which is an alternative to hardware wallet. It allows users to use their smartphone to act as your hardware wallet. We have a separate AirGap (review) article on how you can use it as a hardware wallet and other features of the wallet in detail. As of now, the AirGap wallet supports Bitcoin, Ethereum, Cosmos, Tezos, Aeternity, Groestlcoin, and ERC20 tokens. AirGap wallet is also equipped with an exchange so that users can exchange coins within the wallet. 
Airgap wallet also support baking and delegation service for Tezos (XTZ). It supports tezosAirGap baker as a validator or Tezos PoS algorithm. Users holding XTZ can delegate to tezosAirGap to earn the PoS validation rewards. Visit AirGap Website
Ledger Hardware Wallet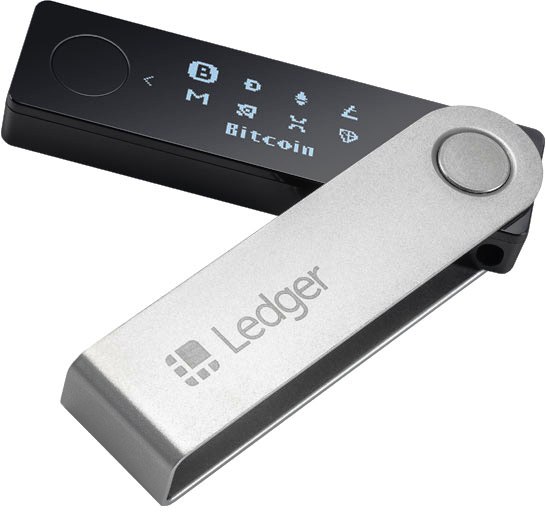 Ledger Nano S/X is the most popular and secure hardware wallet. It allows users to store multiple coins and currently supports more than 10 coins for staking. Ledger app is available for desktop and mobile devices which allow users to earn passive income through staking rewards. Beginners may find it little complected, as ledger live app is only compatible with Tezos staking while for other coins users need the support of third-party apps. Get Your Ledger Device Now!!!
Trust Wallet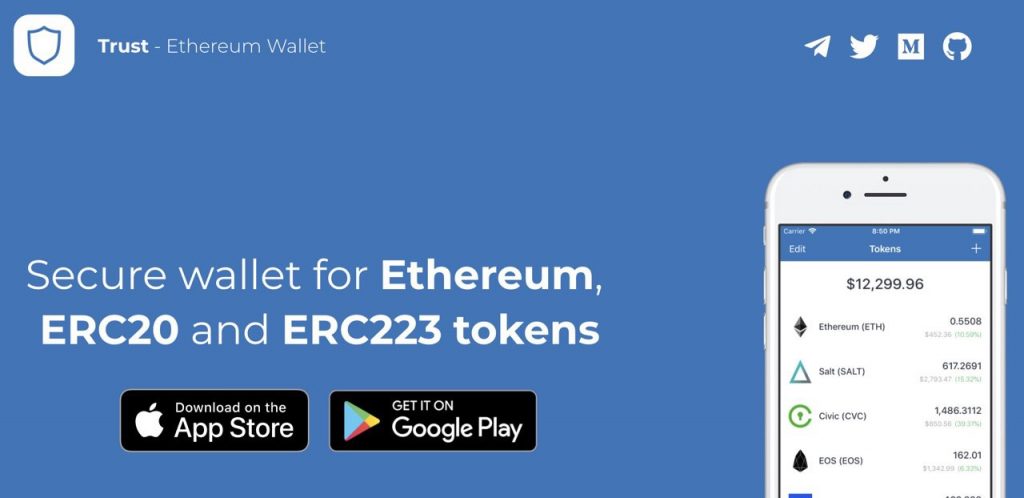 Trust wallet is a popular, trusted, and safe cryptocurrency wallet. Backed by Binance, the wallet supports multiple cryptocurrencies and available for mobile platforms only. Trust wallet supports Staking of multiple coins including Tezos (XTX), Cosmos (ATOM), VeChain (VET), TRON (TRX), IoTeX (IOTX), and Algorand (ALGO), Callisto (CLO), and TomoChain (TOMO). Trust wallet also equipped with builtin exchange so that users can exchange cryptos within the wallet itself.
Here is a comparison between the Atomic wallet and Trust wallet to check which one is a better one. 
Huobi Wallet
Backed by the Huobi group, the Huobi wallet is a multi-crypto wallet that supports multiple coins and tokens. It has a simple and easy to use interface and the wallet has also partnered with Changelly so that users can exchange cryptocurrency within the wallet. Huobi Wallet is available for Android and iOs platforms only. IT support staking as well and available skating options are ATOM, ONT, IOST, TORN, Cardano (ADA) IRIS, IoTeX, and LOOM.
StakeBox
Using StakeBoxis the more efficient way to stake cryptocurrency and earn reward. Stakebox is an efficient less energy-consuming device so that you can use it 24×7 while earning your PoS coins. They have partnered with QTUM, Pinkcoin, Whitecoin, Denarius, Reddcoin, CloakCoin, and Neblio so that users can get their customized branded kit for staking coins. Currently, there are more than 15+ Stakebox available for different altcoins. The disadvantage of Stakeox is that in case users want to skate with multiple cryptocurrencies then they should have to get multiple devices customized for each coin. Get your StakeBox Now
Magnum Wallet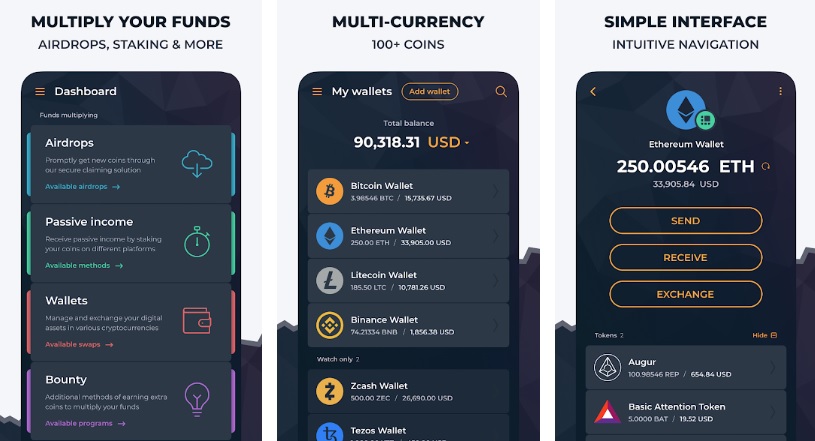 Magnum wallet is a decentralized, multicurrency wallet available for mobile platforms. The wallet is equipped with instant exchange so that users can exchange their coins within the wallet. Magnum wallet offers time to time multiple airdrops to benefit their users. As of now, it supports more than 40 coins and 2000+ tokens. 
Magnum wallet also supports DPoS (delegated proof of stake) so that users can earn extra by storing their coins. As of now, it is supporting only Tezos (XTZ) for staking. 
Conclusion
PoS is a fantastic technique to grow your cryptocurrency holdings without needing to purchase additional tokens. However, you must be aware of the best methods and best staking wallets to use if you want to increase your bonus earnings. Therefore, before choosing a wallet to stake crrypto, make sure it is safe, affordable (particularly for hardware wallets), and has the functionality you require to get the most benefit from crypto stacking.