In the past, few years cryptocurrencies have made their place in the world's economy. As cryptos are gaining more and more popularity and adoption is also increasing significantly, there is always a risk of stolen of your funds. The best way to secure your crypto funds is to use a hardware wallet (also called cold storage) where private keys are encrypted and stored on the device.
The problem with the hardware wallet is the high cost which may range from $50 to $200. It is also not feasible for users having a small crypto fund to purchase a hardware wallet for a tiny investment. In this Airgap wallet review, we will discuss how it can be an alternative to hardware wallets.
AirGap is a solution for you if you are looking for an alternative to a hardware wallet. With the AirGap wallet, you can achieve the same high level of security as a hardware wallet with your mobile phone devices. Let's find out how AirGap works to achieve this high level of security.
AirGap Wallet Review: What is AirGap?
AirGap is a crypto wallet with a two-way approach that can be used both as an offline device as well as a hardware wallet for your old smartphone. AirGap currently supports multiple cryptocurrencies like Ethereum, Bitcoin, and ӕternity ERC20 token coins.
The two-way approach of AirGap
AirGap allows you to go completely offline without being connected to the internet through the AirGap Vault App. You can also use the regular AirGap Wallet in your mobile device for storing crypto coins.
1) AirGap Vault
You can download and install the AirGap Vault App for your regular smartphone. It is offline and does not require any network connection and thus is air-gapped. Unlike a hardware wallet which is connected through a USB port, the AirGap Vault does not store any of your private keys or sign-in transaction records and is completely safe. The AirGap Vault can be downloaded safely into your Android or iOS phones.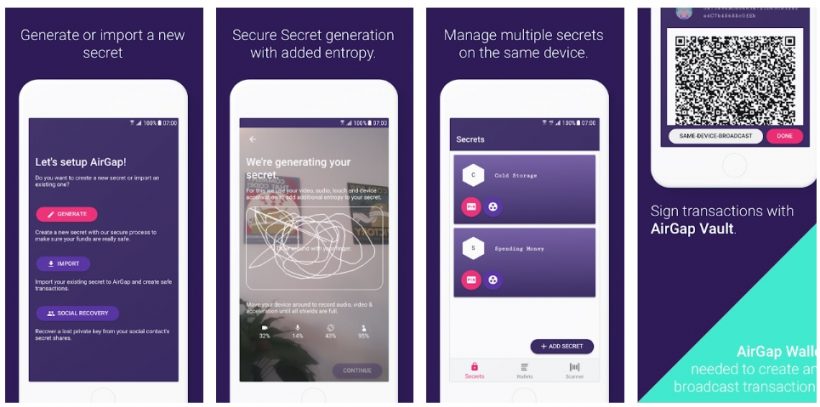 Key Features:
You can sign offline to your device.
All your confidential data, passcodes, and private keys are stored offline.
The AirGap desktop browser extension can be used alongside the AirGap Vault App. You can now securely do transactions offline from your desktop browser through the AirGap Vault.
Easy transactions through QR codes.
2) AirGap Wallet
AirGap Wallet can be downloaded securely into your Android or iOS phones. You can also download the AirGap wallet browser extension from the chrome web store. Unlike the AirGap Vault, AirGap Wallet uses internet connection. The wallet does not have any access to your private keys and information. All your public data is stored securely in the blockchain. The private keys are stored in the AirGap Vault.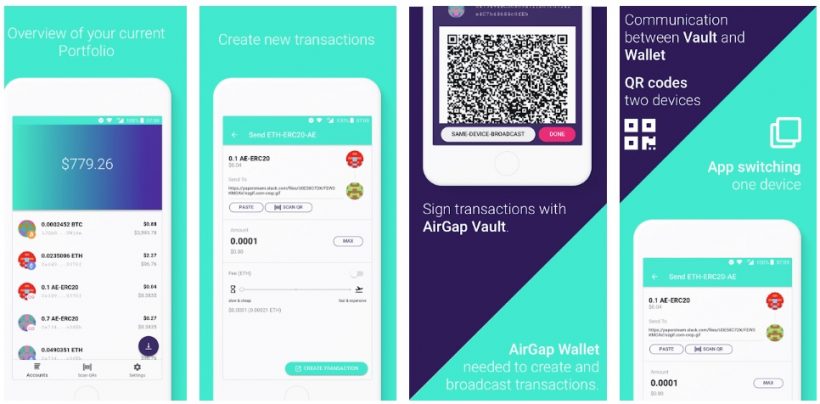 Key Features:
The wallet supports multiple crypto coins like Tezos, Bitcoin, Ethereum, ӕternity Minerva, and ӕternity ERC20 coins.
Offers easy exchange platform where you can directly swap coins or transfer funds through the app.
The tezosAirGap baker validates Tezos coins. You can now earn rewards by validating XTZ directly through the wallet.
View your portfolio and your latest transactions and funds through the easy interface of the wallet.
Create and broadcast secure transactions through the wallet.
Communication between AirGap Vault and AirGap Wallet
Both the AirGap Vault and Wallet can be installed on the same device. The intercommunication between AirGap Vault and Wallet is done through QR codes. It is one-way traffic which means all your private keys and data are stored securely on your phone. The App switching between Vault and Wallet is done through an URL scheme. The sandbox operating system ensures that no private or confidential information is shared in the network.
To achieve the highest security you can install AirGap Vault on a separate smartphone, and making this phone offline that means never connecting it with any network.

Key Features of AirGap:
It supports multiple currencies like Bitcoin, Ethereum, and Tezos coins.
Exchange: Airgap wallet is equipped with a built-in exchange where users can swap XTZ, ETH, BTC and other supported coins seamlessly.
Delegation & Baking: You can bake XTZ with Airgap wallet with a direct delegation of XTZ to baker tezosAirGap a validator for PoS Tezos protocol.
Browser Extension: To ensure security AirGap offers a Browser extension offering secure interactions with protocols directly and signing transactions within the offline smartphone in AirGap Vault.
All your private keys and passcodes are generated and stored on your device that only you have access to and not even AirGap can infiltrate your data.
Important Links: