Earn Free Bitcoin | Get Free Crypto Without Investment
There are many free ways to earn cryptocurrencies in the decentralized market. There are several affiliate programs, airdrops, or just by holding crypto coins in your wallet can help you earn indirectly without buying any token in actuality. There are multiple ways to earn free cryptocurrency without investment but they pay users into different Tokens (cryptocurrency) and you can either withdraw or exchange (to Bitcoin or any Altcoin) them and convert them into fiat currency such as USD through exchanges.
We have a telegram group where we share only authentic news related to:
Promising ICOs with bounties
Authentic and real airdrops
Interesting articles
Join is on Telegram channel and be informed about real and authentic opportunity to earn free cryptocurrencies:
Earn Free Cryptocurrency (Bitcoin) With Zero Investment:
Let us look into the 8 major ways to earn free cryptocurrencies without actually investing or buying any token.
Participate in Affiliate Programs
Most of the crypto exchanges offer affiliate or referral programs. Most popular are the Bitcoin affiliate programs. All you need to do is join a Bitcoin affiliate program and promote their services. The platform will provide you with a referral link which you can share with your friends, family, and social media or else can also share in your personal website. You can also run your own ad campaign. You get a commission for each signup your friend makes or for the transactions they do.
If your friend again refers to the link to others and get paid in return, you also get a passive commission. This is called Tiered Referral System and helps you to build a trading network. There are numerous referral programs, Coinbase, Genesis Mining, and Codex are notable ones.
For example, you can refer user to create a Coinbase Wallet for their cryptocurrency and get a reward amount of $10.
Start Browsing on Brave Browser (Free BAT Tokens)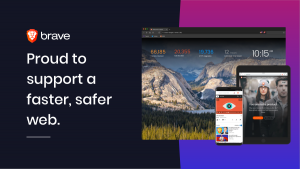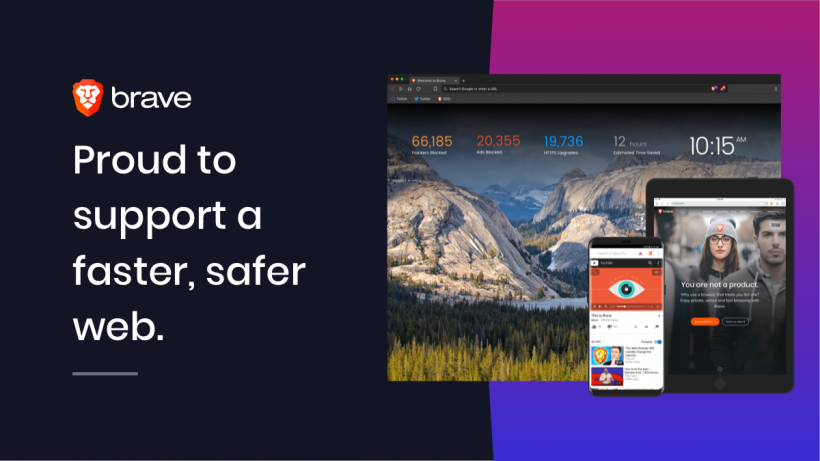 Many of the internet users spend their hours of time browsing Internet on Google chrome or Mozilla browsers where they have to watch tons of advertisement on every page. In fact while searching on Google you will get 2-3 ads at the beginning of search results.
Brave is a free, fast, secure and open source web browser which pays users for surfing the Internet. Brave works with entirely different approach where user will get paid for viewing ads while surfing the internet. Brave replaces website ads with their own ads for which they share 70% of the ad revenue with the user surfing the web page.
All you have to do is, install brave browser on mobile and desktop and do your normal internet surfing. Download Brave Browser Now
Prmote ICO/IEO Projects and Earn Bounties
Bounty is another way to earn free cryptocurreny by offering your skills or services. If you are good at coding or developing dApps, exchanges can hire your services and in return, you get free coins through bounties. There is a huge opportunity for developers to earn by providing a security protocol or finding out scams in the blockchain. Non-developers can also earn by participating in community forums and posting on social platforms. You can promote a project through Facebook, Twitter, Bitcointalk Forum, By writing article, By making Youtube video review etc.
For example, You can join Elrond project community platform where you will get option to promote the project and get rewarded in Elrond tokens.
Earn by Completing Task on Earn.com
Earn.con is a platform where users can get rewarded for completing task and replying email. They have recently collaborated with Coinbase and launched a program to earn while learning. Coinbase invites verified users who can earn by answering questions or by completing tasks. This provides actually an opportunity for users to learn about cryptocurrencies and the platform and to earn is an added incentive.
Coinbase Earn program launched by Earn.com on Coinbase where users have to learn about cryptocurrencies and tokens by watch educational videos, then visiting earn them by answering skill-testing quizzes! Looks simple, here is how to get started:
Register your account with Coinbase and complete KYC.
Register on Earn.com and complete your KYC.
Complete the task and start earning
Earn Through Mining With Zero Investment
Electroneum is a popular cryptocurrency. You may use free mining apps such as Electroneum mobile mining app that helps you to earn through your Android phone. Earn ETN by following the simple steps.
Download the app through Google Play Store into your Android phone.
Register and get your ETN Wallet.
Link and verify your wallet by activating your email link and following a 2FA verification process.
After verification log in through your email ID and password PIN and start mining.
You can check your wallet anytime after you reach a minimum of 10 ETN coin limit.
Enter the Referral Code i.e. 9E47B8 or scan the QR code below to claim your free coins.
Collect Free Airdrop Tokens
Airdrop is a very simple way to earn free cryptocurrency. All you need to do is to hold a crypto wallet. Airdrop is a blockchain marketing scheme where you are requested to link into emails and social media aspects of that network platform. This is actually a means to gain attention and getting linked to millions of users through their crypto wallets.
Remember: Some Airdrop may ask your sensitive information including KYC. Never use same userid and password to signup which you are using anywhere else.
For Example, few websites like https://airdrops.io/ offers ongoing and upcoming airdrop information. Where you can participate to earn free tokens.
Earn Free Bitcoins Through dApps
This is one of the most legit ways to earn free coins through your expertise and services you provide. dApps will reward you with crypto coins for different tasks or services you offer to a blockchain platform. There are different services you can provide like writing online reviews of crypto coins, airdrops, crowdfunding, and freelance services. You can also download the Coinbase wallet that comes with several dApps which will help you to earn cryptos like Cent, SmartDrops, etc
You can also earn some extra crypto coins through survey apps. The Apple apps are some legitimate and safe apps that can help you earn cryptos. One such app is the Kik's Kinit App which offers you Kin coins for filling up surveys and you can purchase gift cards using those coins.
Publish on Steemit.com to Earn Free Tokens
Earn through Steemit.com through these 5 unique ways.
Publish your blog posts on blockchain topics or share your comments on Steemit platform and earn rewards. For blogging, you need to be careful about your content quality. If you have a good fan following you can earn a handsome reward through your posts. Rewards are given in bitcoins that can be later converted into fiat.
Another easy way to earn in Steemit is by posting appropriate comments on blog posts and by voting on the community.
Leese you STEEM power. The more followers and higher post ranking you have, the more STEEM power you possess. This is a unique way through which you can actually lend your STEEM power and in exchange earn coins.
Become a Curie Curator at Steemit platform. Curie is an organization that upvotes promising authors. A single upvote can make a huge difference on a blog post and the payout is as high as $80. So, become a curator whose job is to find high-quality posts and earn some extra coins.
ADSACTLY (Autonomous Decentralized Society Acting Cooperatively) is an organization that pays writers for posting their contents on their blog site. You can be rewarded for being a writer or an editor.
Earn through Mobile Apps
There are many apps available only few of them are actually paying. Previously we published an article on Earning Bitcoin through Playing games. We tried to make a list few apps listed below:
SweatCoin: This is a mobile app that you can simply download into your Android or iOS phones that will help you to earn simply by walking outside. Keep the app running while you are running and earn some extra coins into your wallet which can later be liquidated and transferred to you through PayPal.
Stormplay: Stormplay is for Android users only. The app helps you to earn BTC, ETH, and STORM coins simply for playing games and trying new products and services.
Alien Run: This is a 2D gaming app for both Android and iOS phone users. This is a fun game that helps you earn some bitcoins in your free time.
Blockchain Game: This is another Blockchain game available for both Android and iOS phone users. Simply download the app and start playing and for every stack of 10 blocks, you earn free coins.
Abundance: This is again available for both Android and iOS users and is a "money mindset" app. This is a gaming app where you play simple mind games and after unlocking 100 quotes you start earning for every single quote you decode.
Bitfortip is a mobile and desktop platform where you can earn by providing helpful bitcoin tips to fellow investors. You get rewarded for your bitcoin research work and answers.