Crypto enthusiasts are always on the lookout for ways to earn free cryptocurrency, and 2023 promises many new opportunities. As cryptocurrencies become more mainstream, companies are finding that giving away crypto is an effective way to attract customers and build brand loyalty. At the same time, the crypto community continues to find new ways for members to earn crypto through various activities.
Here you'll discover 10 legitimate ways to earn free crypto in 2023 without needing any specialized skills or knowledge. Some methods require only a few minutes of your time, while others can become ongoing sources of crypto income. The options range from simple sign-up bonuses and referrals to more active approaches like completing tasks, shopping, and even playing games. With the right strategies, you can accumulate a decent amount of crypto over the course of the year at no cost. The future of finance is here, and now is the perfect time to start earning.
In this article, we will see methods to earn cryptocurrency without making any investment only. If you want to earn cryptocurrency by making an investment into different coins, here are few articles on the ways to make money through investment: 
Best Ways To Earn Free Cryptocurrency
Start Mining Crypto for free with Stormgain
To earn free crypto through mining with Stormgain, simply:
Sign up for a Stormgain account. Provide an email and password to create your account.
Download the Stormgain mining app. The app is available for Windows, macOS, and Android. Install the app on your chosen device.
Allow the app access to your hardware. The mining app will utilize your device's CPU and GPU to mine crypto. Grant the app permission to access your hardware.
Select a cryptocurrency to mine. You can choose between Bitcoin, Ethereum, Litecoin, and more. The crypto you select will depend on your device's hardware capabilities. More powerful devices can mine coins that require more intensive mining.
Start mining and earning crypto. Once you select a coin, the mining process will begin immediately. The crypto you earn will be deposited directly into your Stormgain account wallet. You can then trade or withdraw your earnings.
By mining with Stormgain, you have an opportunity to earn free crypto that you can then invest, trade or withdraw with no initial investment required. Take advantage of this offer to get started with cryptocurrency risk-free.
Get Paid for Watching Ads and Videos
To earn free crypto by watching ads and videos, you have a few legitimate options.
Join a crypto rewards platform like Coinbase Earn, Binance Earn, or StormX that allows you to watch educational videos about different cryptocurrencies and earn a portion of that crypto for free. For example, on Coinbase Earn you can earn up to $50 worth of Stellar Lumens (XLM) just for watching a few short videos and taking a quiz.
Use a crypto faucet like Cointiply, which pays out tiny amounts of crypto for watching ads, playing games, and completing surveys. The payouts are small but can add up over time. Cointiply offers payouts in Bitcoin, Litecoin, and Dogecoin.
Watch video ads on websites like EarnCrypto.com and AdBTC. Both platforms allow you to earn Bitcoin and other crypto for watching full-screen video ads. The more ads you watch, the more you can earn.
Try micro-task websites like Coinbucks that pay small amounts of crypto for completing micro tasks like watching videos, liking social media posts, and filling out surveys. Most tasks take just a few minutes to complete.
While the amounts earned may seem small, over time these free options can result in a decent amount of crypto at no cost to you. Every bit helps if you want to accumulate crypto without investing your own money. With persistence, watching ads and videos is an easy way to get started earning free crypto.
Earn Free Crypto With Crypto Faucets
Crypto faucets are websites that give away small amounts of cryptocurrency for free. All you have to do is complete simple tasks like solving captchas, playing games, watching videos or ads. Complete the required tasks or activities and the faucet will dispense tiny amounts of crypto into your wallet over a period of time. While the amounts are small, if used consistently, crypto faucets can be a legitimate way to accumulate free crypto over the long run without spending any of your own money.
Some popular crypto faucet sites include:
Cointiply: Dispenses Bitcoin, Litecoin and Dash for completing tasks and offers a loyalty bonus.
Allcoins: Dispenses Bitcoin, Bitcoin Cash, Dash, Dogecoin and Litecoin for completing captchas and shortlinks.
BonusBitcoin: One of the most popular Bitcoin faucets. Complete captchas to claim satoshis.
The amounts dispensed by crypto faucets are typically very small, ranging from 50 to 500 satoshis at a time for Bitcoin faucets. However, these tiny amounts can add up over time if you make claiming from the faucets a daily habit. While not a way to get rich quick, crypto faucets can be an easy way to start accumulating free crypto without any investment required.
Join Play-to-Earn Games
Play-to-earn crypto games allow you to earn tokens as rewards for playing. These blockchain-based games issue their own cryptocurrency that can be traded or cashed out. As the games gain more players, the value of the tokens may increase. Some popular play-to-earn games include Axie Infinity, Decentraland and The Sandbox. To start earning, you purchase in-game assets like non-fungible tokens (NFTs) to get started, then play to earn tokens and other rewards. The initial investment may be required, but you can potentially earn it back and more through consistent gameplay. These crypto games are an innovative way to earn digital assets through entertainment.
Complete Surveys and Tasks To Earn Free Cryptocurrency
To earn free crypto in 2023, consider completing online surveys and small tasks. Some survey and task sites allow you to accumulate points that can be exchanged for popular cryptocurrencies like Bitcoin, Ethereum, and Litecoin.
Survey sites like Swagbucks, Survey Junkie, and InboxDollars provide points for completing surveys on various topics that can then be redeemed for cryptocurrency. You can earn points for searching the web, watching videos, and completing trial offers. Many offer sign-up bonuses and referral programs to help you rack up points faster.
Microtask sites like Fiverr, TaskRabbit, and Upwork have small jobs that pay in crypto. Jobs may include commenting on social media posts, data entry, online research, and content creation. Rates will vary but can be an easy way to earn crypto with limited time or effort.
Some crypto exchange and lending platforms also offer promotional programs where you can earn free cryptocurrency for completing lessons on blockchain basics or staking and lending crypto. These "learn and earn" programs are a simple way to get started with cryptocurrency at no cost.
Staying on top of the latest survey sites, microtask platforms, and promotional offers from crypto companies is key to finding legitimate ways of earning free cryptocurrency in 2023 and beyond. With many options available, you can earn crypto in your spare time and on your own schedule.
Participate in Airdrops
To earn free crypto through airdrops in 2023, you'll need to take the following steps:
Monitor websites like Airdrop Alert, Airdrop Bob, or Crypto Airdrops for announcements of upcoming airdrops. These platforms aggregate active and legitimate airdrops to save you time searching. Sign up to receive email alerts about new airdrops so you don't miss out on opportunities.
When an interesting airdrop campaign starts, follow the instructions carefully. This typically involves tasks like following the project on social media, joining their Telegram or Discord group, or downloading a wallet to receive the tokens. Provide an ERC-20 compatible wallet address to claim your share of the airdropped crypto.
Some airdrops are first come, first serve, so act quickly once an airdrop is announced to have the best chance of receiving the full amount of tokens. However, be wary of airdrops that seem too good to be true or require sensitive information – these could be scams. Do research to verify the legitimacy of any airdrop before participating.
Airdrops can be an easy way to earn free crypto, but be wary of potential scams. Only sign up for airdrops from reputable projects to avoid fraudulent token offerings. Do research, connect non-custodial wallets, and never share private keys. By following best practices, airdrops are a legitimate way to earn crypto risk-free.
Participate in Bounty Programs
Bounty programs are promotional campaigns run by crypto companies and projects to raise awareness for new coins or tokens. Participants complete tasks like retweeting posts, joining Telegram groups, or writing reviews in exchange for small amounts of free crypto.
While the payouts are typically very small, the more bounty campaigns you participate in, the more your earnings can add up over time. Some platforms like Bounty0x and Bountyhive offer access to many bounty programs in one place.
To get started, create accounts on the major bounty platforms and enable any social profiles or crypto wallets you want to use for receiving payouts. Then browse available campaigns, choose those you're interested in, and start completing the listed tasks. Be sure to follow all instructions carefully to ensure you receive proper credit for your participation. With consistent involvement, bounty hunting can be a legitimate way to pick up small amounts of crypto at no cost.
Take Surveys and Get Paid in Crypto
To earn free crypto by taking surveys, here are a few legitimate options:
Some survey sites like Survey Junkie, Swagbucks, and Survey Voices offer crypto payments for completed questionnaires. Sign up, provide some basic info, choose surveys on topics that interest you, and receive crypto for participating. Payouts are typically small, around $3 to $10 in Bitcoin, Ethereum or another currency per survey. While earnings won't make you rich, over time small amounts can add up.
To maximize your earnings, check survey sites regularly and grab opportunities as soon as new surveys become available. Be honest in your answers and complete entire surveys to receive full crypto payments. Some sites also offer bonus crypto for referring friends who sign up and take surveys.
Look for survey platforms explicitly stating they pay out in cryptocurrency to avoid wasting time on sites only offering cash or gift cards. Legitimate crypto survey sites will clearly spell out how and when you'll receive your digital currency payments. With many people interested in crypto, survey sites are smart to offer this popular incentive. Taking surveys in your spare time can be an easy, passive way to accumulate crypto over the long run.
Play Crypto Games with Metaverses
To earn free cryptocurrency, you can play blockchain-based games and explore virtual worlds known as metaverses. These games and metaverses issue their own crypto tokens that you can earn by completing in-game quests and tasks. You can then trade the tokens for other cryptocurrencies like Bitcoin or Ethereum.
Some of the popular crypto games and metaverses include:
Axie Infinity, where you breed and battle creatures called Axies. You earn the game's Smooth Love Potion (SLP) token which can be traded on crypto exchanges.
The Sandbox, an Ethereum-based virtual world where you can create experiences and monetize them. You earn the game's SAND token.
Decentraland, a virtual reality platform where you purchase land and build interactive experiences. You earn the game's MANA token.
Playing these games requires an initial investment to get started but can be an engaging way to earn crypto over the long run if the value of the tokens increases over time. The key is finding a game or metaverse you genuinely enjoy so it feels less like work and more like entertainment. With some time and skill, you'll amass crypto riches in no time.
Get Crypto Cashback on Purchases
To earn free cryptocurrency simply by making purchases you already do, look into crypto cash back programs. Some popular options include:
Fold: Fold is a free mobile app that offers up to 20% back in BTC or ETH when you use their branded payment card at over 50,000 stores like Amazon, Starbucks, and Target. Simply sign up, add funds to your Fold card, and start earning crypto on all your daily spend.
StormX: The StormX app provides crypto cash back of up to 87.5% at over 800 supported stores including Walmart, eBay, and Hotels.com. Download the free app, add your payment cards, and you'll earn STMX tokens which can be traded for Bitcoin and other cryptocurrencies. They frequently run special promo codes and boosted rebates to help you maximize your crypto earnings.
Lolli: Lolli is another option that gives you free Bitcoin when you shop online at over 1,000 partner stores like Hotels.com, Walmart, and Groupon. Install the Lolli extension, activate the rebate on their site, make a purchase with a linked card, and you'll receive up to 30% of your purchase price in Bitcoin within 24 hours. Lolli has paid out over $6 million in Bitcoin to its members so far.
With these three services, you can stack multiple rebates and promo deals together to significantly boost your free crypto earnings over time through your regular shopping. Every little bit adds up, so put that spending power to work for you.
Refer Friends to Crypto Platforms
Referring friends to crypto platforms is an easy way to earn free cryptocurrency coins and tokens. Many major crypto exchanges and platforms offer referral programs that reward you when someone signs up using your unique referral link or code. For example, if you refer a friend to Coinbase, both you and your friend will receive $10 in free Bitcoin after they buy or sell $100 of crypto. Binance, Bybit, and Gemini also provide referral bonuses in the form of commission on trading fees or free crypto.
To take advantage of these opportunities, simply create an account on the platform, locate your referral link or code, and share it with friends and family interested in buying, trading or earning crypto. Be sure to only refer platforms you personally use and trust. The more people you refer, the greater the rewards. Some platforms even offer higher referral bonuses for active, long-term users. Referral programs are an excellent way for crypto platforms to gain new customers while rewarding their loyal users. For you, it's an easy way to stack some free crypto and spread the word about platforms you support.
For Example; You can refer your friends to buy hardware wallet for their funds.
Join Crypto Communities and Contribute Value
To earn free crypto by contributing to crypto communities, consider the following:
Reddit and Discord host active communities discussing various cryptocurrencies. Join channels focused on currencies you hold or are interested in. Contribute by answering questions, sharing news, and engaging in debates. Your valuable participation may earn upvotes, likes and tips in the native tokens.
Some of the largest subreddits include r/CryptoCurrency, r/Bitcoin and r/Ethereum. Popular Discord servers include those for Bitcoin, Ethereum and Binance Coin. Politely participate, provide useful information to others, and build your reputation in these communities. With consistent, high-quality contributions over time, you'll maximize your chances of earning crypto rewards from generous community members.
Start Browsing on Brave Browser (Free BAT Tokens)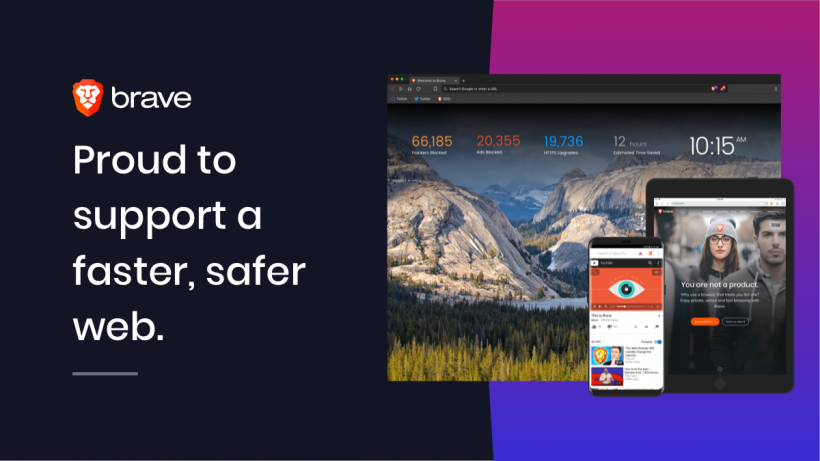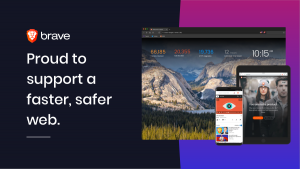 Many internet users spend their hours of time browsing the Internet on Google Chrome or Mozilla browsers where they have to watch tons of advertisements on every page. In fact, while searching on Google you will get 2-3 ads at the beginning of search results.
Brave is a free, fast, secure, and open-source web browser that pays users for surfing the Internet. Brave works with an entirely different approach where the user will get paid for viewing ads while surfing the internet. Brave replaces website ads with their own ads for which they share 70% of the ad revenue with the user surfing the web page.
All you have to do is, install a brave browser on mobile and desktop and do your normal internet surfing. Download Brave Browser Now
Eern Crypto Through Writing Articles 
Publish0X is an online news site that shares its advertising money with its users. It makes no difference whether you generate or consume content on this site. You can earn crypto for free regardless of whether you're an author or simply a reader. Register for the platform using your Facebook or Twitter account in less than a minute, then read the content they publish. When readers tip authors from Publish0X's free rewards pool, they earn rewards that are shared between the reader and the author.
Readers do not earn as much as authors, so if you want to be an author, you must apply. They'll look at your work within 24 hours of receiving it. From here, you're in charge of your content — extra points if you make it interesting and include illustrations. If the readers like it and tip you, you'll be able to earn some more cash.
Similarly, publish your blog posts on blockchain topics or share your comments on the Steemit platform and earn rewards. For blogging, you need to be careful about your content quality. If you have a good fan following you can earn a handsome reward through your posts. Rewards are given in bitcoins that can be later converted into fiat.
Be Aware of Cryptocurrency Scams
While you may be seeking for the quickest way to earn money with Bitcoin or another crypto, you should be wary of potential scams and fraud. Scams are most commonly perpetrated using social media or a clone crypto browser. Scammers often construct a clone crypto browser and use it to gain access to your crypto wallet. They could take your money or threaten to spread your information if you don't pay a ransom. You must pay special attention to the web browser you're using to avoid this.
Make sure it starts with HTTP and includes a little lock icon in the URL, which indicates a secure website. You should also just use websites that you know and trust, and avoid away from new websites that promise a few free coin crypto. Scams on social media are also quite common. On social media, there are several bot accounts that broadcast promotional messages. While many genuine people use social media to promote their crypto, you should be able to tell the real ones apart from the bots. If an offer appears to be too good to be true, it most likely is.
It is always recommended to you a separate email id and password for earning free cryptos and joining different crypto events.
Conclusion
In closing, while crypto can be volatile, the opportunities highlighted here demonstrate legitimate ways you can earn free cryptocurrency coins and tokens to build your portfolio in 2023. Whether participating in an airdrop, staking your current holdings, using a crypto rewards card, or getting paid to learn about new projects, there are many options to consider. The key is finding the right mix that matches your interests and risk tolerance. With some time and effort, you can take advantage of these free crypto earning methods and hopefully see the value of your digital assets rise over the long run. The future of finance is here, so why not get started now and earn yourself some free crypto.