Looking for the best Crypto hardware wallet? A cryptocurrency hardware wallet is a type of physical wallet for storing private key of cryptocurrency like Bitcoins (or Altcoin). We have listed 25 best hardware wallets to find the best one for you. Bitcoin Hardware wallets are the best way to keep BTC secure for long-term investment.
A crypto hardware wallet (or cryptocurrency hardware wallet) is a physical device that is designed to securely store a user's private keys, which are needed to access and manage their Bitcoin and altcoin holdings. Hardware wallets are often considered to be one of the safest ways to store Bitcoin because they provide an additional layer of security compared to software wallets or exchanges.
When a user sets up a hardware wallet, they generate a seed phrase, which is a series of words that can be used to recover their private keys in case the device is lost or damaged. The seed phrase should be kept secret and stored in a safe place.
To access their Bitcoin holdings, the user connects the hardware wallet to a computer or mobile device, enters their PIN code, and then signs transactions using the device. The private keys never leave the hardware wallet, ensuring that they are protected from hackers or other security threats.
Some popular Bitcoin hardware wallet options include Ledger, Trezor, and KeepKey. When selecting a hardware wallet, it's important to consider factors such as security features, ease of use, and compatibility with the user's operating system and preferred cryptocurrency exchanges. It's also important to purchase the hardware wallet directly from the manufacturer or an authorized reseller to ensure that it has not been tampered with.
A few recommended articles on Bitcoin wallets are:
Why Crypto Hardware Wallets?:
Crypto hardware wallets offer several advantages over other methods of storing and managing Bitcoin and other cryptocurrencies:
Increased Security: Hardware wallets are designed to be highly secure, with advanced features such as offline storage, PIN codes, and two-factor authentication. These features help to protect against hacking attempts, malware, and other types of cyber attacks.
Protection from Physical Damage: Hardware wallets are built to withstand physical damage, such as drops or water damage. This makes them a reliable choice for long-term storage of Bitcoin and other cryptocurrencies.
Ease of Use: Hardware wallets are generally easy to use, with user-friendly interfaces and clear instructions for setting up and managing the device. This makes them a good option for both beginners and experienced users.
Compatibility with Multiple Cryptocurrencies: Many hardware wallets support multiple cryptocurrencies, allowing users to store and manage different types of digital assets in one place.
Offline Storage: Unlike software wallets or exchanges, hardware wallets store private keys offline, making them less vulnerable to online attacks. This significantly reduces the risk of losing funds due to security breaches or other types of cyber threats.
Overall, hardware wallets offer a high level of security, ease of use, and peace of mind for cryptocurrency investors and traders. While they may be more expensive than other storage methods, the added security and protection they offer can be well worth the investment.
Best Cryptocurrency Hardware Wallet:
There are several reputable crypto hardware wallet options available for Bitcoin and other cryptocurrencies, each with their own strengths and features. Our list of Best Bitcoin Hardware Wallets contains 25 best hardware wallets. Some of them are offering a camera for QR scanners, Biometric authentication, Bluetooth, and many other features, and price ranges between $30 to $500. Here are some of the most popular and highly recommended Bitcoin hardware wallets:
SecuX Shield Bio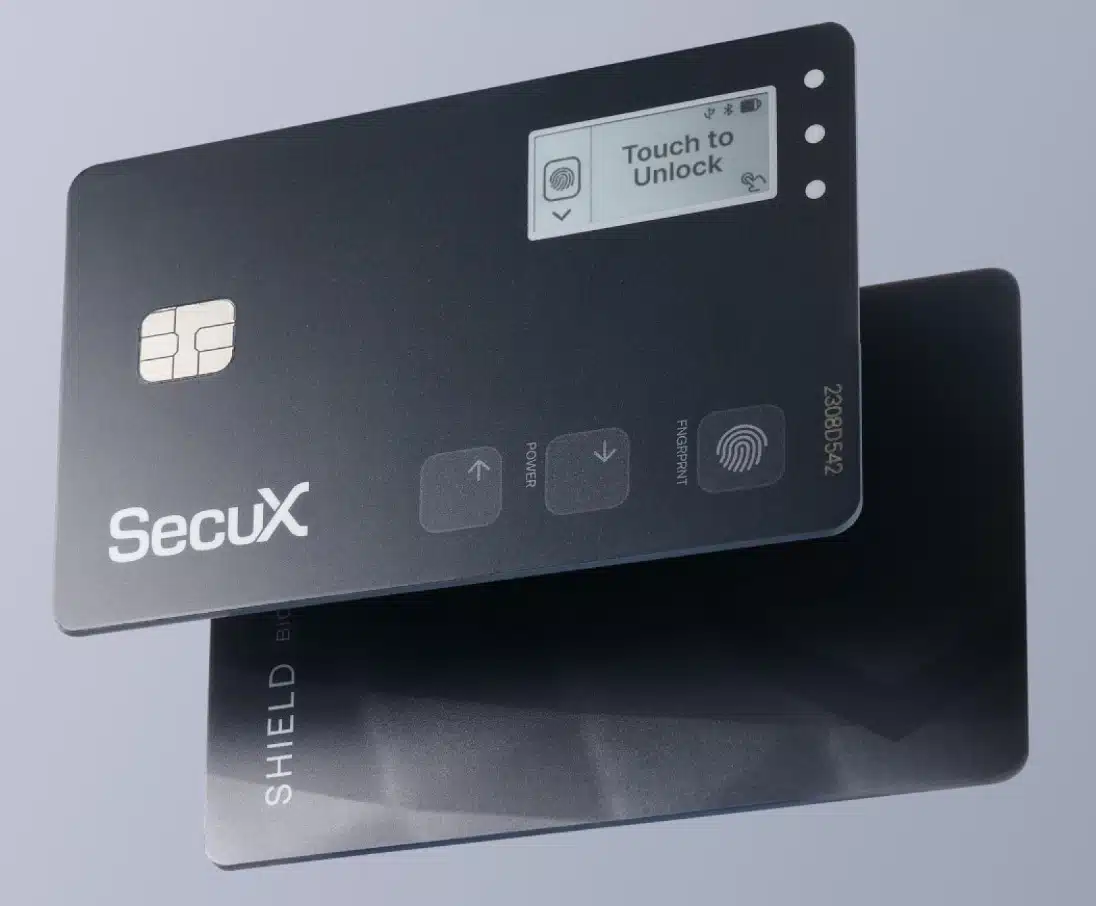 Shield BIO, the newest crypto hardware wallet from SecuX, combines biometric fingerprint authentication with the practical design of a credit card. The wallet has a Secure Element chip that is equivalent to the strong security features found in other SecuX hardware wallets, protecting digital riches. By ensuring that only users who have been verified can access their assets, the use of biometric technology improves this security.
Keystone hardware wallet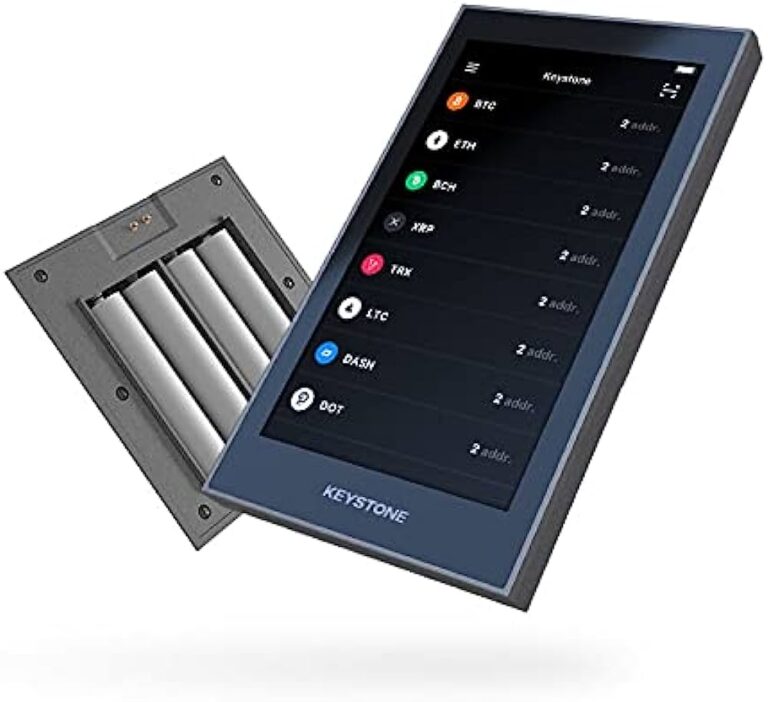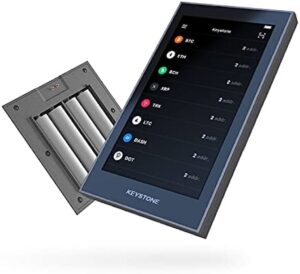 If security and control of your crypto assets is a top priority, the Keystone hardware wallet deserves a spot at the top of your list. This sleek device lets you store private keys for over 1,000 cryptocurrencies offline on a separate secure chip. No internet connection means no chance of hacking. You control your own private keys, so you maintain full control of your funds. Read Detailed Keystone Review.
The wallet is designed for both beginners and pros. An easy-to-use interface and step-by-step setup make it simple to get started. More advanced users will appreciate features like plausible deniability, duress PIN, and Shamir's Secret Sharing algorithm for key sharing. To send or receive funds, just connect your Keystone to a web wallet or exchange and enter your PIN. The device signs transactions instantly and returns you to the online wallet. For added security, all data on the device is deleted after each session.
Whether you're looking to invest in popular coins like Bitcoin or Ethereum or get in early on new projects, the Keystone provides a safe place to securely store all your valuable digital assets. For under $200, this hardware wallet delivers bank-grade security and an intuitive user experience. Your digital fortune has found its fortress.
Ledger Nano X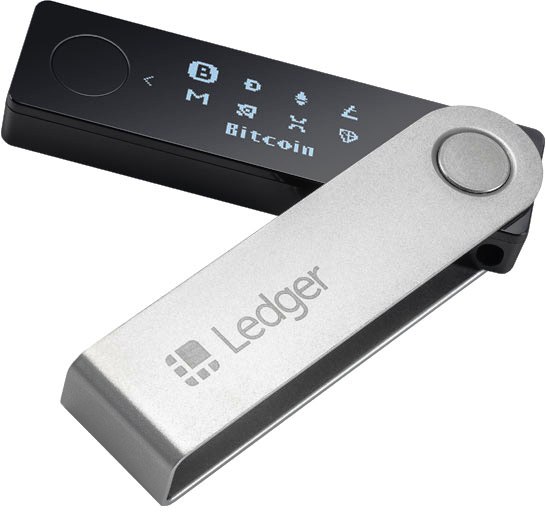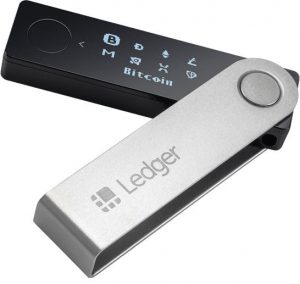 The Ledger Nano X is a popular crypto hardware wallet designed to securely store a variety of cryptocurrencies, including Bitcoin. It is a portable device that can be connected to a computer or mobile device using Bluetooth or a USB cable.
Ledger Nano X is an upgraded version of the Nano S wallet which offers a few extra and more advanced features than the last version. Nano X is equipped with a CC EAL5+ certified secure chip so that your private keys are kept isolated within the device. This chip is also used in applications like credit cards and passports.
Nano X is a little larger than Nano S as it is equipped with Bluetooth so that users can easily connect their mobile phones with Ledger live app. Users can use 24 words recovery seed to restore their funds. So in case, your device is lost your funds are secured with Nano X. Nano X hardware wallet supports multiple coins can tokens including Bitcoin, ETH, XRP, BCH, EOS, and many more. Its price is $149.
Trezor T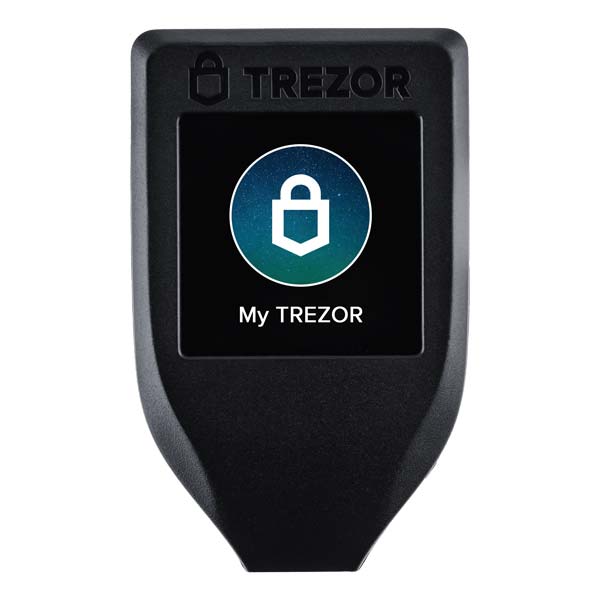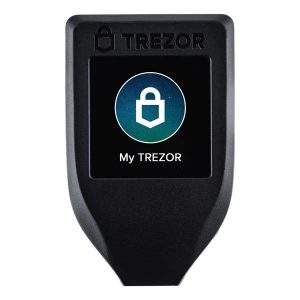 The Trezor Model T is a popular crypto hardware wallet that offers advanced security features and ease of use. Trezor T is another version of Trezor and has a bigger touch screen and its unique touch screen comes with some coolest features. It supports more coins than Trezor One wallet. The device uses a secure chip and a custom operating system to protect the user's private keys from hacking attempts and other security threats. It also includes a PIN code, passphrase protection, and two-factor authentication to further enhance its security.
The Trezor Model T supports over 1,000 cryptocurrencies, including Bitcoin, Ethereum, and Litecoin. The device can be connected to a computer or mobile device using a USB cable, and it supports both desktop and mobile operating systems. The Trezor Model T uses open-source software, which allows for independent verification of the device's security and functionality.
The Trezor Model T is priced at around $169 USD, which is more expensive than some other hardware wallet options. However, the advanced security features and ease of use make it a popular choice for cryptocurrency investors and traders who prioritize the safety and security of their digital assets.
SecuX V20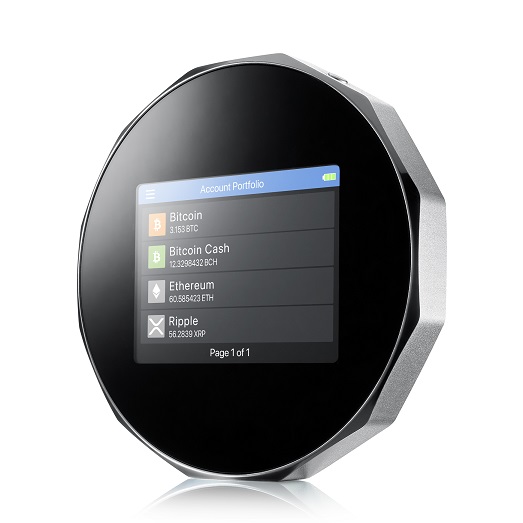 SecuX V20 is awarded the Best Cross-Platform Crypto Hardware Wallet 2019 that supports major operating systems including Chrome OS, Windows, Mac OS, Linux, iOS, and Android, supports 1000+ major cryptocurrencies and ERC-20 tokens that keeps your digital assets safe with military-grade "Infineon" (Germany Company) CC EAL5+ certified Secure Element(SE) and 360°comprehensive security design.
It is an easy-to-use Bitcoin hardware wallet with a large 2.8" color touchscreen that operates and makes physical confirmation for each transaction. With dual connectivity of USB and Bluetooth, this hardware wallet enables cryptocurrency users to connect desktop/laptop via USB/Bluetooth or mobile phone via Bluetooth.
The latest SecuX All-in-One Crypto Payment Solution for brick-and-mortar retail businesses that allows Consumers to store and transfer to Merchants' digital funds safely and easily. Developed by a Taiwanese developer, SecuX is a hardware wallet that runs on multiple platforms like iOS, Android, Linux, Windows, and Mac OS. The wallet comes at a price of $139 USD. The wallet just like the Ledger Nano cryptocurrency hardware wallet can be attached to any device with a USB port.
Features:
It has a 4.2 Bluetooth connection.
Buy Crypto through Coinify such as Bitcoin, Bitcoin Cash, Ethernet, Stellar, USDT.
The wallet has a unique cylindrical shape with a 2.8-inch color screen, an aluminum frame with a rubber base.
The wallet is secured by military-grade CC EAL 5+ certified security element that secures device PIN codes and private keys.
Anti-tamper software with upgradation.
A one-time passcode and physical confirmation to secure the device.
A digital keypad.
The wallet can generate 12, 18, or 24-code passphrases.
The wallet is compatible with BIP32, BIP39, and BIP44 mnemonic standards.
Ngrave Hardware Wallet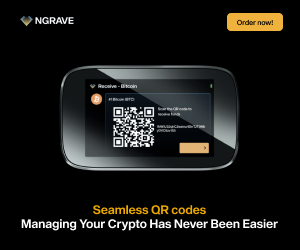 The Ngrave crypto hardware wallet is a great choice if security and anonymity are top priorities. This bad boy generates and stores your private keys offline so hackers can't access them. To set up your Ngrave wallet, you'll first initialize it using their app which will generate your 24 word recovery seed. Write this down and store it somewhere safe in case anything happens to your device. Once initialized, your wallet will provide a receive address for each supported coin. You can then send funds from an exchange to your wallet address.
The Ngrave has a sleek, compact design with an e-ink display and touchscreen. It currently supports major coins like Bitcoin, Ethereum, Litecoin and over 1,000 ERC-20 tokens. You can easily check your balances, send and receive crypto, and update the firmware directly on the device.
For added security, the Ngrave uses advanced cryptography with a separate microprocessor for each supported coin. Your private keys, recovery seed and transaction data are encrypted and stored on the device. Plus, it has a self-destruct mechanism if someone tries to physically tamper with it.
Overall, the Ngrave wallet is a solid, user-friendly hardware wallet perfect for HODLing your crypto assets. While the $79 price tag may be a bit steep for some, the top-notch security and support for many digital currencies make it worth considering. Your digital fortunes will sleep better at night knowing they're safe in this robust little vault.
Prokey Optimum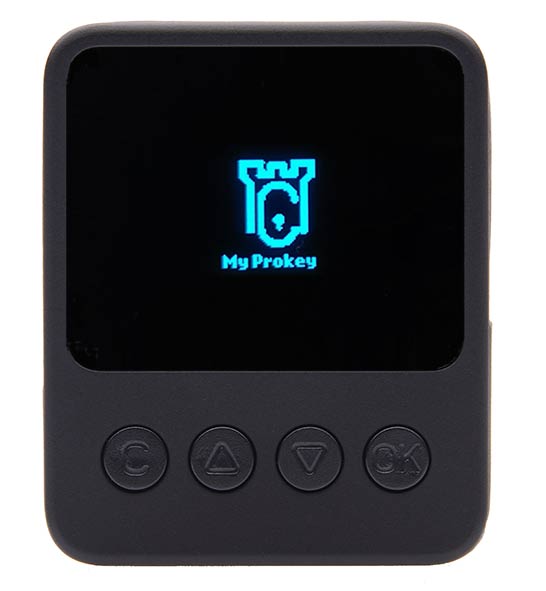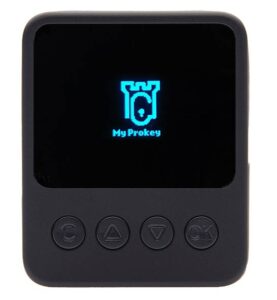 Prokey Optimum is a browser-based, secure crypto hardware wallet that supports 3200+ crypto assets in one place including NFTs. Unlike other bitcoin hardware wallets, there is no need for the installation of multiple apps for each coin. It supports BIP39 standard so that you can access your fund using the seed phrase in case of loss or damage to the hardware device. All you need to have a recovery phrase of 24 words.
The Prokey Optimum uses a secure element chip, which is a tamper-resistant hardware module that helps protect against hacking attempts and other security threats. It supports over 20 cryptocurrencies, including Bitcoin, Ethereum, Litecoin, and others. The Prokey Optimum features a 3.2-inch color touchscreen display, which makes it easy to navigate and use. The device can be connected to a computer or mobile device using a USB cable or Bluetooth, and it supports both desktop and mobile operating systems.
Prokey devices cost you only $69 and they also have 14-day money-back guarantee. Read more about Prokey Optimum in detail.
BC Vault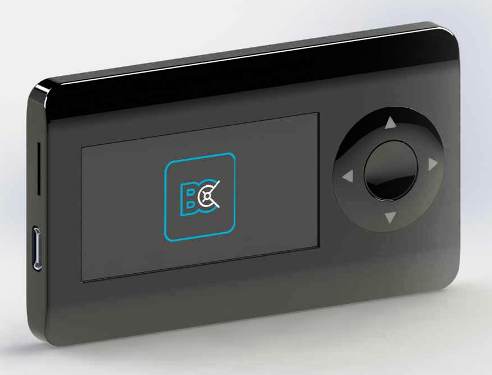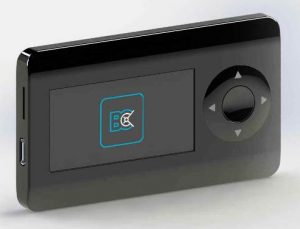 BC Vault is a new crypto hardware wallet that offers few distinctive features when you compare it with hardware wallets like Ledger and Trezor. It stores the encrypted Pvt. keys in Ferroelectric RAM storage.
Popular hardware wallets such as Trezor, Ledger, or Keepkey wallets follow BIP39 or BIP44 standards to restore data, and since the words you receive for recovery are not encrypted, you need to keep them in a safe place. But with BC Vault wallet encrypt the wallet with your own password which will be used to recover your backup. This wallet comes with a 2.42-inch OLED 128×64 pixel display. It supports Bitcoin, Ethereum, Bitcoin Cash, Litecoin, Ripple, Stellar, Dogecoin, Dash, and ERC20 tokens. Price: 131 EUR.
SafePal S1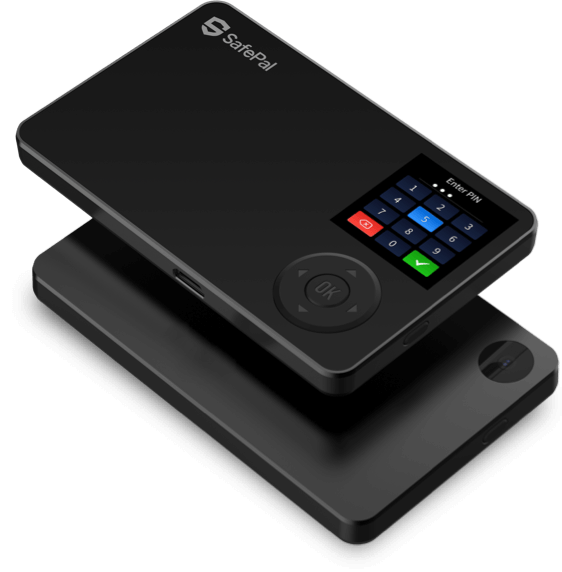 Safepal is an attractive, secure, mobile, and easy-to-use Bitcoin hardware wallet that support multiple crypto. It supports more than 1000 coins and tokens including ERC20 and BEP2 (Binance chain) tokens. Safepal is a 100% offline wallet. There are no connectivity options for NFC, Bluetooth, Wi-Fi, or any other radiofrequency.
It is a 1.3 inches high-resolution display screen that shows every detail of a transaction and a camera at the backside for scanning QR wallet codes. Safepal is one of the cheapest and most reliable hardware wallets funded by the world's largest cryptocurrency exchange Binance. The price of the Safepal S1 hardware wallet is $39.99 only.
Ellipal Titan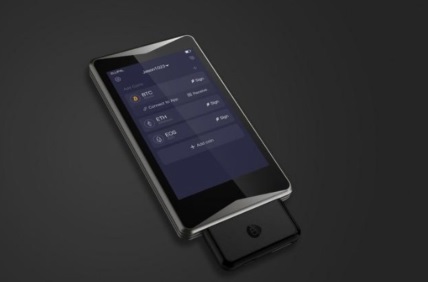 Ellipal Titan model is an improvement over the Ellipal crypto hardware wallet which includes features like Air-Gapped, Anti-Disassembly, and Anti-tampering. This wallet offers better security as it is completely detached from networks and has no connectivity options like Wi-Fi, USB, Cellular network, Bluetooth, or NFC. It is a completely offline wallet very much similar to Safepal Wallet which works with QR codes for signing the transactions.
Titan hardware wallet comes with better physical protection and protects against supply-chain attacks, tempering, thief, and hackers. It comes with a large screen display which works awesome with Ellipal one-stop app. Titan supports 20+ coins and 1000+ tokens including ERC20, TRC20, TRC10, EOS, and BEP tokens. Other major attractive features of the wallet include coin conversion, Binance DEX inclusion, Earning interest on cryptos, and staking as well. The price of this wallet is $139.
D'CENT Hardware Wallet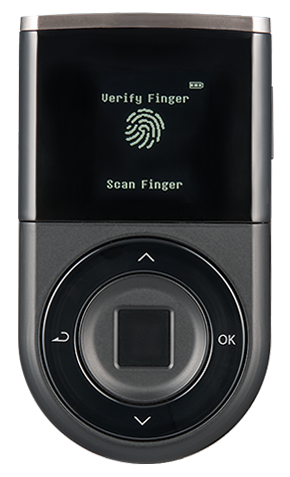 D'CENT crypto wallet is a secure next-generation bitcoin hardware wallet for Bitcoin and Altcoins claims to be the world's first Bitcoin smart contract-ready hardware wallet with support for RRC-20 and RSK. It is a multi-cryptocurrency wallet that supports Bitcoin, ETH (ERC20) RSK, RRC-20, XRP, and Monacoin at this point, and more coins to come. The best part of the DÇENT hardware wallet is a built-in fingerprint scanner that provides users with an extra level of security through biometric authentication. It comes with a 128×128 Oled display screen where users can view their transaction details and display a QR code for each wallet.
Price: $119.
OneKey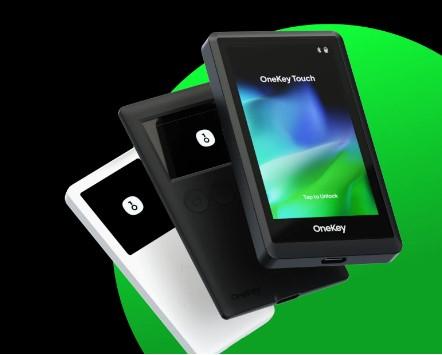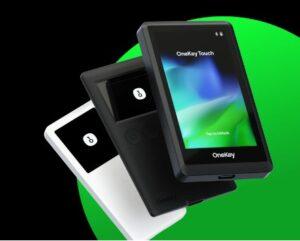 A  crypto hardware wallet is the recommended choice for securely storing your Kaspa coins as well as Bitcoin. The Onekey wallet is a well-regarded option that offers high-level security for your digital assets. Featuring a sleek and tamper-proof design, this wallet supports multiple cryptocurrencies in addition to Kaspa. By storing your private keys offline on the physical device, the Onekey wallet ensures protection against online hacks or thefts. To facilitate transactions, simply connect the Onekey wallet to your computer or mobile device.
The Onekey wallet boasts a user-friendly interface and includes helpful features such as address management, PIN code protection, and backup functionality in case of device loss. For enhanced security, you can enable additional passphrase protection. Although the Onekey wallet requires an initial investment, it provides unparalleled security for your valuable Kaspa coins. If you plan to store larger amounts of Kaspa coins for the long term, investing in a hardware wallet like the Onekey is highly recommended. With this offline device, your Kaspa coins and access keys will remain safe from any digital threats.
The Onekey wallet is available in three variants: Onekey mini, Onekey classic, and Onekey touch. You can choose the variant that best suits your needs and budget.
KeyCard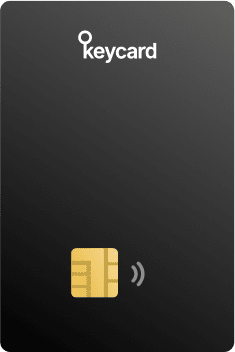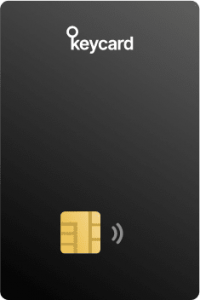 Ethereum messaging app and also a mobile browser startup known as "Status" has relaunched their crypto hardware wallet with a new name Keycard. This wallet is developed as open-source and will be distributed to interested blockchain developers first for free and later it will be available for users on Status's website for $29. Initially, Status Keycard wallet will be compatible with few cryptocurrencies including bitcoin, and Ethereum.
Price: 25 EUR
Keepkey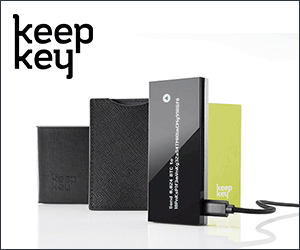 KeepKey is another bitcoin crypto hardware wallet. Its size is almost twice as compared to the other two wallets. This is why it is quite difficult to carry. It supports multiple currencies like Litecoin, Dogecoin, Namecoin, Ethereum, Dash, etc. and allows the internal exchange of currencies.
The design, however, is very sleek and comes along with a KeepKey seal. You need to download two chrome applications before you get along with the wallet. It is useful for holding large amounts of Bitcoins. There is second screen protection as well. It has all the latest features along with device recovery as well. However, it is not so good for non-technical users.
Price: $49.
SecuX W20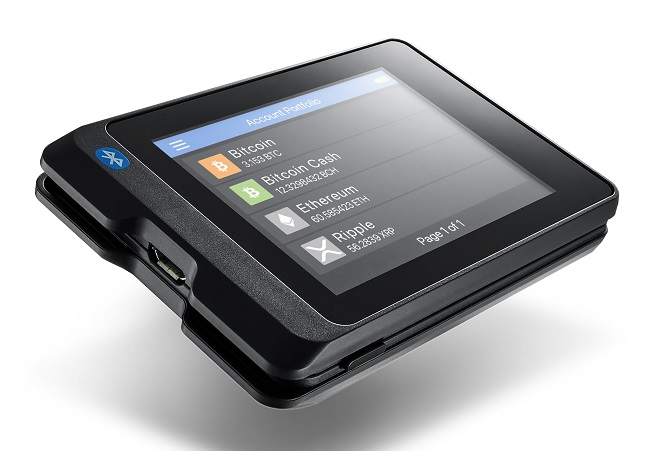 SecuX W20 with dual connectivity features that let you connect it to your desktop/laptop computer via USB/Bluetooth, or connect it to your mobile device via Bluetooth. This feature enables you to manage your cryptocurrencies safely and make transactions on the go. It is a perfect choice for beginner or professional crypto traders to safeguard their digital assets.
W20 wallet is embedded with a military-grade "Infineon" (Germany Company) CC EAL5+ certified Secure Element (SE) to protect your private keys and device PIN from any physical and cyber attack. SecuX W20 provides top-notch crypto security for your digital assets and the account recoverability feature allows you to restore your wallet from other blockchain wallets. No more worries about losing your hardware wallets from now on! Cryptocurrency owners can manage and transact their Bitcoins, Altcoins and Tokens everywhere they go with SecuX Mobile iOS App.
Price: $119
Exclusive Deal: You can use eCoupon code "CoinFunda" to get 15% off at SecuX Online shop, here: https://shop.secuxtech.com/
SecuX W10 (Lite)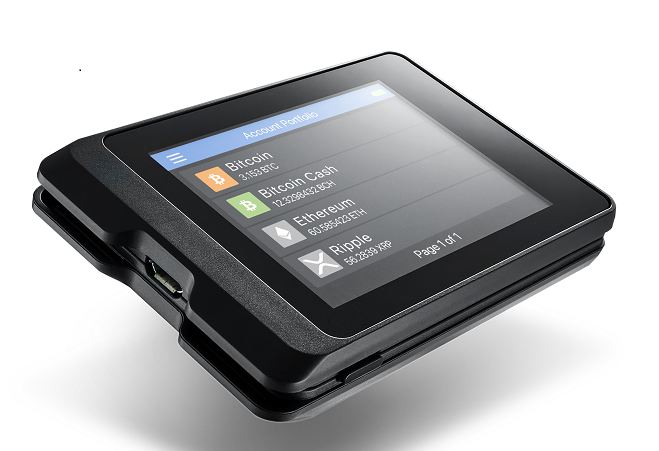 SecuX W10 is an easy-to-use crypto hardware wallet for Bitcoin and other cryptocurrency holders. Send and receive digital assets on SecuXcess web-based application at home in few minutes. No app-installation-required solution benefits cryptocurrency users free from coin/token apps download.
SecuX W10 is one of the cutting-edge blockchain wallets that is embedded with a military-grade "Infineon" (Germany Company) CC EAL5+ certified Secure Element (SE) to safeguard your private keys, device PIN and support major cryptocurrencies like Bitcoin (BTC), Bitcoin Cash (BCH), Ethereum (ETH), Litecoin (LTC), Ripple, etc. and All ERC-20 Tokens, etc.
In the latest firmware, it is added new crypto coins Dash (DASH) and Dogecoin (DOGE) on the SecuXcess web app, which is definitely an everlasting beneficial advantage for SecuX Wallet users. It is absolutely the best hardware wallet solution to prevent any hack and attack when storing your digital assets!
Price: $69.
Exclusive Deal: You can use eCoupon code "CoinFundaW10" to get 15% off at SecuX Online shop, here: https://secuxtech.com/shop/
CoolWallet S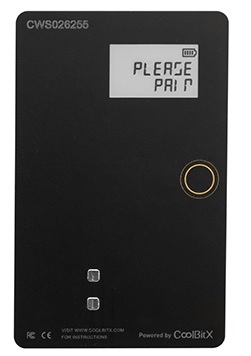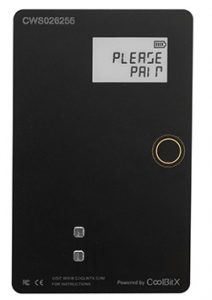 CoolWallet S is a mobile cold storage crypto hardware wallet that supports multiple currencies like Bitcoin, Litecoin, Ethereum, XRP, Bitcoin Cash, and ERC20 Tokens. It is completely wireless and comes with a unique sleek design and is extremely lightweight and also heat, cold and water-resistant, and is quite durable. CoolWallet is a Bluetooth wallet that allows quick transfer of transactions. Users can download the mobile app easily from Google Play or Apple App Store. It is available for $99.
SecurityArts Quantum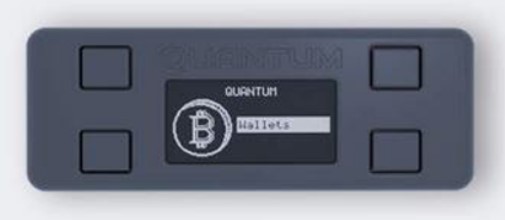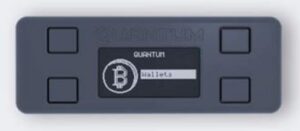 The QUANTUM is a versatile crypto device created by Security Arts. It functions as a hardware cryptocurrency wallet, password manager, and 2FA token. With the QUANTUM, you can securely store your important data and manage your crypto assets, even when connected to a compromised PC.
You can easily connect the QUANTUM to any PC using a USB connection, without the need for additional drivers. All of your crucial data is stored encrypted within the device and protected by a strong PIN code.
The QUANTUM supports multiple currencies, including Bitcoin, Ethereum, Bitcoin Cash, Bitcoin SV, EOS, Litecoin, Dash, DogeCoin, Ripple, and Stakenet XSN. It enables you to send and receive money, check your balance, monitor cryptocurrency rates, and much more. Regular device updates will also add support for new cryptocurrencies.
Keevo Wallet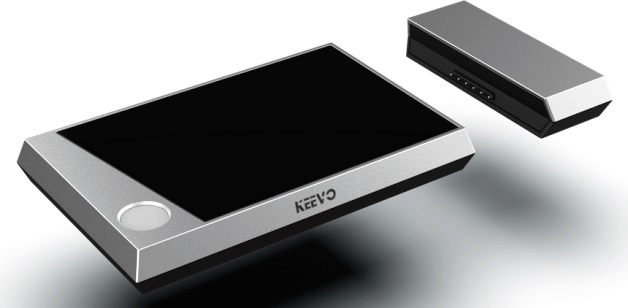 Keevo crypto hardware wallet is one of the safest wallets by far for your cryptocurrency assets. The wallet is secured by a multi-signature authentication process and has a dual-chip mechanism for ease of use. It supports Bitcoin (all versions of Bitcoin), BCH, BSV and ETH.
Price: $299.
Features:
Recover your private keys with Keevo Carbon Key™, PIN code, and fingerprint access.
In case of death, your beneficiary can restore your private keys after proper authentication with the help of Keevo's premium service.
All transactions are secured by four-factor and multi-signature facilities to provide the utmost security.
Highly durable wallet made of aluminum alloy and glass-fiber screen. Furthermore, the screen is dust and water-resistant and is IP65 ingress protected.
A 2.8 inches screen with 2-triple-core processors.
BitLox Hardware Wallet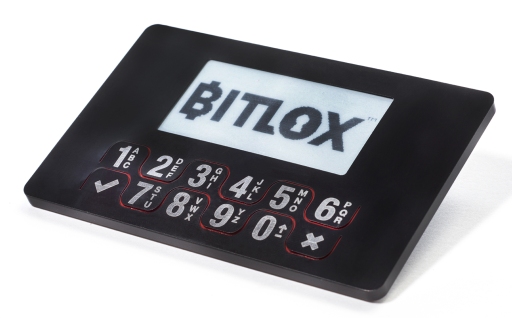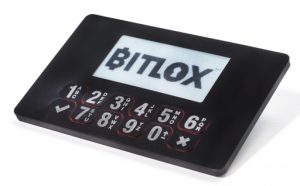 BitLox is another mobile Bluetooth crypto hardware wallet. It is very thin about 4mm and is extremely durable and safeguards against water, heat and cold. It supports multiple languages and comes with a micro USB cable. There are multiple layers of user verification for advanced security. BitLox is available for iOS, Android and desktop applications. Bitlox wallet can store 100 wallets and up to 50 of them can be completely hidden. It has been build with titanium TA-2 grade alloy and also comes with a 5-year warranty. It supports BTC, BCH, and BTG only.
Price: $148.
ColdCard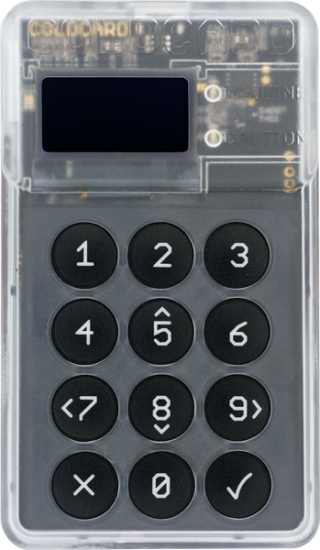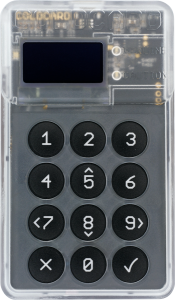 Coinkite Coldcard wallet is a secure Bitcoin-only  crypto hardware wallet that can use offline. It comes with a small display screen, a microSD card slot, and physically numbered buttons for PIN authorization. It supports BIP174 so no special software is required. The MicroSD card slot is an attractive feature that is required to take backups and store data. Coldcard wallet generates 24-word BIP39 seeds while it can import 12, 18, and 24-word, BIP39 seeds created on another wallet. The current price of this wallet is price $120.
Opendime:

Opendime is designed like a mini USB stick so it is usually referred to as a 'Bitcoin stick'. It permits the users to use Bitcoin like a dollar bill. When a user wants to check his balance status, he must insert Opendime into any one USB device. It is very simple and faster to set up.
Price: $50 per pack.
BitBox02 Wallet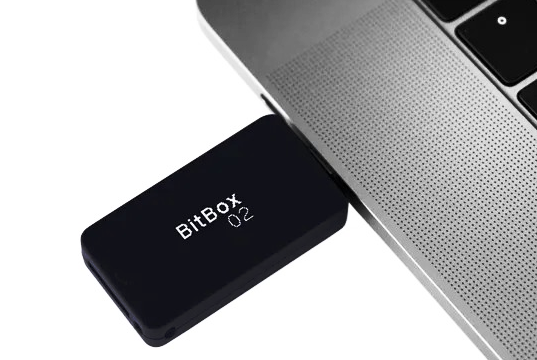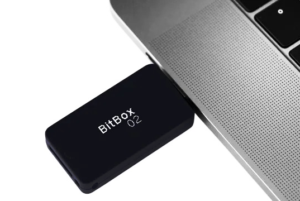 The BitBox02 empowers users to easily store, protect, and transact crypto assets. Its companion, BitBoxApp, provides a complete solution to securely manage crypto assets with ease. Simple and secure, the BitBox02 is a great solution for beginners: the BitBoxApp guides new users through every step, and setting up the BitBox02 takes less than two minutes. The seed is backed up to a microSD card instantly so there is no need to write down the recovery words.
The BitBox02 is very straightforward to use. The large OLED display shows all relevant information for easy verification. And there are no clunky buttons: touch sliders are used for intuitive and efficient operations, like confirming a transaction or verifying a receiving address. It is also a great choice for advanced users: the BitBoxApp can connect with your own Bitcoin full node and provides coin control for improved privacy. The BitBox02 can also be used with Electrum and it is available for 109 EUR.
The BitBox02 is also fully open source while still utilizing a secure chip. This is achieved with its secure dual-chip architecture. With its small form factor and there is no visible screen when the device is powered off, the BitBox02 is a very discreet device. Made in Switzerland, it inherits a deep appreciation of quality and privacy.
Opolo Cosmos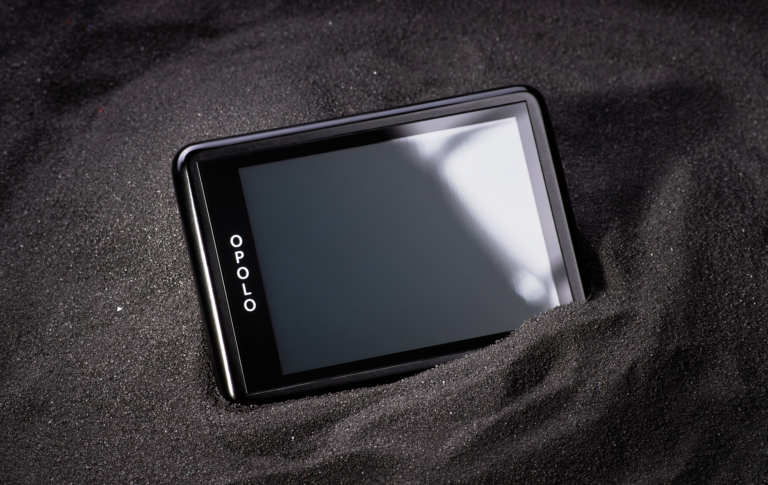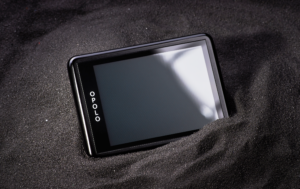 The newly launched Opolo Cosmos wallet claims to be the best hardware wallet in the market. This 100% offline wallet has obtained EAL6+ secure certification while other hardware wallets hold between 1-5 EAL certifications. Users can create their own 127-character passphrase to lock the wallet to ensure high-level security. It comes with a 3.2″ capacitive touchscreen display and supports a wide range of coins and tokens. The application is also equipped with multiple exchanges so that users can easily exchange their crypto assets.
Opolo wallet recently launched a fundraising campaign on Kickstarter.com and the goal was fully funded within 19 minutes only. They are offering 47% flat off on prices for early supporters in the fundraiser event. It is also compatible with 1inch exchange so that users can receive the greatest rate for your assets. The software application is available for Windows, Linux, macOS, and mobile devices as well. The current price for this wallet is 198 Euro.
Ledger Stax hardware wallet (Coming Soon)
The Ledger Stax is a hardware wallet designed specifically for managing and securing your crypto assets. As a hardware wallet, the Ledger Stax provides top-notch security for your digital holdings. It uses a certified secure chip to ensure your private keys remain isolated within the device. The Stax also has a built-in self-destruct mechanism that wipes your keys if someone tries to physically tamper with the wallet.
When you first set up your Stax, you'll create a PIN code to unlock the device. You'll then generate a 24-word recovery phrase as a backup in case anything happens to your wallet. Be sure to store this phrase in a safe place – if lost, your assets cannot be recovered. For an added layer of security, you can enable the optional passphrase feature which requires an additional code to access your accounts.
The Ledger Stax is compatible with over 1,800 digital currencies including popular ones like Bitcoin, Ethereum, Litecoin, Ripple, and many more. You can easily send, receive, buy, sell, loan, and swap assets right from the wallet interface. The Stax connects via Bluetooth to the Ledger Live mobile app which provides an overview of all your holdings in one place.
While security is a top priority, the Ledger Stax is also designed to be convenient and easy to use for crypto newcomers and veterans alike. The intuitive interface and step-by-step setup process make it simple to get started. And with the Stax's Bluetooth connectivity, you can manage your digital finances on the go using just your smartphone. For an all-in-one hardware wallet that safeguards your assets without sacrificing usability, the Ledger Stax is an excellent choice.
1inch hardware wallet (Coming Soon)
The 1inch hardware wallet is a secure cold storage device for your cryptocurrency keys. It's a small USB-shaped device that allows you to keep your private keys offline while still being able to sign transactions.
Some of the main features of the 1inch wallet include:
Supports major cryptocurrencies like Bitcoin, Ethereum, Litecoin, etc.
An OLED display to verify transaction details before signing
A secure chip to store private keys
Compatible with 1inch network, Uniswap and other DeFi platforms
An easy-to-use interface with just two buttons
Open source software so the code can be audited
The 1inch hardware wallet is a solid choice if you're looking for an affordable yet secure way to store your crypto keys offline. For around $50, it offers essential features to keep your digital assets protected from online threats like hacking and theft. By keeping your private keys on a separate device, you can have peace of mind that your coins are safe even if your computer is compromised.
Conclusion (Best Hardware Wallet)
If security and budget are top priorities in your hardware wallet search, the 1inch wallet is definitely worth considering. It may have fewer advanced features than some competitors, but it gets the job done for basic offline key storage at a good price. For many crypto holders, that's really all you need in a hardware wallet.
Hope this article on the Best Cryptocurrency Hardware Wallet will be helpful for our readers. Which one are you using? Share your experience and feedback with us in the comment section below.