Best Ways To Buy and Sell Bitcoins With PayPal Instantly
Paypal is one of the most accepted global instant payment gateways. Here is the good news for cryptocurrency users. Now you can buy bitcoins through Paypal instantly. The recent integration with Paypal will leverage bitcoin trading and there will be no more delays in bitcoin payments. Here are three ways where you can buy bitcoins through Paypal.
2 Ways To Buy and Sell Bitcoins With PayPal:
eToro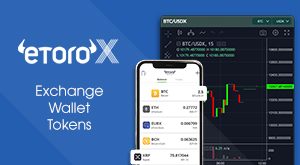 eToro supports Paypal as a secured payment platform. Users need to integrate Paypal into their funded accounts. Fortunately, eToro has an intuitive platform that is suitable both for beginners and for experienced traders. The multi-asset platform came into existence in 2006 and deals with several assets like CFDs, stock markets, Forex trading, and cryptocurrencies. There are no charges for eToro users. However, non-EU country users will be charged a minimal commission for trading on the platform. Visit eToro Website
Features:
Users can copy trading and portfolios of other traders. This is a unique feature where traders can collaborate and copy trade patterns. This allows novice users to learn from their expert counterparts and understand the concepts of crypto trading on the platform. Novice traders can select top traders and set up their portfolios.
This feature helps investors to allocate their funds into different crypto assets to maximize their profits and return on investments.
eToro Wallet. The eToro crypto wallet helps users to store, send, and receive crypto coins. The wallet works like any other crypto wallet and will support other crypto exchanges. However, before using, users must see whether their country supports the wallet or not.
The eToroX was another crypto exchange that was launched recently by the platform. It is licensed under Gibraltar Financial Services Commission and has a highly reliable and secured distributed ledger system. It supports both crypto and fiat currency and also allows easy swap between them.
Deposits in eToro. eToro is perhaps one of the few that supports multiple deposit systems like debit and credit card, wire transfer, Skrill, WebMoney, Giropay, Neteller, ACH, Yandex Money, etc. All these deposit systems have their terms and conditions. Users are advised to check the terms and conditions before choosing their deposit system.
eToro fees. There are no transaction fees on eToro. However, the platform charges a flat service fee of $25 on all withdrawals irrespective of the amount you withdraw. Furthermore, a 0.09% fee is charged on stocks and ETFs.
Customer support. One of the main drawbacks of eToro is the delay in customer support.
Supported countries. eToro currently supports 62 countries.
Supported cryptocurrencies. eToro supports a majority of the cryptocurrencies including Bitcoin, Bitcoin Cash, Ethereum, Dash, Litecoin, Ethereum Classic, XML, Neo, etc.
Advantages:
The demo account helps users to familiarize themselves with the trading features of the platform.
The live trading account is for real-time trading.
Copy-trading helps users to take help from experts on the platform.
Integration with Paypal allows the instant purchase of bitcoins.
Disadvantages:
There is no live chat for easy access to customer care.
Traders may find it difficult to go through their daily trading activities.
Paxful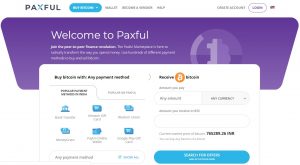 Paxful came into operation in 2015. It is a P2P (peer-to-peer) trading platform that updates traders with daily news of the trade markets. This is a reason why Paxful has become immensely popular within a very short period. Paxful is among the few who offer more than 300 payment options including Paypal. Registered users can store their bitcoins in the Paxful wallets. The platform is highly flexible and allows both buyers and sellers to set the terms and conditions for their trading activities. Visit Paxful Now
Features:
Paxful does not charge any fees for their transactions on the platform. However, buyers have to pay a nominal fee for buying bitcoins depending on the mode of payment they choose. For Paypal, Paxful is charging a fee of 5% and for gift cards, the fees are 0.1%. Sending funds to the non-Paxful wallet will be subjected to a fee of 0.0005 bitcoin. Users can transfer funds to Paxful wallets 5 times a month and will be charged a fee of $1 for other transactions.
Buy limits. Non-ID users who open accounts with their verified email and telephone numbers will get a buying limit of a maximum of $1500. Other users who get their ID verified will get a maximum limit of up to $10,000. The minimum buying limit is $10.
Customer support. Paxful customer support is comparatively better than other platforms. The live chat feature may, however, delay in answering your queries. In such cases, you may send an email.
Paxful is getting highly positive reviews especially the escrow payment method.
Supported countries. Paxful has banned some countries including Cuba, Iran, Iraq, Lebanon, Syria, Yemen, North Korea, etc.
Escrow accounts. To make payments and receipt of crypto secure all transactions must be done through the escrow accounts.
Advantages:
The P2P platform is profitable for traders.
Fewer fees. No hidden costs.
Personal wallet storage.
Disadvantages:
Most of the first-time investors are turned off as scammers due to a lack of proper identification.
It only supports bitcoins.
Conclusion
The users can also make use of some other low cost or cheaper methods like "Localbitcoins" or bank transfers to sell their bitcoins. But before going to sell bitcoins, the users need to create and post an advertisement on their site. They must also make sure that whether they are okay with the risks associated with the specific selling method.
Though the above-mentioned selling methods are effective, they are not suitable for new users or beginners. Because those beginners may not be aware of the insecurity or losses made by fraudulence attempts. This, in turn, affects the overall profit rate of the users.