12 Best Ethereum Classic Wallets | Top ETC Wallet In 2021
In this article we have listed Ethereum classic wallets so that users can choose the best ETC wallet for them. The list contains web, mobile, desktop and hardware wallet for Ethereum classic.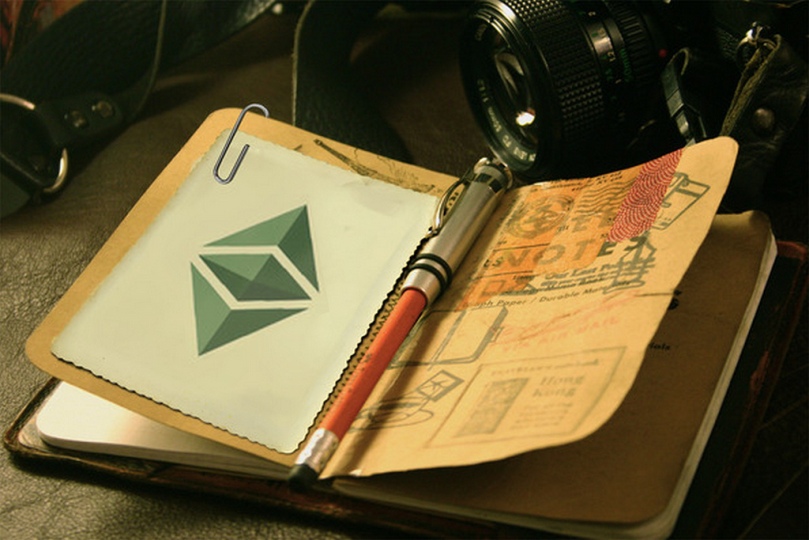 Ethereum Classic or ETC is another version or rather the Classic version of Ethereum blockchain platform that is more developed and aims to remove any risk of hacking, tampering of information or other security issues. It is by far the most transparent and secure blockchain platform. Ethereum Classic is the most popular cryptocurrencies used today and the wallets that will be used to store the ETC currencies needs to be perfect and oblige certain features for its optimum use. Below we have listed Best Ethereum Classic wallet or best ETC wallets and we will discuss them in detail.
Best Ethereum Classic Wallets (Best ETC Wallets)
Atomic Wallet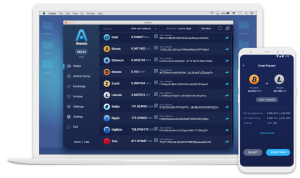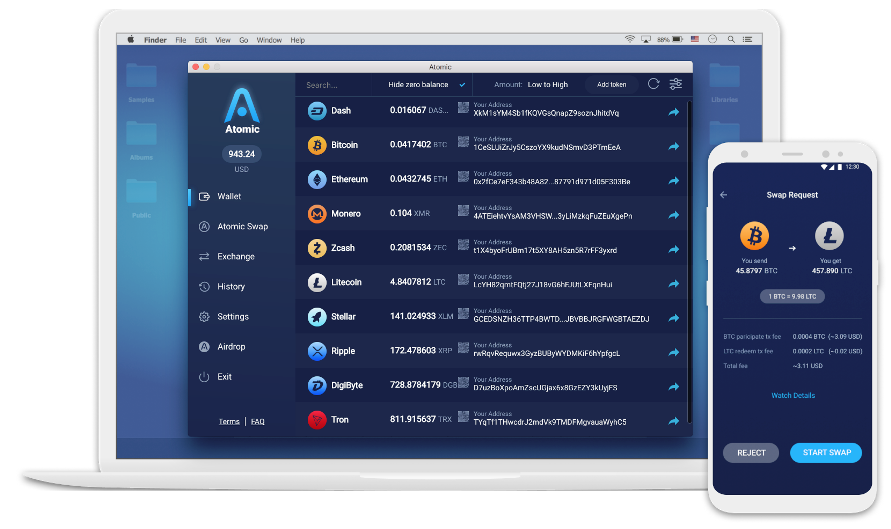 Atomic Wallet is a new multi-assets solution for convenient storage of Ethereum Classic. For sure, Atomic can be used not only as an ETC wallet: it currently supports over 300 coins and tokens. Besides, every weekly update adds new crypto assets and features.
The desktop app is available for Windows, macOS, Ubuntu, Debian, and Fedora. Alpha versions of Android and IOS mobile apps will be released in December 2018.
Full list of Atomic Wallet features:
Private keys are stored on the user's device and generated from mnemonic.
Built-in Buy Crypto with credit card option, provided by Simplex
Weekly updates with new coins, tokens, and useful features
Atomic Swaps option for exchange with low fees
Custom token feature — you can manually add any ERC20 token in seconds
Instant exchange via Changelly and Shapeshift
Instant 24/7-live support
Claim your free 15 Atomic Wallet Coin (AWC):
Download Atomic Wallet and complete the setup.
go to setting->airdrop
fill your email id and use p172G5R to get 15 free AWC coins.
Ledger Nano S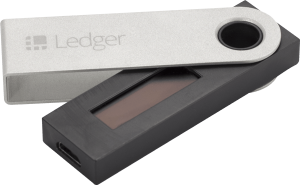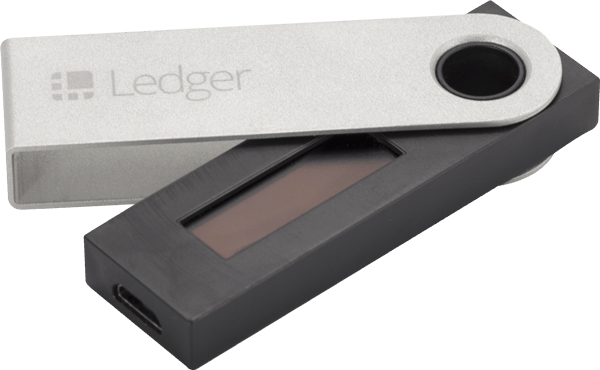 Ledger Nano S, by far one of the best hardware wallets right now. Developed by a French company, it is popular for its unique sleek design. Some of the features are discussed below:
It supports Ethereum, Ethereum Classic, Bitcoin, Litecoin and 22 other major cryptocurrencies.
OLED screen with buttons for convenience.
HD Wallet feature.
Backup seed keys, offline private keys and PIN code feature.
It can be used in infected computers as well.
Passphrase feature for added security.
Trezor
Another popular ETC wallet the Trezor is also giving tough competition. Some of its features are listed below.
OLED screen.
Backup seed keys, offline private keys and PIN code feature.
Passphrase feature as well.
HD wallet.
This too can be used in infected computers.
It also supports multiple numbers of cryptocurrencies over 7 including ETC.
It supports other apps like TREZOR Wallet, Mycelium and Multibit HD.
It can be used in Android phones.
Other versions of Windows 7 and higher, OS X and Linux are also available.
The hardware is available in just $99 and in three different colors of white, grey and black.
Coinbase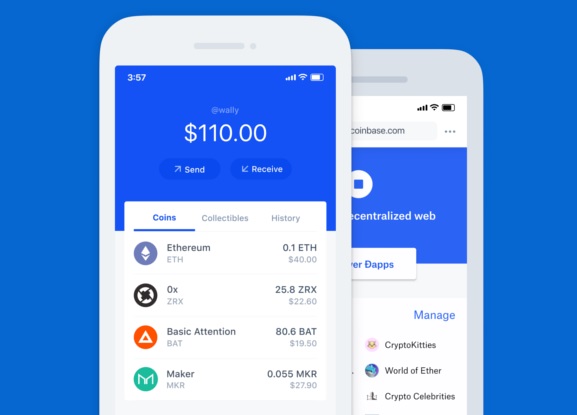 Founded in 2012, Coinbase is one of the oldest players in the cryptocurrency domain. It provides a secure wallet, and exchange so that users can buy and exchange cryptos within the wallet. Apart from the Ethereum classic, it provides wallet support for the most popular coins in the market including Bitcoin, Ethereum, Litecoin, Tezos, etc. and users can manage their portfolio, buy and sell crypto within the wallet itself. Coinbase mobile wallet is also available for Android and iOS platforms.
Guarda Wallet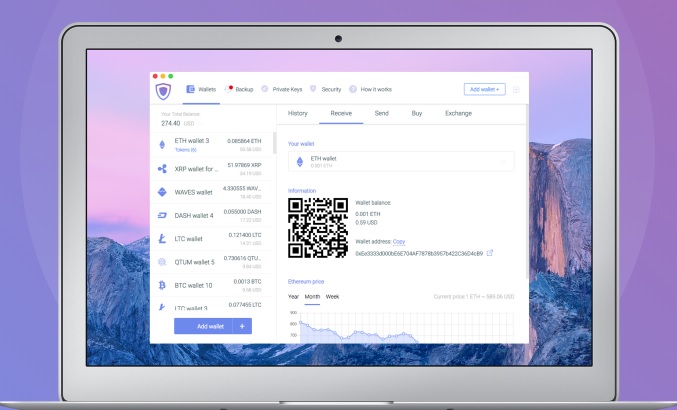 Guarda is a multi-platform multi-currency crypto wallet that supports crypto coins like Decent, Bitcoin, Bitcoin Gold, Ethereum, Ethereum Classic, Komodo and Zcash to name a few. Over 10.000 tokens are also available for management on Web, Desktop, Mobile and Chrome Extension. Guarda has proven to be one of the best Ethereum Classic wallets overall and gained recognition from ETC foundation as the "official wallet".
The key features of Guarda Wallet include:
Secure backup encryption and custody-free storage policy
Built-in purchase and exchange services
Wide range of supported cryptocurrencies with new coins and tokens added constantly
24/7 customer support line with the fastest response time on the wallet market
Cross-platform operations – all the wallets are easily synced across available versions
Currency-specific features of supported coins
Additional services such as ERC20 Token Generator
Ledger Nano S integration
Coinomi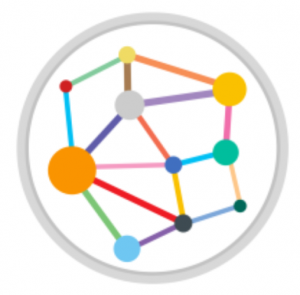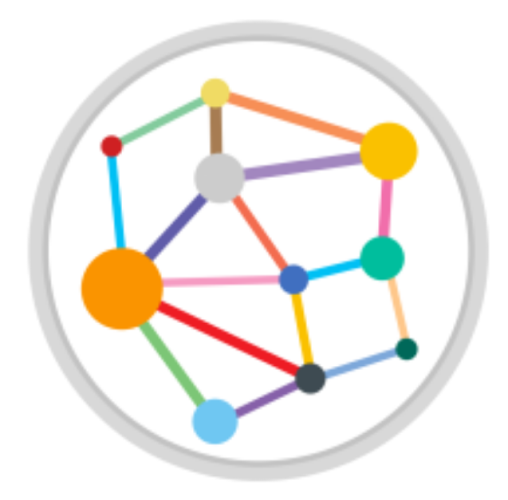 Based on the UK, Coinomi is for people who do not have much time to manage their funds and want quick results. It has limited features and not so diverse like Ledger Nano S or Trezor, but it still is a good ETC Wallet and has its unique features.
It supports multiple cryptocurrencies including Bitcoin, Ethereum Classic and Litecoin.
Offline private keys and backup seed keys.
It has an inbuilt coin exchange interface and integrates with Changelly and ShapeShift which is quite rare to find in other Wallets.
It is available both for Android and iOS now.
Jaxx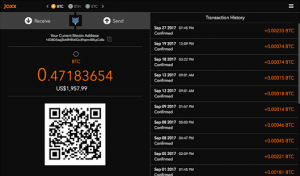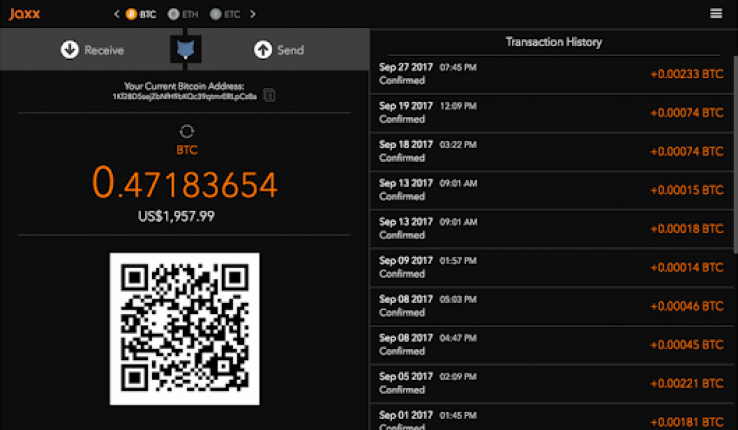 Jaxx is a product of Canada-based Start-up Decentral. Some features of Jaxx are listed below.
It supports more than 50 cryptocurrencies including Ethereum Classic, Bitcoin, Litecoin, etc.
It supports smart contracts and no personal registration is required thus providing maximum security.
It is available in Android, iOS, google chrome and other web browsers.
It will soon be launching desktop versions for MAC, Linux, and Windows.
Jaxx lacks the two-factor authentication feature which can be a major setback for the wallet in the future.
Classic Ether Wallet
Classic Ether Wallet is a web wallet, but it is not controlled by any third party so you have full control of your wallet all the time. It is an offline wallet, so nothing is ever stored in MyEtherWallet servers.
An open-source wallet and has an inbuilt BTC to ETC and vice-versa swap facility.
You can also connect to Ledger Nano S and Trezor for access and transfer of funds through the browser interface of Classic Ether.
It supports smart contracts.
No personal registration is required.
Exodus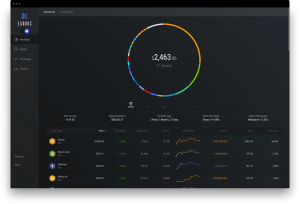 Exodus is another desktop based crypto wallet. Exodus supports a list of crypto coins including Ethereum, Ethereum Classic, Bitcoin, Dash, Zcash and many more. Exodus have inbuilt  ShapeShift exchange tool for quick exchange  of cryptocurrency. It has an attractive interface and a very easy to use.
Trust Wallet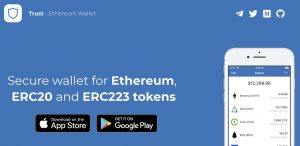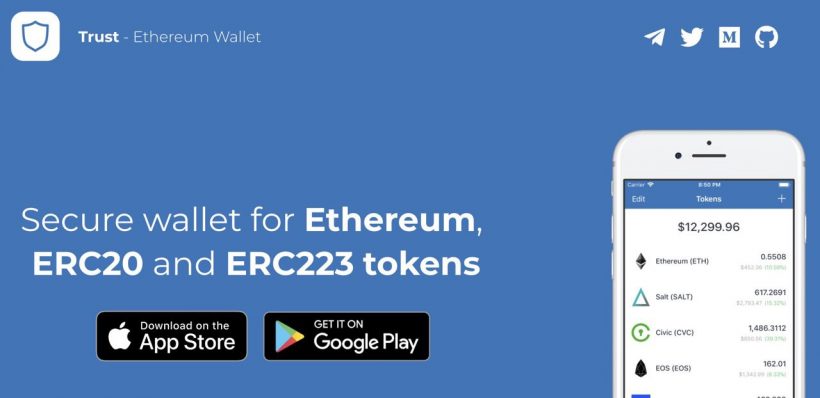 Trust Wallet is a mobile wallet and it supports Ethereum, Ethereum based ERC20 tokens and ERC223 tokens. But one of its major drawbacks is it does not support Bitcoin.
Trust Wallet participates in Initial Coin Offerings or ICOs.
One of the best user interfaces due to its simplistic and easy-to-use approach.
It supports smart contracts.
It supports DApps and one can easily integrate with them using the web3 browser of Trust Wallet.
No personal registration is required here.
MyEtherWallet:
MyEtherWallet is the best wallet for ETH as well as  Ethereum Classic (ETC). Unlike other online wallets, MyEtherWallet allows users full control over ETC private key. Another feature that I like the most about this wallet is that it has built-in ETH TO BTC swap tool and supports Ethereum Classic and ERC20 tokens on the platform. Remember, to use MEW as Ethereum classic wallet you have to change blockchain node to Network ETC (epool.io).
Emerald Wallet
It is an Ethereum Classic (ERC) Wallet and part of a Emerald Platform, a platform for development of decentralized applications (dApps) on the Ethereum Classic blockchain. Emerald Wallet is available for Windows, Linux, and Mac.