Looking for the best staking-as-a-service (SaaS) platform to stake PoS coins? Cryptocurrency "Staking" is the newest way to monetize your digital currencies in the crypto market. Investors earn interests against their digital assets based on the Proof-of-Stake (PoS) consensus mechanism.
The staking reward is directly proportional to the amount of crypto coins you stake to validate transactions in the blockchain. Winners are chosen on the basis of a random selection and also on the basis of the amount of holding they have staked in the network. [Read: How does staking works]
Staking is a complicated process and requires technical know-how where validators earn interests for securing the blockchain network. This is a reason why there are many Staking-as-a-Service platforms that lend their technical expertise and validate stakes on behalf of the investors.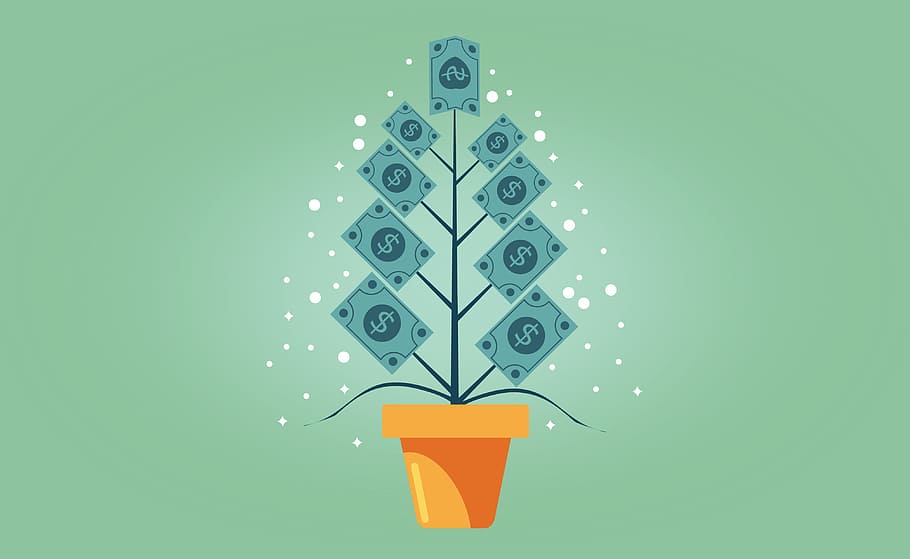 Recommended Read: 
What is Staking-as-a-Service Platforms or SaaS?
Staking-as-a-Service Platforms or SaaS help non-technical investors to stake their digital assets to earn rewards from the staking process. To take part in the staking process, you also need to run your computers 24/7. This might be challenging for new investors.
Best Crypto Staking-as-a-Service [SaaS] Providers
SaaS service providers make your work easy and allow anyone to take part in the process. Here are the top 5 Staking-as-a-Service platforms:
MyContainer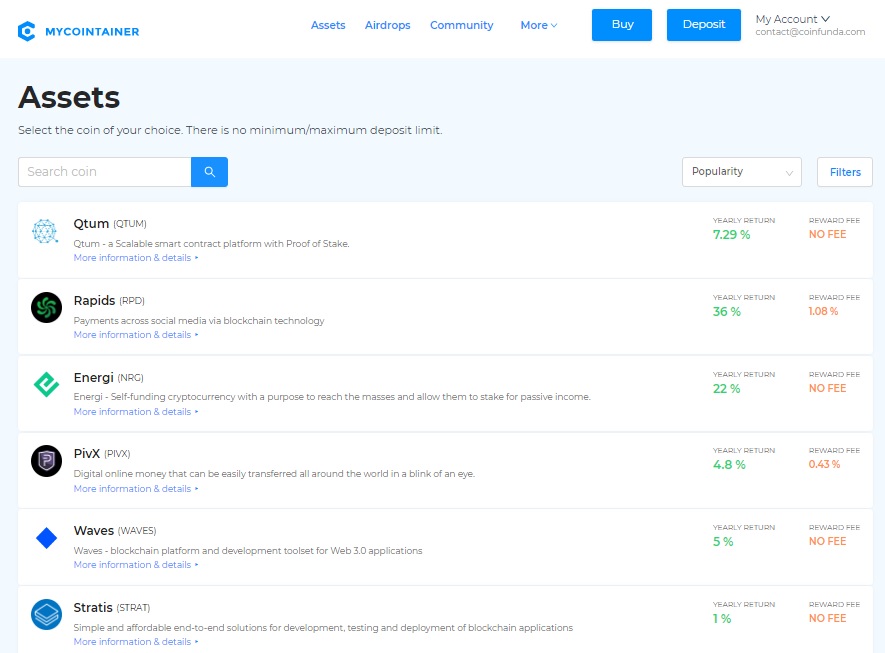 MyContainer was founded in 2019 and it is based in Estonia. With MyContainer you can buy, stake, and invest in more than 50 cryptocurrencies worldwide including PinkCoin, CloakCoin, PIVX, Wagarr, OKCash, NavCoin, Phore, etc.
It is a web-based platform and offers three types of reward plans – Basic, Power Plus, and Power Max. The Basic plan starts at €1. Power Plus is available at €3.99 per month and the Power Max comes at €8.99 a month with no staking fees, shared masternodes, and many other features. Paid plan comes with many attractive features including zero staking fees.
The online platform supports fiat currency and can be downloaded in your Android and iOS phones. In the free plan, staking fees are 9%.
Figment Networks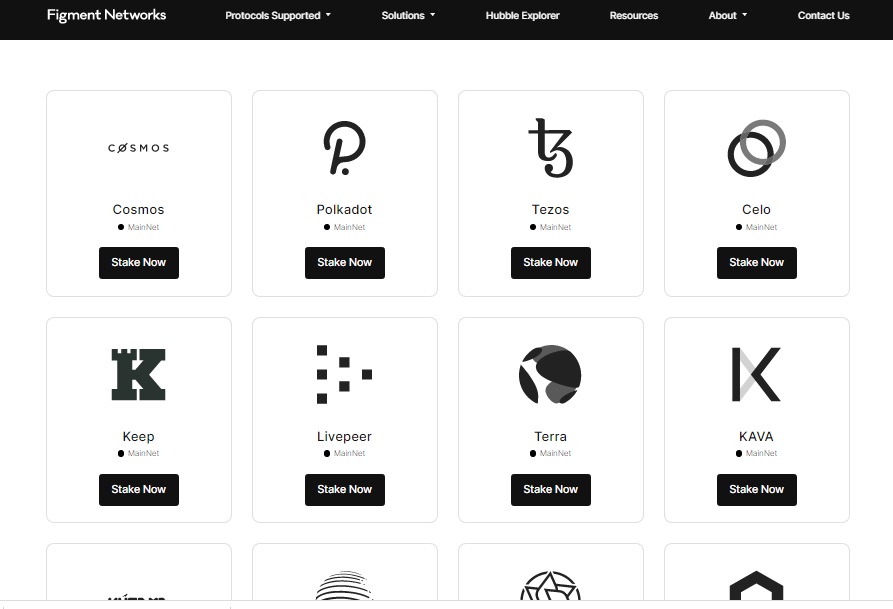 Founded in 2019, Figment Networks is one of the most trusted and dependable SaaS platforms in the crypto market. Based in Canada, the company has staked a wide variety of crypto assets like Cosmos, Tezos, Livepeer, Terra, Kava, IRISnet, ICON, AION, Horizen, ICON, Algorand, Harmony, etc.
The platform offers Web 3 protocols and 24/7 customer support through email, Telegram, and telecommunication. The simple interface also allows third-party developers to integrate quickly and offer their services.
Users can view their transactions in real-time and also track their performance data. You can also select the coin you want to stake from the drop-down menu and calculate your rewards. Staking fees are 0% to 15%.
Stake Capital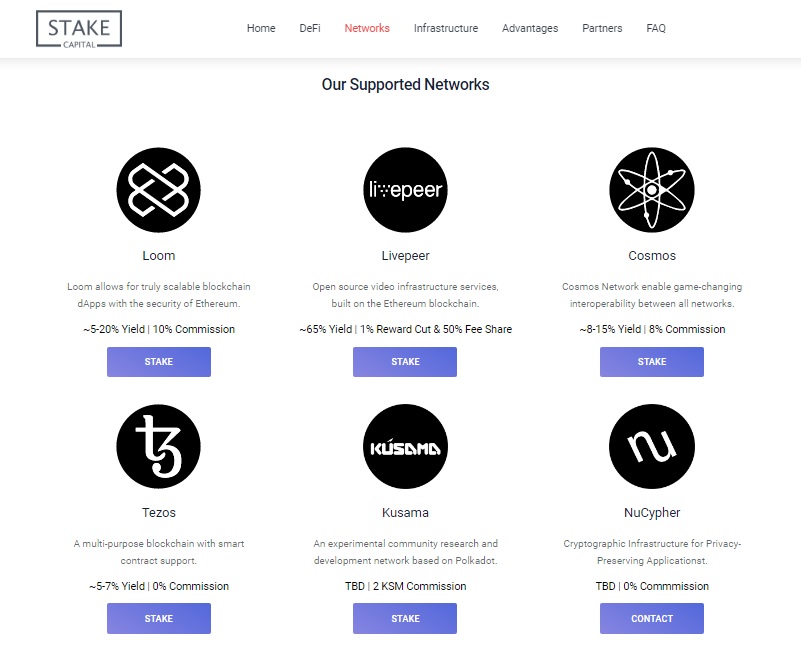 Based in France, Stake Capital is a DeFi or decentralized finance company that offers several revenue sharing services like borrowing, lending, swapping, leveraging, arbitrage along with SaaS services. It supports crypto coins like Cosmos, Tezos, Livepeer, Loom, AION, Kava, and Kusama.
Stake Capital also allows users to maximize their stake returns via stake DAO. The stake DAO leverages the DeFi services and helps investors to earn additional benefits and returns on their stakes. Fees are 0 to 10%.
Stake.Fish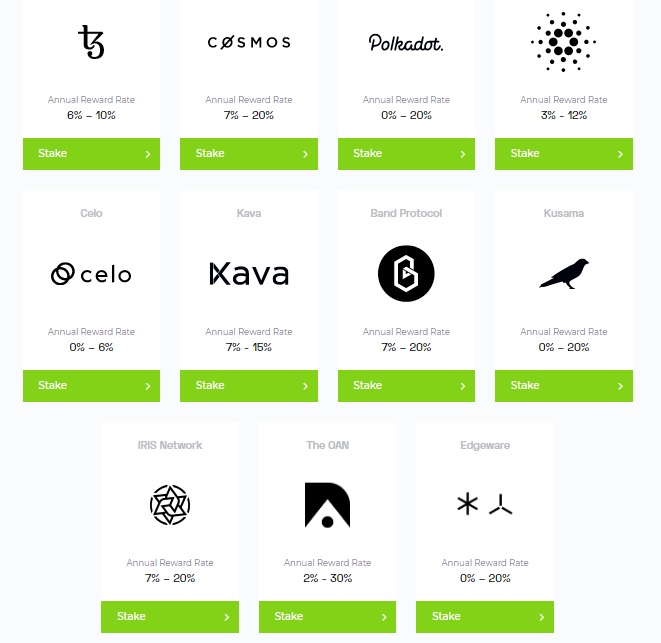 Stake.Fish is another leading SaaS provider and offers their tokens to be staked by investors. Users can also stake other cryptocurrencies like LOOM, ATOM, LPT, EOS, KAVA, AION, COSMOS, KUSAMA, IRIS Network, ALGO, etc.
Stake.Fish stake crypto products on the behalf of the investors and run robust staking hardware protected by multiple security features. Staking fees at Stake.Fish is 10 to 20% depending on the cryptocurrencies you stake.
Staked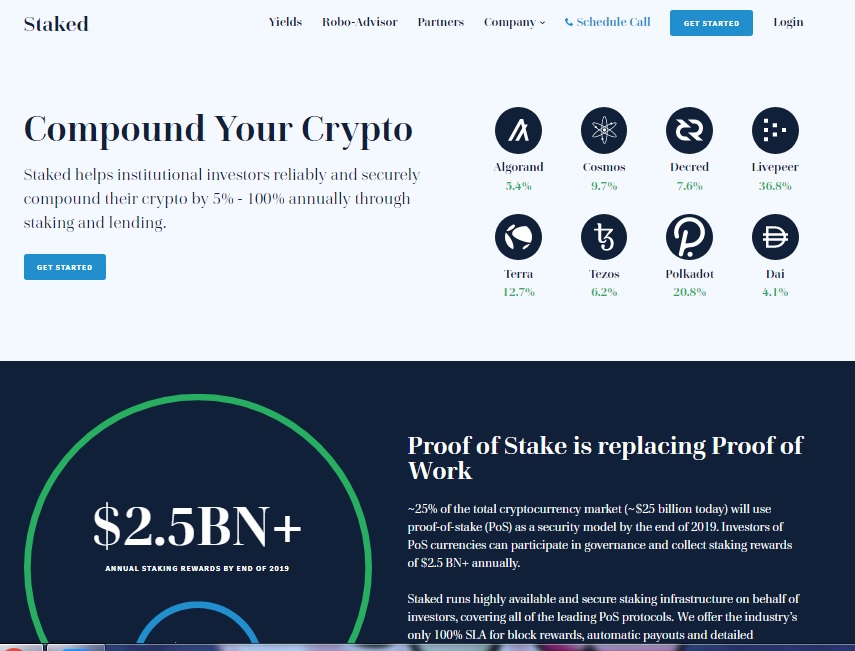 Staked is a New York-based staking-as-a-service company that helps investors to earn rewards from 5% to 100% annually through their lending and staking services. The platform supports several crypto assets like Tezos, Terra, Polkadot, Dai, Cosmos, Algorand, Decred, Livepeer, etc. Staked claims to offer 100% rewards to its customers and also allows automatic fund transfer along with detailed reports of their staking services.
The RAY (Robo Advisor for Yield) is an automatic smart contract system that has been designed to yield the best returns against your investment risk profile and helps investors to understand their staking infrastructure. Staking fees are 5% to 10%.