4 Best Tezos Bakers For XTZ Staking In 2021
Stakeholders or bakers of the Tezos network need to be delegated with Tezos coins or XTZs in order to earn rewards. Bakers who stake their XTZs and take part in the baking process earn rewards from the network. The reward is between 5% to 10% annually but is variable with time. If you are new to this, read some basics on Tezos baking and delegation. Choosing the best Tezos baker depends on different parameters including payment interval, fee deduction, reliability.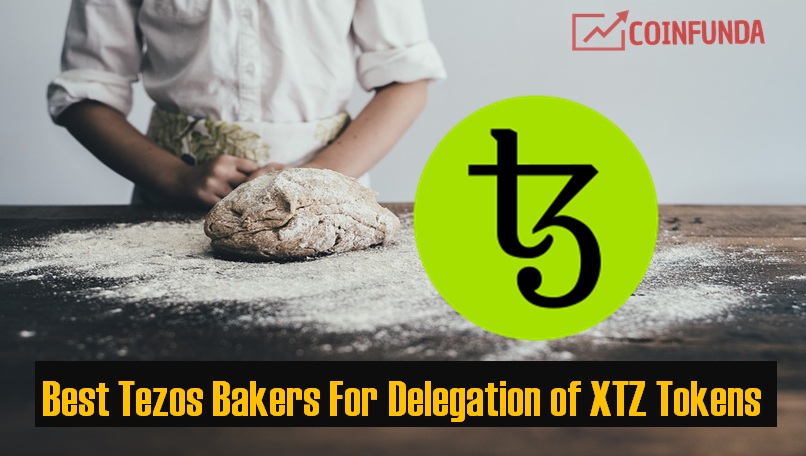 In order to qualify in the process and earn the reward, bakers need to have at least 1 roll which equivalents to 10,000 XTZs. Furthermore, they need to have a computer system and know about the various technicalities to complete the transaction process. The entire process is often susceptible to risks of hacking or infiltration and technical anomalies.
Well, worry no more. Thankfully, Tezos has come up with an alternative solution of Delegation. There are different bakers have come up with the unique idea of scale baking services. Here, you can just delegate the baking rights to the baker services and they will do the rest for you for a small amount of fee which lies between 5% to 15% cut from your baking rewards. These bakers will automatically transfer your rewards directly to your wallets periodically. You can spend them or delegate them according to your needs. I revived my first Tezos baking payout after approximately one month and then after every 3 days approximately 5-7%.
Recommended Articles: 
5 Best Tezos Bakers For XTZ Staking:
There are few measures to decide best baker for you, two important parameters are payment schedule and fee. Some of the bakers have no rooms for new members. Here are few handpicked bakers for you but check on their website whether they have availability or not. There are few Tezos wallets including Tezbox where you can easily delegate your Tezos for baking.
Binance is a well known, one of the biggest cryptocurrency exchanges in the world. Binance ecosystem is providing services like spot exchange, future exchange, dex, saving, lending, and staking. Binance also provides Tezos baking service and started baking since Dec 2019. Users can easily bake Tezos with Binance by signing up for the exchange. At the time of writing this, the staking yield for Binance baking is 6.24% with is very high if you compare it with other well-established players in the market. Binance charges no fee for staking service. Join Binance Exchange
Bake'n'Rolls is a Ukraine based delegation service and they are available 24/7. It is supported by Ledger Nano S wallet which is highly recommended due to its top-grade security features. It is maintained by HPE ProLiant DL360 Gen10 Server. All rewards and earnings are recorded in Google spreadsheets which can be validated at any time by the stakeholders.
Dynamic annual yield allows stakeholders to earn the exact amount they have backed minus the commission of the bakers. Rewards are distributed after the completion of each cycle. They deducted 10% as a fee from your baking rewards.
Based in Austria, Happy Tezos is a delegation service whose main motto is the security and safety of your Tezos coins. No signup is necessary and you can check your rewards anytime on the dashboard. Investors can join in by providing bonds which are actually security deposits. The current return on investment or ROI per cycle is 12.5% per annum. The earned reward is distributed among stakeholders, bond pool members, and the delegation team. To avail the service, the tokens are stored in the delegation account which can be withdrawn anytime by giving prior notice. The service charge here is 15%.
Everstake is a staking service provider that provides staking for multiple coins including Tezos, Cosmos, Algorand, Harmony, Solana, Decred, EOS, Icons, and many more coins. It was founded in Ukraine by Attic Lab, an EOS block producer. Everstake started Tezos baking in May 2020. and they charge a 5% baker fee for that. XTZ staking yield of Everstake is 5.92% (based on the efficiency of the last 10 cycles.