Utrust is an innovative and revolutionary platform or network, which is the future of payments that are made online. It uses the technology of blockchains and is the safest and best platform in the world for making online payments. It generally acts as a third party mediator and the users of this platform can purchase products by making crypto currency payments. Some other platforms similar to Utrust are Bitpay and PayPal.
It holds only 200+ merchants at the initial stage. But now, the platform has been expanded to around 1000+ merchants. It is an Ethereum (ETH) based platform that uses ERC – 20 tokens. Its token is not only a spendable token, but is also an investment made by the users. It was launched in June 2017 and is based in Switzerland. Nuno Correia is the chief executive officer (CEO) as well as the founder of this platform.
Best Utrust Wallets for UTK Tokens:
Utrust Token known as "UTK" is an ERC20 token which is supported by following list of wallets:
Read more for full List of ERC20 Wallets.
Best Exchange to Buy Utrust (UTK) Tokens:
Utrust token is listed on few exchanges inducing the decentralized exchange also. But most of the volume is coming from the Huobi Global only. Below is the recommended exchange for trading Utrust (UTK):
Utrust vs Paypal vs Bitpay – Feature Comparision: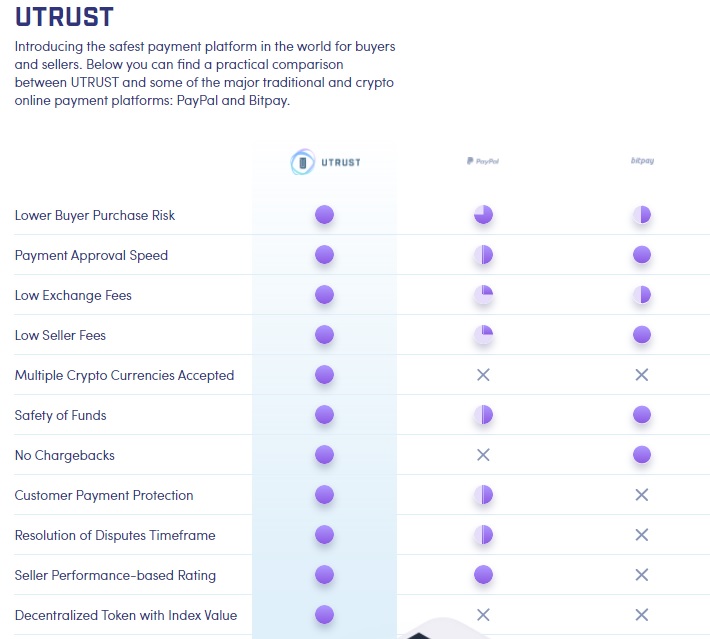 Unique features of Utrust:
It is a highly volatile platform that offers a wide range of benefits to both the buyers and sellers.
It gives a special protection mechanism upon ground breaking purchases.
It overcomes the risk factors like fraudulence or scams with the help of its payment protection strategy.
It mainly focuses on the product's protection from purchase till delivery.
It allows real time transactions at a much lower cost.
It protects the users' payments from unauthorized hacking.
It avoids fraudulence of credit cards and nasty chargebacks.
It facilitates the conversion of payments into fiat currencies, in order to give protection against the price fluctuations of the market.
It supports multiple crypto currencies at one time.
It ensures immediate or faster conversion of fiat currencies.
It offers only a very low or zero conversion charges to the users.
It has acquired the best seller ratings because of its high performance.
It is compatible with both IOS and Android devices.
It gives a commission of around 1% to the users.
It ensures convenience and safety of funds.
It facilitates efficient dispute resolution.
It contains a dedicated team of professionals with experience in the fields of cyber security, banking, crypto currency and Venture capitalism.
Important Link: