ERC20 tokens are used exclusively on the Ethereum platform. The term ERC20 stands for "Ethereum Request For Comments" and 20 is a unique ID number that is used to distinguish the token standard from other tokens. The ERC20 tokens follow a list of rules and regulations on the Ethereum platform. An ERC20 compliant token or smart contract brings certain benefits to its users. There are few wallets supporting ERC20 tokes which makes it difficult to choose the best ERC20 wallets for you.
The Ethereum Blockchain supports huge list of ERC20 compliant coins and smart contracts, so one needs to be really diligent and careful while choosing their wallet for storing ERC20 coins.
Points to remember while choosing your ERC20 wallet:
The wallet should support ERC20 coins.
Control over private keys of the wallet.
The user interface should be easy and simple to use.
Look into the security features.
A 24/7 backup team in case there is any problem.
An active community platform for further development of the wallet.
List of Best ERC20 Wallets:
The List of best ERC20 wallet includes hardware wallet, web wallet and mobile wallets to store Ethereum ERC20 tokens. Let us now look into some of the best ERC20 wallets for Ethereum Tokens:
KeyStone Wallet: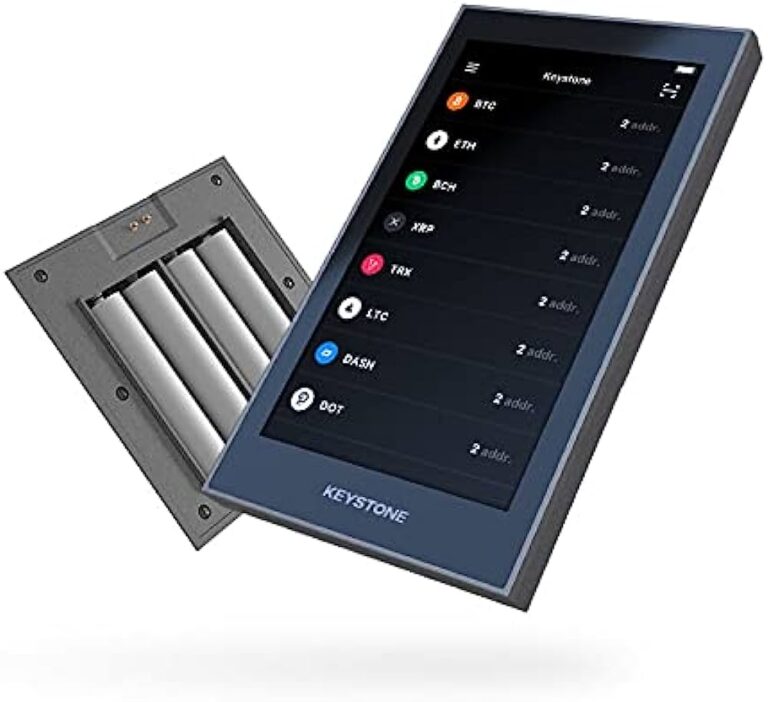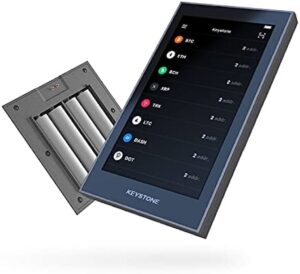 If you prioritize the security and control of your crypto assets, the Keystone hardware wallet should be at the top of your list. This sleek device allows you to store private keys for over 5,000+ cryptocurrencies including ERC20 tokens offline on a separate secure chip. Since it doesn't require an internet connection, the risk of hacking is eliminated. With this wallet, you have complete control over your private keys, ensuring full control of your funds. You can find a detailed review of the Keystone wallet below. Read Detailed Keystone Review.
Designed to cater to both beginners and experienced users, the wallet offers an easy-to-use interface and a step-by-step setup process that makes it simple to get started. Advanced users will appreciate features such as plausible deniability, a duress PIN, and the Shamir's Secret Sharing algorithm for key sharing. To send or receive funds, all you need to do is connect your Keystone wallet to a web wallet or exchange and enter your PIN. The device signs transactions instantly and then returns you to the online wallet. Additionally, for enhanced security, all data on the device is deleted after each session.
Whether you're interested in investing in popular coins like Bitcoin or Ethereum or exploring new projects, the Keystone wallet provides a secure place to store all your valuable digital assets. Priced at under $200, this hardware wallet offers bank-grade security and an intuitive user experience.
Ledger Nano S/ Ledger Nano X: 
Ledger Nano S is a hardware wallet that can easily be plugged into any USB port. It supports multiple coins and tokens. It has an OLED screen and a side button on the device. You can use the button to view and check all your transactions and your balance in the wallet. It is backed by a great support team and is constantly under development and will include more currencies in the future. The security features are quite strong in Ledger Nano. It is secured by passphrases, PIN codes, and seed keys that make it one of the most popular and secured wallets in the ERC20 platform. Buy Ledger Nano S Wallet

Ledger Nano X is an upgraded version of Nano S wallet with few extra features. It has a USB type C port instead of a micro USB connectivity slot. It is equipped with Bluetooth for easy connection with your mobile device. There is also a minor change in the physical buttons available on the device.
Trezor: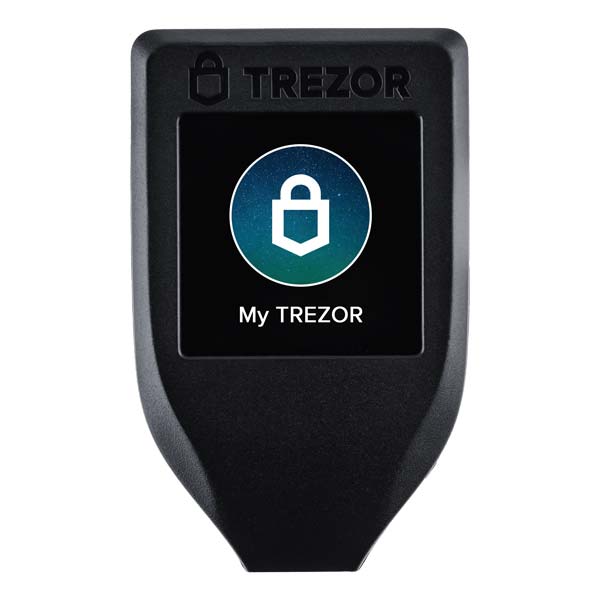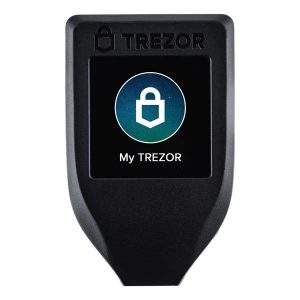 Trezor is another hardware wallet and is one of the oldest wallets that are active so far. It contains an OLED screen and the user interface is very simple. Trezor has a very unique sleek design and has touch buttons and a magnetic dock that gives a safe hold to the wallet. Users need to store its 12-digit passphrase as a backup for future references, loss or damage of the device. The wallet has seed keys, PIN code protection and passphrase features that make the wallet extremely secure. Trezor is slightly costlier than Ledger and costs around $110 and it comes in three different colors white, grey and black.
MyEtherWallet: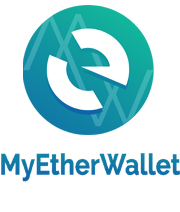 MyEtherWallet is an open-source web wallet and its user interface is very easy to use. It is completely secure as it is an offline wallet and it stores no personal information or data of its user in its server. Users have full control of its private keys and hence it is very secure. MEW is a hot wallet so it is recommended not to store large amounts in this wallet. However, it can be used along with Ledger Nano S and in that case, it comes completely secure and can store bigger amounts of funds. MyEtherWallet can also be used to store coins on Trezor and Ledger Nano through its web browser. Get MyEtherWallet Now
MetaMask:


MetaMask is a web wallet and is completely free to use. MetaMask browser allows you to store send and manage your ERC20 coins. Users have full control of the private keys of the wallet. Users can smoothly switch between their own network browsers and the Ethereum network. Users can also access DApps and smart contracts securely through this wallet. Get Metamask Wallet
Coinomi: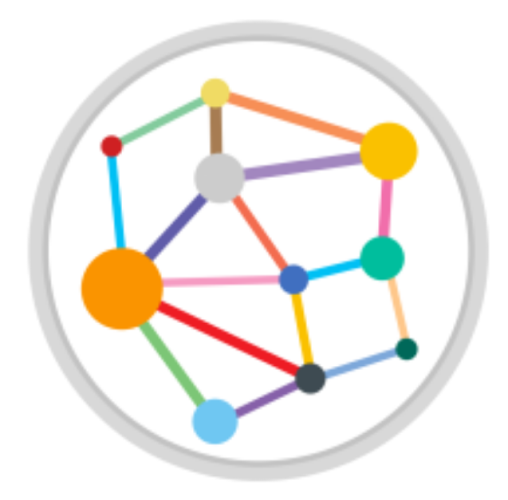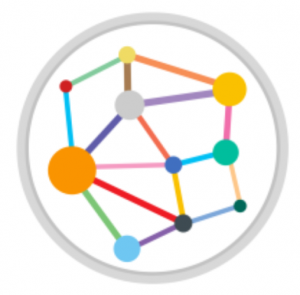 Coinomi is a mobile wallet. It is a multicurrency wallet and supports forked coins. Coinomi also supports the ERC20 coins and is backed by a very good community of developers. It stores all your private keys securely within the wallet itself and you have full control of your funds. It is an HD wallet protected by a PIN code, a seed code, and a passphrase feature. However, you have to activate its token feature by adding your set of tokens. You can download the Coinomi App into your Android phones. The iOS version will be launched soon. Get Coinomi Wallet
Trust Wallet: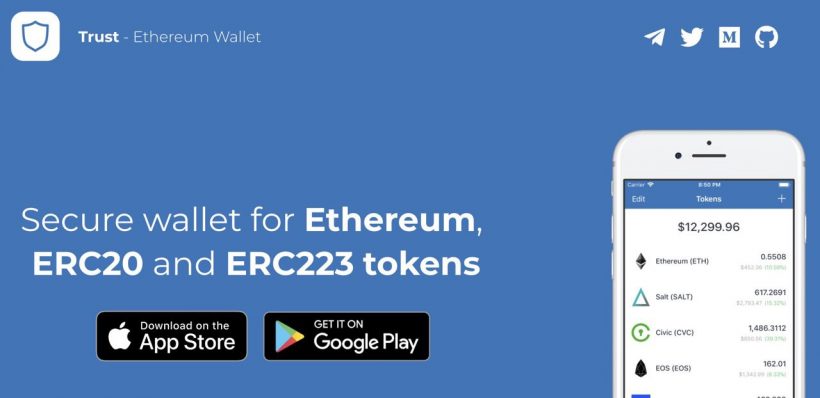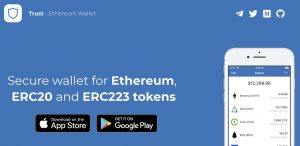 Trust is a mobile wallet. It supports ERC20 coins as well as ERC223 tokens as well. Users here need not worry about security as all their private keys are stored locally. It supports multiple coins like Ethereum, Ethereum Classic, EOS, Callisto, Otum, BAT, Augur, and other ERC20 coins. You can also connect with other DApps through this wallet. Trust has also partnered with the Kyber network that allows it to trade with other exchanges. Get Trust Wallet
Lumi Wallet: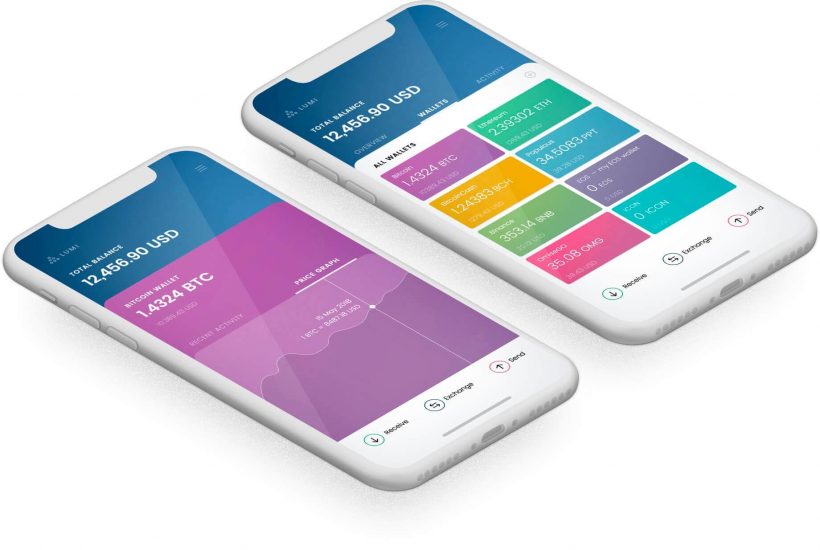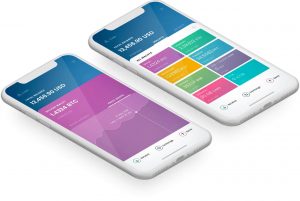 Launched in 2017, Lumi wallet is an easy to use cryptocurrency wallet suitable for new and experienced users. Lumi wallet is a hierarchical deterministic wallet that uses a 12-word master seed key. This wallet is available for the web as well as a mobile platform supporting Android and iOS. Lumi wallet is a multi-coin wallet that supports Bitcoin Ethereum Bitcoin Cash, EOS and ERC20 tokens. Users can exchange their tokens within Lumi wallet as it has built-in Changelly exchange. Get Lumi Wallet
Coinbase Wallet: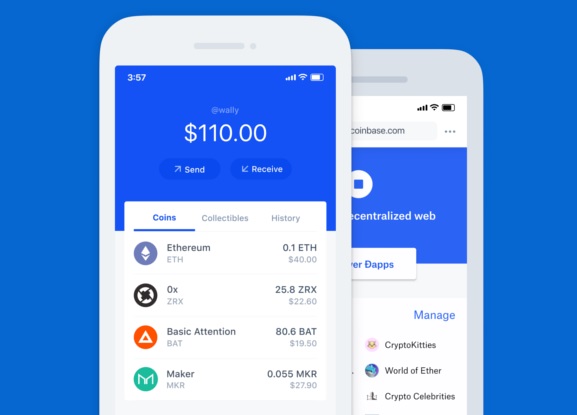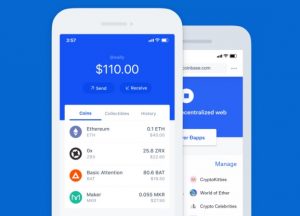 Coinbase is one of the safest crypto wallets for storing your ERC20 tokens. It stores all your digital collectibles and assets securely. Your private keys are secured through a biometric authentication feature. The wallet allows you to buy or sell your crypto assets through other exchanges available in the crypto market. Get Coinbase Wallet
Mist: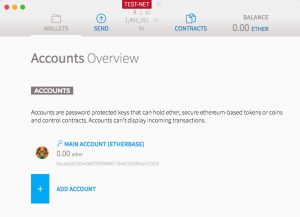 Mist is often considered as the official wallet of Ethereum as it is backed and developed by the developers of the Ethereum Blockchain. Mist is a desktop wallet and it has a built-in Shape-Shift trading feature that allows its users to exchange their tokens easily from their wallet. It is, in fact, one of the most secure wallets with an added multi-signature feature. Download MIST Wallet
Guarda Wallet: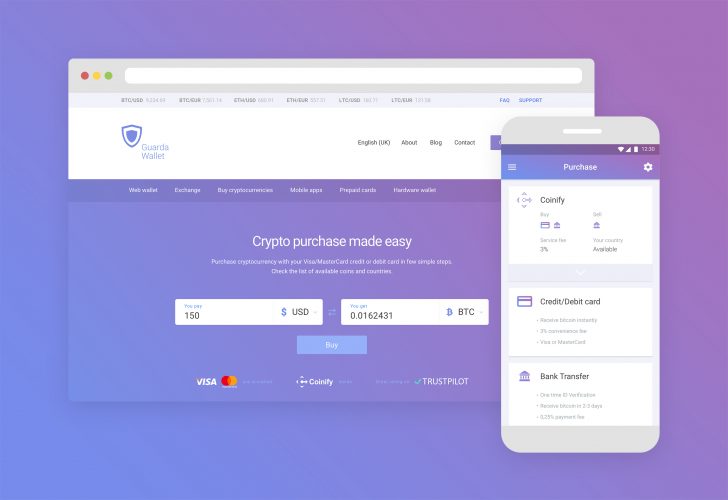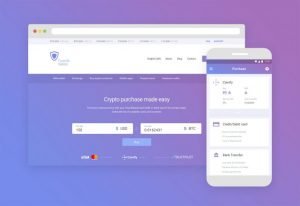 Guarda is a multi-currency non-custodial wallet offering support for Ethereum and Ethereum-based tokens. ERC20 token storages are available on a variety of platforms – Web, Desktop, Chrome Extension and Mobile (iOS and Android).  As Guarda is a custody-free service, the users have full control over their funds – the private keys are never shared with any third parties. Besides offering secure and cross-platform ERC20 token management, Guarda allows users to exchange tokens with a built-in swap service and even create their own ERC20 with an additional service – Guarda Token Generator.
The list of default ERC20 tokens is available under Ethereum wallet "Token" section, users can also add token wallets by pasting the smart contract address. Some of the key features of ERC20 token wallets on Guarda are:
Secure backup encryption and custody-free storage policy
Built-in purchase and exchange services
Wide range of supported cryptocurrencies
Cross-platform operations – all the wallets are easily synced across available versions
Currency-specific features of supported coins
Ledger Nano S integration
Eidoo: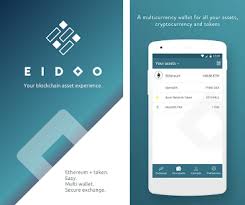 Eidoo is a multicurrency light wallet that supports ETH, ERC20 as well as ERC223 tokens. Eidoo was initially launched as a mobile wallet for Android and iOS phones, but now it is also available as a desktop app as well. It will soon launch its hybrid exchange where users can exchange tokens with very minimum fees. Eidoo also plans to launch some new features in the future like DApps, an exchange marketplace and also a cryptocurrency debit card. Eidoo is completely free to use and can be downloaded into your desktop from the Eidoo website and to your mobile phones from Google Play. Get Eidoo Wallet
Enjin Wallet:

Enjin wallet is a multicurrency wallet that supports ENJ, BTC, ETH, LTC, ERC20, ERC721, and ERC1155 tokens. It is a mobile wallet available for Android and iOS.  Get Enjin Wallet
imToken Wallet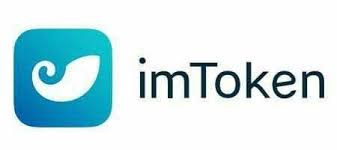 imToken is the largest Ethereum asset wallet, with approx 6M users. Users can store ETH as well as ERC20 tokens to the wallet. It is multichain wallet support another chain-like EOS as well. It also has built-in exchange. Get imToken Wallet
Exodus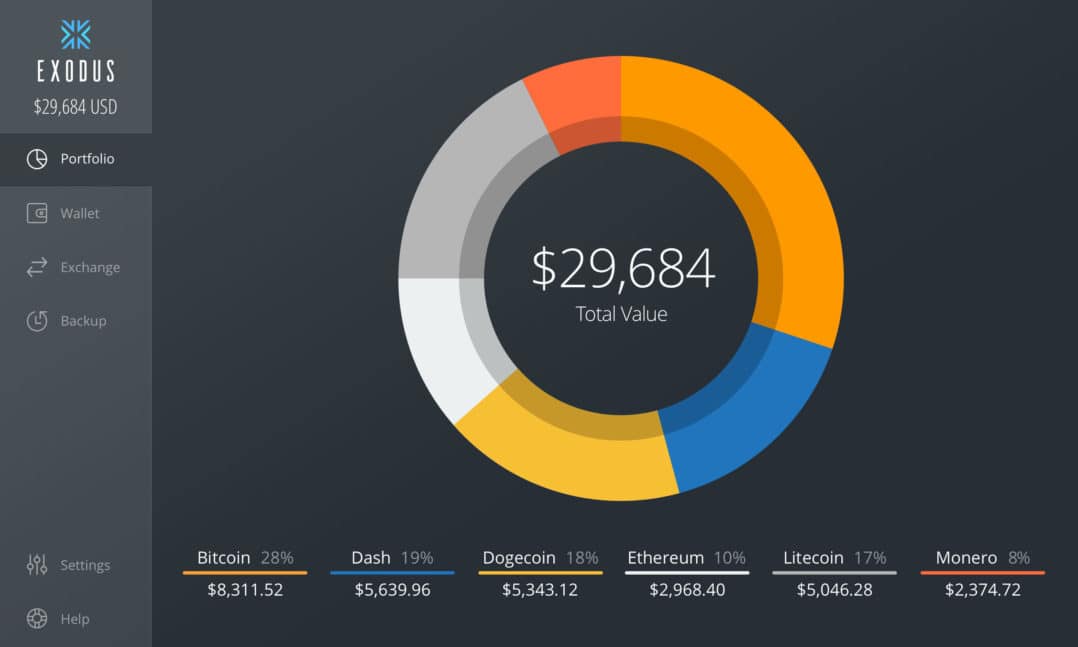 Exodus is a popular and secure desktop wallet. It has a cool portfolio feature where users can track their crypto holding. It supports ERC20 tokens and also equipped with Shapeshift instant exchange. Get Exodus Wallet.
Jaxx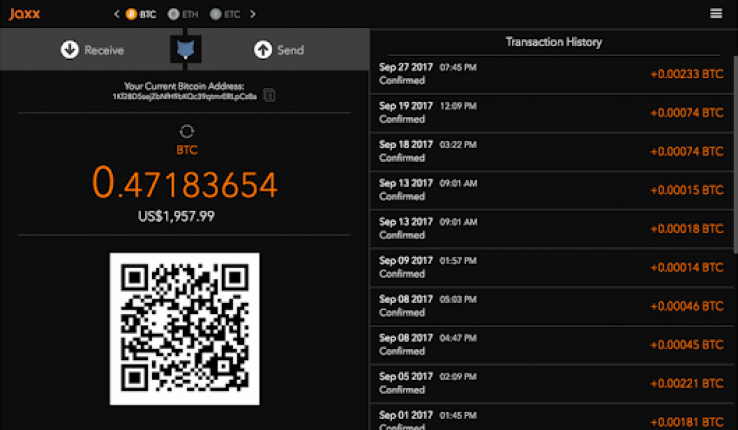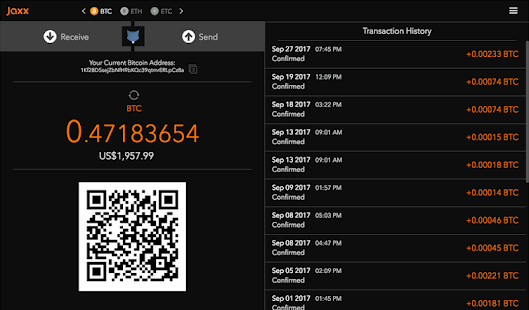 Jaxx is another popular and secure mobile and desktop wallet like Exodus. It supports multi-chain coins including ERC20 tokens. Get Jaxx
Bread (BRD) wallet: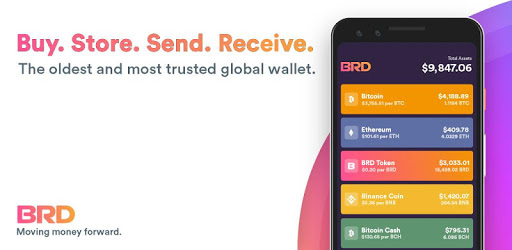 Breadt is a crypto wallet available for Android and iOS. It supports major crypto coins like Bitcoin, BCH, ETH including ERC20 token support. BRD app provides a paper key of 12 words to recover your wallet. Get Bread Wallet
KeepKey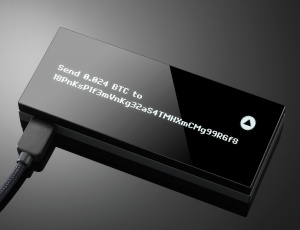 Keepkey is a secure multi-coin hardware wallet. You can connect it to your PC with a USB cable. It supports multi-chain cryptocurrencies including ERC20 token support. Keepkey wallet is also having the capability of generating multiple Pvt. keys. Get Keepkey Wallet
Atomic Wallet: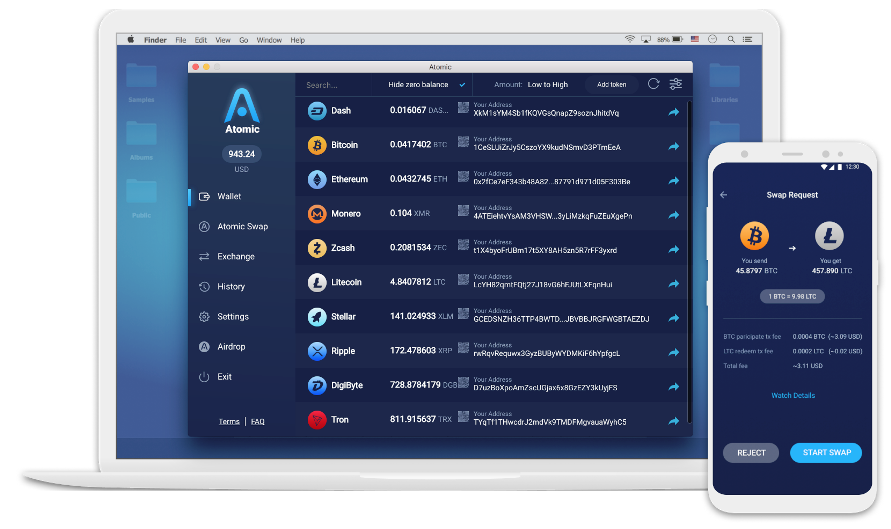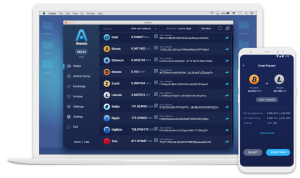 Atomic wallet is a desktop wallet. It is one of the best wallets by far as it supports all ERC20 coins. Users have full control of their private keys and seeds as all of them are stored in the device itself and none is shared in the browser or server. Users are still advised to safely store their seed passphrase for future use. The Atomic Wallet is available in Android phones as well. The iOS version will soon be launched. Another unique feature of Atomic Wallet is that it has its own official token called the AWC.