D'CENT Wallet Review: Hardware Wallet With Biometric Authentication
DCENT vs Ledger vs Trezor…confused??? D'CENT Biometric Wallet is an Innovative wallet equipped with a Biometric reader and OLED Display screen. In DCENT wallet review, we will discuss the design and features in details. We will also compare Safepal Hardware Wallet with Ledger and Trezor in next articles. Let's start with D'CENT hardware Wallet review.
Why do we need a hardware wallet for storing our crypto coins and why not a simple paper wallet or a software wallet? This is one of the most pertinent questions for crypto wallet users. Well, the answer is simple. This is probably because of the numerous security features that come with a good crypto hardware wallet.
Why hardware wallet?
Some of the crypto exchange markets and even the top-listed ones have witnessed crypto attacks over the past several years. It is not unusual, and many crypto investors even the experienced ones are afraid of investing large sums of their funds in the crypto market. This is where the importance of hardware wallet comes in.
The cryptocurrency exchange platform is a bit tricky. When you purchase cryptocurrencies, you hold the ownership of those coins. But do you really hold it? There lies the confusion. The concept of 'ownership' is slightly different in the crypto world. When you say you hold ownership, what it actually means is that you own a set of private keys which allows you to transact, send, and receive crypto money in the exchange platform and into your wallet.
Anyways, when you are trading in a crypto exchange you are actually authorizing the third party with your private keys to trade on your behalf in exchange for a promise that they will keep your private data safe and return back the full amount of your crypto funds back to you. You are actually signing an IOU or 'I own you', an informal document based on mutual trust that binds the transaction. All these exchanges are protected by some security features but they are not comprehensive and you are just hoping that all your private data is intact.
The software wallets are much more fragile and vulnerable to cyber-attacks and much of your private information is susceptible to third-party access. Paper wallets again are secure but need to be integrated with a hardware wallet to come into full action.
Hardware wallets on the other hand fully isolate all your private keys safely into a separate space and nothing is disclosed or kept in your device for public display. If you keep your private keys on your smartphones or PCs, it is just a matter of time before they are hacked. This is one of the main reasons, that hardware wallets are the most trusted and popular wallets in the crypto market mainly because of their security features.
Key Features of Hardware wallets are:
Convenient
Easy to access
Easy to carry
Backed by paper wallet for recovery of passcodes
Affordable
Most trusted and secure wallet
Hardware Wallet Security
Hardware wallets come with multiple levels of security protection, are difficult to hack and gives full ownership of private keys to the users. However, these wallets are also prone to security breaches where hackers can hack the wallet's chip or gain access by hacking the electromagnetic signature of the wallet. This is where the importance of D'CENT wallet comes in. It is new and is loaded with some of the most amazing security features making it almost impossible to infiltrate.
The setting up of the wallet is really easy. Follow the simple steps:
Turn on your wallet.
Select your preferred language.
You can either create or recover your wallet.
Create your personalized 4-digit PIN code.
Scan your finger through biometric verification and get your 24-phrase recovery seed code.
Recommended Articles: 27 Hardware Wallet List  ||  BC Vault Hardware Wallet Review
What is D'CENT Biometric wallet?
The IoTrust Co., Ltd located in Korea has come up with its brand-new hardware wallet called the D'CENT Biometric. It is a next-generation cryptocurrency hardware wallet and the world's first to apply Bitcoin smart contracts. It supports the RSK framework and is compatible with RRC-20 tokens like RIF. The D'CENT mobile app is available both for Android and iOS users and is one of the most advanced hardware wallets for safeguarding your device from cyber-attacks.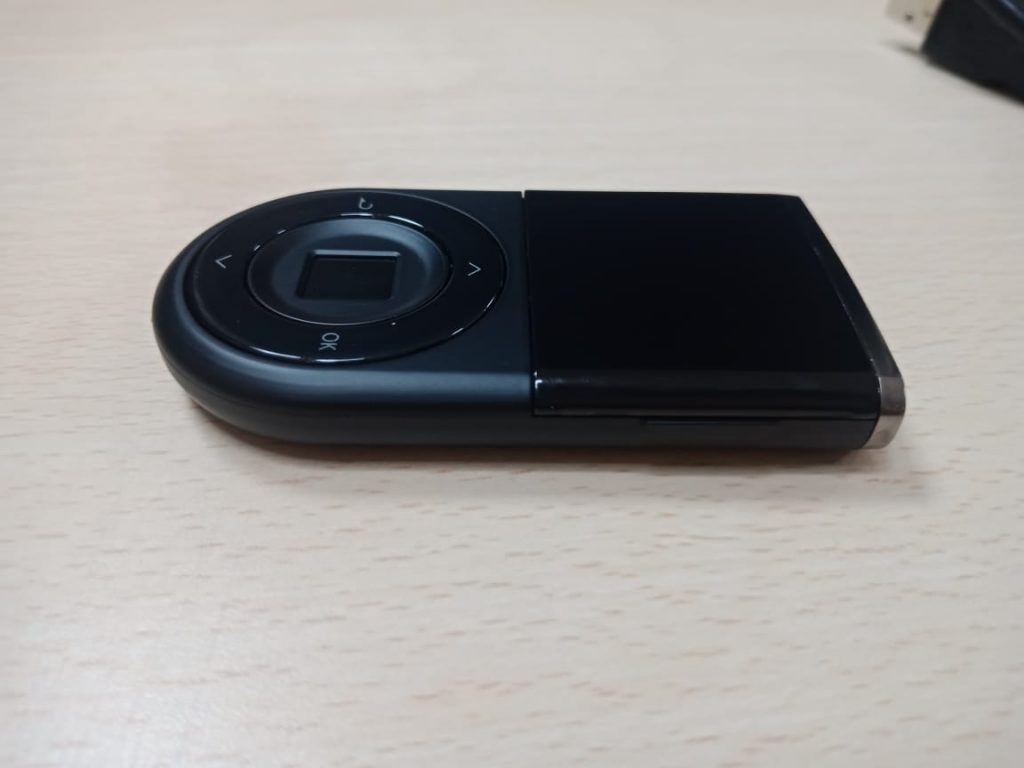 Features and Benefits of D'CENT
Supports majority of the cryptocurrencies including Bitcoin, Ethereum, Ripple, RSK, RRC-20, MonaCoin, EOS, ERC-20, etc.
Biometric authentication through a built-in fingerprint scanner which provides full security to your wallet and also personalizes and makes transactions faster and easier.
You can easily generate your private keys without connecting to any software program which is an added feature of this wallet.
The multi-IC architecture provides protection and security to all your private keys.
The OLED display screen is about 128 by 128 pixels which are quite large and enables you to view all your transaction details and fund status through the display screen.
Fast recovery of lost or stolen data is optimized through an easy restoration and backup process.
Bluetooth connectivity provides low energy consumption and easy connection to your mobile device. Users can also connect the wallet to their personal computers through the USB connection.
The wallet comes with a585-mAdurable battery.
The wallet with multi-IC architecture, the secure embedded operating system on a microprocessor, and Bank-grade EAL5 will provide optimum security to your wallet data and private keys.
Supports multiple wallets.
The wallet is highly convenient with a large display screen and 4 scroll-wheel buttons provide easy navigation. The QR code displayed on the screen is scannable and allows fast transactions.
The wallet can be accessed via PIN code or biometric authentication.
The wallet comes with secure chips that will not expose your private data to external applications.
The wallets show a graphical representation of your account details.
Easy and secure firmware updates.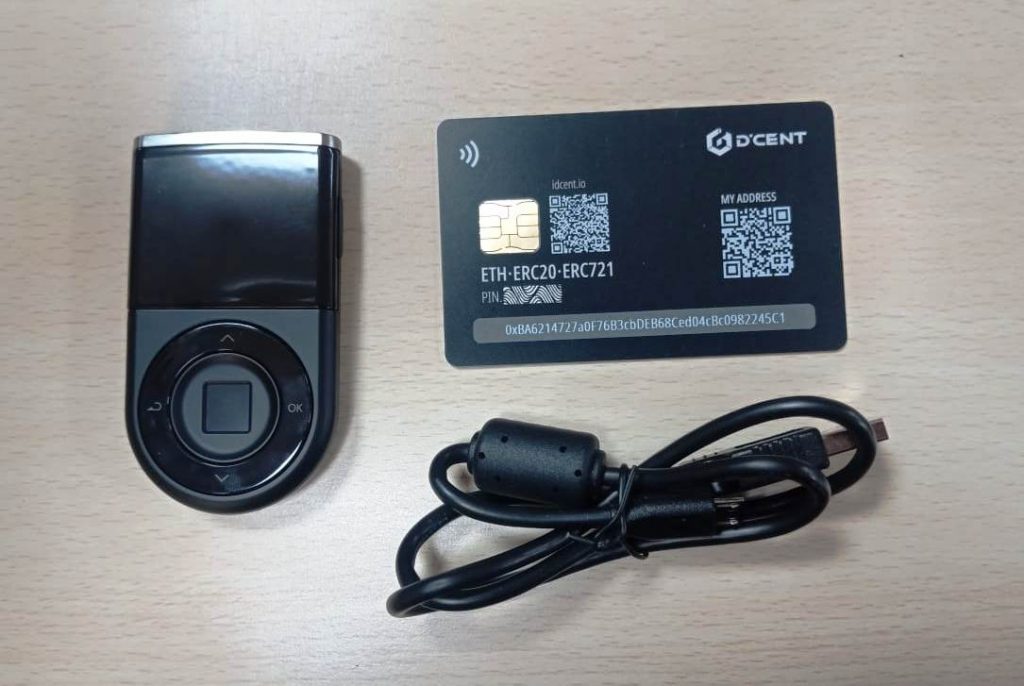 Design and User Experience
The wallet comes in easy packaging and plastic covering. If there is any tampering, you can always return the device and order for a new one.
The design is neat and savvy. The size of the wallet is also quite convenient and fits your palm and can be carried anywhere you want. The only drawback is that it is not as hardy as Ledger as it comes with a plastic body and a metal base. However, the reason why they picked plastic is due to Bluetooth connection.  Metal case causes interference for Bluetooth communication so they ended up going with plastic to improve mobile app usability.
The user interface is intuitive and easy and you can check your available balance and complete a transaction with just the tip of your finger. Furthermore, the multi-layer security features provide a safe environment for your assets.
The device currently supports the majority of the popular crypto coins in the market and promises to add a few more in the future. One of its best features is the QR code which makes payment easy. The wallet is also quite handy and can be carried anywhere and at any place.
D'CENT is quite robust and provides multiple services including financial, insurance and government services and also facilitates P2P transactions. The D'CENT Biometric Wallet overall has positive feedback from its users. The wallet along with its Bluetooth connectivity, QR code, and biometric verification is convenient to use and is quite light in weight, a reason why many users prefer this hardware wallet over the popular ones.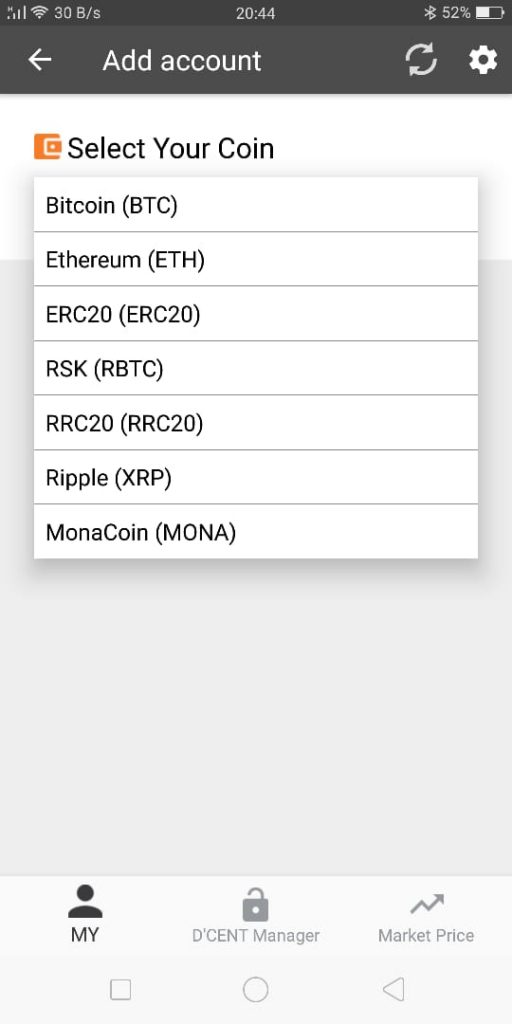 D'CENT Wallets Price
The D'CENT Biometric Wallet price is quite reasonable compared to its multifaceted features and comes at an easy and affordable price of $159 and the D'CENT Card Wallet will cost you just about $12.99.Order your D'CENT Wallet today. 
Buy D'CENT Biometric Wallet Now!!!
D'CENT Biometric Wallet: The Conclusion
The DCENT hardware wallet has been designed to safeguard cryptocurrency investors from losing their crypto assets from cyber-attacks. It is one of the only wallets that support Bitcoin smart contracts making it unique in the crypto market. The mobile application also provides personalized services like model change of device and also displays real-time market rates of the crypto coins.
The wallet has integrated with the RSK network and is backed by a team of highly dedicated IT and design professionals with an experience of more than 17 years in security services.
Another reason to buy this wallet is its affordable price just at $159. The interface is quite simple and easy to manage. Users have full control of their private keys one of the main reasons to buy this wallet. More than that the wallet isolates your digital assets from external applications. The design features of the wallet are quite attractive compared to the other hardware wallets available in the market. You can manage your account easily with the easy and simple user interface.