BC-Vault is an Innovative wallet equipped with D-pad and Bigger Display size. In BC Vault Review, we will discuss the design and features in details. We will also Compare BCVault Hardware Wallet with Ledger and Trezor in Short (BC Vault vs Ledger vs Trezor).
One of the major concerns of the crypto market is its security factor. This is one of the main reasons that many new investors hesitate to enter into the world of cryptocurrencies. Due to the recent crypto attacks into the exchange platforms, and wallet phishing attacks, many investors are worried about investing in the market. This is where the importance of hardware wallets come into action.
Using exchange wallet is risky for holding cryptos for long term as there is always a possibility of facing phishing and hacking attacks. When you are trading your funds in a crypto exchange platform, you are authorizing a third party to have access to your private keys and trade on your behalf. In return they provide you with an IOU an informal document meaning 'I owe you', a promise to return you back your funds. While most of these crypto exchanges are protected by some security measures, they are not adequate. So, in other words, you are not in control of your private keys. On the other hand, other online and mobile wallets are also facing phishing and hacking attacks.
Is Hardware Wallet the most secure wallet?
Hardware wallets are by far the most secure wallets for storing your crypto assets. Some of the trusted hardware wallets have many levels of security factors and tools which allows you to have full control of your private keys. They do not display your crypto funds or private keys in the network, system or your mobile device. The hardware wallet isolates your private keys in a safe space so that it cannot be hacked or infiltrated.
Software wallet passwords can be easily hacked by malware and paper wallets are not so convenient and require the use of hardware wallet to do a transaction of funds.
A quick look into the hardware wallet key features:
Convenient
Highly secure
Multiple layers of protection.
Paper wallet backup in case of loss of private keys.
A hardware wallet is a physical device and allows users to have full control and secure the private keys which are technically impossible to hack. But even then, there have been instances where the security of the wallet has been breached and hackers have accessed the wallet by infiltrating or disrupting the wallet's chip. It has multiple layers of security and customized operating system specially designed to keep even the high-end hackers at bay.
BC Vault Review
Hardware wallets are very much required when you have a significant amount of cryptocurrency. We have published a list of 25+ Hardware wallets to store Bitcoin and Altcoins in the previous article. In this article, we will review the BC Vault hardware wallet in depth.  The BC or Blockchain vault is one of the most promising hardware crypto wallets and comes with a refreshing design and user interface. Let us now look into some of the features of the BC vault wallet.
Design of the wallet
The overall look of the wallet is quite classy and comes with a D-pad. The wallet is tamper-proof and quite hardy. The size is also quite convenient and not too small. Display interface has a 2.42-inch OLED screen and 128 by 64 -pixel display. All your information including recipient address, funds, fees, and wallet names is displayed on the screen. The 4-way control pad helps users to navigate easily throughout the wallet.
User Interface
The cold-storage device comes with a reversible USB Type-C cable wire and can be set up with a Global PIN password code. One of the unique features of this wallet is that it has an integrated gyroscope which will generate random keys when you shake it.
BC vault hosts multiple wallets in one wallet. You can create more than 2000 wallets with separate PIN codes in this wallet. This is especially beneficial when you want to maintain a single vault for all your crypto wallet funds to minimize your cost. To facilitate the transactions, you can maintain a global PIN code and create individual passwords for separate wallets.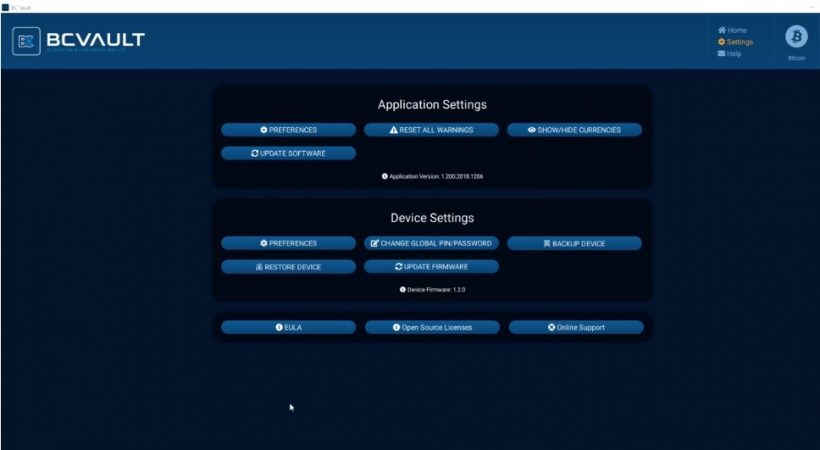 Security
All your private keys are securely stored in a FRAM chip which will keep your data intact for generations. You can also backup your encrypted wallet on a microSD card with password or PIN code.  The wallet comes with 1GB of microSD card for easy storage. All wallets are backed up individually with a separate password or PIN codes. So, if one wallet is hacked the others remain safe.
The wallet also acts as a MultiSig wallet where you can use a global passcode and login code. Each wallet can be secured by using 4 different passcodes. It is secured by U2F or two-factor authentication process which allows you to do day-to-day transactions without any security hassles.
Built-in Exchange
BC-Vault wallet is now equipped with Changelly exchange so that users can exchange crypto to crypto within the wallet itself. To use exchange service, you have to make sure that your device firmware and application are v1.4 or later.
Features of BC Vault
The wallet is equipped with a random number generator or RNG that can create more than 2000 non-deterministic separate wallets and each one can be locked by a separate password or PIN code. So, in case a wallet is hacked, the others will remain safe.
Each of the wallets in BC vault has encrypted backups with separate recovery seed codes. These backups are available in the form of QR codes. The device comes with 1GB of free microSD card.
All private keys are stored in FRAM which is fast and convenient. The FRAM chip protects the wallet from probable malware and also secures the wallet in case of up-gradation.
Supports all the major cryptocurrencies. (List)
The wallets are completely anonymous and cannot be traced back to the BC vault.
You can readily import third-party private keys.
All data are encrypted through FeRAM which means even the owner cannot access the wallet without a passcode.
Comparison with Ledger and Trezor
Is BC-vault wallet a better hardware wallet than Ledger and Trezor? Ledger and Trezor have been ruling the crypto market for years. The BC vault wallet comes with some major added features which give it an upper hand over the two very established cryptocurrency wallets.
Unlike Ledger and Trezor, the wallet does not trace you back to a single recovery seed code which is an added security feature for BC vault.
BCVault, unlike any other crypto wallet, helps to create more than 2000 wallets that support multiple currencies. More than that, it supports all types of ERC-20 tokens in the crypto market.
It is supported by SegWit and Legacy which makes trading and exchange of tokens easy even for new users. More than that, if you are generating an ICO, you can safely store them in your BC wallet.
The graphical interface is very easy and provides all information and helps you to switch between different currencies easy. The interface also warns users of an unusually high transaction fee and will show details of your transactions in the selected fiat currency.
1 BTC Challenge
The BC vault wallet comes with an encrypted private key like any other hardware wallet. This private key coincides with a public address holding the value of 1.0 Bitcoin and if the owner is able to break the encryption code will be rewarded with 1 BTC. This may sound easy but is extremely difficult especially for hackers as the wallet is secured by unique passcodes.
Disadvantages and Weakness:
One of the major drawbacks of BC vault app is not available for smartphones so you will not be able to manage funds on the go.
As of now, the vault does not support some trending cryptocurrencies like Monero, TRON, and EOS.
Bluetooth and wireless connection are not available in the BC Vault. However, the makers of the wallet have clarified that it is due to the security issues and increased battery life of the vault.
BC Vault Wallet Cost
The wallet comes at an affordable price of 131 EUR which is a small price for so many features including large display feature and encrypted backup. You will get a data cable and a data card inside the wallet box.
BC Vault Review: The Conclusion
The BC vault has been designed to cater to the needs of both amateur and experienced crypto traders. It is more advanced and comes with a very friendly user interface. The vault supports more than 2000 other crypto wallets which differentiate it from the other hardware wallets. More than that, the feature-rich wallet supports the majority of the popular crypto coins.
One of its important features is the Global password which is needed to unlock the device. This means that if you forget or lose the PIN code, you are locked out from all your wallets. This is definitely an extra layer of protection for device users. So, there is no doubt that BC-Vault is one of the most trusted and user-friendly hardware wallets in the crypto industry. Hope you enjoyed this BC vault Review, Kindly share your experience with us in the comment section below.