Cryptocurrencies, while they're rapidly gaining in adoption, continue to have their reach limited to a fairly smaller audience, compared to other mainstream financial assets like the equity markets or real estate. One of the primary reasons for this is because they remain complicated to navigate around. It's hard to sign up for an exchange, deal with multiple cryptocurrencies and their prices, and even secure them if you're not using a private wallet.
The industry is in need of a disruption that simplifies things, and CoinSwitch seems like an ideal solution. CoinSwitch is one of its kind cryptocurrency exchange aggregator that allows you to search for the best exchange rates between cryptocurrencies across major exchanges at once. No more dealing with multiple price points.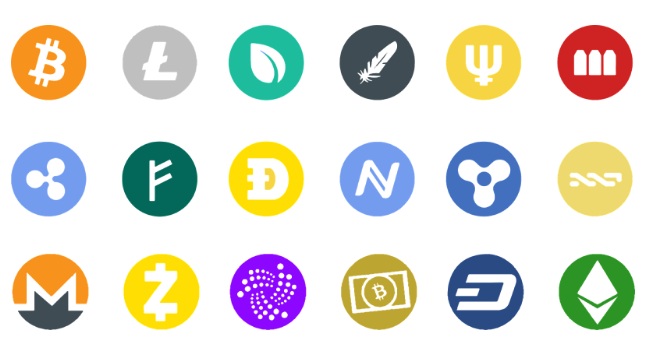 Boasting an impressive catalog of over 250 cryptocurrencies, the service allows exchange between 6000 combination pairs. We took it for a spin to better understand it:
How It Works
The design is aesthetically pleasing and simple. The service is pretty straightforward and fast. We performed a test transaction using 2 major cryptocurrencies – Bitcoin & Ethereum, and were fairly impressed with the rates and transaction times – both of which we'd be spending more of, had we gone via our typical exchange route.  Here's what we found as we tried transacting through the service.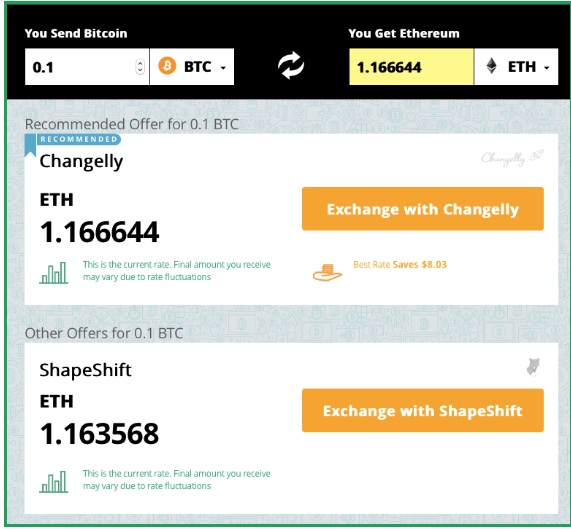 On the home page, you are confronted with a box where you can select the cryptocurrency you want to exchange, and enter the amount. There's another menu option to help you select the cryptocurrency you want to receive in exchange. The amount you'll receive is instantly calculated and displayed with a prompting button to view all offers.
Once you click/press the button to view all offers, you're taken to a page where multiple exchanges along with the amount you'd receive from each are displayed. The exchange offering the best rate is listed first, but you can choose any other exchange for reasons that may include faster transactions or just personal preference. Some of the major exchanges listed include Shapeshift, Changelly, Evercoin and Bittrex.
In the next screen, you're prompted to enter the address in which you'd like to receive your converted coins.
After pasting the address, you are now shown a wallet address alongside a QR code. The Webpage instructs you to send cryptocurrency to this wallet address. This page also has an order ID you can use to track the status of the exchange. Further, you can also check your receiving address displayed on the page one last time before sending coins.
After you've sent the coins to the displayed address, the receipt is confirmed and the transfer of the cryptocurrency you've chosen to receive is initiated.
You'll receive the coins in your wallet within thirty minutes.
There aren't any added fees with major exchanges like Changelly, Shapeshift and Evercoin, other than that charged by the exchanges themselves, but there's a 0.5-0.6% fee charged by Coinswitch with other exchanges like Bittrex. Exchange rates can change during the transaction though, as cryptocurrency prices are volatile. The service, on the whole, appears to be safe and very responsive to customer concerns or complaints.
What CoinSwitch Gets Right
The service is simple, fast and secure.
It lists around half a dozen exchanges and exchange rates, which can be compared in an instant without having to visit all exchanges one by one. This is for 250 cryptocurrencies and 6000 unique exchange combinations.
No added fee with major exchanges and a very low fee charged with the rest.
The risk of theft from the exchange is eliminated, as the service doesn't store cryptocurrencies. The customer will receive the coins in his own wallets after the order gets completed.
Based on customer testimonials, the service appears to be very responsive to customer complaints/concerns.
Drawbacks
While more exchange support is expected in the near future, CoinSwitch only has a few major exchanges like Changelly, Shapeshift and Evercoin so far. More choices would be welcome.
Doesn't have features such as a price chart, order book, transaction history for advanced traders. It also doesn't support leverage trading naturally, since it is an exchange aggregator. This portal t, therefore,s aimed more at investors.
Cryptocurrencies can't be bought with or sold for fiat money. You need to have some amount of cryptocurrency to start with.
Transactions are typically completed in 15-30 minutes, which can be slower than what you may take on open order book exchanges, but then that brings with itself its own issues of risk and fees.
Support
There's a support system in case users face problems with transactions or enquiries. While we didn't have to, you can track your order status with your Order ID. Transaction hashes are generated after sending coins, which can be used to raise claims if chosen coins are not received. At present, seem to be no other cryptocurrency exchange aggregators other than Coinswitch.
Final verdict
It's a quick, simple and safe service for non-traders to exchange cryptocurrencies – a wide variety of them, in fact. We'd strongly recommend it crypto enthusiasts looking for the best deal while exchanging cryptocurrencies. If you're a day trader though, you may be better off at a direct exchange itself.