Blockchain vs Mycelium, which one should I choose to store my Bitcoins for long term? This was the question always came to my mind when I decided to move my cryptocurrency from exchange. I conducted my research and finally I decided to choose between these two. If you notice, Mycelium is the one of the recommended wallet by bitcoin community while on the other hand Blockchain claims to have large number of Bitcoin users. Lets discuss about some facts about these two wallets before putting your Bitcoin.
Blockchain vs Mycelium Wallet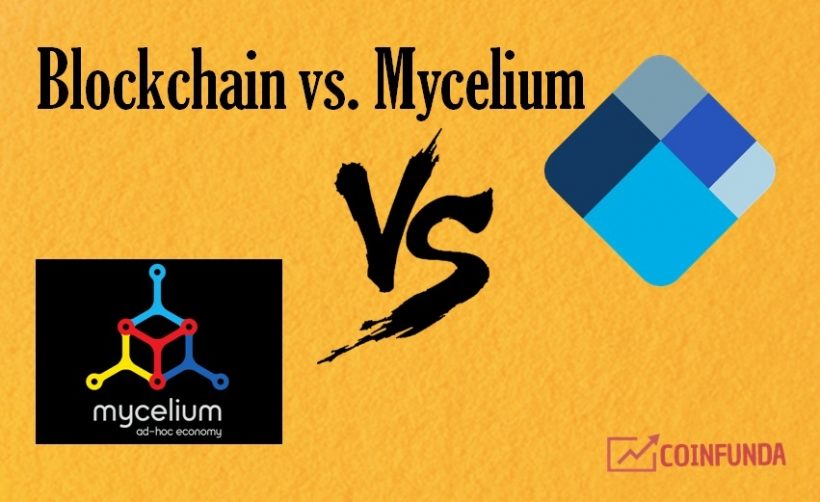 Blockchain Wallet
Blockchain boasts of being one of the world's most popular and perhaps the oldest cryptocurrency storage software. The Blockchain wallet is a digital wallet developed by a Luxembourg-based software company called Blockchain. The wallet is available both in web and mobile devices.
The wallet has a very simple user interface which makes it easy even for newcomers to access it. Moreover, the wallet is free except for a small transaction charge that is deducted every time cryptocurrencies are transferred to your wallet. The fee is directly deducted from your funds. You can also specify your own bitcoin fee under the "Customize Fee" setting.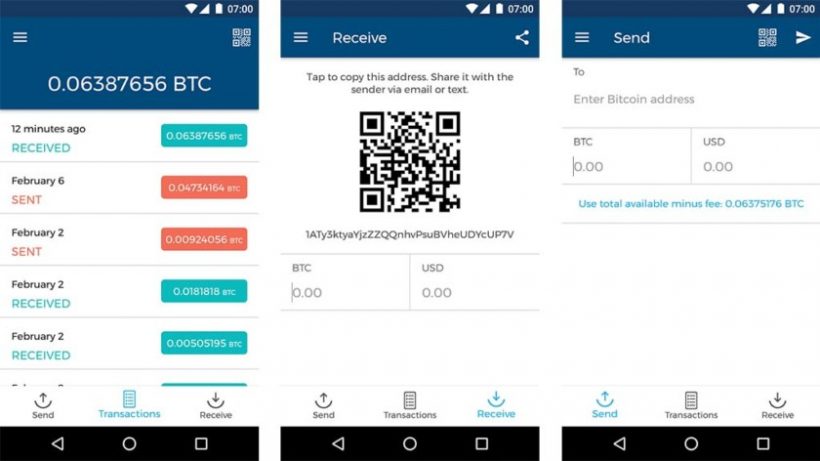 Which currencies do Blockchain Wallet Store?
Blockchain wallets store both bitcoin (BTC) and Ether (ETH), stellar (XLM), and USD PAX (PAX). The platform is compatible with iOS, Android, and web.
How to add currency to blockchain wallet?
Adding currencies in blockchain wallet is very easy. Sign up for a free wallet account at blockchain.info site. Enter your email address and activate your account. You can opt for either ETH or BTC coins. Either way, each currency has its own address. If you send cryptos to the wrong wallet address, your funds will be lost permanently.
How to make payments through blockchain wallet?
Making payments is easy. Just click the send button and select the currency. After that enter the wallet address of the recipient by scanning the QR code and enter the amount of payment.
You can also customize the payment process by choosing your priority level which will speed up the process. Customize your transaction fees from the settings and complete the process.
Security in Blockchain Wallet
Blockchain wallet is highly secure with different layers of protection somebeing optional. The email verification process is mandatory to create a wallet account. A passphrase is generated which you will need to restore your account in event of loss of password.
For your mobile phone wallet,you can opt for a two-step verification process which will notify you each time you log in to your account.
The Block Tor is a powerful tool through which users can block anonymous IP addresses from accessing their accounts.
Pros
The intuitive and easy interface even for beginners.
Advanced security features with a 2FA authentication process.
View your balance after each transaction.
Blockchain generates a new wallet address after each transaction thus securing your wallet privacy.
Buy and sell crypto directly from your wallet.
Supports both mobile and web platforms.
Supports both ETH and BTC coins.
Cons
Blockchain is an online wallet and is more susceptible to malicious activities.
Only supports bitcoin and Ethereum.
Users cannot buy cryptocurrencies by using fiat money.
Mycelium Wallet
The Mycelium wallet is comparatively new in the market but has emerged to be quite popular in recent years. Founded in 2008, Mycelium is a software company that came out with their new digital mobile wallet. The Mycelium Wallet is highly specialized and can be used for storing and trading of bitcoins.
One of the fundamental differences between Mycelium and Blockchain wallet is that Mycelium supports multiple account types.
There are 5 account types in Mycelium.
HD
Bit ID (Open Protocol)
Single Address Accounts
"Watch Only" Accounts
Hardware Accounts
Though Mycelium is only a mobile wallet, it has been awarded the "Best Mobile Wallet" in 2014 by blockchain.info itself. Mycelium supports both Android and iPhones though APK file is available only for Androids.
Like Blockchain Wallet, Mycelium is absolutely free to use. However, Mycelium charges a small transaction fee depending on the transaction size and priority level of the transaction. For low priority, the fees are 0.08 mBTC/kb* and for the high priority, it is 1mBTC/kb*.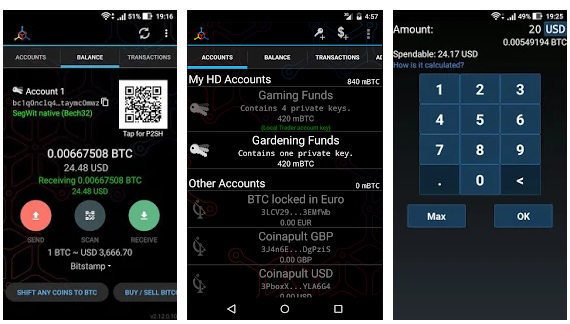 Which Currencies do Mycelium Store?
Currently, Mycelium supports only bitcoins but it allows exchange from other fiat currencies including US dollars and euros.
How to add currency to Mycelium Wallet?
In 2016, Mycelium added a new feature wherein you can directly buy bitcoin through your mobile wallet by integrating through Cashila and Glidera bitcoin companies.
Mycelium allows you to buy and sell fiat currency for bitcoins.
How to make payments through Mycelium Wallet?
Receiving payments is really easy in Mycelium. You are just needed to set up your PIN code and you can start receiving bitcoins.
Go to the "Balance" tab and press receive or send and share the bitcoin address of the sender or receiver and you are good to go.
Where do I get my Mycelium Wallet?
The Mycelium Wallet can be easily downloaded to your Android or iPhone from the company's website. You can also download it from Google Play or iTunes.
How secure is Mycelium Wallet?
Mycelium is secured by a high-end HD security feature along with backup options for loss of password.
Upon signup, you will be given a PIN code and a 12-word passphrase which will be needed in case you lose your device or need to backup your account.
Pros
Open source wallet.
Strongly recommended by industry experts.
Integrated with other hardware wallets like TREZOR and Ledger.
Offers multiple account types.
Comparatively faster than Blockchain wallet.
Cons
Only has a mobile interface and does not support the desktop.
The interface may be difficult for beginners.
Cannot sign messages.
Only supports bitcoin.
What is the conclusion?
So what is the conclusion of Blockchain vs Mycelium? As we discussed basic difference between Blochcain and Mycelium wallets, it is hard to say who is the winner. Both wallets provides security of funds and are easy to use. Mycelium is more reliable than blockchain, as it supported by the community as well also the integration of Mycelium with Trezor is useful.
which one you are using? Feel free to share your opinion on this in the comment section below.