KuCoin Trading Bot: Features and Benefits
Cryptocurrencies are highly volatile assets. Thus, traders are not able to react fast enough to take positions at ideal times. Nevertheless, the KuCoin exchange offers a number of tools that can help them with this. One of them is the KuCoin Trading Bot and that is what we will focus on in this article. We will explain what this tool is, how it works, what features it offers, why you should use it and much more. But first, let's start with the basics, namely what the KuCoin exchange is.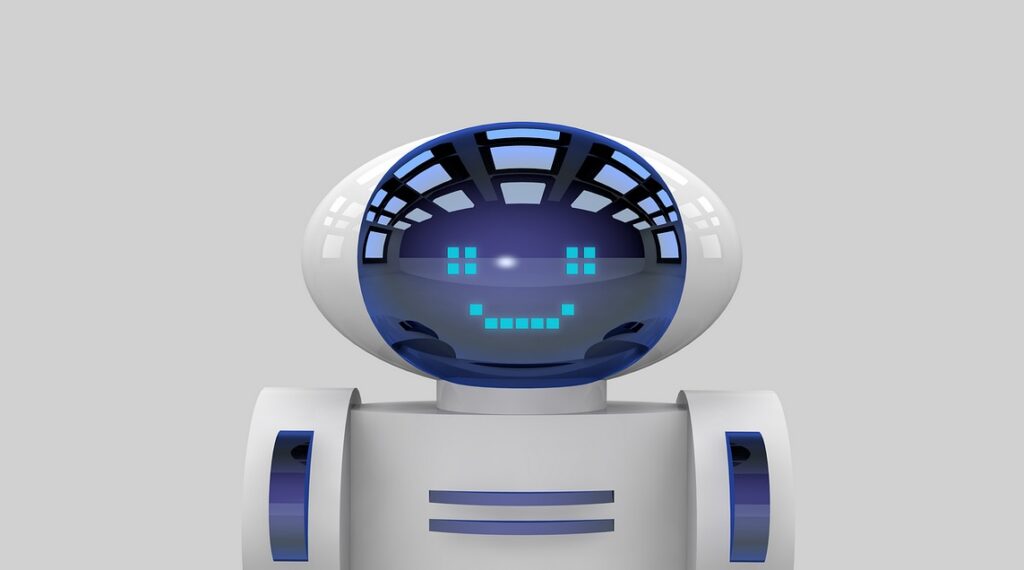 What is KuCoin?
KuCoin is the fifth-largest digital asset trading platform in the world according to CoinMarketCap and Coingecko. It describes itself as a "people's exchange". Why? Because its simple interface makes it suitable for novice traders, and its large number of features and products also allows more experienced people to trade effectively.
In addition to the traditional spot trading features on KuCoin, you can also trade with leverage, transact futures, lend and borrow, stake cryptocurrencies, trade on P2P markets, and much more.
KuCoin is also known for its huge number of so-called "crypto gems". The exchange lists many smaller altcoins with huge potential, and as a result, it has gained recognition from over 18 million users in over 207 countries and regions around the world. Just last month, KuCoin added support for projects such as:
BLOCK,
CHMB,
VR,
KMA,
DAO.
Now that you know what KuCoin is, it's time to get down to specifics. In the next section, we will explain what is KuCoin Trading Bot.
What is KuCoin Trading Bot?
As we mentioned in the introduction of this article, cryptocurrencies are such a volatile asset that it is very difficult to feel the moment to take a position. Even if a trader has a good sense of timing, after all, he can't watch the charts 24/7/365. Moreover, to be effective, he would have to monitor all the exchanges operating in the market around the clock.
That is why KuCoin has created its automated tool called KuCoin Trading Bot. It allows you to enter into positions automatically. All you have to do is select the cryptocurrency you want to trade on and configure a few parameters, such as your entry/exit threshold and trading frequency. Of course, these parameters have to be adjusted to your strategy.
Why should you use KuCoin Trading Bot?
There are undoubtedly quite a few advantages to using a trading bot from KuCoin. Here are some of them:
Taking advantage of opportunities – In the cryptocurrency market, opportunities arise almost every day. However, it is impossible to take advantage of them, because human nature is such that it needs to sleep. However, the trading robot from KuCoin monitors the markets 24/7 continuously.
Reducing risk and losses – KuCoin bot allows you to draw the maximum from the fluctuations. This is because it performs arbitrage by following the market flow. For example, during uptrends the Trading Bot will realize and accumulate profits for you using many different strategies. In downturns, it will help you limit your losses and risks.
Reduce Repetitive Activities – Trading Bot allows you to automate activities that you normally do on a repetitive basis. With Smart Rebalance Bot, for example, you can automatically rebalance your portfolio at given intervals.
Types of trading bots on KuCoin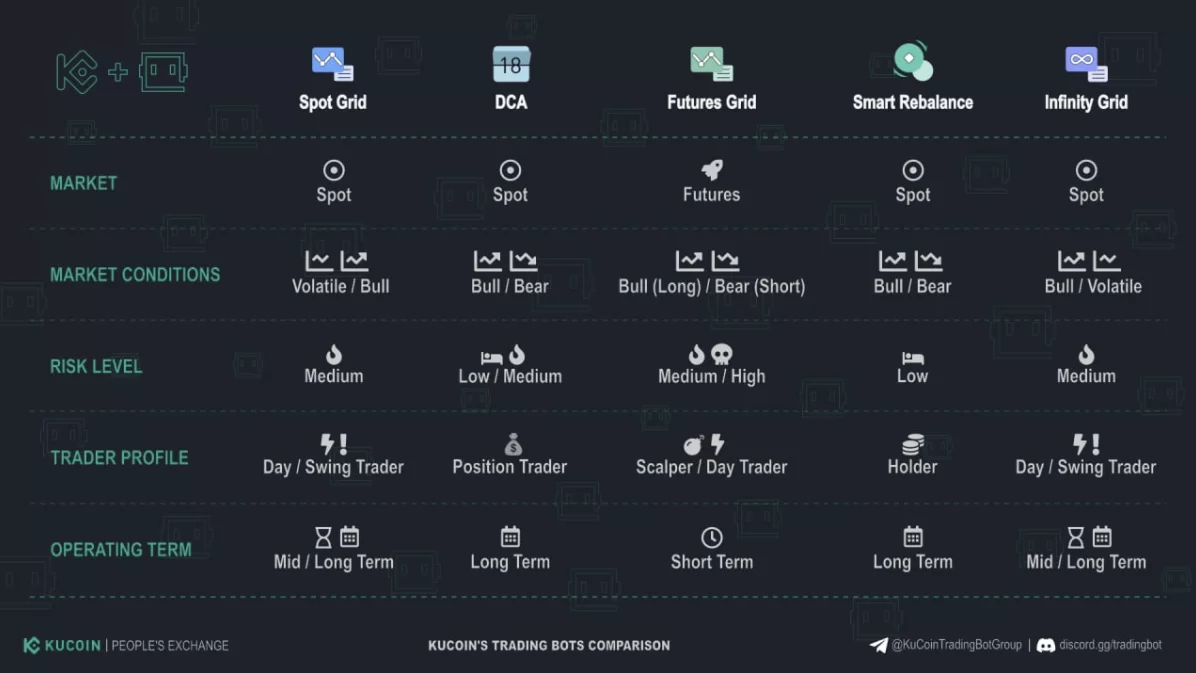 KuCoin currently offers 5 different types of trading bots that use other users' strategies. So far, over 10 million users have shared their ideas. These 5 bot types are:
Spot Grid,
Dollar-Cost Averaging (DCA),
Futures Grid,
Smart Rebalance
Infinity Grid.
So let us now discuss each individual type separately.
Spot Grid
Spot Grid uses the most classic and popular trading strategy. This type of bot sells at the peaks and buys at the lows. This allows you to make profits within a pre-defined price range. This strategy is well suited for use in volatile markets.
Spot Grid is a fairly safe strategy. However, profits are usually only attractive after a longer period of time.
Spot Grid works in two modes. The first uses artificial intelligence, which enters positions based on the coin's historical data. The second allows you to copy other users' settings.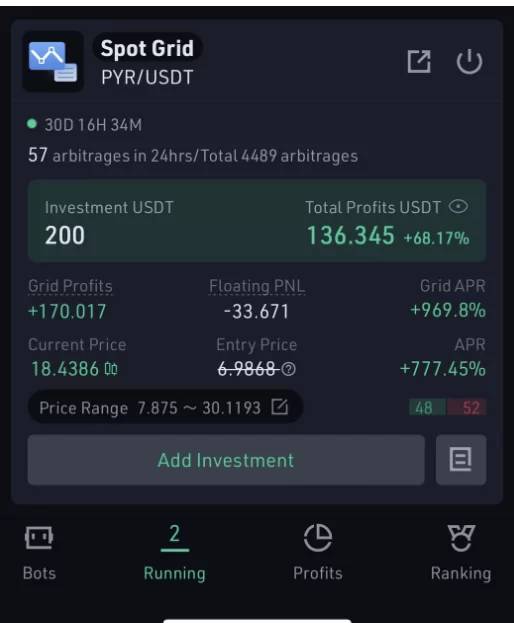 Dollar cost averaging (DCA)
DCA is also a good strategy. It involves periodically buying cryptocurrencies at certain intervals. This way, we reduce the average purchase price and nullify the impact of volatility.
Until now, if you wanted to buy cryptocurrencies for, let's say, $100 a month you had to make a transfer every month, make trades, etc., all manually. With the DCA bot, you can automate this process
DCA is a great strategy. However, regular purchases work best in the early stages of a bull market. DCA on KuCoin has another interesting feature that stands out. For example, you can set profit realization when your positions reach 20% profit.
How to configure the DCA bot on KuCoin? – step by step guide
To set up a DCA bot on KuCoin you first need an account. You can create one by clicking on this link. Once registered, all you need to do is follow the few steps below:
Log in to your KuCoin account.
At the top, hover your mouse over "Trading" and click "Trading Bot".

Find DCA Bot and click "Create Bot."

Fill in necessary details such as frequency of purchases, date of first investment, amount of single investment, maximum investment.

In the advanced settings, you can also select a "Profit target", which is the percentage of profits that, if successful, the bot will realise your positions.

Once you have selected your parameters, click "Create" and Viola. You have just created your first bot on KuCoin using a dollar cost averaging strategy.
Grid Futures
The Grid Futures strategy bears a strong resemblance to the Spot Grid strategy. Similarly it consists of selling on the peaks and buying on the lows. However, it has some unique characteristics.
Firstly, because we trade on futures contracts we can use the Futures Grid to trade both upwards and downwards (long and short positions).
Secondly, we have the possibility of using leverage, thus increasing the potential profits (or losses).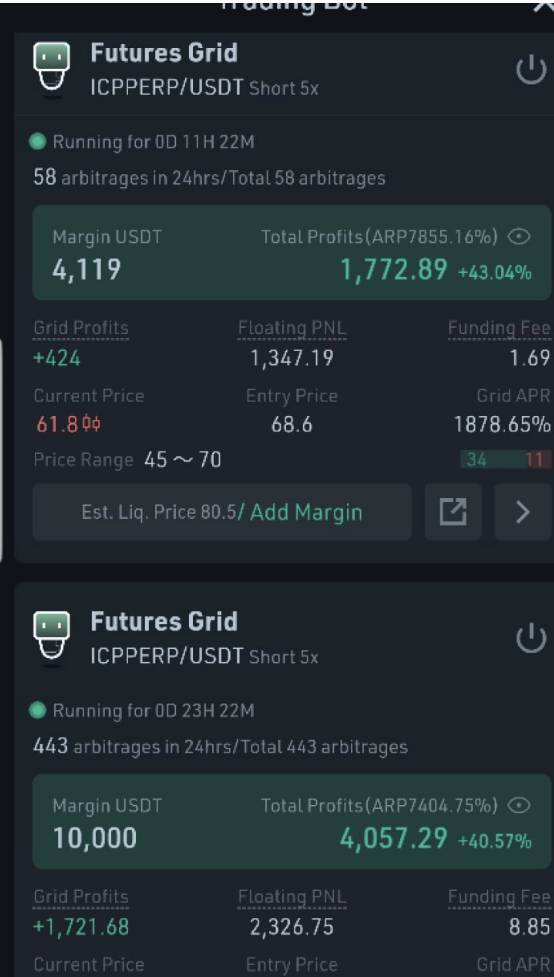 Smart Rebalance
Smart Rebalance is a bot that allows you to make profits without doing any trading. This means that you can make money on your assets simply by HODLing them.
The premise of this strategy is to increase the total value of your assets by adjusting the percentage allocation of your portfolio.
Generally, this function can be compared to the services of an asset manager in the world of traditional finance. KuCoin itself refers to it as "A New Way to Manage Your Portfolio."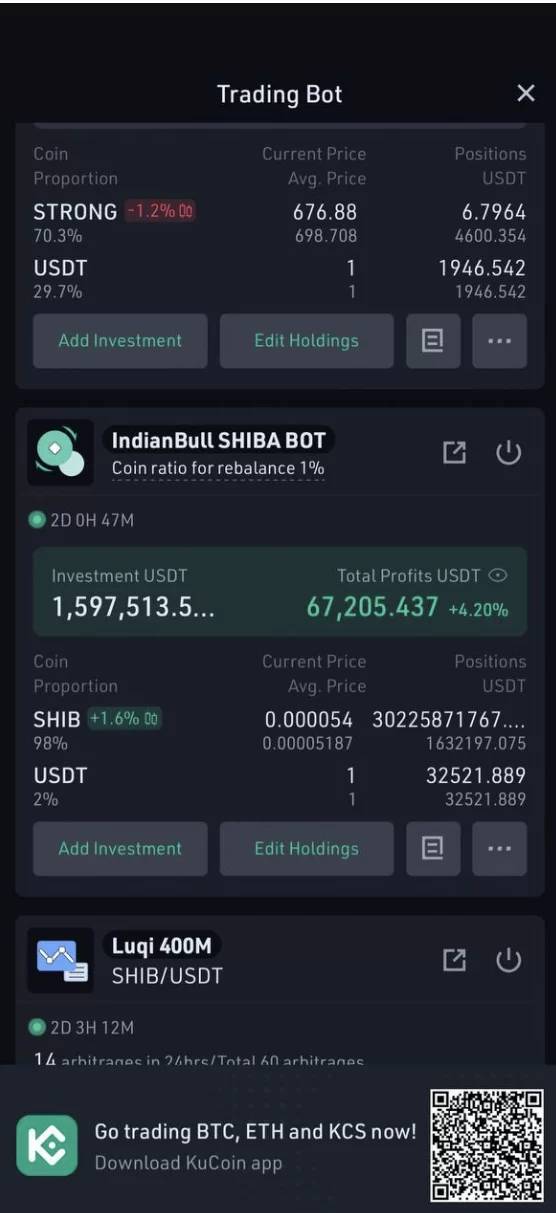 Infinity Grid
Infinity Grid is a strategy that won't let you miss out on sudden spikes in the market, or so-called pumping. It is similar to the Sport Grid Bot. The difference is that Infinity Grid Bot places orders in percentages instead of predetermined numbers and has no limit.
Let's use the BTC/USDT pair as an example. During fast increases, the bot will sell BTC. However, it will also make sure that you always have coins equal to your initial investment in USDT.
Summary
KuCoin really offers quite a few trading features and more. There is a reason why it is already trusted by more than 18 million users and ranked as the fifth largest exchange in the world. So don't wait. Create your account on KuCoin today by clicking this link and enjoy the amazing opportunities this exchange offers you.