6 Best Verge Wallets | Top XVG Wallet In 2022
Verge or XVG was designed by a group of software developers who collectively go by the name "Sunerok". The main idea was to develop a blockchain protocol that will allow its users to do transactions anonymously without being traced. It uses Tor Network which hides the identity of users and also the transaction details. Verge is a super-fast network, even faster than BTC and can complete a transaction in less than 30 seconds with an average of 100 transactions per second. Verge is an open-source currency and perhaps one of the largest digital currencies in the market so far.
There are quite a few Verge Wallets operating in the market. Let us look into the key features before selecting a wallet.
Features
Choose a wallet that can store XVG coins because there are only a few.
User-friendly interface.
Look into the advanced security features like two-factor authentication, PIN code, etc.
A 24/7 customer support.
A steady ongoing development for future purposes.
Good review of customers.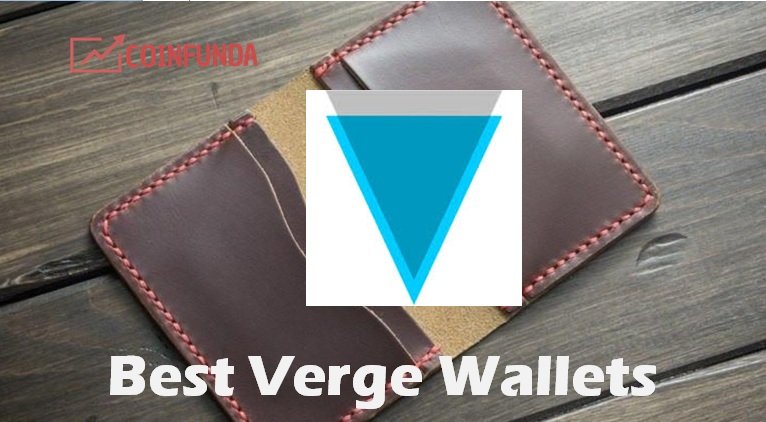 Best Verge Wallets:
There are few software wallets supporting XVG coins. At present hardware wallets are not available for it. We have listed 6 best Verge wallets so that you can store your coins safely.
Atomic Wallet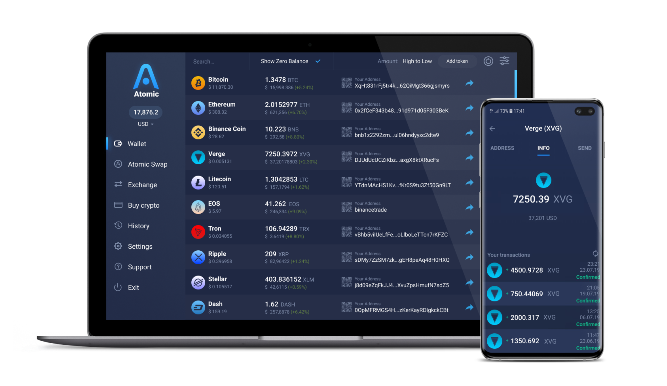 Atomic is a non-custodial Verge multi-wallet that allows you to manage over 500 other coins and tokens in the app. You can buy, secure, and exchange crypto in a smooth well-protected interface. The app is fully decentralized, and your private keys are generated from mnemonic. It means that the security of your funds is entirely in your hands.
Platforms: Windows, macOS, Linux, iOS, Android.
Claim your free 15 Atomic Wallet Coin (AWC):
Download Atomic Wallet and complete the setup.
go to setting->airdrop
fill your email id and use p172G5R to get 15 free AWC coins.
Features: 
Anonymity and Security

Staking

5-Star rating on TrustPilot

Perfect UI

Multi-Currency

Zero Fees

Instant Exchange and Buy-in Crypto Option

24/7 Support
Electrum Wallet
The Electrum Wallet is a lightweight desktop wallet and is available for multiple platforms. It is an open-source wallet and Verge has made some codebase adjustments to make it workable in the Verge platform. It can verify all the transactions within 5 seconds using the Simple Payment Verification or SPV method. It has an intuitive interface that allows even the amateur and new users to use the wallet with equal ease. It has two separate encryption levels that protect your funds securely. It runs in the Tor network and is available in Windows, Mac and Linux OS.
Coinomi
Coinomi is a mobile wallet and supports multiple cryptocurrencies. It supports more than 100 crypto coins like Bitcoin, Bitcoin Cash, Verge, Monero, Litecoin, Ethereum, etc. The interface is quite easy to use. The private keys are stored in the device itself and Coinomi hides your IP address thus making your transactions anonymous. It is a HD (hierarchical deterministic) wallet and is secured by a 12-word passphrase. Using the Shapeshift Integration feature it is very easy to exchange coins in the platform. However, one major drawback is that it does not have a two-factor authentication system and is not available for iOS users.
Verge QT Wallet
Verge QT is a full node desktop wallet and allows you to make transactions anonymously. The wallet can be downloaded from the Verge homepage is available for Windows, Mac, and Linux operating systems. The user interface is very simple and it has some of the best security features which makes it the most trusted verge wallets. However, one has to download the entire blockchain which is time-consuming and also takes up a lot of space of the hard drive.
Guarda Wallet

Guarda wallet is a multi-cryptocurrency wallet where users can store multiple coins in one place. At present, It supports 45+ Chain coins and 10k+ tokens including the Verge (XVG) coin. Guarda wallet is available in the form of desktop app, mobile app, web-based wallet and chrome browser extension. Gurda wallet has a built-in exchange so that users can easily exchange their cryptos. It also allows users to buy and sell cryptos.
Tor Verge Wallet
Also known as the Tordroid wallet it is one of the best wallets for Androids and works on the Tor Network. Users can scan their QR codes from other Tor and paper wallets. Tor has some unique security features like seed-phrase recovery, fingerprint and pin-code lock system making it a very secure wallet. Verge will soon be launching the Tor wallet versions for desktop and iOS users. However, the API will not allow its users to store their private keys anonymously, which may be a concern later on. The technical team is already on its way in developing the software further like improving features like "recipient selector" and "sending transaction screen".
Verge Paper Wallet
The Verge Paper Wallet is a very safe wallet and it stores all your private keys securely. Users store their private keys offline and there is hardly any risk of hacking and misuse of storage space.
Recommended Article Links: