15 Best Ethereum Wallets | Top ETH Wallet [2021 Edition]
Looking for the best ETH wallet? There are many Ethereum wallets are available in crypto space. We have listed a few top-notch ETH wallets to store Ethereum. If you are looking for the best ERC20 wallet list, read this post.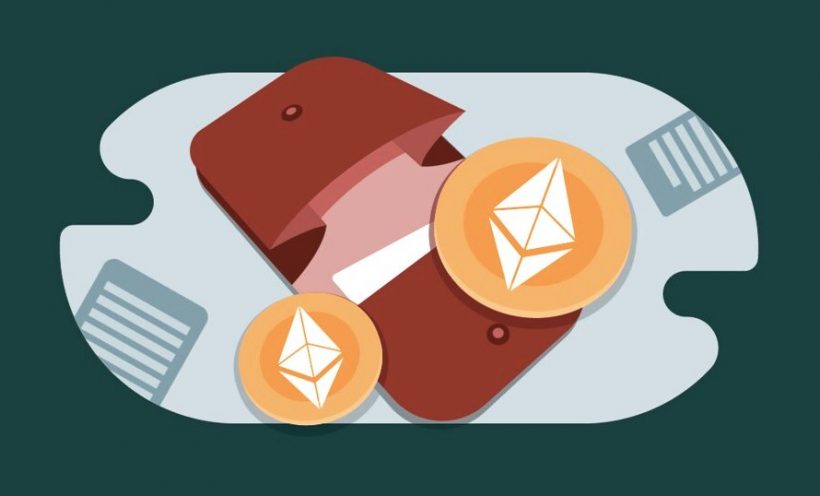 A wallet is necessary for a crypto-currency user to hold his crypto-currencies like Ethereum, Bitcoin, Etc in a safe and secure manner. In our previous articles, we have discussed Bitcoin (most popular cryptocurrency) and also about how to buy Ethereum in India. You may read our previous articles on:
In this article, we are going to discuss the basics of Ethereum and some popular Ethererum wallets. Ethereum wallets are nothing but wallets used for the purpose of storing and accessing (sending and receiving) Ethereum. Ethereum is a free and open-source virtual or digital currency as bitcoin. It depends on the strategy of blockchain with the functionality of scripting. It offers a virtual machine known as EVM for running scripts, where EVM is Ethereum Virtual Machine.
Ethereum facilitates the transfer of 'ether', which is a value token needed for the compensation of network nodes involved in the process carried out in EVM. Here the network spam is avoided by the use of a mechanism called 'Gas', which is a transaction pricing mechanism.
Best Ethereum Wallets (ETH) for 2021
Note: Hardware wallets are the best wallets in terms of the security of your funds. In case you are holding a huge amount of crypto fund then it is always recommended to use Hardware wallets. We are listing Ledger Nano S/X and Trezor in this article. There are 25+ other hardware wallets available in the market.
You may read our article on the Complete List of Hardware Wallets to find out the best wallet for you. 
Atomic Wallet
If you're looking for a handy and secure way to store Ethereum, Atomic Wallet is the perfect option. This wallet offers a lot of useful features, such as support of more than 300 coins and tokens, built-in exchange and Buy crypto options, Atomic Swaps and much more. At the moment you can enjoy Atomic Wallet on Windows, MacOS, and Linux, and mobile apps for Android and IOS will be released in November.
In addition, Atomic Wallet has a strong growing community, while the project team constantly improves the wallet and adds new features through weekly updates.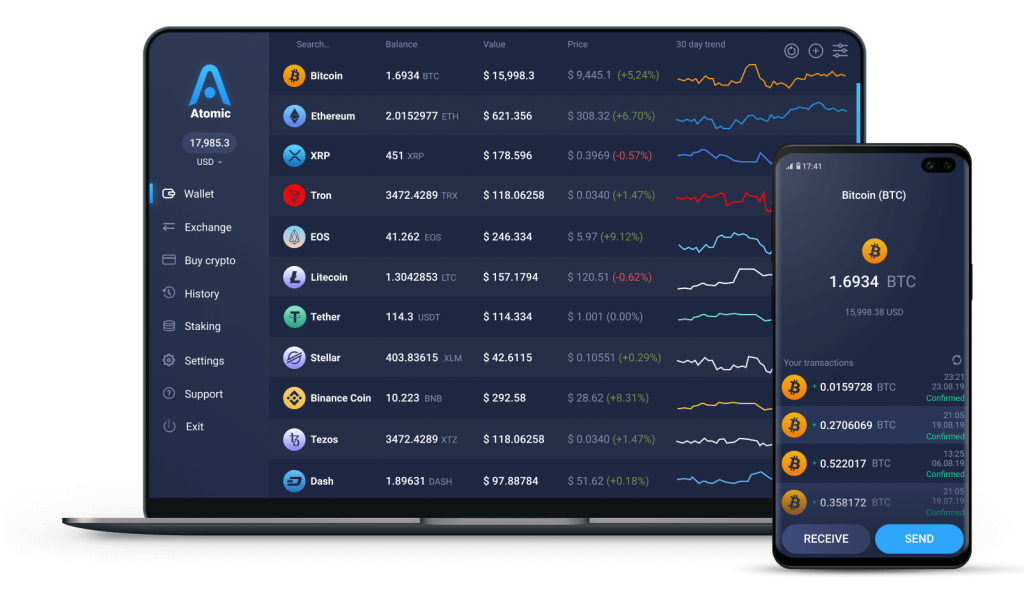 Claim your free 15 Atomic Wallet Coin (AWC):
Download Atomic Wallet and complete the setup.
go to setting->airdrop
fill your email id and use p172G5R to get 15 free AWC coins.
Check the list of the most important Atomic Wallet features:
Private keys are stored on the user's device and generated from mnemonic.

Built-in Buy Crypto with credit card option, provided by Simplex

Weekly updates with new coins, tokens, and useful features

Atomic Swaps option for exchange with low fees

Custom token feature — you can manually add any ERC20 token in seconds

Instant exchange via Changelly and Shapeshift

Instant 24/7-live support
Ledger Nano S/Nano X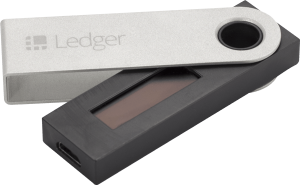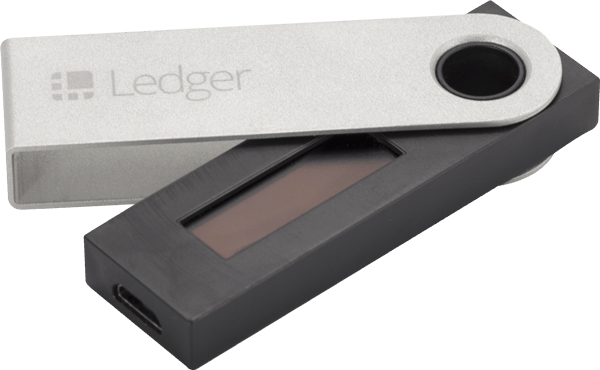 Hardware wallets are the best option to store your crypto funds securely for the long term. Ledger nano s is the most popular hardware wallet due to its low price and high-end security. It is powered by USB connectivity. Users can connect it to a desktop or laptop using a data cable. It supports multiple coins and tokens including Bitcoin and Ethereum. Get your Ledger Now!!!
Trezor
Trezor is another popular hardware wallet that supports Bitcoin, LiteCoin, Dashcoin, and many other coins along with ETH. The Trezor device can be used for managing passwords, also supports two-factor authentication, and can also be used to sign documents as proof of ownership. Buy Trezor Now!!!
Lumi Wallet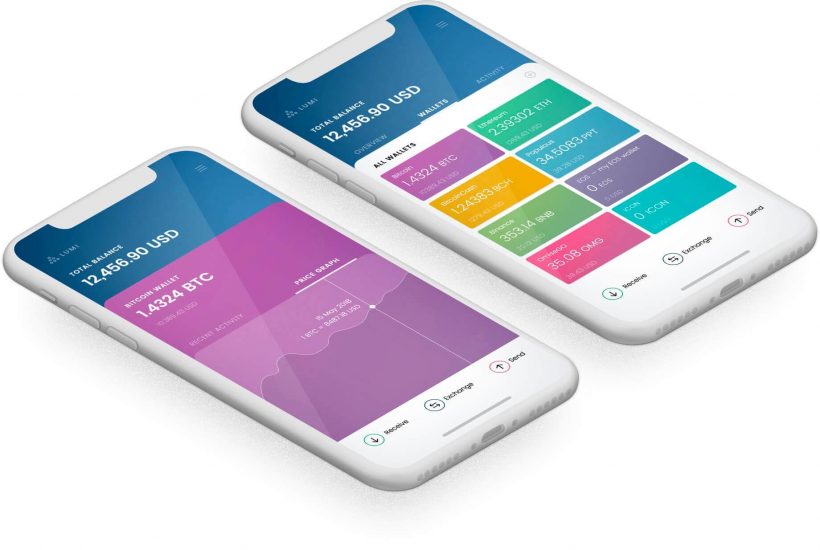 There are a bunch of wallets that put forward anonymity as their top priority. However, only a few of them back up their claims. One of the true examples of a safe and anonymous crypto wallet is the Lumi Wallet. It achieves this result by having client-side encryption, which means all data stays on the user's device and does not go to third parties. Just generate a mnemonic phrase or enter the existing one – and you're in.
The wallet has a smooth interface and all the desirable options for everyday crypto use. You can buy crypto with a credit card, exchange it, check prices and even browse dapps without leaving the wallet. Lumi supports a wide variety of currencies, such as Bitcoin, Bitcoin Cash, Ethereum, EOS, ERC20 and EOS tokens. It continues to add new currencies and will soon become open-source. Lumi Wallet comes in the form of Android and iOS apps. There is also a web wallet version.
Guarda wallet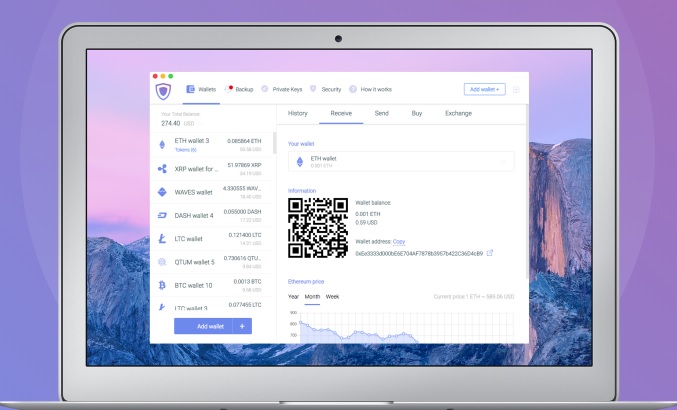 Guarda wallet is multi-functional, cross-platform storage for Ethereum and Ethereum-based tokens (and a wide range of other crypto assets). The wallets are available as Web, Desktop, Chrome Extension, and Mobile versions, all of them being non-custodial.
Guarda Wallet has a very special relationship with Ethereum – the projects actually started as a wallet for ETH and Ethereum-based tokens back in 2017.
ETH and the tokens can be stored, sent, received, exchanged and purchased within Guarda wallets. Generating and managing ERC20 tokens is also possible with Guarda Token Generator.
Key features of Ethereum wallet on Guarda are:
Secure backup encryption and custody-free storage policy
Built-in purchase and exchange services
Wide range of supported cryptocurrencies with new coins and tokens added constantly
24/7 customer support line with the fastest response time on the wallet market
Cross-platform operations – all the wallets are easily synced across available versions
Currency-specific features of supported coins
Additional services such as ERC20 Token Generator
Ledger Nano S integration
Metamask:


MestaMask is browser access to the Ethereum network. MetaMask is more than just a Desktop Ether wallet, and it enables users to store and send Ethereum, and also allows accessing decentralized ETH apps. You can install it as a Chrome Browser Extension!
CoinBase: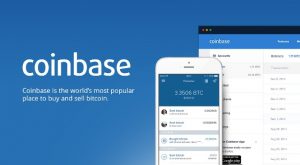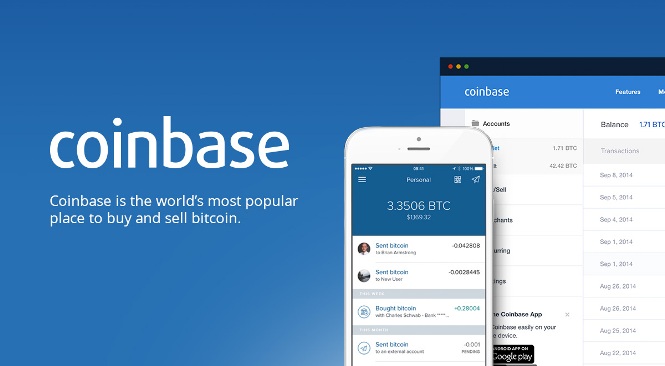 Coinbase is one of the most authentic, popular, and oldest cryptocurrency web/app wallet. It supports Bitcoin as well as few Altcoins which includes Ethereum also. The drawback with Coinbase is that you will not have control over your private keys. Still, if you are a beginner, not holding too much amount or want to shop with cryptos, I recommend Coinbase for its reputation.
Founded in 2012, Coinbase is a cryptocurrency wallet and platform where merchants and users can transact with cryptocurrencies. Coinbase is my first choice because of its availability through the web and app version. It is very secure and also provides 2 -factor authentication to its clients.
Another most useful feature of Coinbase is that users can not only store coins but also have the option to buy with their added payment options such as bank transfer. Signup for Coinbase Now!!!
MyEtherWallet
Myetherwallet permits the users to send assets and simultaneously receive them with the help of an Ethereum address. It is designed on the basis of JavaScript, where the data is being retrieved on the client-side. It supports the tokens of ETH, DGD or DigixDAO, and DAO. Offline transactions are also possible with this type of wallet since the generation of data is done in the browser and not on the server.
Reason for choosing MyEtherWallet:
The users normally go for this type of wallet, when they don't want the downloading of software in their systems.
Exodus (Desktop Wallet)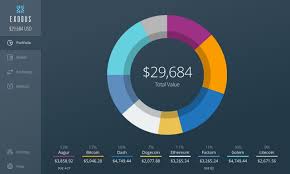 Exodus is a multi-cryptocurrency desktop wallet, and also have ShapeShift built in for exchanging cryptocurrencies within the wallet. However, the user should be connected to the internet while using Exodus. It has a beautiful design and attractive interface including a pie chart that will show the entire portfolio of coins when you open the Exodus wallet. Exodus supports a list of coins including Bitcoin, Ethereum, Litecoin, Dash, etc.) It is available for Windows, Mac, and Linux OS.
EthereumWallet:
Ethereumwallet is similar to MyEtherWallet and is introduced by kryptokit belonging to Canada. It is also designed on the basis of JavaScript and the data is being collected at the client-side. Here an Ethereum address is created to support Ethereum transactions.
The site was once famous but now is under development (beta testing). But the functionality of the wallet remains unaffected though it is in the developmental phase
Jaxx:
Jaxx is the most convenient and user-friendly wallet that handles multi-currencies like Ethereum, bitcoin, etc. Initially, this wallet supported the only bitcoin but is now extended to Ethereum too. It also supports tokens such as Dash and DAO.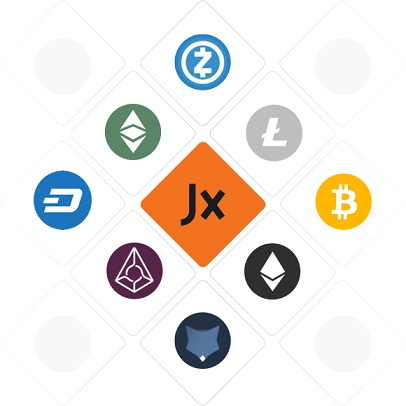 Unique Features of Jaxx:
Link option: The current user's account can be connected to a variety of devices like IOS and Android. The extension is also facilitated for Firefox and Chrome.
Jaxx too provides support for decent contracts and holds hierarchical deterministic (HD) addresses
MIST:
MIST is a default Ethereum wallet which is invented and supported by the Ethereum Foundation. It communicates with decent contracts and facilitates ETH storage.
Faster ETH exchanges or transfers are facilitated by the integration of MIST with ShapeShift. Certain coding skills are essential for accessing MIST. Currently, it is indulged in beta testing so that it is not working as a full-fledged application. An option available in Mist called 'Use the test network' helps in the testing process.
GETH:
Geth is the oldest type of wallet that supports the creation of Ethereum contracts and also facilitates Ethereum transactions. It is made available for OS X, Linux and Windows users
ETHADDRESS:
ETHADDRESS Ethereum wallet is designed on the basis of JavaScript, which facilitates data generation at the client-side. It looks like a paper wallet that supports other types of wallets such as collective wallets and brain wallets.
Thanks for Reading!!! Hope you enjoyed this article on best Ethereum wallets. If you have any suggestion please drop us a message in the comment section below.