Best Cryptocurrency Portfolio Management App For Android and iOS
January 17, 2018 by admin
863
If your life revolves around the trade of cryptocurrencies than life must be a bit tough for you to keep track of all the investments you have done. An individual always needs to keep a track of all the prices of the coins constantly. Even with small amount of trading in this field can be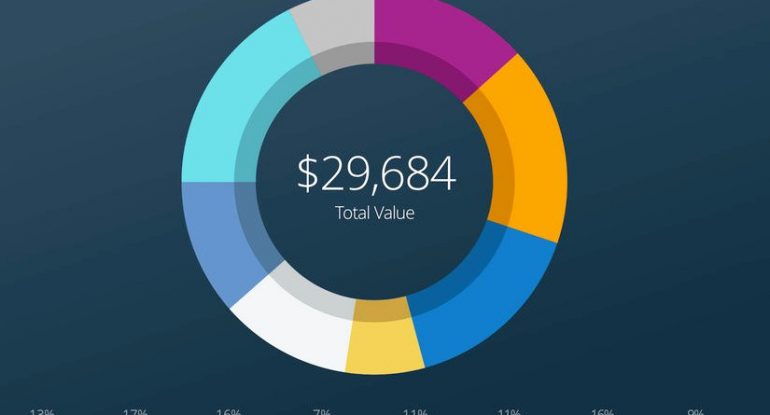 If your life revolves around the trade of cryptocurrencies than life must be a bit tough for you to keep track of all the investments you have done. An individual always needs to keep a track of all the prices of the coins constantly. Even with small amount of trading in this field can be really tough for any individual to keep track of their coins. Profit and loss completely depend on keeping good track. So the conclusion to this is very clear, have the best cryptocurrency portfolio management app. This will help all to know about their investments and their real value in the market.
Here are lists of famous crypto portfolio app:
KryptoGraphe is known as the best cryptocurrency portfolio manager. It is a free app available for Android and iOS users and is the first crypto portfolio management app to integrate automatically with several exchanges and wallets. It's secure, fast, and efficient when it comes to market analysis and portfolio management. It has a clean design and is user-friendly.
Portfolio Management – detailed information on the current situation of your portfolio based on the period of time, type of cryptocurrency and more.
Performance Insights – The only app which gives you insight to how your portfolio stands against other investors. It shows the performance not just on an absolute basis (Growth Nos) but also relative basis (Percentile Nos).
Automatic sync with several exchanges & wallets through API integration
The only app which is available in 13 languages with more to be added soon
KryptoGraphe Tokens(not crypto tokens) are earned by referring family & friends and can be redeemed to upgrade to premium features.
Bitsnapp is relatively new app only for android devices to manage favorite cryptocurrencies. It allows automatically sync your portfolio through multi-Exchange APIs and wallets, and quickly access market information. Its attractive interface will provide you a quick overview of your crypto holdings. It shows charts and other useful information which will help you keep track of all assets.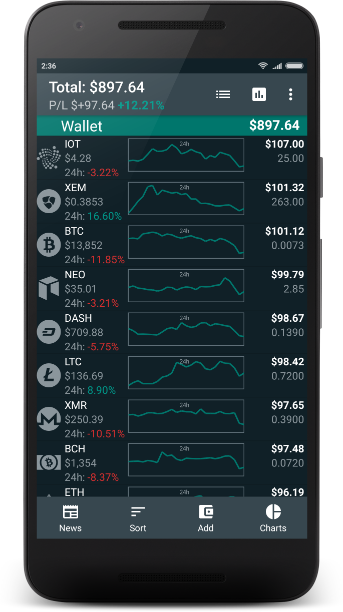 It supports more than 1300 tokens.
Automatic exchange synchronization (using API keys)
Automatic wallet addresses tracking
Portfolio charts
In-app customizable and responsive news feed
It is one of the famous listed application which deals with the problem of deducting the amount from all the coins once they are sold. Apart from that it also has an attractive feature where an individual an easy deduct the BTC/ETH or any primary currency during the purchase of new coin. This is considered as the best and most popular application among the users. This is only for the tracking purpose of all individual portfolios. It is a smart application and an easy one too.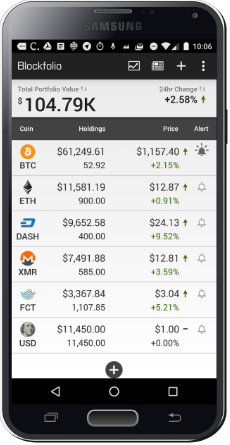 It has some best features for all users:
It is a totally mobile based application which is not supported on pc or laptop. Therefore it is only available for iOS and Android phones.
Keep all users updated with their coin values through coin chart.
One can set alert through alert option for emergency increases or decrease of coin value.
Any individual can save their token ID by clicking on the setting option on the setting page of the application.
This is a quite famous and familiar application to all cryptocurrency lovers.  It is the most popular app to understand and can be used by any individual flawlessly. One can add coins and the see the value according to his convenience. It can be used to create many different portfolios as it has many different features which can be beneficial to all new users.  They can easily create beautiful charts and graphs for themselves. It is strictly created for portfolio management so therefore it only supports all cryptocurrencies.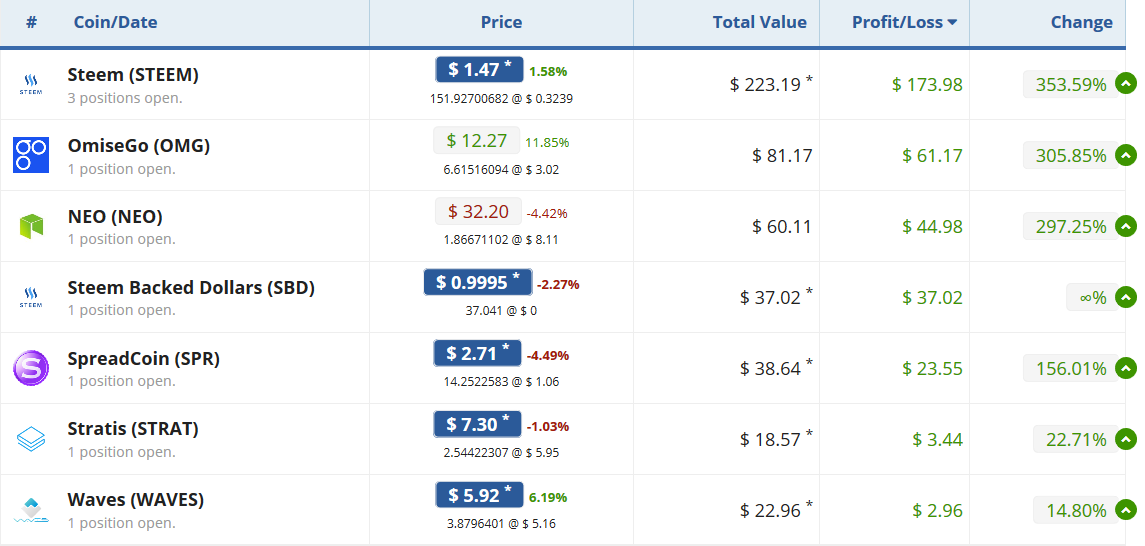 This application can be used on both pc as well mobile. One can easily at his own time get access to their account. While an individual is adding cryptocurrency they can easily specify where it is stored. It also has an advantage where an individual can see all the distribution of percentage for each coin.
This application has proved itself to be one of the best and famous among the users. It has all the mind-blowing features which are loved by all. One can not only trade nationally but also internationally they can trade through CSV (Check Sequence Verify) as well as through API (Application Programming Interface). On the other hand, one can use famous wallets such as Exodus, Electrum, and Blockchain.info for trading.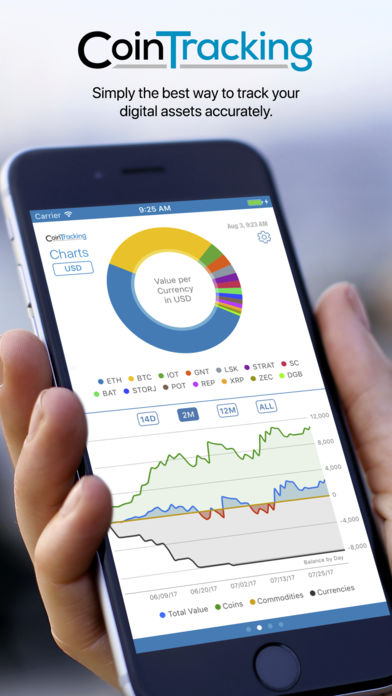 This is the best solution for all the people who are planning to trade with crypto as they can see how much amount they are actually holding in their account. It is also an easy solution for tax calculation.  This application is offering the users to use it through pc and mobile both.
It is defined as one of the easiest and well-planned applications created only for portfolio tracking. It has one of the trendiest layouts if compared with the others. Bittrex and Poloniex are the two popular exchanges which are done on this platform.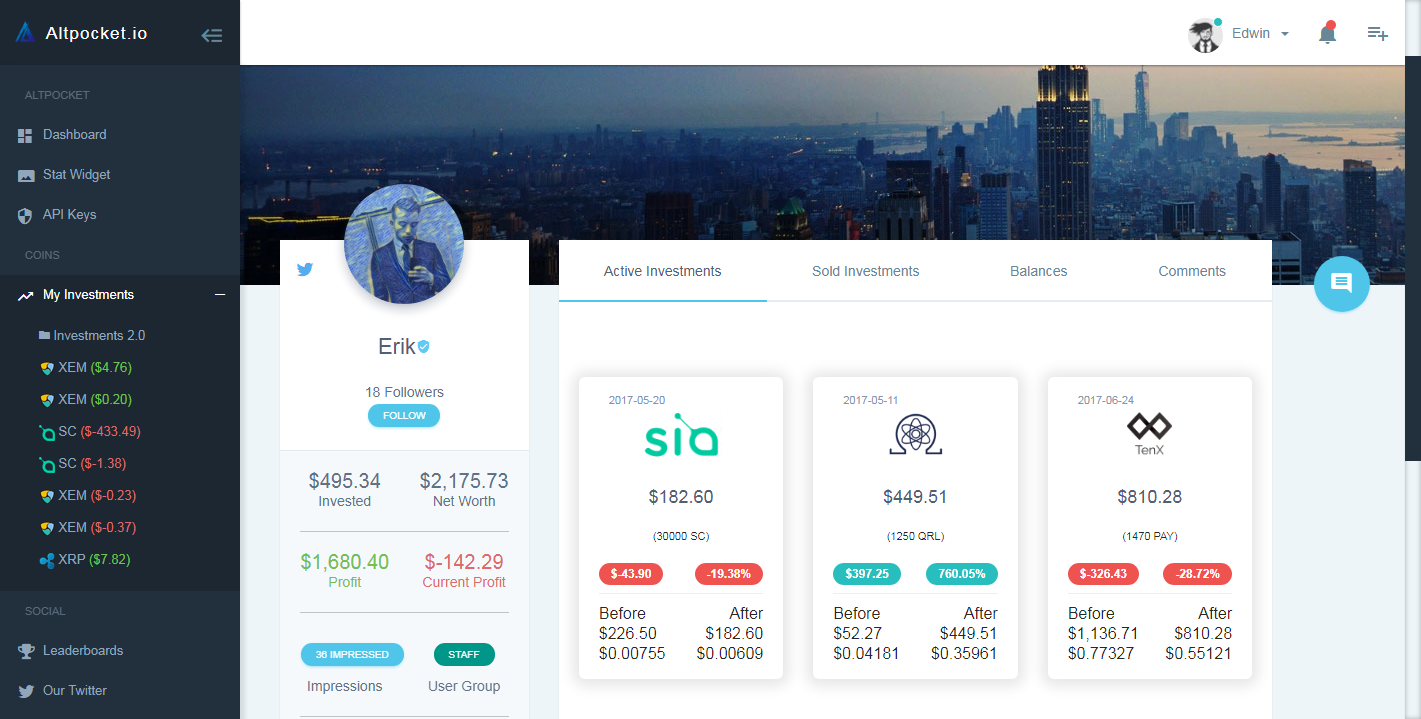 Adding coin is very easy and learning is fun. If you are thinking about the signing process, then you must be happy knowing that's its free sign up application.
CONCLUSION:
All the above-listed applications have their own facilities depending on the users and their needs. These applications are used for tracking the users' portfolio and managing the cryptocurrencies. It also helps an individual to trade any time of the day as he can easily keep track of the profit and loss of the currency and trade accordingly. Going through all the application can help an individual to have a great experience and knowledge about the application. On the other hand, it might be easy for the user to decide which application to use so that it will suit him the best.