In crypto world, there are different types of blockchains.  Binary-Chain is slightly different, specifically, it is a dual blockchain protocol pairing a cryptocurrency with a digital reserve which is a new concept in the field of Blockchain.
BinaryChain is a protocol of blockchain, where blockchain is a technology used in a variety of altcoins (like Verium and Vericoin) for value storage purposes. It is a bridge between the digital reserves and the digital currencies. Binarychain is simply defined as a dual blockchain system with Verium and Vericoin.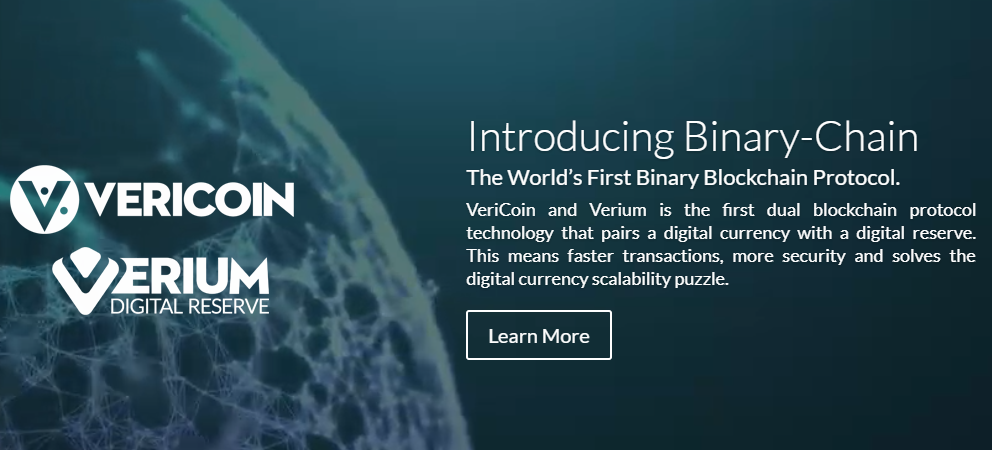 It is one of the unique and groundbreaking blockchain technologies in the world since it has somewhat different and efficient features in comparison with some other similar technologies.
Verium (VRM) and Vericoin(VRC) are built in such a way that they are compatible with shared private keys and addresses. Also, the exchange of Verium and Vericoin does not need any third – party interference.
Vericoin can be bought easily from the following digital currency exchanges:
Poloniex
Bittrex and
Bleutrade
Unique features of BinaryChain:
It is a dual blockchain system that is highly safe and secure in nature.
It facilitates high – speed transactions.
It is usually made available at a lower rate.
It offers complete immutability and decentralization.
It is a highly convenient protocol since it utilizes the aspects of Proof – of – work – Time and Proof – of – Stake – Time.
It does not have any sort of issues related to scaling since it overcomes all types of scalability problems associated with the other cryptocurrencies.
It does not face any kind of failures, since it has self – sustaining chains in it.
It offers several rewards to the valuable miners.
Verium mining specifications:
Binary chain allows everyone to perform mining. But the only requirement is that the specific miner must have a laptop or a personal computer.
Verium is resistant to both GPU and ASIC.