13 Best Crypto Portfolio Tracker Apps 2020
If your life revolves around the trade of cryptocurrencies than life must be a bit tough for you to keep track of all the investments you have done. An individual always needs to keep a track of all the prices of the coins constantly. Even with a small amount of trading in this field can be really tough for any individual to keep track of their coins. Profit and loss completely depend on keeping a good track. So the conclusion to this is very clear, have the best cryptocurrency portfolio tracker app to manage everything. This will help all to know about their investments and their real value in the market. Let's discuss some best cryptocurrency portfolio tracker apps for 2020: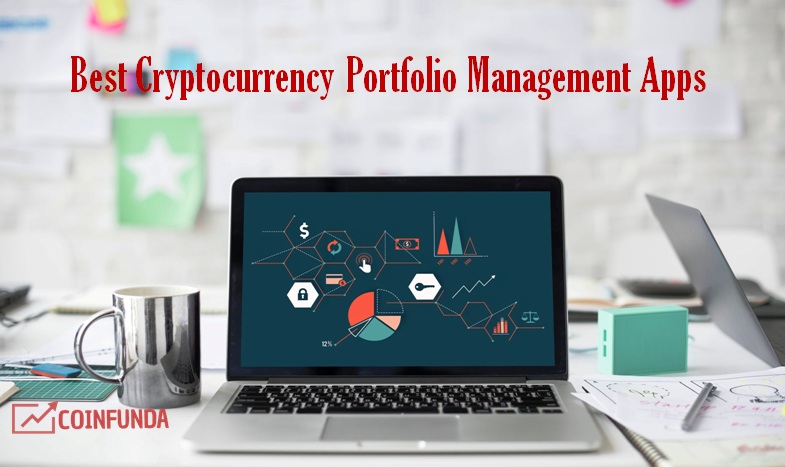 The Best Crypto Portfolio Tracker Apps: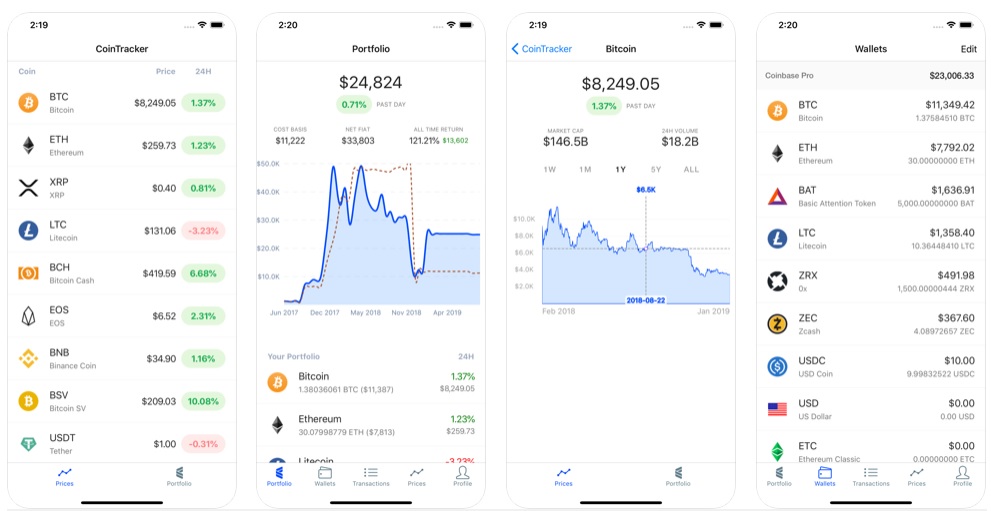 Cointracker is a well known as one of the best crypto portfolio tracker platform to manage all your crypto at one place. It is a cryptocurrency tax calculator platform that is also equipped with an attractive crypto portfolio manager tool available for desktop and mobile platforms including app support for Android and iOS. Users can track their entire crypto portfolio with this tool. It allows users to connect all exchanges, defi platforms and wallets to automatically calculate and track their crypto portfolio. At present, it supports 300+ exchanges, wallets and over 2500+ cryptocurrencies. Users can add their public wallet address to load complete information of the cryptos within the wallet. Get CoinTracker Now!!!
For example: if you have more than 100 tokens within your ERC20 supported ETH wallet address, you do not need to add info about each token manually. To load all token information users will have to add your ETH address in the CoinTracker app only.
Coinmarketcap(CMC) is a well-known crypto portal for exchange volumes, market cap & rank, prices, and currency conversion. With CMC app users can track holdings such as Bitcoin, Ethereum, XRP, EOS, Tron and 2000+ other coins & tokens. CMC app is the best crypto app around, with market capitalization, candlestick charts, portfolio tracker, currency converter including fiat, coin and token news, and crypto comparison tools. From bitcoin to altcoins, users can get accurate and real-time rates in a single place.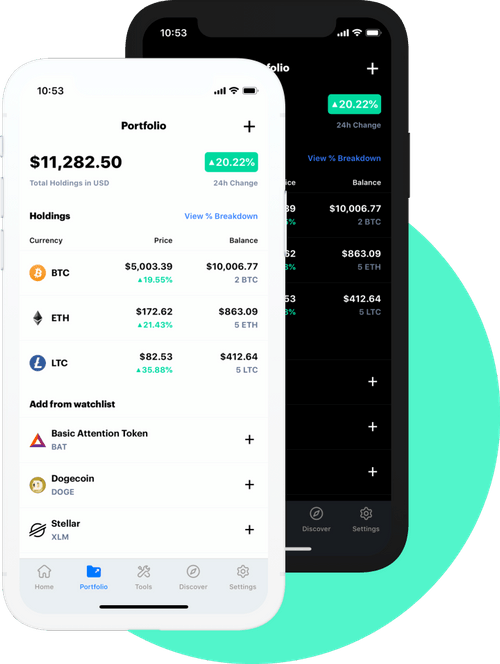 You can track portfolio in 90+ fiat currencies including USD, EUR, JPY, KRW, CNY, crypto bases such as BTC, ETH, LTC and precious metals such as Gold. This app is loaded with the following features listed below:
CoinMarketCap crypto market cap ranking
Exchange ranking
Global crypto stats
Crypto portfolio & watchlist
Crypto & fiat currency converter
price alerts
Compare crypto
Crypto news & info
Crypto Pro is an all-in-one cryptocurrency tracker with a clean and elegant design. Users can track 5,000+ assets, read the latest news, set prices alerts, and track their portfolios via exchange sync or wallet import.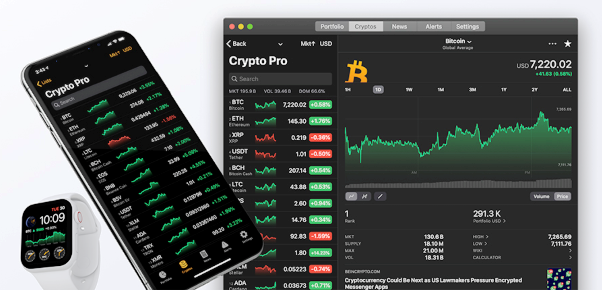 The app has a macOS version that supports all the features you can find on its iOS counterpart, as well as a menu bar widget so you can always keep an eye on the volatile cryptocurrency market. If you're always on the go, you can instead get the Apple Watch app and track your investments in the form of complications. These can range from simple price tickers to larger ones with sparklines and percentage change. Download iOS | Android
Some cool features:
Exchange API sync & wallet import from 280+ sources

Portfolio tracking with statistics

Widgets for iPhone and iPad.

Customizable app icons.

Real-time price updates

FaceID, TouchID or passcode lock
Altpocket is a leading social crypto portfolio tracker, with a powerful asset manager and social platform mixed into one. You can automatically sync transactions from your favorite exchanges and see them all in one simple consolidated view. It's also possible to check out like-minded traders' portfolios and follow their performance, or even talk about the latest trends on the social feed. Curious to see what someone's next move is? Get notifications for each trade they make, as it happens. Complimenting the web platform, Altpocket has a feature-rich mobile application that allows you to track your portfolio on the go, or stay in touch with fellow investors. Altpocket saves time, eliminates stress, and is proven to help with managing one's portfolio, whether it's deciding what coin to sell or seeing how you're performing. Download: Android | iOS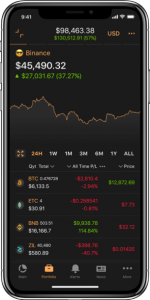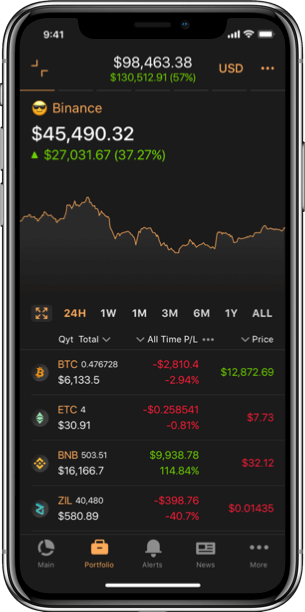 CoinStats is another useful and popular cryptocurrency portfolio tracker platform where users can set up and track their portfolio manually buy adding their coins manually or they can sync wallet and exchange to avoid manual entry. Features of this platform also include personalized alerts and insights as well. CoinStats is supporting more than 100 exchanges and wallets and currently available as iOS, Android, WEb, Telegram Bot, Chrome extension, and Apple watch. Coinstats is an all in one crypto tracker app for complete mangement of your crypto investment.
Bitsnapp is a relatively new app only for android devices to manage favorite cryptocurrencies. It allows automatically to sync your portfolio through multi-Exchange APIs and wallets and quickly access market information. Its attractive interface will provide you with a quick overview of your crypto holdings. It shows charts and other useful information which will help you keep track of all assets.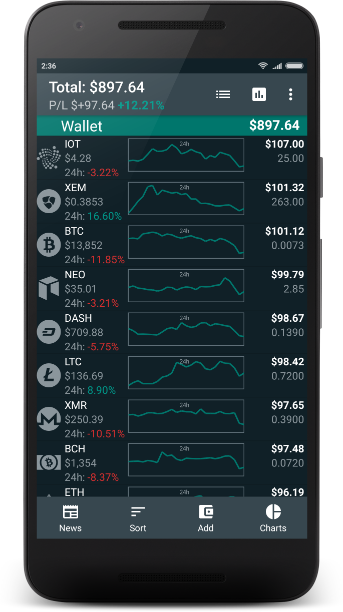 It supports more than 1300 tokens.
Automatic exchange synchronization (using API keys)
Automatic wallet addresses tracking
Portfolio charts
In-app customizable and responsive news feed
It is one of the famous listed application which deals with the problem of deducting the amount from all the coins once they are sold. Apart from that it also has an attractive feature where an individual an easily deduct the BTC/ETH or any primary currency during the purchase of a new coin. This is considered as the best and most popular application among the users. This is only for the tracking purpose of all individual portfolios. It is a smart application and an easy one too.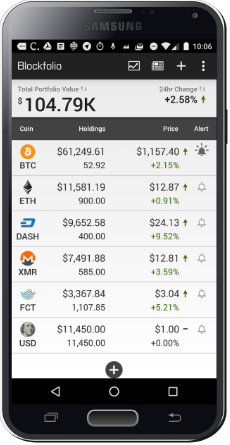 Highlighted features:
It is a totally mobile-based application that is not supported on pc or laptop. Therefore it is only available for iOS and Android phones.
Keep all users updated with their coin values through the coin chart.
One can set alert through alert option for emergency increases or decrease of coin value.
Any individual can save their token ID by clicking on the setting option on the setting page of the application.
Unspent has every feature you would expect from a crypto portfolio tracker and does more than that. It's built for crypto investors who want tools to better understand their portfolio, assets, and projects they've invested in, as well as the larger cryptocurrency markets.
It saves you time and gives you all the information you need to make the decisions that right for you. Connect exchanges and wallets you use to keep them synchronized, and in addition to seeing your portfolio's value, it'll show you all the profits you've realized, allow you to place price alerts, see how much of your portfolio you have on exchanges vs wallets (and which ones precisely), see how your portfolio is spread across small/mid/large caps, allow you to analyze your portfolio's performance and volatility, and even the correlation between any crypto assets.
This is a quite famous and familiar application to all cryptocurrency lovers.  It is the most popular app to understand and can be used by any individual flawlessly. One can add coins and see the value according to his convenience. It can be used to create many different portfolios as it has many different features that can be beneficial to all new users.  They can easily create beautiful charts and graphs for themselves. It is strictly created for portfolio management so therefore it only supports all cryptocurrencies.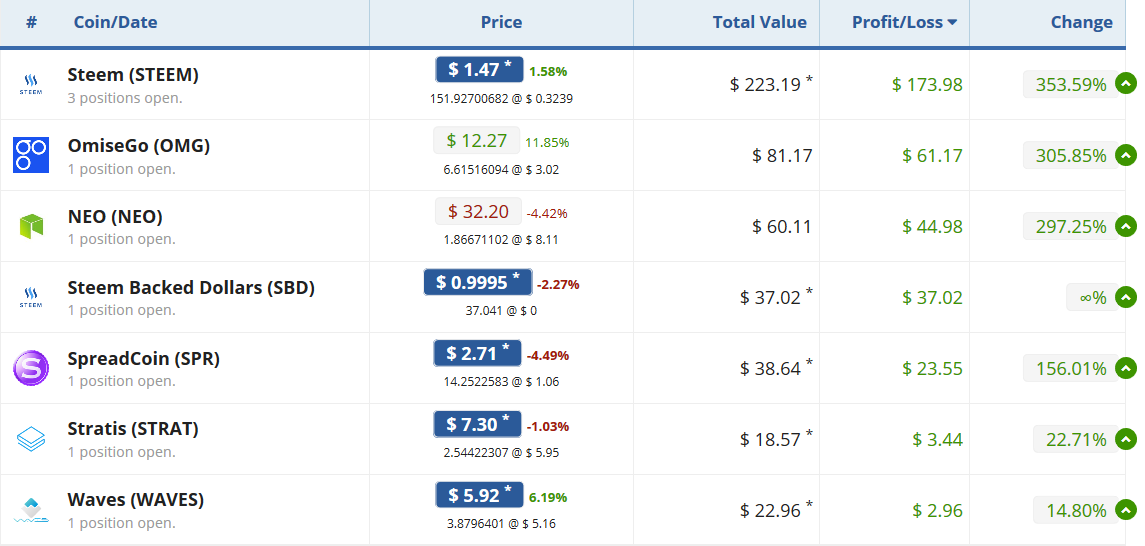 This application can be used on both pc as well as mobile. One can easily at his own time get access to their account. While an individual is adding cryptocurrency they can easily specify where it is stored. It also has an advantage where an individual can see all the distribution of percentages for each coin.
This application has proved itself to be one of the best and famous among the users. One can not only trade nationally but also internationally they can trade through CSV (Check Sequence Verify) as well as through API (Application Programming Interface). On the other hand, one can use famous wallets such as Exodus, Electrum, and Blockchain.info for trading.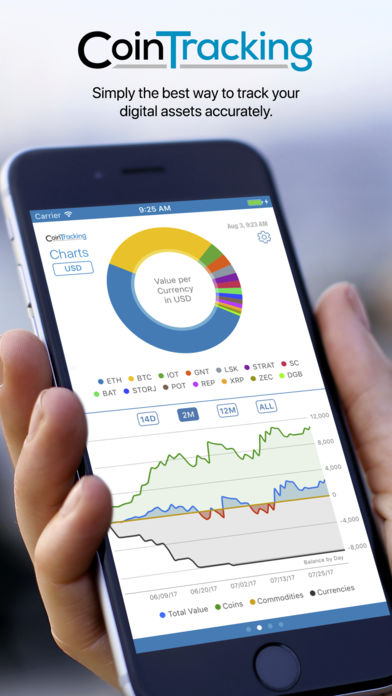 This is the best solution for all the people who are planning to trade with crypto as they can see how much amount they are actually holding in their accounts. It is also an easy solution for tax calculation.  This application is offering the users to use it through pc and mobile both.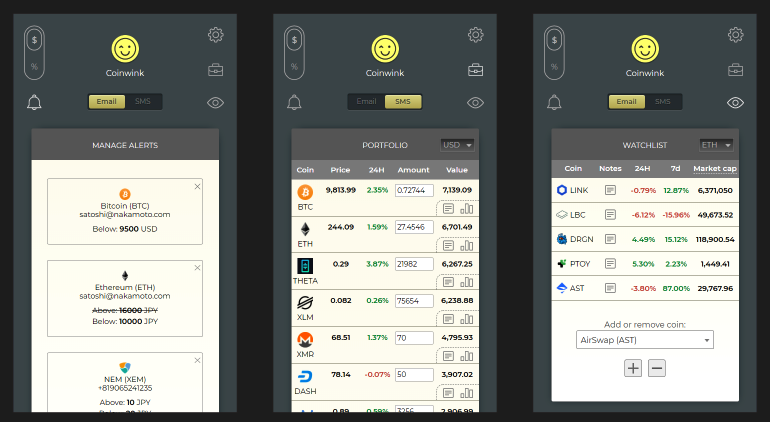 Coinwink is a cryptocurrency price alerts, watchlist & portfolio tracking app for Bitcoin, Ethereum, and other 2500+ crypto coins and tokens. Coinwink monitors cryptocurrency prices 24/7 and alerts its users by e-mail or SMS when their defined conditions are met.
With the Portfolio and Watchlist features, users can track coins and tokens from different blockchains in one single place and be aware of the market situation with the minimum amount of time and effort invested. Coinwink is a cross-platform, privacy-focused, and open-source cryptocurrency service.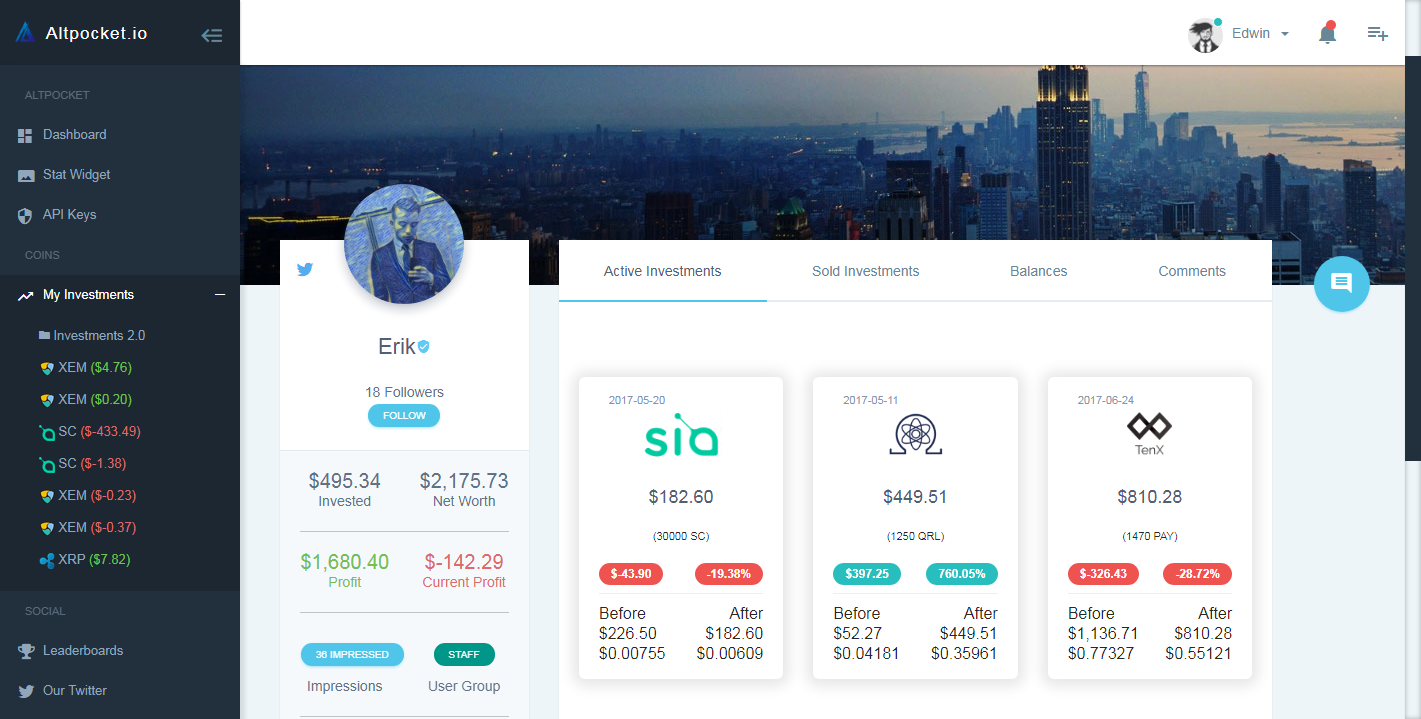 Altpocket is one of the easiest and well-planned applications created only for portfolio tracking. It has one of the trendiest layouts if compared with the others. Adding coin is very easy and learning is fun. If you are thinking about the signing process, then you must be happy knowing that's its free sign up application.
It is a desktop-based crypto portfolio management tool that is available for Windows and MAC operating systems as of now.  Mintfort is an API-based cryptocurrency portfolio management service that provides a portfolio tracker for multiple exchanges. Currently implemented exchanges are Binance, Bitfinex, Huobi, Kucoin, Bittrex, and Kraken.
CONCLUSION:
I hope you enjoyed this piece of wiring where we handpicked few apps to make a collection of best cryptocurrency portfolio tracker apps for our readers. All the above-listed applications have their own facilities depending on the users and their needs. It also helps an individual to trade any time of the day as he can easily keep track of the profit and loss of the currency and trade accordingly. Going through all the application can help an individual to have a great experience and knowledge about the application.
On the other hand, it might be easy for the user to decide which application to use so that it will suit him the best. If you need a refresher or some more in-depth knowledge of crypto you can check out Vanilla's ultimate guide.
Please feel free to share your opinion or review on this app. You may also suggest to us if we missed adding any must-have app for the list above.