Why It Is Difficult For a Startup to Survive Without a Market Maker Cryptocurrency Partner?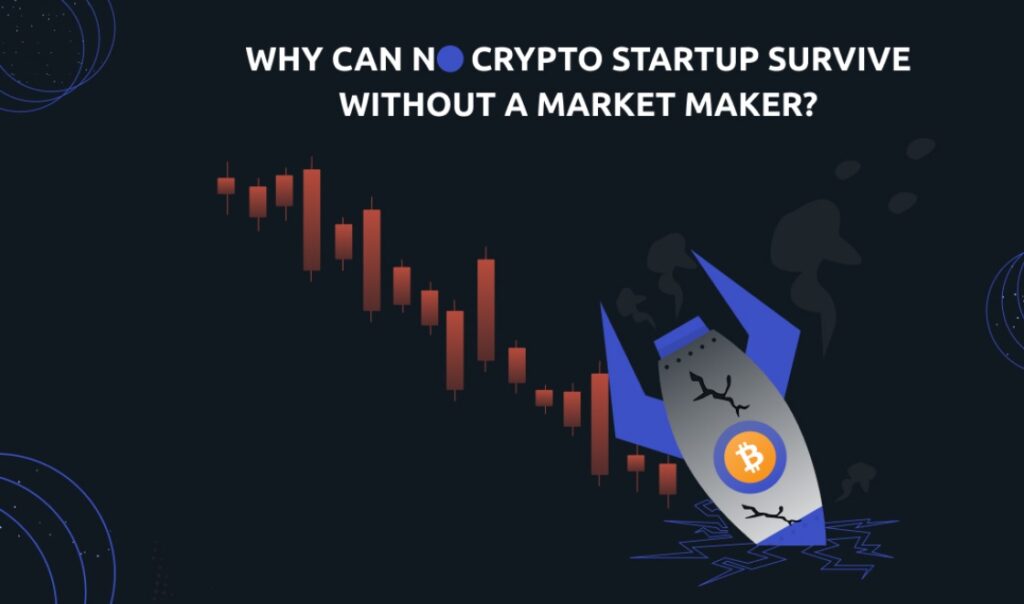 The traditional financial market has changed forever since blockchain technology first appeared. Every day interest in the cryptocurrency world continues to grow, and anyone who comes out of the various digital niches is still trying to enter the crypto market with the first waves, albeit a little late. That thought might upset many new entrants into the cryptocurrency world, but the market is already quite overcrowded.
A major attribute of growing up as a successful project is to have the right partners and investors to support it and will be able to strengthen the product with public loyalty. However, is this enough to achieve sustainable results and bring the project into the ranks of profitable and desirable start-ups?
For the healthy development of your startup, in addition to a team of experts, you also need a well-thought-out financial model for your business.
Especially in a changing and aggressive market, the project needs to clearly understand its core costs and what is steadily generating you profit at the moment. For any tokenized crypto project, support through strategic partnerships in the form of engaged experts or market maker cryptocurrency companies will be a great advantage.
What Are The Benefits of a Partnering With The
Market Maker Cryptocurrency
Company?
Let's take another look at the essence of market making in a few points. The basis of market making is to provide liquidity to support an asset or token and make the price in the market more stable.
The objective of MM is to ensure that traders and investors can buy or sell an asset at virtually the same price at any time and without noticeable price fluctuations. This gives all the market participants an opportunity to close their trades easily, without affecting the stability of the token and avoiding price gaps and slippages.
The crypto market maker acts as an "invisible hand" that makes the market equal for all participants.
Every popular token project and exchange works with a market maker, and the demand for such services is only growing as the cryptocurrency industry matures. Each new token needs considerable support when it enters the market and cannot exist without a liquidity provider. The involvement of a market maker in this process adds credibility to investors that they are trading on a better-supported exchange, as well as increasing confidence in the assets with more support.
Problems With Low Liquidity Tokens
A common problem for many newly listed tokens is a lack of liquidity. Price gaps and bounces, low trading volume and large slippages are very worrying signals for most investors. With such signs, the project feels too much like a scam. And this situation raises another problem – the risk of price manipulation. 
The price of newly listed tokens can be multiplied by 10, 25 or even 100 times compared to the initial purchase price, giving token investors the chance to make huge profits from selling them immediately after going public. Such panic sales can cause fatal damage to a project's reputation, which will be difficult to restore. And in cases where trading activity is too low, it may take just one strong push to bring down the price of an illiquid token.
In addition, tokens with low liquidity are at risk of being delisted from the exchange.
How Does A Market Maker Facilitate The Success Of Your Venture?
Managing Token's Liquidity on CEX
Centralized crypto exchanges are quite similar to traditional market exchanges. This is what a market maker takes care of when your project gets listed on CEX:
Managing of the order book 
The crypto market maker quotes bid and asks prices 24/7, enabling orders to be executed without delays or slippage.
Boosting an investment interest
The presence of a market maker automatically increases the trust of investors and traders in the sustainability of the token in the long term, which encourages an influx of new users.
Trading volume and price level support
Market makers help to maintain a high level of liquidity of crypto assets, which helps to keep critical price levels, tight spreads and sustained trading volume on one or more exchanges.
Managing Token's Liquidity on DEX
The market maker cryptocurrency services provided for decentralized exchanges are a bit different from CEX, as they are organized in a very distinct way, which requires a different approach to market making:
Liquidity pool aggregation & management
Here, the crypto-market maker is in charge of the creation and management of liquidity pools to make them more attractive to individual investors. Meanwhile, the company also provides technical support for all trading pairs so that trades and transactions are executed with minimal slippage.
Protecting the token from pampers and dumpers also is one of the essential duties of a market maker. 
Sophisticated technology and algorithms ensure stable trading activity, demonstrating the resilience of the project.
BitQuant – A Market Maker You Were Looking For
BitQuant Capital, a market maker cryptocurrency partner, will help you avoid costly mistakes on your way to building a solid foundation for the long-term future success of your project. 
So, in a few words about us!  – We are value-driven market makers and one of the leading crypto-trading firms specializing in providing liquidity to digital assets and exchanges, including CEX and DEX.
We are in this business since 2019 and have experienced both successes and failures, on which we have gloriously learned about doing the right things. At this point, 12 tokens have been successfully launched and we are non-stop securing their liquidity all time since then.
We have built growth opportunities for dozens of crypto exchanges, including such liquid ones as Binance, Gate.io, KuCoin, etc. 
Equipped with agile and highly scalable technology combined with years of experience, we are more than ready to create a fair and liquid environment to accelerate the growth of your crypto start-up.
Connect with our experts now!