3 Best Platforms To Start SIP In Bitcoin (Cryptocurrency) 2021
Systematic investment or SIP in Bitcoin also referred to as periodic crypto inventment / recurring cryptocurrency deposit. Best platform to create SIP depends upon different factors we are going to discuss in this article.
Making an investment on a regular basis is a good idea because it is easy to put a small amount of money instead of making a large investment at once. With regularity, your investment might be comparatively modest, regardless of the amount of investment. Periodic investment also neutralizes the risk involved due to market fluctuations and your total holding steadily grows. Another reason to get into a systematic investment plan (SIP) if the investor is not deeply invested in following the market closely. As in SIP, investors make a plan, choose the asset and start investing in that without putting their much time into watch market activity closely.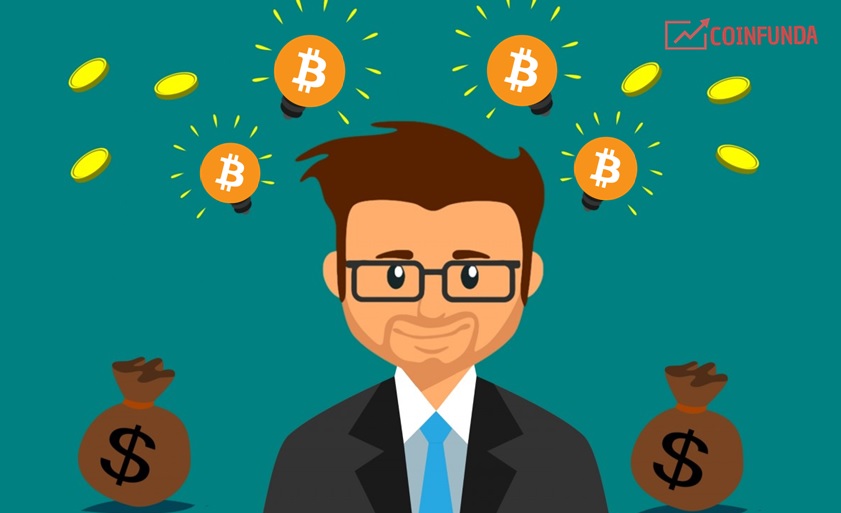 The popularity of cryptocurrencies is growing every day and there any many developments that are going on to move cryptocurrency into the mainstream of the finance system. Bitcoin is the first cryptocurrency that was created a decade ago and still dominates the market in terms of Market Capitalization and Trade Volume. The price of cryptocurrency is depended upon the demand and supply of it. Till the date, it is proven that Bitcoin delivers the biggest return on investment since it came into existence still there is also a huge risk involved in crypto investment and SIP in Bitcoin (or in another cryptocurrency) is a great way to minimize that risk.
Best Ways To Start Systematic Investment Plan (SIP) In Bitcoin
SIP in Bitcoin is also referred to as periodic inventment and recurring deposit. In case investment into cryptocurrency appeals, you and you have decided to make a SIP into Bitcoin; then in this article, we are going to discuss some options to make SIP investment. Though, a limited number of exchange or websites providing SIP feature still there are some reliable and trusted exchanges those are offering users to make a SIP with cryptocurrencies such as Bitcoin, Ethereum and few other popular cryptos.
Coinbase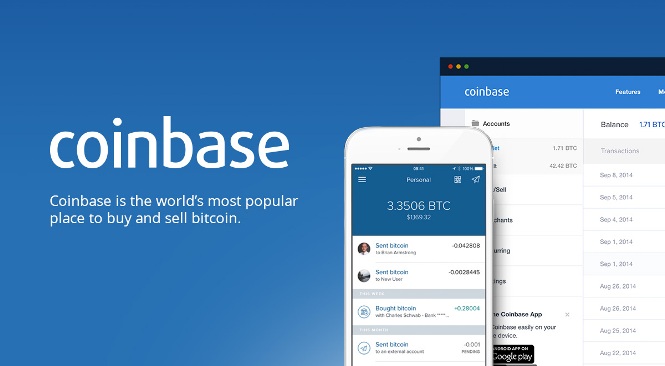 Founded in 2012, Coinbase is one of the biggest, oldest and trusted cryptocurrency wallet and exchange headquartered in San Francisco, California. Coinbase offers various cryptocurrency products including Wallet, Exchange, Cryptocurrency Gateway, and many more. Users can buy, sell, and store popular cryptos such as Bitcoin, Ethereum, Bitcoin Cash, Litecoin, Tezos, and many more. Coinbase offers its services in 42 countries as of now and has more than 20 million customers worldwide. Storing cryptocurrency in an online wallet is a risky plan and Coinbase takes it very seriously. It store only 2% of your fund in an online wallet and the online balance of the Coinbase USD wallet is covered by FDIC insurance.
Coinbase allows customers to make recurring purchases (SIP). Recurring buy option is offered to avoid timing risk also known as dollar-cost averaging as well. They also allow users to cancel their recurring purchase by few clicks only which can be done through the website.
The only issue with Coinbase it that this recurring deposit feature is available to selected countries only.
Join Coinbase To Create SIP !!!
BitDroplet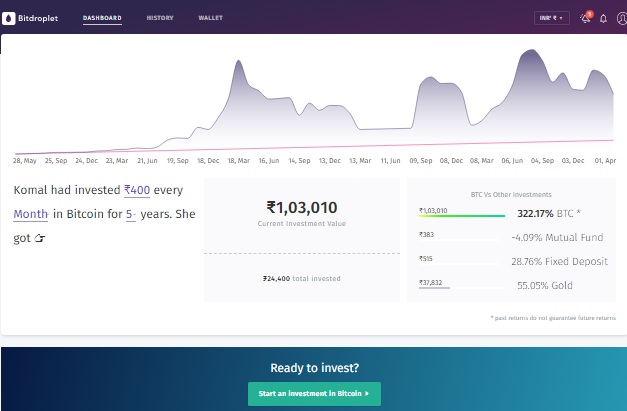 BitDroplet is a relatively new platform that allows users to invest in Bitcoin with small investments they call it Systematic Purchase Plan (SPP). BitDroplet is a product of famous Indian cryptocurrency exchange BitBns which was started in 2017. As mentioned on the Bitdroplet website, users can start with only INR 78 (~$1) per day. A fee of 0.25% charged as a trade fee at the time of each purchase and at the time of redemption as well. There are no further hidden charges.
At the time of writing this post, Bitdroplet was supporting a limited number of countries including India, Europe, and the UK, and supports investment in IRN, EURO, and POUND. Currently they support Bitcoin for SPP and have plans to add more cryptocurrencies in the future.
Join Bitdroplet to create SPP !!!
Unocoin
Unocoin is the first cryptocurrency exchange of India that was launched in 2013. The idea of SIP in Bitcoin was initially launched by Unocoin in 2015. The SIP feature of Unocoin allows users to commit to a regular fixed INR deposit where they can start with as little as INR 50 only. All you need to do it to fund your INR wallet and start the SIP. Recently, Unocoin extends the SIP plan for the regular investment in Ethereum and they call it Systematic Buying Plan (SPB). As mentioned in their notification dated 25/04/2020, there is a 0% transaction fee for BTC and ETH for SBP.
In case you are planning to start a periodic investment into Ethereum, then you will definitely find it exciting that Ethereum is working for Ethereum 2.0 and moving to switch from PoW to PoS, which can drastically affect the price movement in a positive direction.