The growing popularity of cryptocurrencies and the rising prices of Bitcoin have brought in a fresh drive of crypto enthusiasts into the market especially during the pandemic. Investing in cryptocurrencies especially when you are sitting at home, is one of the safest and easiest ways to earn some passive income. Having said that, investing in cryptocurrencies is not child's play. Once you familiarize yourself with the volatility of the market, you need a secure place to store your crypto assets. 
Talking about cryptocurrencies, it is needless to say that hardware wallets are one of the safest places to store your digital coins compared to mobile or online wallets. Prokey Optimum is a hardware wallet with key features and functionalities that are dedicated to secure your digital coins against hacking and offline/online attacks.
There are a lot of hardware wallets available in the market. So, what makes Prokey Optimum different from the others? Let's find out.
Recommended article: List of 25+ Hardware Wallets
Why Prokey Hardware Wallet?
Prokey Optimum wallet is not just any hardware wallet. It is one of the safest open-source cold-storage hardware wallet that can store all your cryptocurrencies and private keys in one place, help you make transactions and payments, and has an interface that is easy to use even for a beginner.
Prokey claims that is it is fully encrypted and virtually un-hackable and safe from phishing attacks or hacking threats. Here are some of its key features.
Prokey Features: What's in Store?
Sleek design: The design is sleek and with rounded edges that are easy to hold. The flat LCD screen comes with 4 buttons for maximum use of the device and with 2 USB cables and a Micro-B connector. 
No app installations: Prokey Optimum is a browser based secure easy to use crypto hardware wallet that supports more than 1200+ crypto coins and tokens without installing applications for coins like other hardware wallets.
Competitive price: The wallet costs only $59 which is quite a catch compared to other hardware wallets. You can manage all your transactions, make payments, and store funds in one device and that too at an affordable price.
Supports multiple currencies: The wallet supports more than 3500+ cryptocurrencies including Bitcoin, Dash, Ethereum, ERC20, Litecoin, and Bitcoin Cash. Also, manage and store USDT coins on Ethereum and OMNI protocol-based blockchain networks.
Security optimization: One of the strong points of this wallet is its security features. Prokey is an HD (hierarchical deterministic) BIP39 wallet. This means that even if the wallet is broken or lost, users can retrieve and have access to their crypto funds offline by using their mnemonic key phrases and recovery seeds. These PIN codes and recovery seeds help a user to have multiple hidden wallets. Furthermore, the FIDO (fast identity online) two-factory authentication key allows users to use the wallet on other web browsers like Google chrome etc. You can store all your private keys offline that can be used to manage transactions from a different computer system or hardware. So, your funds are safe even if your wallet is stolen or lost. It is equipped with STM32F205VG chip with True random number generator (RNG)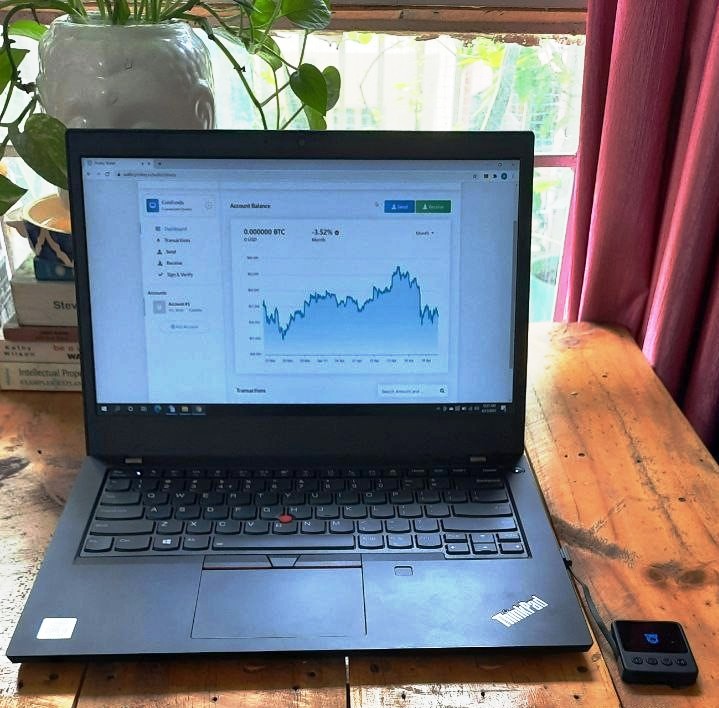 Secure firmware: Firmware installation through a mutual authentication process ensures that your wallet is 100% secure from any supply-chain threats and third-party infiltration. The wallet will validate legit transactions and will automatically stop working if the transaction is not genuine. 
Compatibility: The wallet works on all web browsers like Linux, Windows, or Mac OS and also on Android and iOS phones. There is no need to download any software, extensions, or applications. 
Money back guarantee: Prokey has a 14-day money back guarantee return policy. 
Final Verdict: 
Personally, I am using this prokeymhardware wallet for a couple of weeks now and I am really impressed with it. First of all, It is a very easy-to-use hardware wallet and a newbie can easily set up and start using it. I like the in-browser operation feature of this wallet, all you need to connect it with your system and start your browser to access your crypto assets. Since it is supporting BIP39 so you can easily access your fund anywhere without depending upon your hardware wallet using your 24 words backup seed phrase. I really like to feature of supporting all assets in one place. Prokey wallet also provides feature of adding extra custom word to your recovery seed so that you can access new wallets, each hidden behind a particular passphrase.
Simple interface, high-end safety features, and affordable price. What more can one ask for? Prokey is an all-in-one device that can give tough competition to other well-established hardware wallets in the market. It does not matter whether you are a novice or a pro, Prokey is the right device for you.