PrimeXBT Review: Features, Pros and Cons
PrimeXBT is a Bitcoin trading exchange that was launched in 2018 in Seychelles. The platform is a centralized leverage trading exchange and provides leverage options for trading cryptocurrencies and other commodities, stocks, CFDs, Indices, and forex. In this PrimeXBT review article we will discuss its features, pros and cons.
The unregulated exchange platform gives leverage to traders who can trade cryptocurrencies and other assets without investing too much money and that too without the interference of any Government or Central authority.
In a nutshell, PrimeXBT is a complete package for low or medium-scale traders who are looking for low investments and high returns and that too within a short span of time. PrimeXBT aims to provide a solution to the common problems of cryptocurrency exchange problems like:
KYC approval.
Low liquidity.
Poor user interface.
The volatility of markets.
High fees for trading.
Shortage of funds.
Security issues.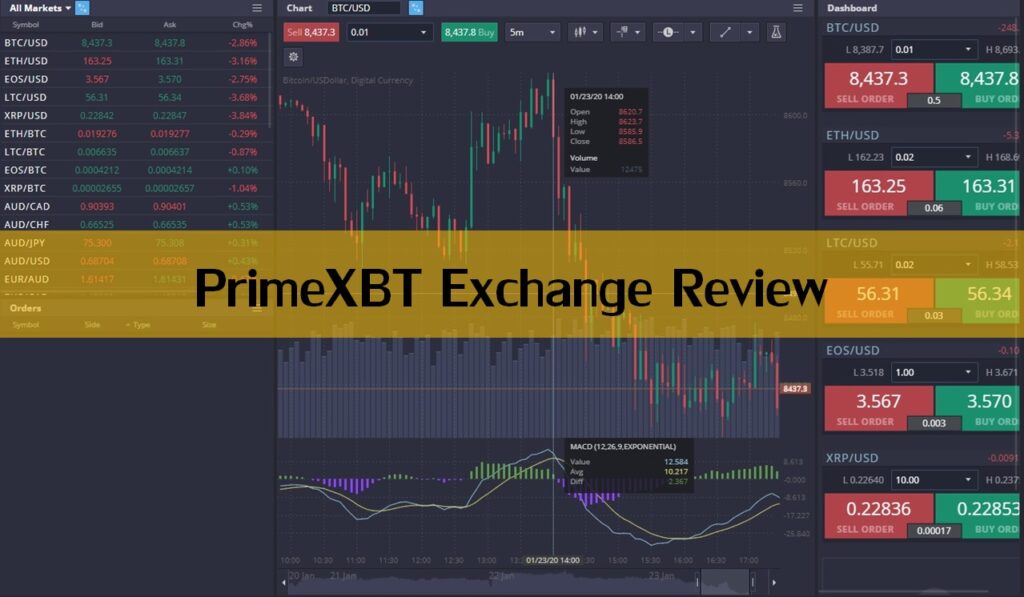 PrimeXBT Features
Leverage
This is one of the prime features of PrimeXBT. It offers leverage of 1:100 for trading cryptocurrencies which is much higher compared to other trading exchanges. For other assets, commodities, forex, and indices, the leverage is 1:1000.
The ratio of 1:100 is the same for profits and losses in the exchange. In simple words, it means that if you are investing $1 in the exchange, you may make a profit of $100 or incur a loss of $100. The ratio is the same for both. For beginners, understanding profitability with leverage can be difficult. For that, PrimeXBT offers a leverage calculator which will help you to calculate your buying power with leverage.
Knowing your leverage will help you to maximize your profits and understand the market trends. Cryptocurrency exchange platforms are highly volatile. Traders while investing should remember that leverage can increase the chances of making profits as well as the losses.
Trading in PrimeXBT 
Trading in PrimeXBT is very simple and profitable even for beginners. All transactions are done in Bitcoin. The platform offers several advanced trading tools and features that are safe and reliable and will help you to understand the market trends.
There is a preview section where you can watch live trading and get an idea of how it works and how to create an account on the platform. However, to see the list of all the features in the platform, you need to register and log in to your account and select an option.
There is also a list of cryptocurrency pairs that are visible on the screen. You can click or choose a pair that you want to bid or view the price. There is also an 'Order Book' where you can view graphic representations of the prices and the current market trends of your chosen pair of currency.
Trading Charts
The trading time chart shows the increase and fall in prices of the cryptocurrencies and the exact date and time. It is available in bar or line graphs. You can change the settings and choose the time intervals as well as the type of graphs you want to view.
Trading Fees 
PrimeXBT charges a fee of 0.05% for trading cryptocurrencies. This is a standard fee and is the same for all cryptocurrencies. However, there is an overnight trading fee that will be levied on all trades after midnight at $8 on 1 Bitcoin per day. Traders who are new to the platform are often not aware of this financing fee and are charged extra.
Minimum and Maximum Limits
The minimum trading limit is 0.01 BTC. This is higher compared to other exchange platforms. The maximum trading limit is 100 BTC. Trading fees for indices, commodities, and forex is 0.01%.
Withdrawal fees for PrimeXBT are 0.0005 BTC. Fees are also levied for the conversion of cryptocurrencies and also converting fiat into crypto. While transferring BTC to the PrimeXBT trading wallet, traders have to pay a miner's fee.
Supports Multiple Languages 
Besides English, the PrimeXBT trading platform supports multiple languages like Spanish, Korean, Chinese, Russian, Turkish, and Portuguese. However, the platform is not available for US citizens due to the strict verification and regulative rules of the States.
Customer Service and Support 
PrimeXBT has strong customer service support. The live chat section answers to your queries. Recently, there have been some complaints where some traders have found that the live chat has been either unresponsive or too slow in answering their queries.
There are video tutorials that help new traders to understand the practical details of the platform. You can check the customer review section where many users have left their remarks and experiences and also rated the platform.
Supported Currencies 
All transactions in PrimeXBT are done in bitcoin. It supports many other currencies like Litecoin, Ethereum, EOS, XRP and even fiat currencies like USD, Pounds, Yen, Franc, Australian dollar, Euro, etc.
All deposits, withdrawals, and transactions have to be done in Bitcoin. So, you have to convert other currencies into BTC through the Changelly API. You can choose and make various pairs with bitcoin or USD.
PrimeXBT Security and Privacy 
PrimeXBT is a highly secured platform. Here are some of the security features:
Cloudflare secures the platform from DDoS attacks.
AWS server protects the platform from submission errors.
PrimeXBT is cold storage so most of the funds are stored offline which secures the fund from cyber-attacks.
Two-factor authentication or 2FA prevents unauthorized access to data and funds of the customers. Users just have to download the 'Google authenticator' application in their system. As soon as you install the app, you will get a secret seed code which you have to enter and confirm to enable the app. Every time you log in, you will be asked to enter this code to ensure that your account is not hacked or infiltrated with malware.
Final Words (PrimeXBT Review):
Overall PrimeXBT is a good trading platform with customizable settings and features. Like any other trading platform, PrimeXBT has its pros and cons.
| | |
| --- | --- |
| Pros | Cons |
| Advanced settings. | New traders can incur losses due to excessive leverage. |
| Supports cryptocurrencies and other assets like forex, commodities, and indices. | Options are less for fiat, especially for deposit and withdrawal. |
| Simple and easy interface. | High minimum limits. |
| Plenty of leverage for customers. | Highly unregulated. |