PocketBits Review : Exchange to Trade More than 50 Crypto Coins (Offer Inside)
Pocketbits is an online merchant platform for the trading (buying or selling) of crypto currencies like Bitcoins (BTC) and Ethereums (ETH) in India.It acts as an efficient exchange for digital currencies. In this platform, the users can be able to trade crypto currencies on a 24*7 basis. It is designed exclusively for the trading professionals and institutions.
It is powered by One roof technologies LLP and it is a product of Defacto technologies Pvt. Ltd. It was launched in November 2016 with its headquarters in Nasik, Maharashtra, India. Sohail merchant is the founder of this platform. It focuses mainly on the aspects of trust and stability so that it offers a variety of trouble – free services to the users. The main motto of this platform is to link each and everyone to an open – source financial system.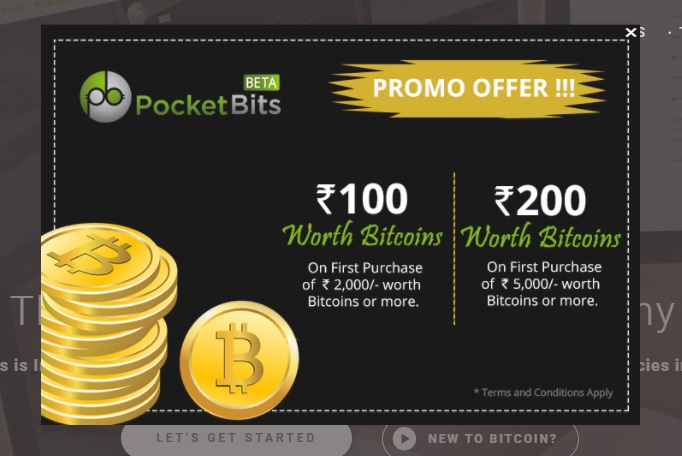 It has announced a promo offer, which is nothing but the users, who buy bitcoins worth Rs.2000 or more will get free bitcoins worth Rs.100. Similarly, the users who buy bitcoins worth Rs.5000 or more will get free Bitcoins worth Rs. 200.
It also issues an assurance that its verification will take only 39 minutes of time, the withdrawal will take 43 minutes and deposit will take 29 minutes.
Recommended: Trusted Cloud Mining For Bitcoin, Ethereum [Discount Coupon Inside]
Unique features of Pocketbits:
It is a de facto platform that facilitates the faster trading of crypto currencies, even in minutes.
Its interface is highly interactive and easily usable in nature. But right now, the interface is in the developmental phase.
It has several tools for billing, e-commerce, retail, and donation, through which the users can make payments from anywhere on the Globe.
The users can get their settlements directly into their bank accounts (in Indian Rupees) through Bitcoin payments.
It does not have any risk factors and is also made available with zero price volatility.
Mobile application is possible with Pocketbits so that the users can perform trading operation even with their mobile phones.
It provides a relatively unbeatable safety and security to the crypto currency traders.
The users can make online shopping in the leading e-commerce stores with their bitcoins.
It offers very low commission rates.
The functionality of this platform depends on a multi – level account system. But the approaches are made to the individual customers.
Nobody is having the authority to control the system of Pocketbits.
Method of purchasing products in Pocketbits:
Product finding: The users need to find the product, they wish to buy from any online store. Then they have to send the appropriate links to Pocketbits for tracking the order. Once the order has been tracked, Pocketbits will send a custom check out to the users.
Sending payments: The users have to go to the custom checkout page, in order for making payments.
Product delivery: Pocketbits will buy the appropriate product upon the completion of the transaction.
Verification processes involved in Pocketbits:
Following are the two major verifications done by Pocketbits:
Verification of identity
Verification of Payment card.
Hope this PocketBits review will be helpful for our readers. Please share your experience and feedback related to PocketBits in the comment section below.