Koinex Exchange: Buy Bitcoin, Ethereum, Litecoin and Ripple In India
There is a new gift for the people of India who use crypto coins. The group of three crypto currency enthusiast founded the new way to trade Bitcoin and other coins. After a long dedicated hard work, three have successfully created "Koinex multi coin exchange" which is going to launch in India on 25th of August, 2017.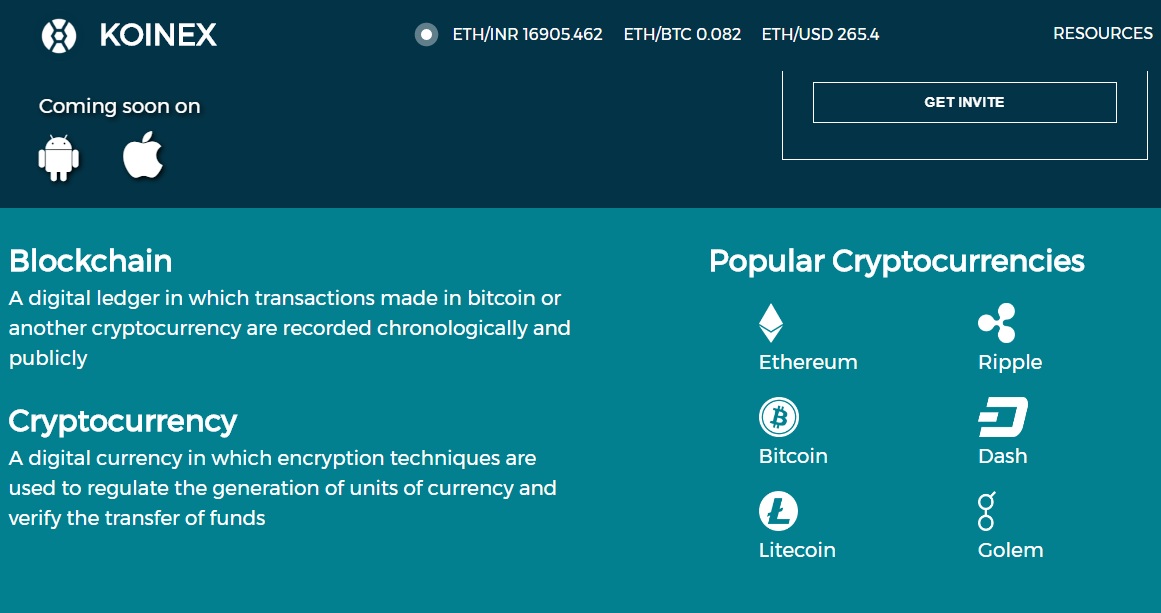 Meet the Founders
Koinex Exchange has been founded by Rahul Raj (IIT Kharagpur), Rakesh Yadav (IIT Delhi) and Aditya Naik (BITS Pilani). First introduced to blockchain technology in 2016, the founders began cryptocurrency trading in early 2017. With not many options in the country, they were compelled to trade on global exchanges (Coinbase, Poloniex, Liqui etc.). After realizing the huge gap in terms of the quality delivered by global exchanges and the present Indian exchanges (Zebpay, Unocoin, EthexIndia etc.), they decided to build an Indian exchange supporting INR fiat currency and multiple cryptocurrencies, and thus Koinex was conceptualized.
All three founders bring together a brilliant and exceptional mix of skills reaching from technology, product, and growth and of course, business. While speaking with Koinex team, they told that Koinex is a centralized, live open order book, peer-to-peer exchange, very unlike the current players.
About Koinex Exchange
Koinex has been built to offer a highly secure, scalable, trading friendly and much needed digital assets exchange. Latest sophisticated technology coupled with grade-A security architecture, Koinex is aimed at bringing the international standards to India. It's super fast, super secure, super interactive, and has been designed exclusively for the Indian crypto traders. Koinex offers a highly competitive tiered trade fee schedule for high-frequency trading. Crypto-financial instruments and other cryptocurrency products have already been conceptualized and included in the 1-year roadmap.
Support for Cryptocurrencies
Speaking with CoinFunda, Rahul Raj, co-founder of the company said Koinex will support 4 coins right at the start: Bitcoin, Ethereum, Litecoin and Ripple (other altcoins will be added subsequently). Currently, Koinex only supports fiat-to-crypto, with pairs like INR/BTC and INR/ETH etc. (crypto-to-crypto will be live within 2-4 months after Koinex launch).They are planning to experience the process of building striking launch offers for users.
Payment and Fee Structure
The details of that will be brought to light in due time through a formal announcement and the supported payment methods will be bank transfers (NEFT, The details of that will be brought to light in due time through a formal announcement. Supported payment methods will be bank transfers (NEFT, RTGS, IMPS), net banking and debit cards. The trade feels the schedule at Koinex is entirely different than that of Indian exchanges. We have designed a tiered maker-taker fee schedule. The entire trade fee schedule will be available through a formal announcement.
Why choose Koinex?
This will provide protection from attacks, thefts and privacy leaks which will provide security to the users. It is one of the quickly accessible wallets which will help in checking order, booking, and place orders will be very fast.
The payment modes will include cards or bank transfers and Cryptocurrencies. On the other hand, the transaction fee will very low for all types of trading and will be available as an app on Android and iOS platform apart from the web, which will increase the number of users.
It will manage Cryptocurrencies and INR in the users' wallet. The on-demand assistance will be available for any help needed by the users.

Final Words:
Koinex has been built, and it is being carved to perfection. Perfection usually takes a little extra time. It will be a test; every individual will play and try to break the platform. Koinex will be open for trading for everyone in August, with a ground-breaking Beta Launch.
Koinex offers an extremely modest tie up trade fee agenda for high frequency trading. Crypto-financial tools and other Cryptocurrency products have already been abstracted and included in the 1-year roadmap. It is said Bitcoin increased a lot of fame and worldwide approval in 2016 and has united around 200 percent within years to come.
The only reason is the lack of authorized charter for crypto currencies in India, crypto currency trading has not thrived in India. The boom of the virtual currencies is still waiting for the green signal from the Govt.
Existing Bitcoin exchange leaders in India like Zebpay and Unocoin have already announced that they will support altcoin trading but still there is no clue when they will list Altcoins to the platform.