Whether you are among those who love crypto or the ones that hate it, the fact is that it is here to stay. As cryptocurrencies are slowly paving their path into the mainstream, more and more people are looking for ways to invest in it. Regardless of whether they opt for a P2P or a centralized cryptocurrency exchange, most investors use Credit/Debit cards, Bank transfers and Bitcoin ATMs to deposit their cash.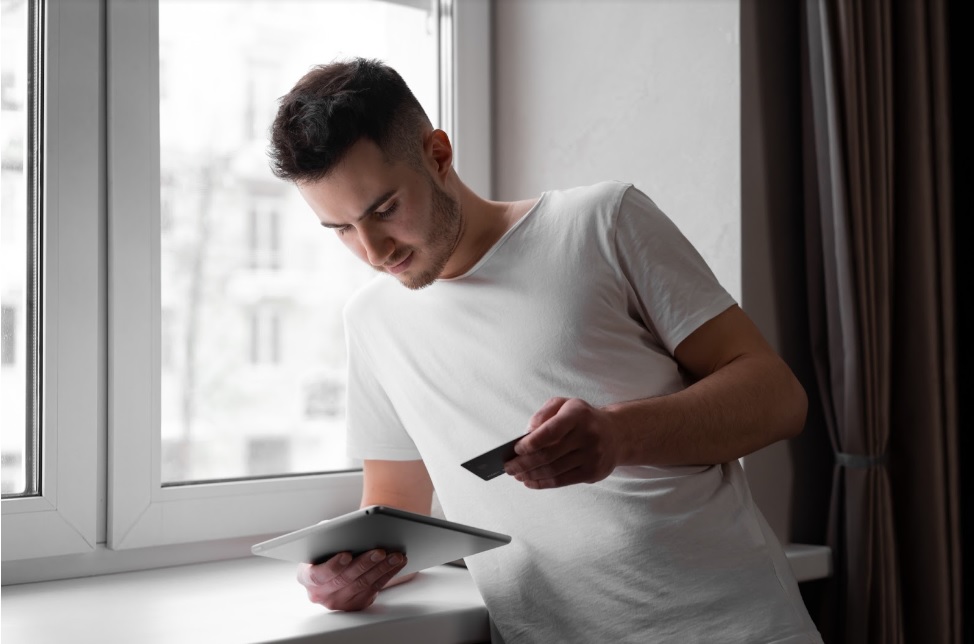 Photo by Mikhail Nilov from Pexels
In this article, we will address questions such as:
What is P2P vs. centralized exchange? It`s easy to find the answer here
How to Buy Crypto with Credit/Debit Card? article by Binance
Can you buy crypto with a prepaid Visa or Mastercard?
How to buy crypto with a Visa gift card or a Mastercard gift card?
Can you use cryptocurrency to buy Visa and Mastercard gift cards?
What is Peer-to-peer (P2P) and how does it works
Centralized exchange platforms are the most frequent choice among retail investors who are looking to make a profit through trading or market speculation. They act as a mediary of sorts, matching orders simultaneously placed by hundreds and thousands of traders. The exchange is anonymous and virtually instantaneous.
Cryptocurrency P2P marketplaces are trading platforms which act as information resources of sorts. The network enables two counterparties (a buyer and a seller) to buy and sell cryptocurrencies directly, without an intermediary, such as a bank. P2P marketplaces are typically standalone platforms, like Bisq, Uniswap and other decentralized exchange networks. However, some of the centralized exchanges, like Binance, also offer the ability to trade P2P on their platforms.
In order to complete a P2P crypto buy, a buyer needs to find a seller and initiate a trade with them directly. If the seller agrees, the transaction is carried out directly and P2P platforms charge a small service fee. The timeline of the trade will depend on the counterparties' ability to finalize their end of the transaction. Therefore, it is impossible to predict the exact duration of the transaction from start to finish.
How to Buy Crypto with a P2P App
Many cryptocurrency exchanges offer trading via a phone app. As earlier noted, on some of those exchanges, you may even buy crypto P2P. The procedure typically involves the following steps:
Log in or register to create an account.
If you are registering, you may be required to complete the identification verification.
Set your payment methods.
Go to the P2P trading page.
Select  the desired transaction.
Transfer the money directly to the seller.
Once the seller has released the cryptocurrency, you may transfer it to the wallet.
One of the best and safest exchanges that offers peer to peer cryptocurrency trading is Binance. If you wish to find out how to buy crypto in Binance using P2P, you may head to their FAQ page for a step-by-step guide.
Best Secure Crypto Exchanges
The best P2P Exchanges that support fiat to cryptocurrency conversions:
Paxful
OKX
Coindirect
Gemini
Huobi
WazirX
Bisq
You may note that Pancake swap and Uniswap, despite being some of the best known P2P cryptocurrency exchanges, are not on the list. Among many others, these exchanges only allow coin swaps, not fiat to cryptocurrency exchange.
How to buy crypto with a prepaid Visa Card
Speaking from personal experience, most banking institutions do not look keenly on using credit to obtain cryptocurrencies. Therefore, even though exchanges and some DEXs will offer the ability to use a Credit Card to buy crypto, most banks will deny the transaction. This leaves you with three plastic alternatives: debit, prepaid and gift cards.
A debit card is linked to your banking account and accepted on most platforms, which makes it the most convenient of all the plastic alternatives. However, a major drawback is the risk of a security breach. If your card information is leaked or you get scammed during a transaction, the violator could drain your entire bank account.
The key difference between a Visa prepaid and a Visa gift card is the card's permanence. While you can reload a prepaid card indefinitely, a gift card can be used only until the money from it is spent or it expires.
You can use a prepaid Visa card to buy crypto on some exchanges, however, even though it is available, this method of payment may not be supported for all countries. It is currently accepted by Coinbase, Coinmama, CEX, FXCM to name a few. However, as this payment method is gaining popularity among the investors, we can expect to see it supported on many more exchanges in days to come.
The actual procedure for purchasing a cryptocurrency with a prepaid card may differ slightly depending on the exchange platform, however, the general approach is the same:
Obtain a Wallet: either download a hot or purchase a hardware wallet.
Choose an Exchange: it can be either a centralized or a P2P platform, however, it is mandatory to check its reputation beforehand.
Open an Account: you may be required to complete the identification verification as a part of the registration process.
Select the "Debit/Credit Card" payment option and as payment method add "Prepaid Card".
Account verification: this process may take a while.
When it comes to the option to buy crypto with Visa gift card, you may be limited to the P2P platforms such as Paxful and Local Bitcoins, as gift cards have not been a popular payment method among the centralized exchanges. It is advisable to choose a P2P platform, which uses escrow as means of preventing the seller from accepting the payment without releasing the cryptocurrency.
Contrary, the recent popularity of cryptocurrencies has made it easy to buy Visa gift card with crypto and many companies offer this service. However, at this time, high gas fees can make this type of a purchase unsustainable or even impossible for low gift card amounts.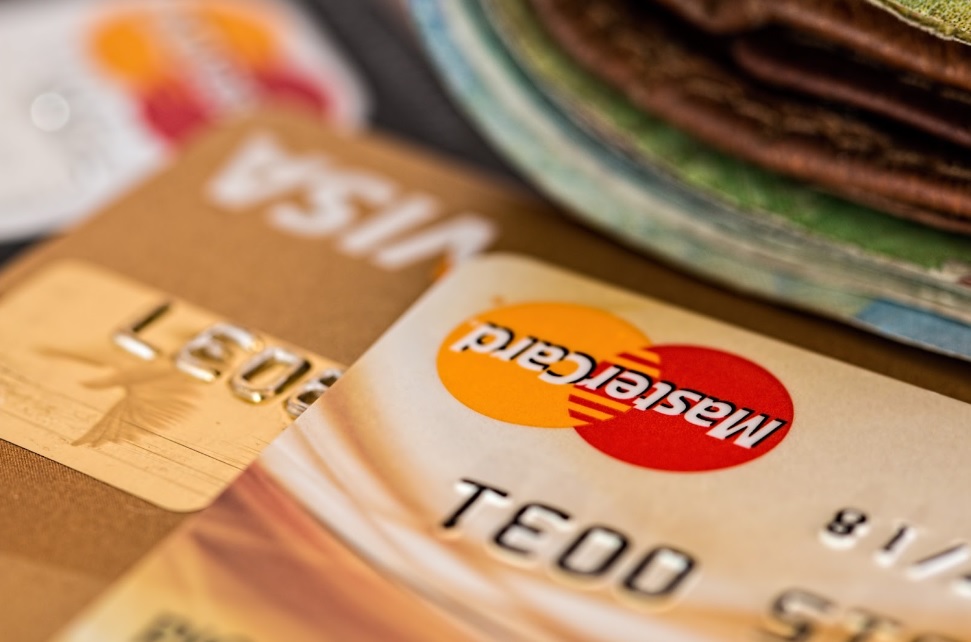 Photo by Pixabay from Pexels
How to buy crypto with a prepaid MasterCard
You can also buy crypto with prepaid Mastercard on some of the exchanges. In addition, on some P2P platforms like Paxful you are able to pay with a Mastercard gift card as well. The same transaction procedure and platform availability that apply to Visa, are applicable to Mastercar, too, since most vendors accept both.
There are also many sites that offer the ability to buy Mastercard gift card with crypto.
Conclusion
It is important to keep in mind that the rate at which things change and evolve in the crypto market is staggering and some of this information may be outdated in a month. In order to stay up to date with the latest information in the blockchain industry, you may subscribe to TradeCrypto for daily news and market updates.
In summary, if you decide to hit a P2P platform for some cryptocurrency shopping, you should do some preliminary research on its credibility and security. Even then, it is not advisable to link any bank account information to your account, including your debit cards. If you opt for plastic money to pay for your purchase, keep in mind that payments by credit cards will likely be declined by your bank and gift cards are not yet accepted on most platforms. This leaves you with prepaid cards as the best alternative, at least for the time being.
FAQs
Can you buy crypto with prepaid Visa?
Yes, you can buy crypto with Visa prepaid card on some exchanges.
Where to buy crypto with prepaid Visa?
Currently some centralized exchanges and P2P platforms support prepaid Visa payments, such as Coinbase, Coinmama, CEX, FXCM and others.
Can i use crypto.com Visa card to buy crypto?
Yes, you can buy crypto with crypto.com Visa card.
How to buy crypto with crypto.com Visa card?
This is essentially a prepaid card. Therefore, firstly you need to decide on a broker or an exchange which accepts this payment method. Then, after registration, you would choose the Credit/Debit Card payment method when depositing fiat funds onto your exchange.
Can you buy crypto with a Visa gift card?
You can use Visa gift card to buy crypto, however, you may be limited in the number of platforms that accept this method of payment.
How to buy crypto with Visa gift card?
Firstly, you need to confirm that the exchange platform of your choice supports this type of payment. At this time, this option is only available on P2P platforms, such as Paxful. Following, you need to sign up for an account and find a vendor that supports Visa gift card payment method. After reading the requirements, you need to initiate the trade, send a payment and receive your cryptocurrency.
About the author: Nina Petrov (editor-in-chief at TradeCrypto.com) is a theoretical mathematician, passionate about new trends in the global economy and blockchain technology. She is a devoted content creator and editor, crypto-enthusiast and stock market analyst.