PayPal prides itself on being at the forefront of the transaction world, so we shouldn't have been too shocked when the company announced it was going to start accepting Bitcoin payments.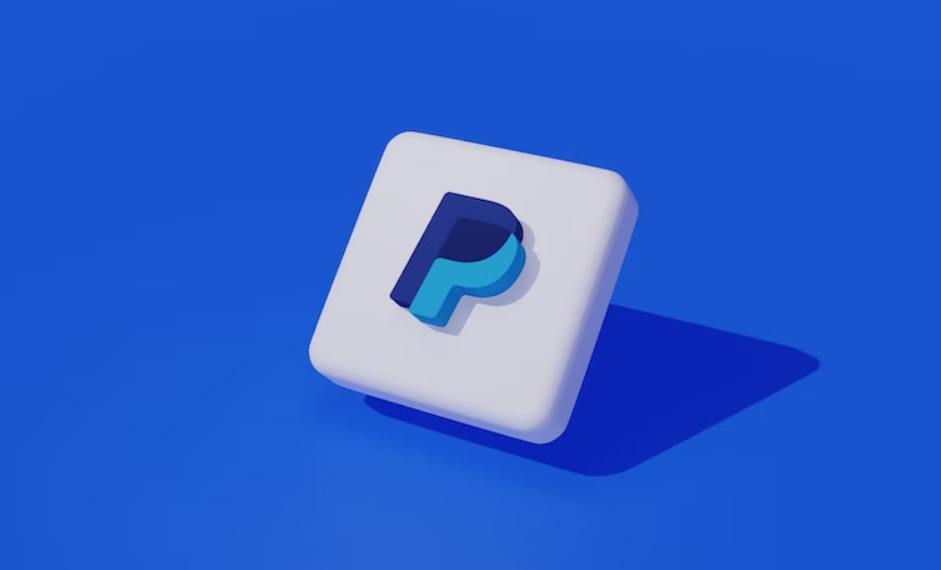 With over 320 million crypto users across the world, PayPal recognized it needed to keep up with the times to keep users satisfied. 
If you've never used PayPal to buy Bitcoin, you may be wondering how to do so and whether or not this is a wise choice. Below, we'll reveal everything you need to know about it.
How do you buy Bitcoin with PayPal
If you want to buy Bitcoin with PayPal, it's incredibly easy to do so. Simply log into your PayPal account via your smartphone app or website. Once you've done this, you should be able to locate 'Crypto' in the navigation bar. 
You'll be presented with a list of available cryptocurrencies. Select Bitcoin. Next, you'll need to pass an identity check, which naturally involves sharing some personal data.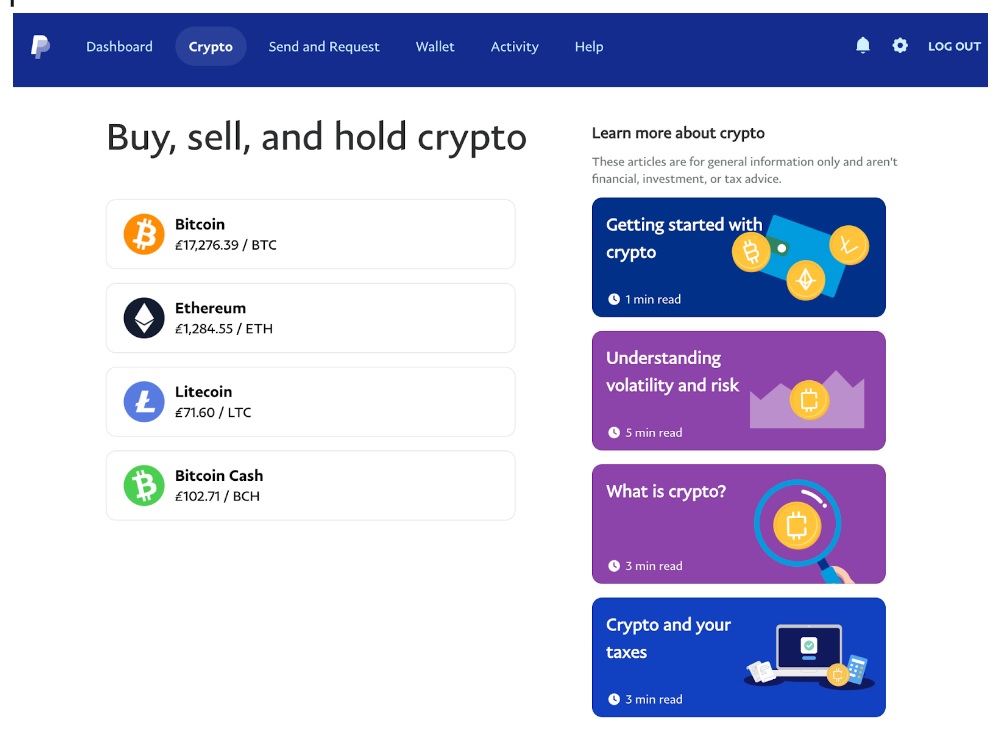 Screenshot
As you can see from the image above, PayPal has also developed a bank of articles where you can learn more about cryptocurrency. If you're new to the world of crypto, it's a good idea to spend some time reading these posts before you invest your hard-earned cash. 
Once the check is complete and you're ready to get started, simply type the amount you wish to invest, or you can even choose a preset amount from the options in the list. It really is as easy as that!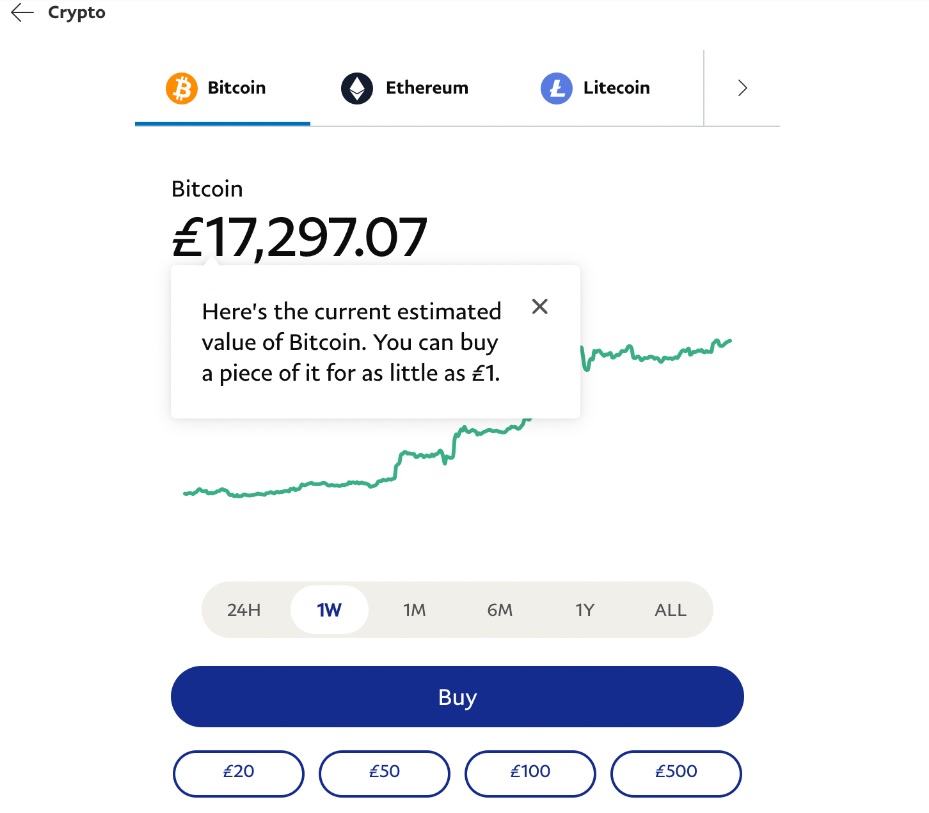 Screenshot
The pros and cons of buying Bitcoin with PayPal
PayPal may be a convenient option for your daily transactions made with fiat currency, but what about buying Bitcoin? Is this the perfect solution, or are there better options available?
As is the case with anything in life, buying Bitcoin with PayPal has its pros and cons. It's important to understand these so you can make an educated decision on whether or not this is the right option for you.
Pros of buying Bitcoin with PayPal
Some of the reasons why investors prefer to use PayPal to buy Bitcoin includes:
Most people already have PayPal accounts – It's easy to get started with PayPal because most people already have accounts. Even if you don't, you can set one up within a matter of minutes. 
It's considered a highly secure platform – PayPal is considered one of the world's most secure payment platforms. You don't hear about a lot of PayPal breaches, do you? The company uses a range of security methods, from two-factor authentication to end-to-end encryption.
PayPal is user-friendly – If you've used PayPal before, we're sure you'll agree that it's very user-friendly. Beginners should have no trouble getting to grips with this. As our explanation proves above, buying Bitcoin via PayPal only requires a few basic steps.
Cons of buying Bitcoin with PayPal
There are a few drawbacks that you need to be mindful of, including:
There are higher fees – PayPal is not the cheapest place to purchase Bitcoin. The transaction fees and PayPal fees can differ depending on your location and the amount of Bitcoin you buy. Nevertheless, there's no denying that this is one of the more costly ways to buy Bitcoin.
The majority of exchanges don't offer PayPal as an option – This can be a major issue for a lot of people, depending on how you intend to use your Bitcoin. If you simply want to purchase Bitcoin on PayPal so you can pay via cryptocurrency when checking out, great. However, if you want to trade with Bitcoin and connect your PayPal account to an exchange, you may have some trouble here, as the vast majority of exchanges don't offer PayPal. 
Purchasing limits are in place – Another restriction you need to consider is that there are stringent limits on how much Bitcoin you're allowed to purchase. Again, this may or may not be relevant to you, depending on how much you want to purchase.
Buying Bitcoin through PayPal indirectly
Earlier, we explained how you can purchase Bitcoin through PayPal directly. However, there are some other platforms available that enable you to purchase Bitcoin using PayPal. Let's take a look at them:
LocalBitcoins
If you've not heard of LocalBitcoins before, this is a marketplace where sellers and buyers connect directly. So, you're dealing with actual people, and it's up to you to assess their credibility and determine whether or not you want to do business with them. 
What this does mean is that you'll get access to a huge assortment of sellers from around the world. At the same time, there's a much greater risk when you're directly dealing with individuals, and the exchange rates are pretty poor. 
Coinbase
Coinbase is one of the most well-known and trusted cryptocurrency platforms on the market today. It also offers high limits of $25,000 per day, so you've got great flexibility in this area.
In 2022, Coinbase decided to offer PayPal as a means of payment. However, there is a little restriction that's worth noting here. At the time of writing, you cannot purchase Bitcoin using your actual PayPal balance, but only with a bank account or debit card that's linked to your PayPal account. We're sure that this is likely to change in the future, but it's something worth noting for now. 
Bank deposits are cheaper than debit card purchases via PayPal. There is a 2.5% fee on bank deposits and a 4% fee on debit card purchases.
Furthermore, this is only available for customers situated in the US.
eToro
One of the easiest ways of purchasing Bitcoin with PayPal is through eToro. However, we must stress that you can only do this for a restricted number of use cases. While this platform makes it possible to use PayPal to purchase Bitcoins, withdrawing them is very time-consuming and involves a lot of steps.
What this means is that eToro makes more sense in terms of speculating on Bitcoin's price, instead of purchasing the actual coin for using it. 
So, if you're simply searching to profit from swings in price and you don't need the actual Bitcoins, this is probably the cheapest and easiest route to go down. However, if you want to send Bitcoins to others or use them for purchasing, go for one of the other options. 
CEX.io
Next, we have CEX.io, which is a well-regulated and reliable exchange with an outstanding reputation in the industry. You can purchase Bitcoin using PayPal by clicking on the "buy" button in the wallet app, or via the exchange by using a feature known as "Instant Buy."
So, what are some of the negatives? Well, CEX.io is not available worldwide. The limits are fairly low, with a maximum of $1,000 per day. 
Bitstamp
Finally, Bitstamp is a highly trustworthy and well-established platform. It was established back in 2011, making it one of the most respected and oldest cryptocurrency exchanges today. 
One drawback you need to consider is that it's not possible to withdraw back to PayPal just yet, and there are lower limits when compared with other platforms, so do keep this in mind.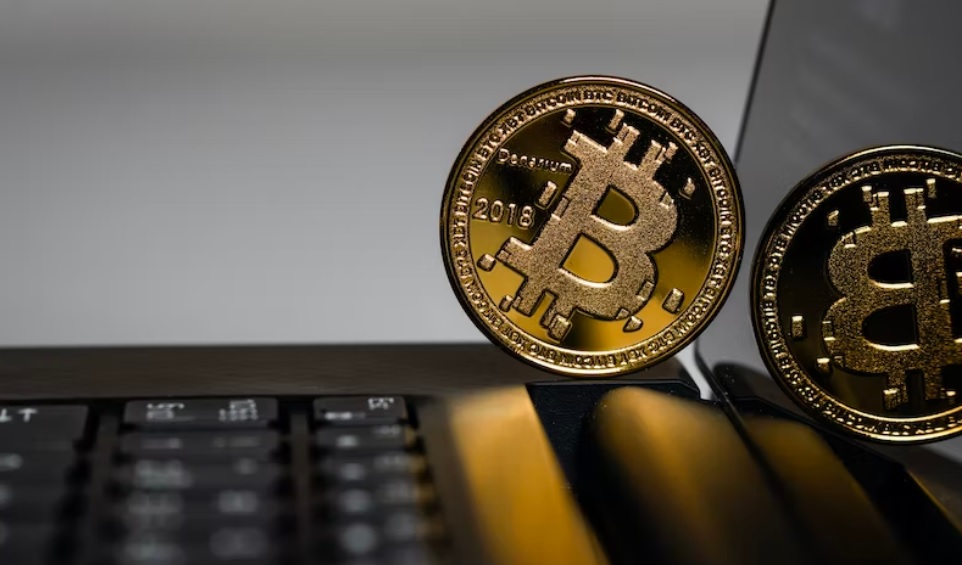 Purchasing Bitcoin via PayPal is a breeze
As you can see, it's incredibly easy to purchase Bitcoin on PayPal, which is one of the key advantages of going down this route. However, there are some drawbacks you'll need to factor in as well. 
Ultimately, it's all about understanding your own trading strategy and goals and determining what's the best fit. 
FAQ about buying Bitcoin with PayPal
Does PayPal have a crypto wallet? – For some time now, buying and selling cryptocurrencies in PayPal has been possible. However, in June 2022, PayPal revealed that users are not able to transfer the Bitcoin they've bought on PayPal to a different digital wallet, including wallets that are not on PayPal. 
How much Bitcoin can I purchase from PayPal per week? – You are now able to purchase as much as $100,000 of Bitcoin per week. This has been increased from the previous limit of $20,000.  
How do I send my bitcoin to someone else on PayPal? – It's easy to send your Bitcoin to another contact on PayPal. Click on the Finances tab, and then tap on your cryptocurrency balance. Click on the transfer arrows, and then hit send. Select the contact you want to send your cryptocurrency to.