CryptoUniverse Review: Is It Safe for Crypto Cloud Mining?
If you are looking for bitcoin mining without getting into the complexities of maintaining your own hardware, cloud mining might be your best option. So, what is cloud mining? Cloud mining is simply mining your bitcoins and earning by using the rental services of data mining centers based in remote locations. In this CryptoUniverse Review, we will discuss its features in detail.
There are different factors governing the cloud mining market and one of the most important factors being the coin price. If the coin price increases, more miners are attracted to the market and start mining which results in an increase in the network hashrate and lower mining outputs in the network. A decrease in the coin price results in low network hashrate and losses to miners.
The cryptocurrency market is extremely volatile. CryptoUniverse.io came up with a unique solution to provide full benefits to crypto investors to earn independently without depending on market factors. CryptoUniverse intends to change the price of the contract in accordance with the volatility of the market factors.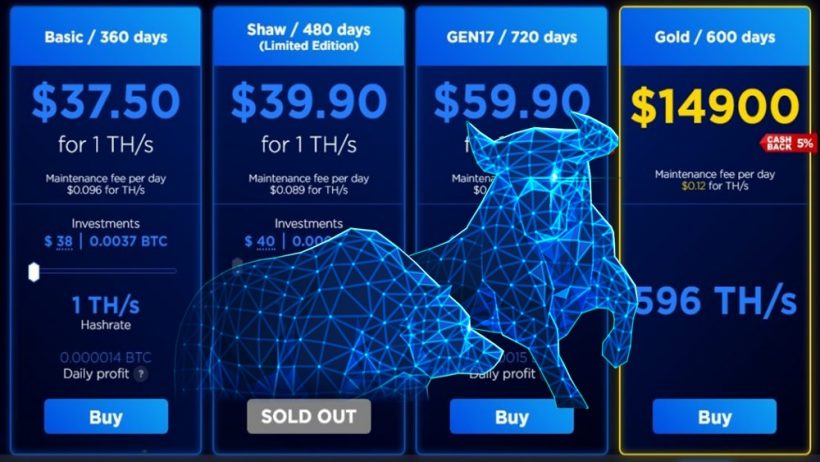 How is cloud mining with CryptoUniverse?
CryptoUniverse allows people to earn and own crypto coins easily through the process of cloud mining. All they have to do is register to the company's website, deposit an amount and choose a contract plan. There are different contract plans available on the platform.
The standard rates with low service charges are for users who want to invest a minimum hashrate amount. The price depends on the length of the contract.
The VIP rates with lower service charges help investors to maximize their profit margins.
The Tariff '2025' rate is valid up to January 1, 2025, and is profitable for investors who are looking for long-term benefits.
In addition to that, two new contract plans have been added recently with prepaid service charges and 100% return on mined funds.
CryptoUniverse also allows its users to buy mining equipment so that they can resell them to the miners and return the funds at the end of the mining contract. The cryptocurrency market is booming and there has been a steady increase in the price of this mining equipment which will give users an extra profit margin in addition to profit from cloud mining.
Recommended Post: Top 10 cloud mining websites 
Benefits of Cloud Mining through CryptoUniverse
The cryptocurrency market is prone to hackers and the market loses billions of dollars every year for hacks on exchange platforms and illegal bitcoin mining due to lack of proper security systems in the mining pools. This is a major drawback and CryptoUniverse aims to solve this problem by working and improving on its security features. Here are some other advantages that will help you to get started with CryptoUniverse.
The interface is simple and allows you to get started within minutes.
Multiple contracts plan especially for users with low investment budgets. There are no hidden costs.
Your account gets credited within 24 hours and you can withdraw your funds anytime during the day.
The hashrate '2025' allows you to sell your Bitcoin2025 and Litecoin2025 at the hashrate auctions.
A safe mining platform secured by multiple levels of security features.
CryptoUniverse follows all the legal protocols in accordance with international mining laws and practices.
Customers can also earn through CryptoUniverse Affiliate Programs and Partnership Programs.
What makes CryptoUniverse one of the most secure mining platforms?
One of the fundamental motives of the creators of CryptoUniverse is to provide maximum security to its cloud mining pools and to its customers.
CryptoUniverse is monitored 24/7 and has some very efficient IT professionals on duty which makes it relatively impossible to hack the system. Customer funds are protected through encrypted private keys and cold wallets. The servers are audited every month for inspection. All transactions are manually audited and the platform has 700 thousand dollars of share capital to cover loss due to security breach.
How does the Affiliate Programs work?
The Affiliate programs are a unique way that helps interested candidates to earn a passive income simply by referring the sites to their friends and family. All you have to do is register to the affiliate site and you will get a referral link. Share the link information with new visitors, friends, and families and earn up to 10% of the funds of each new registration to the link.
Cryptocurrencies and payment methods
Currently, CryptoUniverse is accepting payments through Bitcoin and Litecoin. Customers can pay through SWIFT and SEPA money transfers to their account. Recently, CryptoUniverse has partnered with Connectum which is an online bank that accepts VISA and Mastercard.
CryptoUniverse Mining Centers
The main data centers are located in Kirishi, Irkutsk, and Siberia in Russia. The cold Russian climate especially Siberia provides access to hydropower, fast cooling of hardware and is more energy-efficient.
Why Siberia?
CryptoUniverse is planning to open a new data center in Siberia this year.
Siberia has an extremely cool climate favorable for cloud mining. The hardware especially the GPU chip and ASIC circuit need to be cooled down. So, now no need to buy a separate cooling device; thanks to the extremely cool climate of Siberia.
Crypto mining is energy-intensive. Russia thankfully has huge coal reserves and has high gasoline supplies making crypto mining cost-effective.
There is extensive uninhabited cheap land in Russia suitable for setting up of data centers.
Cheaper electricity costs.
Signup for CryptoUniverse Mining
Final Words: CryptoUniverse Review
CryptoUniverse is operating since 2017 and providing mining services in BTC and LTC. The data center operates on a total mining power of 20 MW with around 12000 miners working 24/7. Customers can buy contracts at a minimum value of $23.9 for 1 Th/s. You can also earn a discount of 4% for payment of advance maintenance fees. For additional information please follow the latest news at the CryptoUniverse.io social media portal.