CoinMetro is an innovative crypto currency trading platform that uses the technology of blockchains for its operation. Nowadays each and every financial business sector, especially the business related to the digital assets aids in the advanced blockchain technologies. Off course, a connection is being built up with the experienced developers and the experienced traders. For all of these aspects, an all – in – one solution is being introduced, which is nothing but a platform known as CoinMetro.
It is a perfect combination of an ETCF (Exchange Traded Crypto Fund) and TAM (Tokenized Asset Management). It focuses mainly on the needs of its users by delivering a rock – solid and outstanding services to them.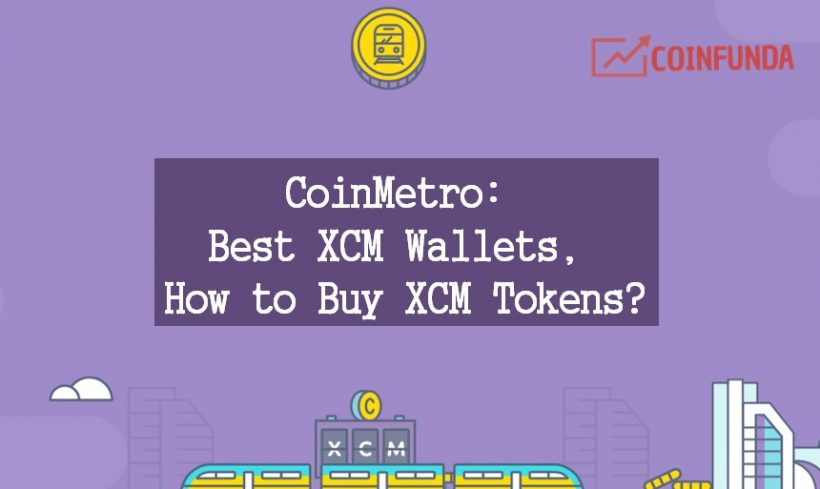 What is XCM?
XCM, is an ERC-20 native token and the utility token used on the CoinMetro exchange platforms. All services on CoinMetro are paid for in XCM. CoinMetro charges 0.1% on all transactions on the platform as a fee.
XCM Token Wallet
Coinmetro exchange provides a wall
How to Buy XCM?
As of now XCM is available oly on the CoinMetro exchange platform. Users can exchange their crypto with XCM to access service on CoinMetro Platform.
Crypto and fiat payment processes:
The integration of eMoney status and the stable banking relationships of coin metro have lead to the possibility of processing payments directly in crypto currencies as well as fiat currencies. Both the coin metro clients and the third – party clients are using this exclusive feature of coin metro effectively.
Trading GUI:
The users can be able to send non – standard as well as standard orders like Markets, stops, limits, OCO orders and Limit stop orders through the coin metro GUI. Offcourse, these can be sent even on a same ticket. Coin metro does not charge anything for the usage of its GUI. The various TIF options offered by the coin metro GUI is listed as follows:
IOC – Immediate or cancel
FOK – Fill or kill
GTC – Good till cancelled
The GUI can be accessed through IOS or Android applications available with an internet browser. It also has a drag – and – drop option, through which the clients are placing their stock and limit orders. A chart is also available with GUI, which is used to indicate the status of orders including filled orders, and pending orders and so on.
Crypto currencies supported by Coinmetro wallet:
The Wallets of coin metro are usually multi – signature in nature. These wallets utilize the multi – signature technology of BitGo. The following are the different kinds of crypto currencies supported by coin metro:
ETH or Ethereum
LTC or Litecoin
XRP or Ripple
BCH or Bitcoin Cash
XCM or CoinMetro Token
The crypto currency wallet system of coin metro assists its clients in holding, withdrawing or depositing funds as per their wish.
For easy access to the crypto funds in wallet., CoinMtero will offer a debit card to its clients (users) for monitoring their wallet status and accessing their wallet balances. Both crypto currency as well as fiat wallets can be accessible with the help of this debit card. It facilitates the cash withdrawal from ATM machines all across the globe at any instant of time. The users can use even more than one account with a single debit card, which means that the users can be able to process funds in a variety of secondary accounts, besides the default primary account.
Atomic swaps and decentralization:
Coin metro is a completely decentralized platform with some advanced technological approaches. Such technologies may include Cosmos, Polkadot and Aion approach. It purely relies on atomic swaps, sinch they are highly significant for a trading platform. Here the major atomic swap used is Peer – to – Peer secure exchange.
Fiat and crypto currency deposits:
The following are the different types of deposit options available with coin metro:
Local bank deposit
Credit card
SEPA transfer
SWIFT transfer
E-wallets
Unique features of Coin metro:
It is an easily – usable platform with an extra ordinary user interface (UI), which can be accessed with the help of a streamlined web application.
It is a fast and highly reliable trading platform that offers a variety of digital asset investment options.
It is also a flexible, safe and secure platform with high liquidity.
It provides efficient integration of various blockchain based ecosystems.
Lending:
The major motto of coin metro's lending platform is to help the under – capitalized traders and passive investors in getting huge profits upon their wallet balances. The various lending options offered by coin metro include BTC, ETH and LTC.
Leverage:
Initial leverage rate of coin metro's matching engine is 1:10. Coin metro now offers a high leverage with very low risk options.
Risk limitation:
Coin metro overcomes various risks associated with the management strategies with the help of its designated margin wallets. Such risks include loss prevention and damage mitigation. It covers all sorts of position losses in the margin wallets of its traders.
Security:
Coin metro is a safe and secure platform for crypto and fiat currency trading. It focuses mainly on the aspect of customer satisfaction by offering highly secure services to them. We all can come to know its extent of security from the fact that it has never been hacked by any kind of hackers, since its establishment into the trading industry.
Its additional security options include Cold storage, biometric authorization, multi – signature transactions and Two – factor authentication.