Looking for a BTC Tx Accelerator to speedup stuck BTC transactions? We have listed 5 Bitcoin transaction Booster services so that you can choose best Bitcoin Transaction Accelerator for you.
As an investor in the cryptocurrency space, speeding up your Bitcoin transactions becomes essential. When the mempool is congested, your transaction can take hours or even days to confirm, costing you time and money. Bitcoin transaction accelerators are services that prioritize your transaction in the mempool, allowing it to confirm faster. By paying a small fee, you can skip the queue and have your transaction confirmed in the next block.
What Is a Bitcoin Transaction (TX) Accelerator?
A bitcoin transaction accelerator is a service that allows you to speed up confirmation of bitcoin transactions. Bitcoin transactions can sometimes take longer to confirm, often due to network congestion. An accelerator service receives your unconfirmed transaction, and rebroadcasts it to the network to try and get it included in a block as quickly as possible.
How Do Bitcoin TX Accelerators Work?
Transaction accelerators work by pooling together unconfirmed transactions and rebroadcasting them to the network. Since miners prioritize transactions with the highest fees, the accelerator is able to push your transaction to the front of the queue by rebroadcasting it with a higher fee. Once a miner picks up the transaction and includes it in a block, your transaction receives its first confirmation and is complete.
Using a bitcoin transaction accelerator can help ensure quicker processing of your payments, especially when network traffic is high. While most accelerators are free to use, some may require registration or account creation. Be sure to use a reputable service to accelerate your bitcoin transactions.
Best Bitcoin Tx Accelerators- Free and Paid
You can choose the best bitcoin transaction accelerator to speedup your BTC Tx.To accelerate your Bitcoin transactions and get faster confirmations, you have several options to choose from. Here are five of the top Bitcoin transaction accelerators, both free and paid:
Binance Pool BTC Tx Accelerator
The Binance BTC Transaction Accelerator is available exclusively to Binance VIP users. For regular users, please reach out to the Binance Pool team via Telegram (@BinancePoolAccelerator). The time required to confirm your transaction after utilizing the transaction accelerator may vary based on multiple factors, such as network congestion, transaction fees, and the participation of mining pools. While the purpose of accelerators is to expedite the confirmation process, an exact timeframe cannot be guaranteed. Generally, transaction accelerators can facilitate the confirmation of your transactions within the next few blocks.
Binance Pool collaborates with prominent mining pools to provide the fastest BTC transaction acceleration service. If a mining pool other than Binance Pool confirms your transaction, it may be one of our partner pools. You can review the cost on the BTC Transaction Accelerator page. Simply enter the TxID and click [Check] to view the estimated cost.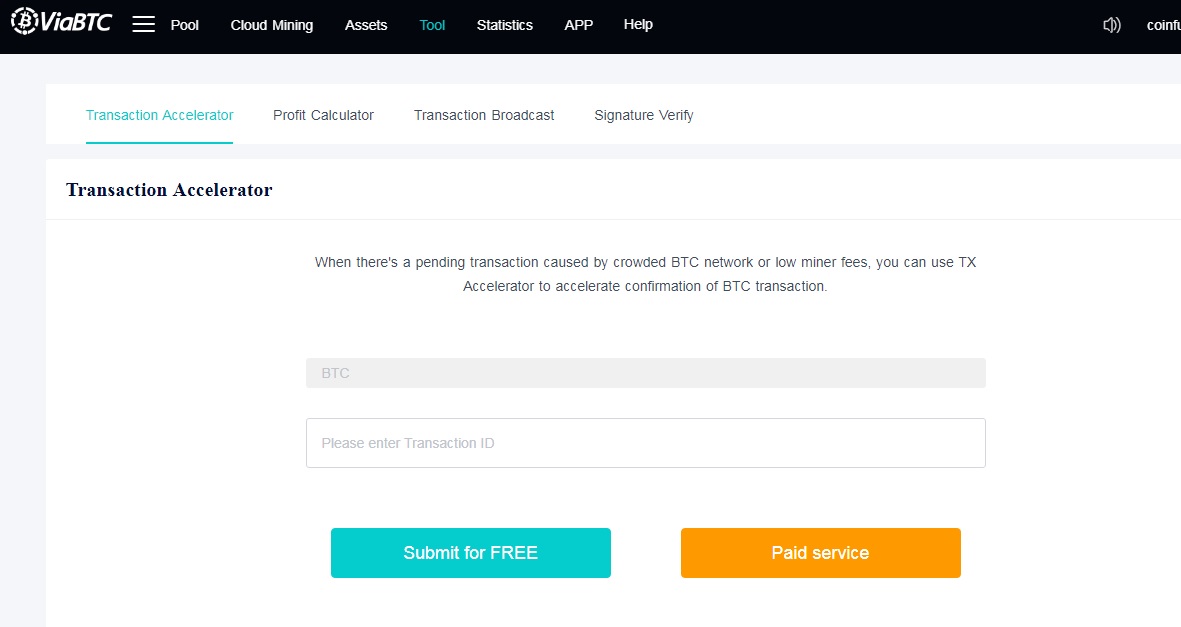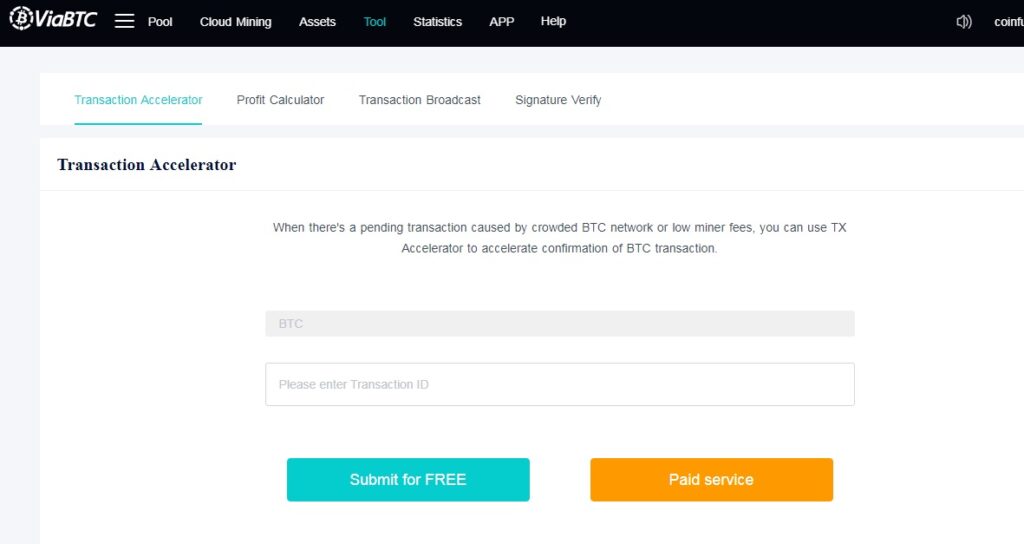 ViaBTC started its service back in 2017 challenging the 1MB limit of Bitcoin blocks. The service is free but charges an extra amount for low transaction fees or transactions that are urgent. The free service is available at 100 accelerations per hour.
To use the service users, need to provide their transaction ID. To avail of the paid services, you have to pay a minimum charge of 0.0001BTC/KB. Also, there is no need for users to sign up for the services. They just need to submit their TXID in a specific format available at Bitcoin Blockchain explorers.
ConfirmTX is a BTC tx accelerator to speedup stuck BITCOIN transactions that offers a quick and reliable way to ensure transaction confirmation within 12 hours or less. There is no fee for accelerating transactions that are under 250 bytes. However, for transactions exceeding 250 bytes, ConfirmTX charges a flat fee of $5. It is worth noting that, like many other Bitcoin transaction accelerators, ConfirmTX does not provide refunds if a transaction fails to confirm within 72 hours. However, in such cases, the service does offer credit for a future free acceleration. ConfirmTX specifies that transactions with a fee of $0. 0 should be confirmed within 12 hours, while transactions with a lower fee may take up to 72 hours for confirmation.
BitAccelerate is a free Bitcoin transaction (Tx) accelerator that helps you clear your unconfirmed transactions easily within the network. BitAccelerate asks you to submit your transaction ID or TXID and click on the "Accelerate" button and your transaction will be rebroadcasted by using 10 Bitcoin nodes. To get a faster result, you can resubmit your 'stuck' transaction every 6 hours and the BitAccelerate will keep on broadcasting until it is confirmed. No sign-up is required for using the service.
BTCNitro provides instant transaction confirmations for a fee starting at 0.0005 BTC. They have partnerships with several large mining pools to provide fast confirmations. Refunds are offered if your transaction is not accelerated within the guaranteed timeframe.
The 360 BTC Tx Accelerator provides free acceleration services and there is always a chance that your transactions will be confirmed even if you have paid a very low fee. The service does not mine by itself or is not connected to miners but all your transactions will be confirmed by rebroadcasting the unconfirmed transactions to the network itself. In this process, the transactions get picked up by other mining pools like that ViaBTC, and your transaction gets confirmed. The service is very easy to use and no sign-up is required.
BitTools provides a complimentary BTC Tx acceleration tool designed specifically for Bitcoin transactions. This tool enables users to expedite their BTC Tx transactions by reducing the waiting time for confirmations. With our service, you can swiftly resolve any delays in your Bitcoin transactions. Easily confirm unconfirmed transactions by simply entering the transaction ID (TXID), completing the human verification through CAPTCHA, and selecting the "Accelerate" button. Our system will then rebroadcast the transaction through 17 Bitcoin nodes.
How to Choose the Best Bitcoin Transaction Accelerator for You
When sending Bitcoin (BTC), transactions can sometimes get stuck in the mempool due to network congestion and miners prioritizing higher fee transactions. A Bitcoin transaction accelerator can help speed up and validate stuck transactions by relaying them to mining pools to be included in the next block. However, not all accelerators are equal. Here are some tips for choosing an accelerator that suits your needs:
To start, check the accelerator's success rate and minimum fee threshold. More reputable accelerators will clearly state their rates to give you realistic expectations. They may also have a higher minimum fee to ensure your transaction gets validated. It's worth paying a bit more for a proven service.
Next, consider the accelerator's connections to mining pools. The more pools they work with, the higher the chance of your transaction being picked up quickly. Some top accelerators are partnered with nearly all major pools.
Also, evaluate the accelerator's customer support and refund policy. Look for 24/7 live chat support in case you have questions or issues. And choose an accelerator that will refund your fee if they cannot accelerate your transaction within a reasonable time frame, often 12-24 hours.
Finally, for privacy and security, select an accelerator that does not require any private keys or account access. They should only need your transaction ID or hash to accelerate the transaction. Avoid any service asking for sensitive data or wallet access.
By comparing a few highly-rated accelerators based on these factors, you can choose one tailored to your specific needs and budget. The extra fees paid to a reputable accelerator are often worth the peace of mind that your Bitcoin transaction will be validated as swiftly as possible.
Conclusion
As you have seen, there are a few options available to help speed up your bitcoin transactions and avoid delays. While bitcoin transaction accelerators are not a panacea, using one can provide some relief when you need to move your funds quickly. Evaluate the different services based on factors like success rate, fees, and customer reviews to determine which is the best fit for your needs.
With the increasing popularity of cryptocurrencies, more people are experiencing transaction bottlenecks. Accelerators provide a useful mechanism to bypass network congestion, at least for now. Like many innovations in the blockchain space, they are a temporary solution to a problem that may be resolved through continued scaling improvements and mainstream adoption. For the time being, they remain a handy tool to have in your bitcoin toolkit.