NEM or New Economy Movement is a cryptocurrency platform especially for developers to create new applications based on various industries. XEM is the official token of the platform and is ranked as one of the top 20 coins in the cryptocurrency. Now, let's start with the best NEM wallets list but before selecting a wallet for your XEM tokens, there are certain points that we have to remember.
Points to remember before selecting a NEM wallet
The wallet should be compatible with your XEM coins and should be able to run in your operating system and device.
Ensure there are sufficient safety features like two-factor authentication, PIN code, etc. The wallet should be strong enough to secure your private keys and safeguard your funds from hackers.
There should be strong technical support behind the wallet.
Does the wallet have a backup support system? This is very important in case of loss of access keys.
The wallet should be open to updates and development.
Go through customer reviews before choosing a wallet.
Let us now go through the best of the NEM wallets:
Best NEM Wallets
Atomic Wallet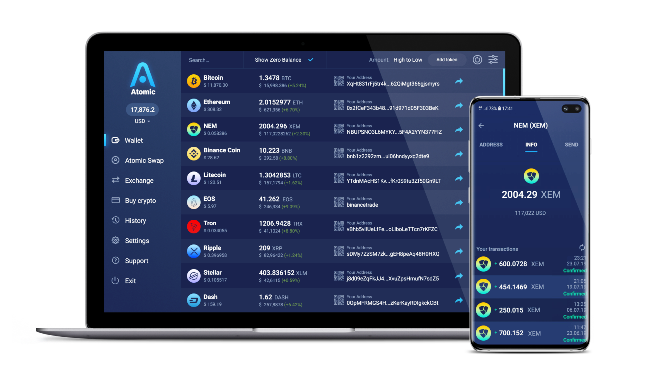 Atomic Wallet is a multi-asset cryptocurrency non-custodial wallet with a 5-star rating on TrustPilot, that supports NEM and over 500+ coins and tokens.  Apart from Cosmos and top-40 coins, Atomic supports every ERC20 token: Custom token feature allows you to add any Ethereum token in seconds.
In Atomic, you can exchange a big range of crypto right in the app. Options to buying-in Ripple, Bitcoin, Binance Coin, Stellar, Bitcoin Cash, Litecoin and Ethereum with a bank card are also included.
Important note: in Atomic, you don't need to pass KYC or any other verifications of your identity. Just install the app and use it any way you want. Atomic versions are available for macOS, Windows, Ubuntu, Fedora, Debian, iOS and Android.
To keep your crypto secure, it's pretty important to write down a mnemonic seed phrase after the installation of the app. As long as your mnemonic will be known only to you – your funds are safe. Another feature is the support of the private keys import, which enables you to easily move your funds from any other crypto wallet.
Claim your free 15 Atomic Wallet Coin (AWC):
Download Atomic Wallet and complete the setup.
go to setting->airdrop
fill your email id and use p172G5R to get 15 free AWC coins.
NEM NanoWallet
NEM NanoWallet is a  desktop client and it supports multiple platforms. The NEM Nano Wallet is available for Linux, Mac and Windows operating systems. It allows you to send messages to any address you want. It is powered by Changelly, which allows instant exchanges of coins. It supports multi-signature and multi-account features. The Nano wallet is often considered best for desktops and not so for mobile devices. The wallet gives you full power to control your private keys. The interface is very easy to use even for new users. From December 2017, Nano wallet has collaborated with Trezor wallet as well.
NEM Mobile Wallet
NEM Mobile Wallet is for Android and iOS users. The App is completely free. This wallet also has a multi-signature facility. All private keys are encrypted and securely stored in the device itself. The interface is quite easy and transactions here are completed reasonably fast.
NCC (NEM Community Client)
The NCC wallet comes with advanced features and is good for harvesting your XEM coins. The wallet works in Windows, Linux and MAC operating systems. It is advisable to users to check their computers from any malware or viruses before installing this wallet.
Guarda Wallet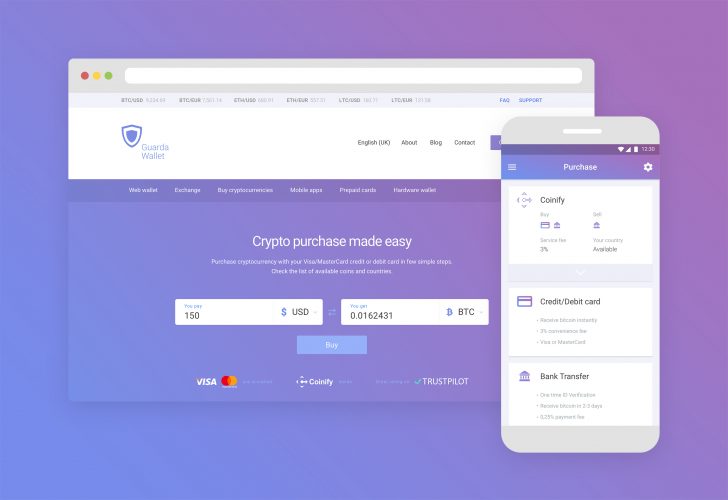 Guarda Wallet is a leading provider of custody-free multi-currency wallets for a variety of crypto assets (including BTC, BCH, BSV, ETH, ETC, XMR, ZEC, XRP, EOS, NEO, LTC, XLM, DASH and more). The cryptocurrency storages provided by Guarda are available in Web, Desktop, Chrome Extension, and Mobile (iOS, Android) versions. All the wallets have built-in exchange and purchase services along with some supported currency-specific features. The users have full control over their private keys and do not share their personal data with any third-parties.
Key features of NEM wallets on Guarda are:
Secure backup encryption and custody-free storage policy
Additional services such as ERC20 Token Generator
Ledger Nano S integration
Built-in purchase and exchange services
24/7 customer support line with the fastest response time on the wallet market
Wide range of supported cryptocurrencies with new coins and tokens added constantly
Cross-platform operations – all the wallets are easily synced across available versions
Currency-specific features of supported coins
Freewallet
Freewallet supports multiple currencies and is often considered as the best wallet for NEM. The interface is quite attractive and user-friendly. It is one of the best mobile wallets as well. All assets are stored offline, so it is quite difficult to breach its security features. In case you accidently loose your wallet, there is an option where you can freeze your wallet from another Android or iOS phone. Its security features include a two-factor authentication process, a security code, or you can also activate via an e-mail or your phone number. The wallet is completely free and it supports multiple currencies. The exchange of currencies between wallets has now been made easy and free.
Trezor
Trezor is a physical wallet and it puts great emphasis on its security features. It is a pay wallet and you have to pay a fee for it. Users have full control of their private keys. The wallet costs about $80. It is a very small device about the size of your thumb and thus is very handy. It will store all your passwords, emails, account details, transactions, and assets securely. It runs on Windows, Linux and MAC operating system. It supports multiple currencies like Bitcoin, Ethereum, Ethereum Classic, ERC20, NEM, Litecoin, DASH, ZCoin and many more. In some case, Trezor needs a third-party application like MyEtherWallet for storing Ethereum coins.
Hardware wallets by far are the most secured wallets due to its security features and flexibility. Users should use strong security passwords to secure their wallets. They should also use up-to-date malware and antivirus software into their devices to secure their funds.