8 Best Lisk Wallets To Store LSK In 2020
Lisk is supported by few Hardware, Mobile, and Desktop wallets. We have shortlisted few LSK wallets in this article so that users can select the best Lisk Wallets for their funds.
Lisk or LSK is a blockchain-based ecosystem solely developed to decentralize blockchain and make it more accessible among the users. Launched in February 2018, Lisk is the brainchild of Max Kordek and Oliver Beddows. The talented duo developed an open-source blockchain app called Crypti in 2014 and later upgraded and developed a more futuristic blockchain protocol called Lisk in May 2016. LSK is the official token of the Lisk network. Not all wallets support Lisk and there is a handful of few.
Let us now look into some of the features while choosing the best Lisk Wallet.
An easy user interface for even those who do not have the technical knowhow about crypto coins.
Look into the security features.
What does a user expect from his wallet?
There should be backup facilities so that you can recover your funds if such a situation occurs.
Look for wallets where you can control your private keys.
24 hours customer support.
There is ample scope for further development of the wallet.
Best Lisk Wallets in 2020
Atomic Wallet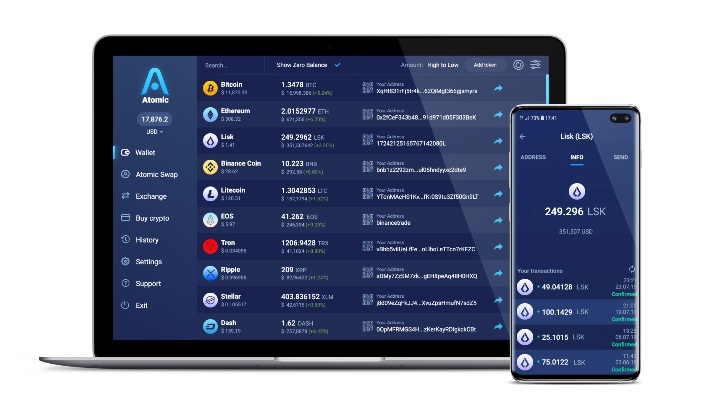 Atomic is a non-custodial LISK multi-wallet that allows you to manage over 500 other coins and tokens in the app. You can buy, secure, and exchange crypto in a smooth well-protected interface. Your private keys are generated from mnemonic. The security of your funds is entirely in your hands.
All major OS supported: Atomic Wallet versions for Windows, macOS, Linux and Android available on the official website. The iOS version is to be released by the Q4 of 2019.
Anonymity and Security: Atomic Wallet doesn't collect any personal data of its users, you're the only one who has full access to your funds. By password you set and a 12-word mnemonic seed phrase, your privacy is well protected. 
Multi-Currency: Atomic Wallet currently works with over 500+ coins and tokens. Users can and manage them in a completely secure way, exchange and buy crypto assets through built-in services, provided by Simplex, Changelly, Shapeshift, and ChangeNOW. Moreover, in Atomic, you're able to add any ERC20 token in a few seconds.
Zero Fees: To install Atomic Wallet or generate the unique wallet address won't charge you anything. You'll be only supposed to pay required network fees (e.g., while putting crypto on exchange). 
Instant Exchange and Buy-in Crypto Option: Atomic Wallet allows you to exchange 60+ cryptocurrencies. The service is powered by Shapeshift, Changelly, and Change now. The built-in purchase option enables you to buy the crypto like Bitcoin, Ethereum, XRP, Bitcoin Cash and LTC by your bank card in seconds. 
24/7 Support: Atomic Wallet cares about its users. The support staff works 24/7, and it is always ready to help in case something goes wrong.
Claim your free 15 Atomic Wallet Coin (AWC):
Download Atomic Wallet and complete the setup.
go to setting->airdrop
fill your email id and use p172G5R to get 15 free AWC coins.
Exodus Wallet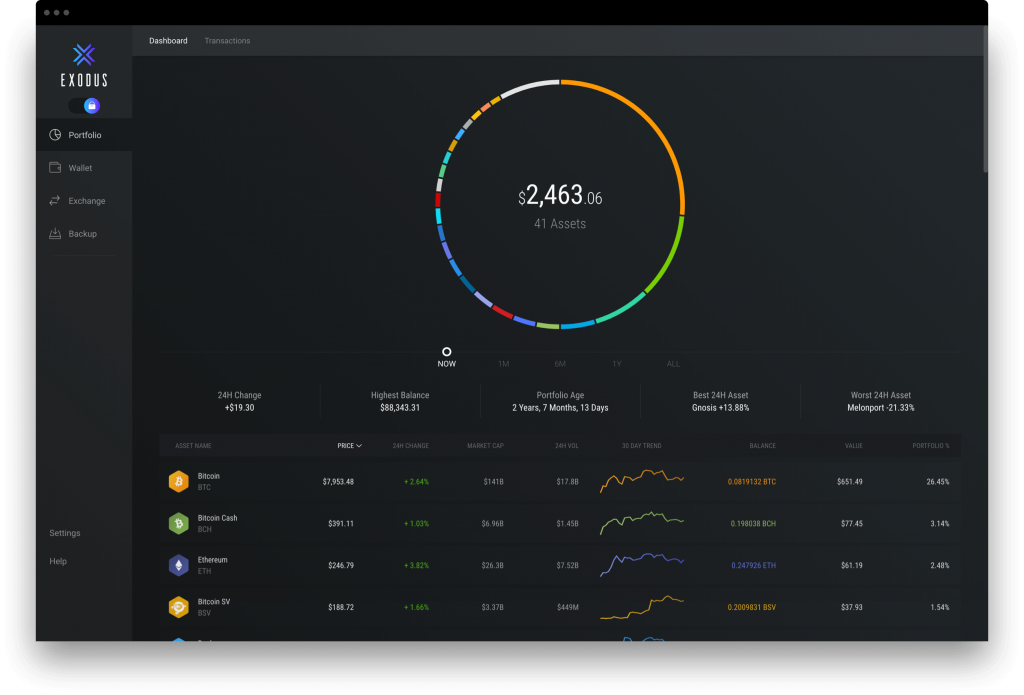 Exodus is a popular and easy to use secure wallet currently available for Desktop and Mobile devices. It supports few hardware wallets as well and allows users to have complete control over their cryptos. Exodus wallet has built-in crypto exchange so that users can exchange cryptocurrencies within the wallet itself. It supports more than 100 crypto coins including Lisk.
Guarda Wallet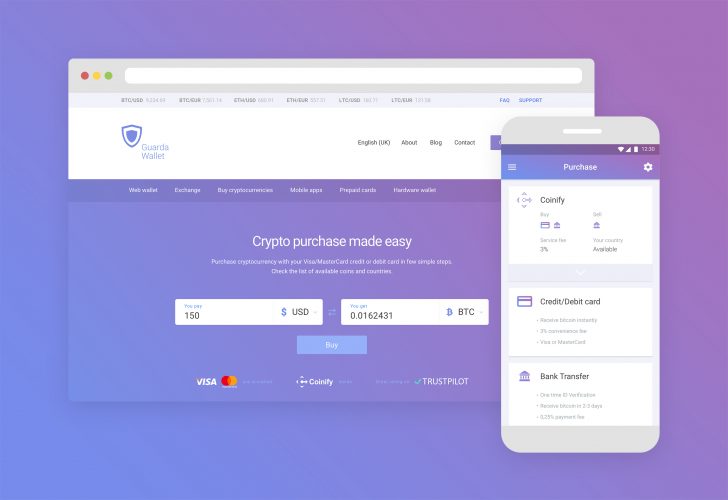 Guarda is a multi-asset non-custodial wallet offering support for a wide variety of cryptocurrencies (currently, the wallet supports over 40 major blockchains and more than 10.000 tokens – the list is ever-expanding). Lisk LSK is available for management on Web, Desktop and Chrome Extension versions of the wallet. All the storage provided by Guarda is custody-free, so the users have full control over their funds.
Some of the key features of LSK wallets on Guarda are:
Secure backup encryption and custody-free storage policy
Ledger Nano S integration
Built-in purchase and exchange services
Additional services such as ERC20 Token Generator
Wide range of supported cryptocurrencies with new coins and tokens added constantly
24/7 customer support line with the fastest response time on the wallet market
Currency-specific features of supported coins
Cross-platform operations – all the wallets are easily synced across available versions
Ledger Nano S (Lisk Support)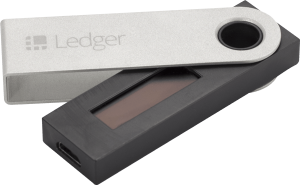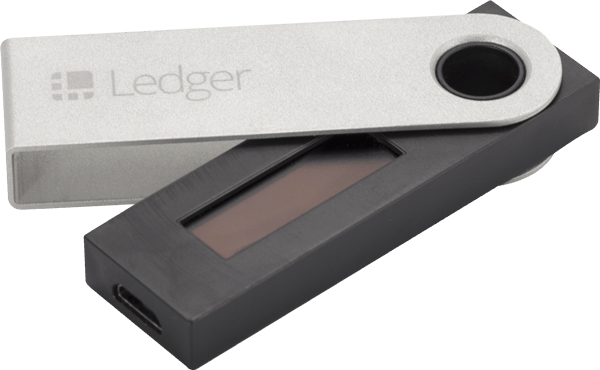 Lisk is now supported by Ledger Nano S wallet. Ledger wallet is a hardware wallet which is highly secure for managing your portfolio for long term investment. You need to install the Lisk app on your Ledger Nano S wallet to manage LSK with the Liskish Wallet. Lisk app is made and supported by the Lisk community. Buy Ledger Nano S Now!!!
Before you start
Lisk Hub Wallet
Lisk Hub often referred to as the "all-in-one-solution" this user-friendly wallet can be downloaded in Windows, Mac, web browsers and other operating systems. The interface is quite simple and easy to use. One of the key features of Hub is the Lisk Identity where it asks for the visual representation of the user. After it is done it gives you a 12-word password which is stored in third-party servers.
So, users have to immediately write it down and store it in a safe place for security. Once it is done, you are now set and can start sending and receiving tokens. Here in Lisk, you can also vote for delegates. Lisk will also develop a decentralized exchange in the future where one can launch their own ICO.
Lisk Nano
The Lisk Nano is a desktop wallet and is very easy to use especially for beginners. This HD (hierarchical deterministic) wallet is an offline wallet and directly links users to the Lisk network. So, there is no need for blockchain synchronization. Users can easily check their balance and send and receive tokens on the platform. Users here have full control of their private keys. Lisk is available in Windows, Mac and Linus operating systems. Lisk however, does not support two-factor authentication and multiple signature security functions which may be a concern for some of its users.
Lisk Core
The Lisk Core is a technical platform and is specifically designed for technical users who have extensive knowledge of code complications and can handle the platform on their own. As such, it is not advisable for new users. The full node wallet is particularly designed for developers with its highly functional API interface.
Lisk Commander
Lisk Commander is a CLI (Command Line Interface) desktop wallet specifically designed for developers and technical users who are interested in coding. The interface allows users to plug in new commands and use other interactive command-line tools as well.
Lisk Paper Wallet
The Lisk Paper Wallet is an offline wallet and is used for cold storing LSK coins. The wallet assures the secured storage of your funds without the fear of theft and forgery.
Lisk Freewallet
The Lisk Freewallet is an open-source wallet and is mainly developed for Android and iOS users. Its user interface is very simple and easy to use. One of its unique features is the QR code authentication system. There is a passphrase through which you can access your wallet from anywhere and using any web browser. However, one of its drawbacks is that users here do not have access to their private keys and the platform holds full control of the keys.
Recommended Article Links: