What is Electroneum? ICO Review and ETN Token Distribution
Electroneum is a kind of mobile application for accessing crypto currencies. This application permits the users to send and receive payouts and also to manage and monitor their online funds. It is easily understandable for all types of users. It can be accessed even by an ordinary user. It is being designed on a custom blockchain with a variety of special features. Crowd Funding Page
It is the first and foremost digital coin introduced for usage in mobile devices. It uses several disruptive technologies and smartphone users of around 2.2 billion are using it all over the world. It requires authentication for each and every transaction performed on the network. It contains a blockchain explorer, which is responsible for the examination and verification of payments. It raises funds for the purposes of technical development, marketing and translation. Users of around 1012 are being registered in this platform till now.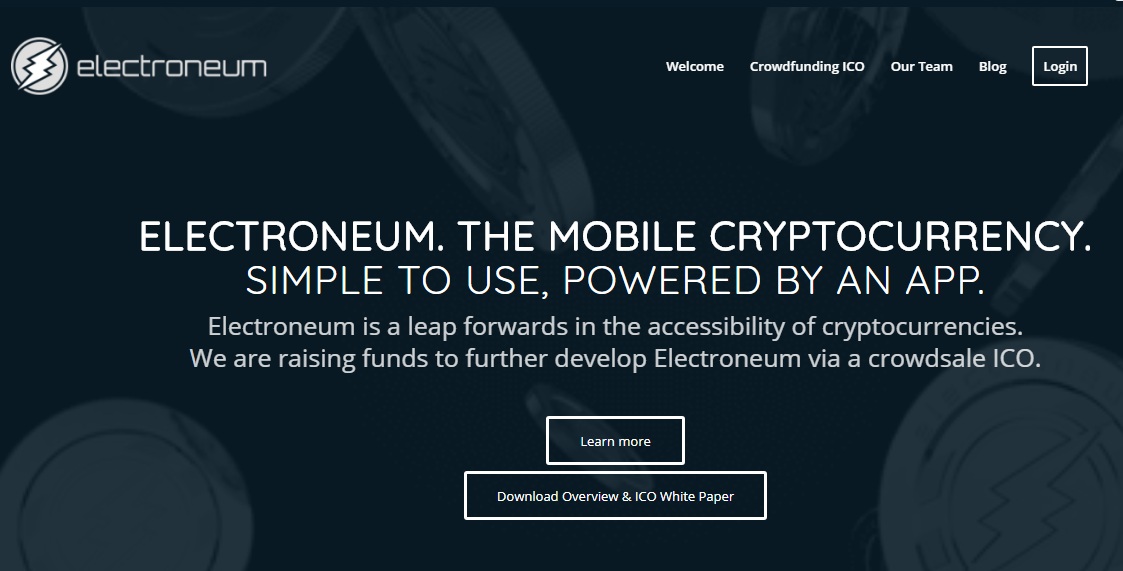 Electroneum coins have a maximum volume limit of around 21 billion. The users must undergo a verification process with ordinary digital signatures like Schnorr, DSA and so on. It was launched in June 2017 in South east, England. Richard Ells is the Founder as well as the Chief executive officer (CEO) of this platform. The major motto of this platform is to capture the markets of online gambling and mobile gaming.
Unique features of Electroneum:
It is simple, transparent, user – friendly and easily usable in nature.
It provides full security by offering offline wallets.
It holds a professional team of engineers and developers with vast experience and success record.
It focuses on the convenience of the users by allowing scanning of simple QR code.
It ensures unlinkable transactions and untraceable payments.
It does not need any special type of technical knowledge from the users.
It also does not require any special hardware for the mining of crypto currencies like bitcoins (BTC) or Ethereums (ETH).
It provides a great experience to the crypto currency miners.
It provides an API integration that facilitates third party payments.
It offers an unique chance to the investors and also gives several discounts to them.
It is as best as bitcoins in the aspects of security and speed.
It facilitates anonymous and faster transactions, which can be done even in seconds.
It avoids hacking of wallet contents and transaction history from unauthorized users.
It holds transaction hashes, which can be accessed easily by the public.
It does not impose any charges for the creation of offline wallets.
It allows bulk transfer of electroneum coins to the users' wallets.
It provides very quick potential returns upon the investments made by the users.
It allows the transfer of currencies between various games and applications.
It dominates the market of mobile currencies.
It offers special equipments for the mining of crypto currencies.
It can be operated at an extremely low cost on 3G/4G data.
It makes the mining process easier with the help of an open – source mining pool software.
Methods of buying electroneum coins:
The following are the types of methods available to purchase electroneum coins:
Bank transfer
Bitcoin
Ethereum.
Bonus rates: Token Distribution:
Percentage of bonus offered for the first week: 50%
Percentage of bonus offered for the second week: 40%
Percentage of bonus offered for the third week: 30%
Percentage of bonus offered for the fourth week: 20%
Percentage of bonus offered for the fifth week: 10%
Percentage of bonus offered for the last week: 0%
ICO Link and Offer/Referral Code
Visit the ICO page and use code "9E47B8" to get 1% extra tokens.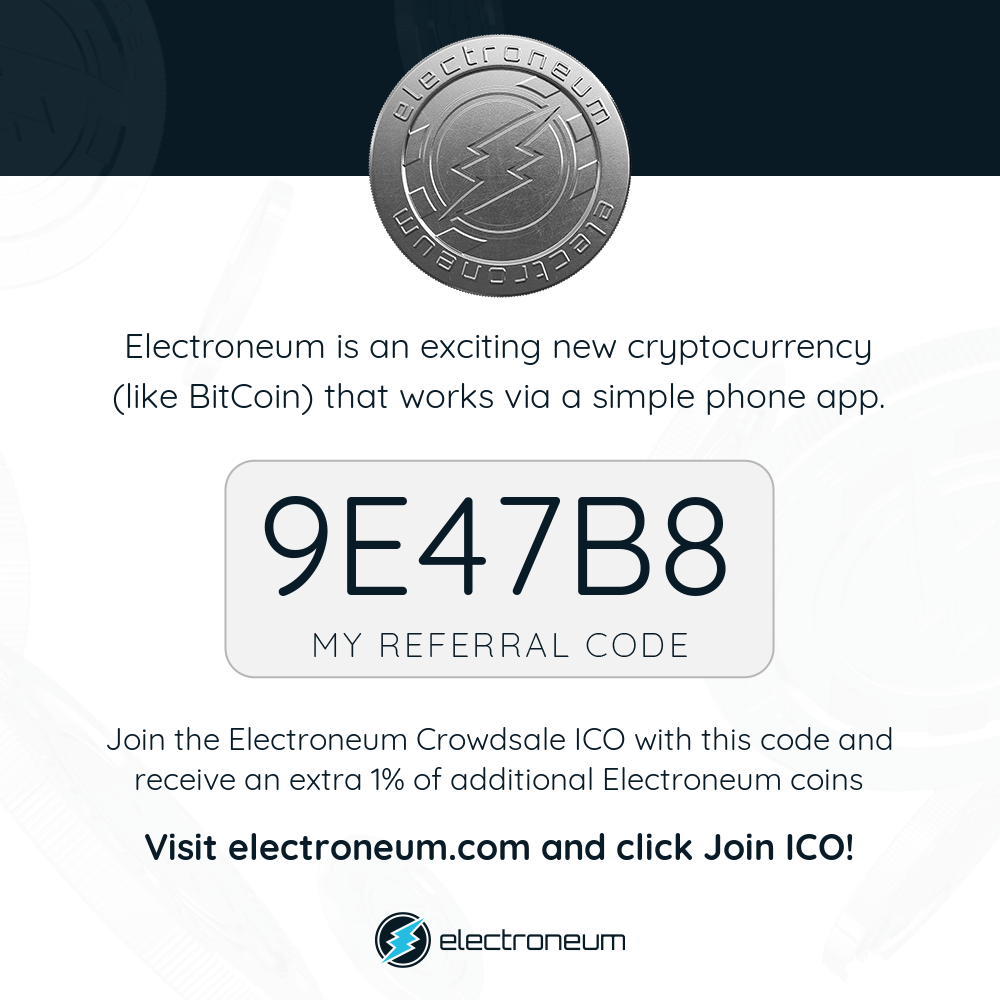 Important Links: