VuePay Review: Democracy to Ad Ecosystem – ICO and VUP Token Distribution
The digital advert ecosystem, according to IAB includes several players including content creators, media vendors, etc. Other components of this ecosystem include technology, methods of placement and analytics and market reporting. The ecosystem is illustrated as concentric circles with Brand at its core, and rightfully so. The user or consumer, who adverts are meant to target gets a mention only as a content creator. This is plausible in the age of pervasive social media where the typical user inadvertently share digital content about themselves and their opinions and interests. Whether there is a reward attached to this sharing questionable. Well, if social validation, a psychological benefit is to be considered a benefit, then yes. Probably.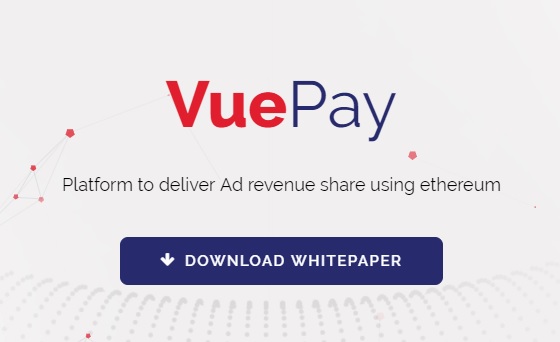 The ecosystem fails to highlight two things: the mechanisms via which targeting occurs or adverts are served to users on the one hand; as well as the rents to accrue to the major players. On the first point, ads placement and distribution rests solely on the shoulders of publishers and networks without recourse to preferences of users themselves. The result is that a typical user is bombarded with ads across all channels of digital content consumption. A reaction to this is the fabled ad blockers – the best of which costs money and effort to onboard.
On the second point about economics, marketers, content creators, publishers and exchanges all exist to derive profit from the process. The question to this author is this: where is the voice of the user and consumer? Enter VuePay.
VuePay, as a platform, will introduce fairness into the ecosystem in several ways. Now, the digital advert ecosystem looks like this.
Current Digital Ecosystem (based on Interactive Advertising Bureau Digital Advertising Ecosystem)
Brand is at the center of the ecosystem and correctly so because the process and practice of marketing at its very heart is about making a brand of product or service attractive to a paying or procuring population. VuePay will not change this. The next version of the ecosystem diagram shows how VuePay elevates the status of the customer or user.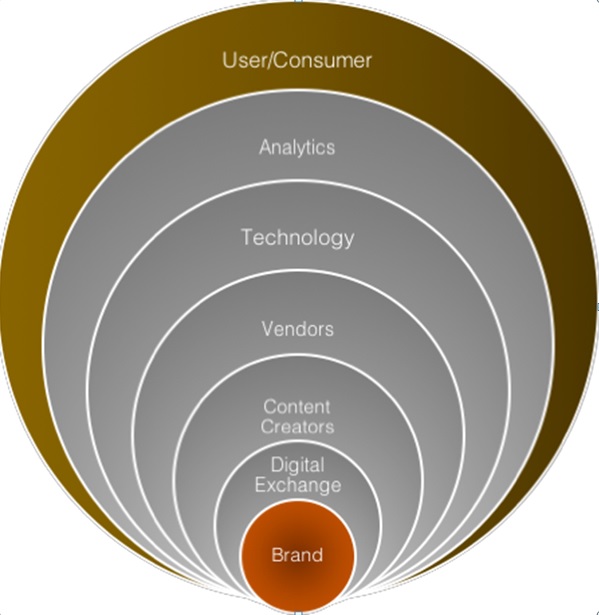 Digital Advert Ecosystem (in a VuePay 'world')
In the modified version of the digital advert ecosystem enabled by VuePay, most of the players and technology are intact. VuePay places the customer not at the heart but on top of the hierarchy. The in practice means that:
A customer or user can control what adverts get served to them eliminating unwanted adverts across all channels that VuePay will service
The typical user spends part of their internet bandwidth viewing adverts that neither speaks to them nor are aligned to their preferences. This changes in the VuePay ecosystem because users only get notification of adverts that match their profile and preferences
An on top of the previous points, VuePay institutes a process of sharing the cost of adverts placement with the viewers.
And finally, VuePay platform is built on Ethereum technology which transparent, auditable and secure. The VuePay token that advert viewers are rewarded with is a fungible asset. A user may choose to trade token at crypto exchanges or perhaps keep it to increase in value in tandem with the Ether.
For details of how the VuePay ecosystem will work, please visit the website at https://vuepay.co. Alternatively, They have published white paper on this link: https://drive.google.com/open?id=0B95TwjtDlYLtYXhYSERkeXZnU2M
ICO token distribution details
 Token Name: VUP
Total Tokens: 1,000,000,000
Equity on offer: 40% (400,000,000)
Price: 2000 VUP = 1 ETH
Platform: Ethereum
Soft cap: 20,000 ETH
Hard Cap: 200,000 ETH
Pre-sale Dates: 06/10/2017 to 20/10/2017
ICO Dates: 21/10/2017 to 20/11/2017
Bonus Structure:
Pre-Sale 50%
25% VUP tokens 25%
Next 25% VUP tokens 12.5%
The total token amount will be 1 Billion. The supply of VuePay (VUP) token can never increase this cutoff limit. The initial limit is set high to maintain the required liquidity in the exchanges for trading.
40 percent of these tokens will be available for sale during the ICO process. Any unsold tokens will be held, as company asset for any future fund raising requirements and the community will decide if ever they need to be released.
10 percent will be available for User Development Fund. This fund will be incorporated into building and acquiring the VuePay user base. Each user who downloads VuePay will be given 10 VUP tokens.
5 percent will be held in the company account to be effectively allocated to developers, managers, and business builders. These will be for the permanent employees of VuePay.
5 percent will be reserved for the Advisory team members.
5 percent for the Core Team.
Co-founders will hold 35 percent of the tokens.
Credit: Rotimi R. Ademola