PeerGuess ICO Review : Free Cryptocurrency Price Ticker Application
PeerGuess is an application which is free and it helps in tracing cryptocurrencies from various exchanges. It also helps in creating portfolio and alerts in case of emergency. To change the atmosphere in the world of the cryptocurrency Peerguess has acted as a game changer. This has been designed in an advanced gamification manner as well as it contains advanced data analysis.
On the other hand, it provides unique functionality and features which believed to charm huge population.  This is said to be a thinking platform where the guesses of an individual will be given great importance. All the presumptions will together lead to a community thought. That might lead to one's understanding of what a community thinks about Bitcoin's value within 24 hours. So finally an investor can visualize his own portfolio which can include the whole world of cryptocurrency.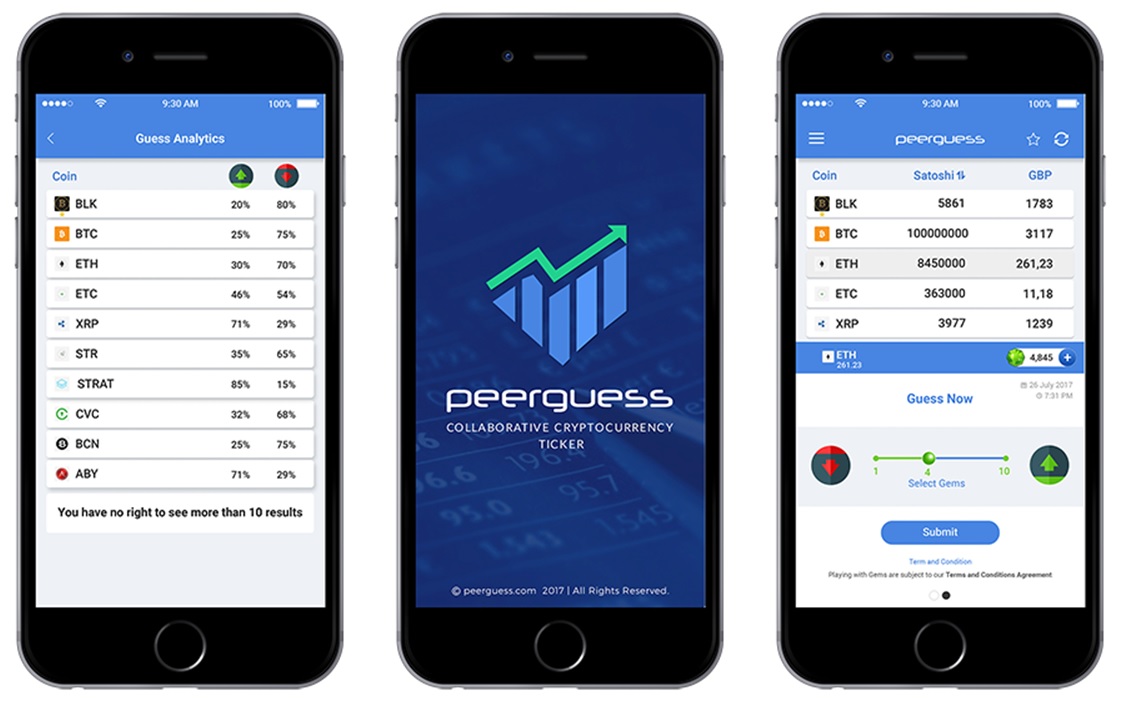 UNIQUE AND SIMPLE FEATURES:
Peerguess has the power to replace all cryptocurrency ticker and portfolio application. It just not only provides common features that all the followers of cryptocurrencies look for but on the other hand it is a game that an individual can play without owning any cryptocurrency. Apart from playing one gets a chance to know Gems very well. This in return helps them to compare their calculation with the real-world figures. They also provide trendy reports and results in a better opportunity.
The mode of payment is "Gems". An individual can convert Gems into ERC20. One needs to type "GUESS TOKEN" over the Ethereum podium then he will either have to buy Gems from the in-app or they have to convert the GUESS TOKEN to Gems.
One needs to understand that Peerguess policies have unique features which are permanently free for all ICO investors, but it also depends on their investment aggregate.
HOW TO USE GEMS:
In the beginning, all users will be provided with roughly 100 Gems, they have to forecast the future value of the cryptocurrency in next 24 hours. An individual can make the prediction with 1 to 10 Gems and if in any case, the prediction is accurate at the end of 24 hours then the value will be doubled.
At the end of every 24 hours if the balance of an individual remains zero then it will be credited will 10 Gems. Investors also can obtain more Gems from In-App
PROFITS:
There are different segments:
Cumulative Guess Analytics (CGA): One can easily look into this which will help them to keep a track of their overall outlook of their community.
Recommendation Engine (RE): One can get their data value from this. On the other hand, one can recommend currencies on the root of their estimate past.
Auto-Trade (AT): One can trade on their choose podium.
Stigmergic Quantitative Data (SQD): One gets a chance to predict token as per their desire.
Charts: They provide free charts to investors which have no limitations.
Themes: Any themes applied are free of any cost.
Ads: ICO investor will have the opportunity for free removal of ads.
DISTRIBUTION OF GUESS TOKEN PLAN:
Guess tokens are at their simple form i.e. ERC20. Guess token is an Ethereum grounded and it is considered to be a new technology. They believe, the more it is simply the safer it will be. They believe that development of their projects can be done from the funds that they collect from their ICO investors. The total profit and success go to all people who trust them completely and use this application.
IMPORTANT LINKS:
Download WhitePaper
DONATE US:
ETH address:   0x8380E0ec05c3Fe4D021c728eccf4DBD832381758