Opiria ICO Review (PDATA Token): Secure Trade of Personal Data
Opiria is an online platform that utilizes a kind of tokens called PDATA tokens for the process of personal data trading in a safe and secure manner. It does not involve any kind of intermediaries or middleman services since it helps the companies to purchase data directly from the consumers. It can also be defined as a perfect marketplace for the exchange of personal data with cryptocurrencies. It fully relies on some advanced blockchain technologies for its operation. Visit Website.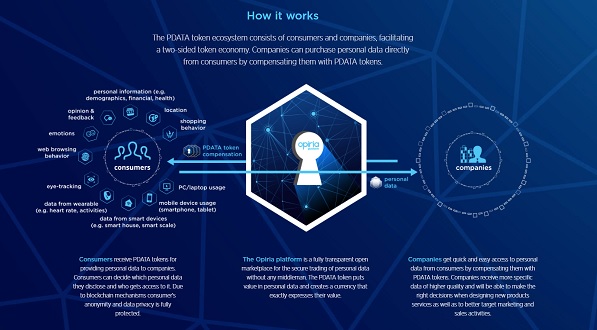 The consumers who offer permission for collecting their personal data by disclosing them can be able to create their own profile on the platform of Opiria. Such data collection is usually done either through a smartphone application or a browser plugin or smart devices or wearables or so on. Opiria utilizes fiat currencies for making payments to its users. It is having an aim of attracting more and more users in the near future.
It uses smart contracts for accepting payments (in ETH). It acts as a bridge between the consumers and the companies, thereby creating a perfect understanding between each other. It focuses mainly on the aspects of anonymity and privacy of data. The major functionality of Opiria is to earn PDATA tokens and to spend them in an effective manner.
Dr – Ing Christian Lange is the Founder as well as the Chief executive officer (CEO) of this platform. Its partnership concerns include Volkswagen, General Motors, and Audi and so on.
Opiria ICO and Token specifications:
The tokens of Opiria ICO are usually called as PDATA tokens, which are nothing but Ethereum ERC – 20 tokens.
Date of Opiria ICO is 26Marchh, 2018
The value of 1 PDATA token is 0.1 US Dollars ($0.1).
Bonus percentage for the 1st day of ICO is 40%
No bonus for the last 3 days of ICO.
Percentage of coins offered for ICO is 50%
Percentage of tokens allotted for the development of the company is 20%
Percentage of tokens allotted for the reserve purposes is 30%.
Fund allocations:
Percentage of funds allocated for the databases is 65%
Percentage of funds allocated for the sales and marketing operations is 11%
Percentage of funds allocated for the other services is 3%
Percentage of funds allocated for the team is 21%
Unique features of Opiria:
It is a highly safe, trustworthy and transparent platform for data purchase.
It provides its users the complete control over the personal data shared by them.
It avoids excessive expenses by the elimination of middle man services.
It helps the users in getting highly accurate and specific personal data from the consumers.
It assists the companies in tracking and acquiring the efficient and useful data or information from the consumers.
It offers good compensation to its consumers for sharing their valuable information or data.
It facilitates high level targeting on sales and marketing strategies.
It encourages various strategies related to consumer acquisition.
The consumers are having the authority to select and prioritize the type of data, they are going to disclose to the companies.
It prevents the consumers (data providers) from fighting with surreptitious data brokers.
It assures privacy of consumers by protecting their valuable data or information.