Tezos is a decentralized Blockchain based smart contract platform that allows permission less peer-to-peer distribution as well as make changes in the amendment of the Blockchain itself. One of the key features of the Tezos network is the on-chain governance protocol where participants or stakeholders can not only vote on the amendments but even change the voting procedure. Unlike other Blockchain protocols, they can even break some of the rules or introduce some new amendments. Once the protocol has been approved, it will be deployed in the system itself. Tezos initiates a collective decision-making process among its stakeholders. Tez or XTZ is the official token of Tezos network. Learn More on Tezos.
Recommended posts:  Tezos Wallet List
ICO/IEO Build on Tezos (XTZ)
Below are some known ICO/IEO token sale powered by Tezos.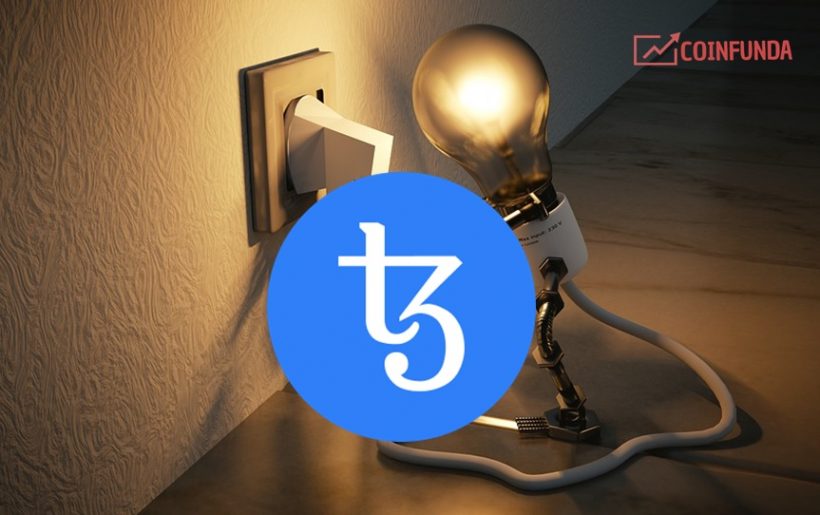 OrchestrumOS
OrchestrumOS is a decentralized smart contract operating system which allows interoperability within the platform and help in building the next generation decentralized applications or iidApps. Visit ICO Website
Key Features:
The API based interface is user-friendly and allows easy mechanism through its simple features.
It operates on a unique consensus mechanism where all participants are part of the larger community.
Intercommunication between different smart contract platforms where users can benefit from all the applications.
Innovative technical tools for bringing ideas into reality.
Various reward programs for participants of the community.
Minimizes cost.
Better use of dApps.
Improved data optimization and accessibility.
MoneyTrack
MoneyTrack is a decentralized Blockchain platform for Directed Money. Directed money is mainly paper based and is poorly controlled. MoneyTrack will bridge the gap between financiers like banks and insurance companies and consumers. It will allow a fair and trustworthy operation of directed money programs. Companies, individuals and business organizations can develop and use their own dApps using directed money. MTK is the utility token of the platform. Visit ICO Website
Features:
Financiers and merchants have to pay a platform fee and commission.
Consumers have no more obligation or cash in advance to pay.
Decreased operational costs.
Less fraud and wastage of money.
Viaz is a decentralized funding platform for lenders and borrowers of the digital currency platform. Viaz is a decentralized application or dApp which incorporates Viaz smart contracts for all transactions in the platform. Viaz will soon be launching its mobile application soon. Visit ICO Website
Features:
A global network for lenders and borrowers, which helps them to directly contact with each other and saves time and effort.
A more effective and cost-efficient service unlike traditional banks.
A banking system for potentially small borrowers and lenders with less money to invest.
Smart financial contracts guarantees the transactions between participants.
A global decentralized platform for digital assets, equity and fiat money.
No taxes on borrowed money.
No middlemen.
The platform does not check your credit accountability.
Tezsure
Tezsure is a decentralized Blockchain for personalized insurance solutions. The project aims to build a trustless, secure and transparent insurance marketplace. Tezsure is available in smart phones. Users will need to create a Tez profile. There is a Claimbot, which will automatically verify your claim. If your claim is approved, you will automatically get the money transferred to your Sure Wallet through the smart contract of the platform. Visit ICO Website
Features:
An AI based protocol for settlement of claims.
Cheaper and faster insurance.
Insurance specialists and up-to-date exclusive insurance policies.
Latest technologies and insurance tools are available.
Operational costs are very low.
People participate in the platform as a community. They can set rules and introduce new products as well.
Chorus Mobility
Chorus mobility is a Blockchain based decentralized application for the transportation on wheels industry. Chorus is developing a peer-to-peer payment protocol for vehicles. Autonomous or driverless vehicles have been a major breakthrough and are operating in the market for quite some time. Chorus envisions to provide a more secure, safe and smooth transaction service for more efficient functioning of the autonomous vehicles through Blockchain and smart contract solutions. Visit ICO Website
Features:
Our V2X platform will make time-consuming tasks of acquiring toll fees, parking tickets and vehicle tax more easy. It will also provide ride sharing facilities like payment of ride share for multiple passengers on a single ride.
Vehicles will interact with each other and share information about lane space and thus minimize traffic congestion.
Instant toll payments via V2X.
A mobile application with a friendly interface.
Smart contracts have built-in verification processes.
Wireless communication system.
BettingWin
BettingWin is a Blockchain based global betting exchange platform. BettingWin is completely decentralized and fully controlled by the community and its participants itself. It is governed by smart contracts, which regulates the international betting protocols. Bettors here make profits by betting as well as without making a single bet as well, which differentiates it from the normal betting platforms. All participants involved in a particular bet have to pay a transaction fee. This fee in turn goes to the wallets of all the token holders. But you need to hold more than 1 million tokens which equals to approximately $114. So, token holders win collectively. So, as the platform grows, your hold on collective share also grows. Visit ICO Website
Kalhatti.com
Kalhatti is a global Blockchain based investment platform. It connects you to worldwide market of your favourite brands as well as numerous other assets and companies. The transaction fees are very low. There is no transaction limit to your assets. You can do small investments and there are no hidden costs. Kalhatti protects and secures your investments through multiple security features. Visit ICO Website