[ICO] DataWallet Data Exchange : Get Paid By Sharing Your Smartphone Data
DataWallet is an online Customer to Business data platform which gives its users full authority to have charge over their data. This is done so that the users can trustfully sell all their data to the trusted organization so that Datawallet can easily create a market which will be only a blockchain based. Do companies have any profit buying these data? Yes, they do have. They can easily now create an AI-driven application. Datawallet has newly launched app system. This app application helps users to directly upload their data so that all interested client to pay immediately.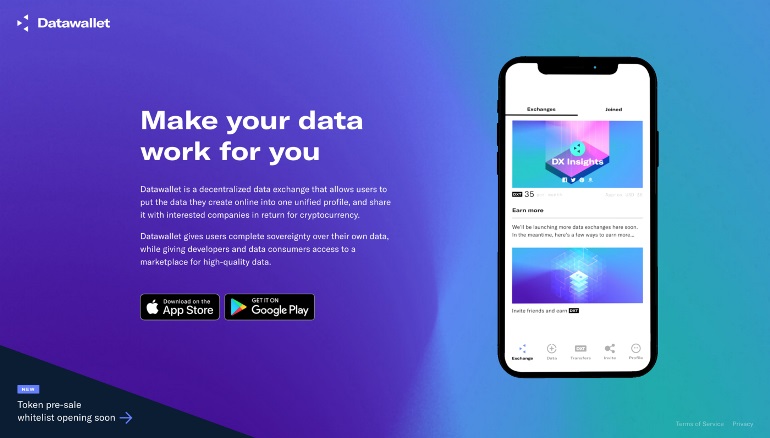 Problem Solved by Datawallet
Have you heard about Data Broker? This is a platform where the companies sell all the scrape data and then these data have resold these data to multiple organizations without any concern for the required clients. In this way, they created a huge amount of money each year. When it comes to business market low-quality data can really threaten the data quality as unreliable data are not accepted in the long run. Therefore Datawallet has become a platform to deal with this problem.
Steps Datawallet Follows:
<Stage 1>
It is stated that Datawallet is a decentralized body that gives all the users an opportunity to share their own data that they have personally created with the organization as per their own choice.  This in return helps the users to understand the transparency of the organization and their way of using their data. This is a really profitable market for all the data users.
<Stage 2>
On the other hand, if we look we will understand that these companies use Datawallet as a medium to generate an Ai riven online business. In present time these data are all collected and brought to one platform whereas before they were all scattered throughout many platforms. That in return helped then to access cross-platform, historic, real-time data, user-specific and many more.
<Stage 3>
A translucent and decentralized market is truly and solely based on blockchain technology. Blockchain technology is a platform that has given the Datawallet two main exchanging platforms-
Encryption Everywhere (EE)
Smart Encrypted Data Contracts (SEDC)
<Stage 4>
Like other Token services, Datawallet also has a medium to exchange known as the Data Exchange Token (DXT). These tokens are used only to exchange within the close economic group of the Datawallet. Users can use token in two ways-
After a user share their data with they selected companies or organization then get the opportunity to earn their token
Once they have earned the token they become eligible to spend than for buying the AI-Driven services only through the Datawallet App Store.
End-to-End Network Feature
The end-to-end network is taken to be one of the foremost features of Datawallet that made this platform unique. No other data platform ever had the ability to deliver a high-quality service during their development process ever like Datawallet does. Therefore this platform had tremendously delivered hard work towards the development of their platform. In true words, it is the "backbone" of their technical roadmap. They provide continuous service to all the investors in the process of development and have achieved great height.
Alpha Version Launched for iOS and Android
To motivate all the young users Datawallet has launched a new Alpha Version of all iOS and Android phones.  This is a way of helping them along with another individual to contribute themselves to new projects available rather than running after buying tokens.  There are certain things one needs to know while using Datawallet Alpha. They are-
An individual can link their data to any organization as per to their wiliness. This may include Facebook, Twitter and many more.
An individual can also share its own data with the apps of different companies
An individual can easily earn crypto tokens depending on the number of data source one has linked with.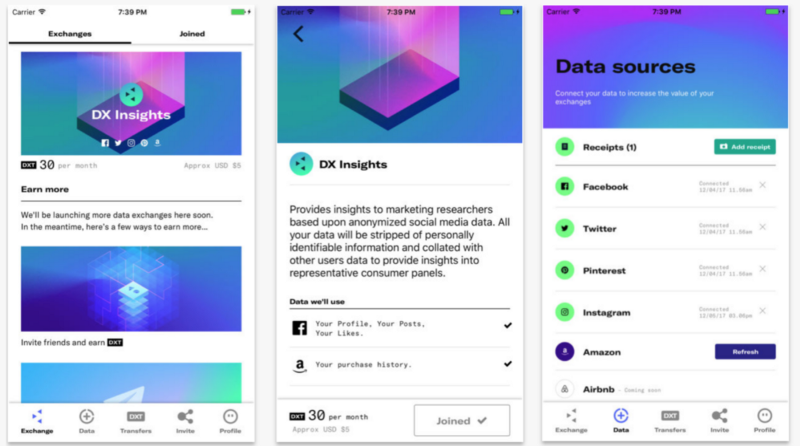 Presently they have executed a more profitable way of earing DXT, i.e. their referral system. Apart from all this they also have now launched a new bonus multiplier facility. Here with every transfer of an individual the value of money goes up.
Download App And Start Earning Free DXT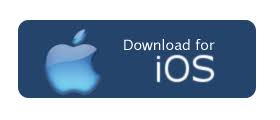 Conclusion
It has proven itself to be a marketplace which is completely based on Blockchain platform.  With the help of the company, users have a complete access to their data and can share it with multiple companies. Datawallet creates a platform by which users can earn tokens by selling their data. The companies get access to data of the trusted and true users for the development of AI system. The Datawallet ICO is expected to launch soon, follow their official ICO page to get latest updates.