How To Start Trading Multiple Crypto Coins On Bitfinex
Bitfinix is an international multi-coin exchange where you can buy, sell and exchange crypto coins into each other. Currently, it is supporting Bitcoin, Ether, Litecoin, Ether Classic, Dash, Zcash, and Ripple. Bitfinix is equipped with advanced trading features as well as a high level of security with 2-factor authentication (2FA) and it is highly advisable to activate 2FA to make your account more secure. In this article, we will discuss how can we use Bitfinex to convert and trade your Bitcoins and altcoins. You may also like to read our article on Features and fee details of Bitfinex.
It is an alternative to other well-known exchanges like Poloniex and Bittrex. Conversion of coins is also useful if there is no option to buy it in your country. For example, currently, there is no platform to buy Litecoin in India. Still, you want to buy it then you may simply send your Bitcoin to Bitfinix and convert it to Litecoins (In other words, buy Litecoins from your Bitcoins).
The high volatile nature of cryptocurrency attract traders to earn more benefits. A successful trade requires fluent technical analysis, and awareness of news items. Trading tools such as setting a stop loss will also be useful to automate the orders for better earning and minimizing the losses. There are multiple crypto trading bot platforms which help traders to automate the crypto triggers. Trading is a risky activity so it is always recommended to do proper research before investing your money.
Let's see how can we convert coins on Bitfinex.
Account Creation:
Step 1: Signup for an account:
Signup is free and very easy. Bitfinex charges 0.1% fee for each trade you made on this platform. You may enter the code given below in the "Referral Code" option to get 10% discount on trading fees for the first 30 days.
You may create account using the button below to get the offer or fill this referral code in the from:  hzBCOdkP7W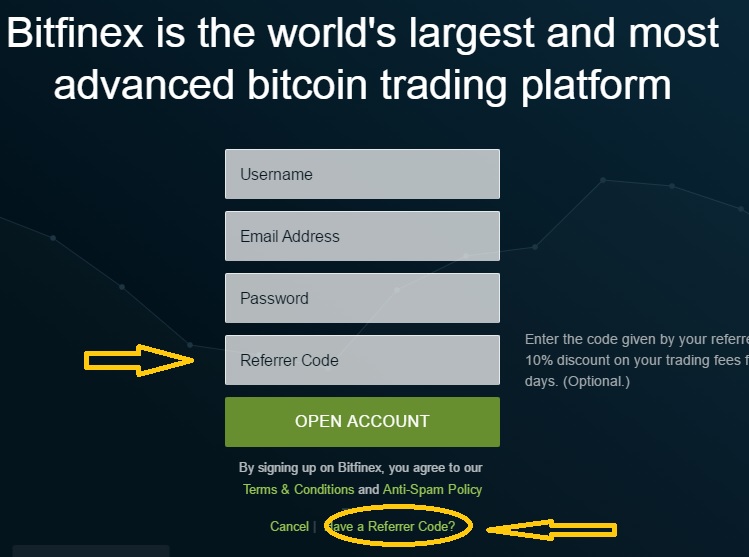 Step 2: Email Verification:
Check your email inbox. Verify your email address by clicking the link in the confirmation email.
Setup 2 Factor Authentication: (Optional But Recommended)
Step 1: Find out the "Security" option available in top right corner Account section.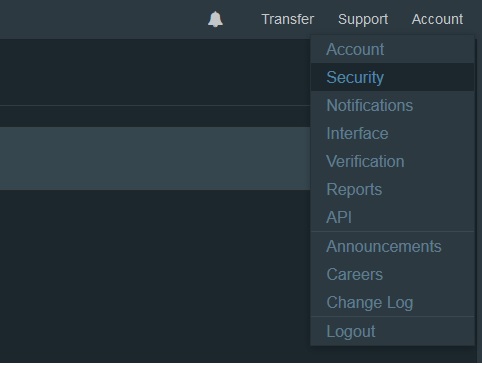 Step 2: Find the Two-Factor Authentication option and select the "Google Authenticator" option. You will see a QR code. There are two other options but Google authenticator is the best way.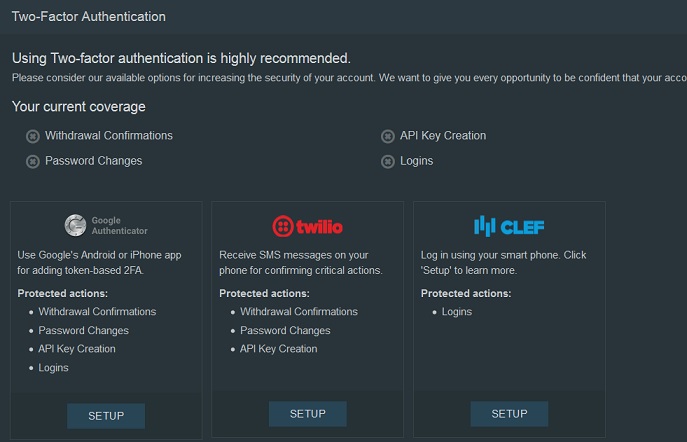 3) Install Google Authenticator App in your android mobile. Scan the QR code from Bitfinix Website.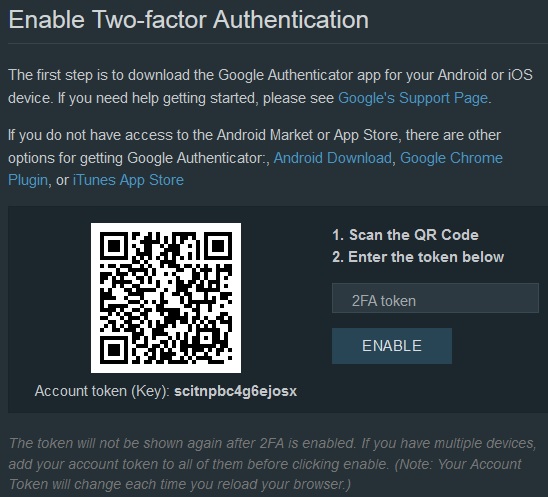 4) Enter 2FA token in the Box. Done!!! 2FA is activated now.
Note: Now, whenever you Login Bitfinex, you have to enter 6 Digit code available in your Google Authenticator mobile app.
Sending your Bitcoin/AltCoin to BitFinex:
Step 1) : Locate the "Transfer" option available in top right corner and click on "Deposit". You will see the list of coins which you can send to your Bitfinex account.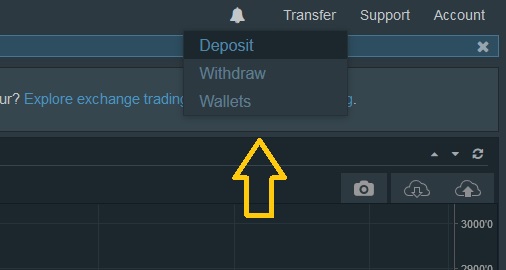 Step 2): Select the coin which you want to transfer to Bitfinix. Generate your exchange wallet address by clicking "Click to generate address" in Exchange Wallet option.
Remember: Do not refresh your wallet address until transfer is complete.
Step 3): Send your coin to that Generated address and wait until you receive that coin in Bitfinex.
Trade/Exchange Coins
Step 1: Once you receive your coin it will be displayed in the left side bar "Balances" option as indicated in the image below.
Step 2: To buy or sell, select the coin combination and in "Order Form" fill the rate at which you want to buy/sell and the quantity (how many coins you want to buy/sell). Click Buy/Sell.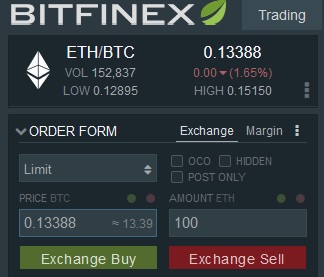 For example, in the image above I ordered 100 Ether on 0.13388 BTC each.
In case the rate you wanted to buy is not available, your order will go in the order book. Either you have to cancel that order or you have to wait for its execution until the rate drops.
Use BitFinex App:
You may also download Bitfinex app to monitor or trade your coins anytime. Download Bitfinex App.
Hope this article will help you to buy, sell and convert your coin in Bitfinex. In case of any query please leave your comment in the comment section below.