GDAX Review : Points to Remember Before Trading, Features, Fee, Verification
To buy and sell of digital assets online, the GLOBAL DIGITAL ASSET EXCHANGE (GDAX) offers a secure and easy way to the traders of all levels. It provides asset exchange among the following nine trading pairs-
BTC-USD
BTC-GBP
BTC-EUR
ETH-BTC
ETH-USD
ETH-EUR
LTC-USD
LTC-EUR
LTC-BTC
Apart from this GDAX also allows to trade using a variety of different strategies. GDAX is the most popular platform for the exchange of cryptocurrency assets. GDAX is a branch of the company which owns Coinbase. Although both Coinbase and GDAX are cryptocurrency trading platform, giving the same services and owned by the same company but the investors prefer GDAX over Coinbase.
We have discussed on different exchanges in our previous review article which includes,
In this GDAX review, we will discuss few highlights about features of the exchange.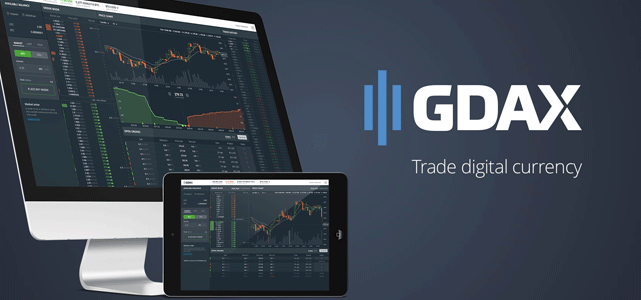 GDAX aims to provide the functionality and advancement required by the educated investors. There are a variety of trading strategies offered by this platform, like:
MARKET BUY: One of the pretty standards of online trading can be done on GDAX at a cheaper rate.
LIMIT BUY: This feature helps in setting a limit price at which the item can be bought.
STOPS: This allows the users to set a stopping point to recover the losses. With the help of this feature, GDAX will automatically sell a specified amount of the user's cryptocurrency asset if the losses have reached very close to the stop set point.
MARGIN TRADING: This means setting of margin trade with a leverage between 2x and 3x as per the cryptocurrency trading pairs.
TRADING FEE ON GDAX:
The maker-taker fee model is used in GDAX and is charged as a percentage of the quote currency. Different taker orders have different charges. For example, BTC markets have a taker fee of 0.25% and ETH & LTC markets have a taker fee of 0.3%. There is 0% maker fee by all the markets currently.
The exchange's fee model is a bit different and is based on the percentage system on a monthly base. For example, for 0 BTC, there is 0.25% fee and for more than 5,500 BTC, there is 0.20% fee and so on.
There is also a rebate of 0.01% for the taker at the end of each day.
There is no charge for making any deposits or withdrawals from your account apart from bank fees which is applicable only in case of wire transfers.
VERIFICATION ON GDAX:
The verification is a most important process for the traders to start trading on GDAX. The verification is two-phase identification. The verification is a simple and straightforward type and varies as per different countries. For example, if the user is from the US, the user needs to submit a photo of any of the state ID or driving license but passport will not help in verification. The users who are registered on Coinbase, are not needed to create another account and can log in with their Coinbase credentials.
After verification, the traders can trade and deposit with any limit but there is a limit of 50,000 US$ per week for withdrawals. Currently, it supports USD, EUR, and GBP currencies and Bitcoin (BTC), Ether (ETH), Litecoin (LTC) as per digital currency. The traders can hold their assets as long as they want. The account of these traders will not be ceased.
FEATURES OF GDAX:
The exchange has the following features:
Great Trading Platform- It has a world-class interface which provides real-time order books, charting tools trade history, and a simple order process for an immediate access to the account.
Insurance- GDAX keeps the digital assets of the traders in a fully insured online storage. Each trader's fund is FDIC secured which each trader will get an amount of $250,000 at the time of losses.
API support- this allows secure and programmatic trading service and due to this feature, professional traders prefer GDAX.
The trading view dashboard helps the traders to keep a track of the market, trading history, etc.
Trusted and secure- It is a secured platform as it keeps 98% of the users' funds offline in cold storage.
Low fees- exchange charges 0% maker fees and as low as 0.1% taker fees.
Multiple fiat and cryptocurrency pairs- Offers a huge variety of fiat and cryptocurrency pairings.
Margin trading- It also offers a margin trading with a leverage from 2x to 3x.
CONCLUSION:
It is clear that exchange is designed keeping in mind to provide easiness to professional traders. If someone is willing to just buy and sell a crypto asset, can opt for both Coinbase or GDAX but if a better-sophisticated trading is required then It is a better option. It is popular among the traders because of its low fees of 0% maker fees and 0.25% taker fees.