EterBank ICO Review: Pay Anywhere, Buy Anything with Crypto
Eterbank is the first and foremost online payment gateway in the world that helps the users in making fiat payments. Such payments are usually made for a variety of purposes including the buying of clothes, paying for eating pizza and drinking coffee and so on. It uses the technology of blockchains, since it is built over the NEM blockchain.
It is an exclusive platform designed for tablet and smart phone users. The major functionality of the eterbank platform is to perform the conversion or exchange of crypto currencies into fiat currencies.
Eterbank has launched its ICO (Initial coin offering) for the purpose of fundraising. The tokens of eterbank are usually referred to as EPAY (Eterpay) tokens, where the price of each token is 0.3 US Dollars. The token holders are given a proportional amount of profit from the overall earning rates.
Total amount of EPAY tokens released is 200,000,000.
Total amount of tokens issued for sale is 120,166,666 (60%).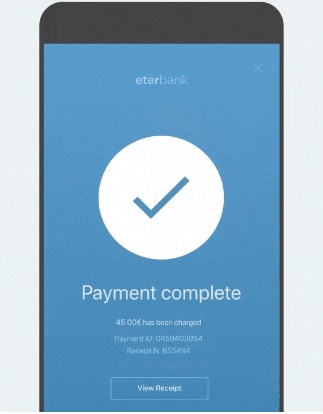 How does Eterbank works?
First of all, the users need to create an unique eterbank account for making transactions.
On the completion of account creation, eterbank will generate some public keys and private keys.
Next is the broadcasting of the newly generated public keys across the network.
Next is the storage of the newly generated private keys followed by their encryption.
Next is the fund transfer by the user with the help of encrypted private keys.
Unique features of EterBank:
It is a highly robust and decentralized B2B or B2C payment processor that facilitates instant payments via fiat currencies.
It is highly redundant in nature with a lot of investment opportunities.
It facilitates instant payments with only 1% transaction charges.
It does not have monthly usage charges and on – boarding charges.
It holds a variety of innovative and advanced conversion mechanisms for the conversion of crypto assets into fiat money.
It does not require any kind of special hardware for making payments.
It provides efficient integration of multi – signature accounts.
It never demands the users in the fact that must have an excellent crypto knowledge. Only crypto currency holders with a considerable amount of crypto currencies in their wallet are enough for this platform.
It helps the retailers in imposing seamless charges on the consumers, thereby acquiring fiat payments either in US Dollars, or in GBP or in Euros and so on.
It helps the consumers (users) in buying various services and goods on retail rates from the retailers.
It has a software application that is compatible even with mobile devices.
It does not have any kind of volatility risks associated with the crypto currency exchanges.
It provides safety and security to the users' currencies with the help of its crypto wallet called Eterwallet.
Businesses from small to large sizes (all categories) are getting benefitted with the eterbank payment solution.
It plays a vital role in the business management strategies, since it is a business intelligence solution.
EterBank ICO and Token
Hard cap: $20,000,000.00
Soft cap: $500,000.00
Token Symbol: SAFE
Price: 1 SAFE = 1 USD
Accepted currencies: ETH, BTC
Minimum contribution: 1 USD
Percentage of bonus offered on the private pre – sale is 100%
Percentage of bonus offered on the public pre – sale is 50%
Percentage of bonus offered on the ICO is 15 – 30%.