Eiracube ICO Review: Connecting E-commerce Merchants To Offline Sales [Updated]
EiraCube is a decentralized online platform designed specifically to create a revolution in the field of e-commerce. It is accessible all across the globe by a variety of e-commerce merchants. In fact, it acts as a bridge between the customers and the merchants (traders), in order for them to perform their sales operations.
It is the first retail micro-store in the world that is completely automated. Some other popular e-commerce platforms available in addition to Eiracube include Amazon, AliExpress, and Alibaba.com and so on.
A distinct and attracting feature of Eiracube is that this platform is staffed completely by robots, and not by humans. Hence, it does not need any sort of human presence. Of course, this feature is paving a way to attract more and more customers to Eiracube day by day.
The digital technologies used by Eiracube are gaining popularity and worldwide attention, thereby improving the growth and development of this platform.
When a customer wants to buy goods or products in Eiracube, he needs to order those particular goods, which will then be delivered to the customers via dispensing gates. Through those dispensing gates, the customers can be able to track and collect the goods, they ordered.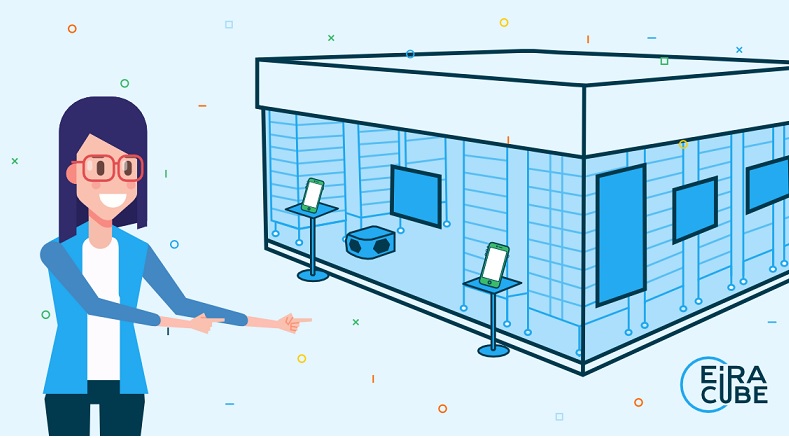 Construction and history of Eiracube:
Eiracube retail store is built with an enclosed glass space of around 200 square feet. It holds automated guided vehicles called "Eirabots", which contain six racks. With respect to the size, each rack is having the capacity to hold approximately 500 – 1200 items (goods).
Eiracube is an efficient e-commerce marketplace with a professional design. It was introduced at Eiracube Robotics in 2017 in Dublin. Kosta Dubinin is the Founder as well as the Chief Executive Officer (CEO) of this platform. Its partnership concerns include Westfield, British Land, and into and so on.
Operational steps in Eiracube:
Data is being collected and then transferred to the network (cube) of Eiracube.
Analysis of data available in the worldwide cubes in real – time.
Once the analysis gets completed, Eiracube fixes the pricing with the available data (information) in the merchants' dashboard.
Benefits offered by Eiracube to its merchants:
Eiracube enables the merchants to gain international recognition and popularity.
It gives a bunch of sales orders by providing a variety of opportunities.
It helps in identifying cost-effective clients to improve their businesses.
Benefits offered by Eiracube to its consumers:
It helps the consumers in identifying the new products arrived into the market.
It assists the consumers in trying innovative cum worthy products.
It also enables the consumers to gain a variety of online store orders.
Problems associated with online retail stores:
Availability of products at higher cost, which cannot be offered by a normal person.
Lack of customer engagement and lack of tools.
Solutions offered by Eiracube:
Availability of products at a cheaper, affordable and reasonable cost.
Involves customer engagement with the help of cameras and heat sensors.
Unique features
It is a cost-effective platform for both the product holders and the sellers.
It holds a value-added business model, which is highly effective for all kinds of users including the consumers as well as the merchants.
It relies on innovative and effective digital technologies and also provides effective monetization.
It uses smart contracts, which are responsible for the exchange of cash paid by the merchants into tokens.
It provides enhanced growth and dividends for the product holders.
It provides high liquidity for the product sellers.
It provides bonuses to the early contributors of crowdsale.
EiraCube ICO Info:
PreICO Price: 1 BRETT = 0.0000333 ETH
Price: 1 ETH~ 30000 BRETT
Accepting: ETH, BTC, Fiat
Visit Official Website || Join on Telegram || Join on Twitter