Eidoo Wallet Review and ICO Details – Multicurrency Wallet And Hybrid Exchange
Eidoo is an invisible connection between individuals and Blockchain which is limiting the interaction between bitcoins and all individuals. It is introduced to safeguard the way to buy, transmit, spend and exchange cryptocurrencies without depending on any other dominant power. There are certain tools are needed to control the cryptocurrencies and Eidoo provide to their users everything, which includes wallet, hybrid exchange, token sales, debit card and many more. This are all done to make Eidoo the most easy application to use and the also make it famous platform for exchange of cryptocurrencies.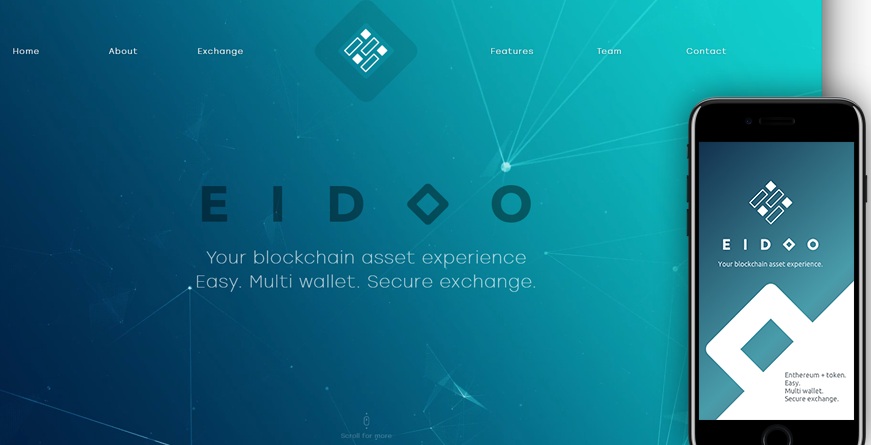 Step to decentralization:
If we look into the past history of Bitcoin and Ethereum we will notice that they faced problems and difficult challenges to get along with each other. Infect the best solution found by them is to work separately. Ethereum worked on all the internal matters and Bitcoin worked on the external matters. They both work in partnership with BHB Network and had a better healthy competition thereafter.
What Eidoo intended to create?
Wallet:
This was created so that only one reminder was set to have full control over the cryptocurrencies by the users.
The other name of wallet stands for "smart digital assets". Therefore it will safely allow all transfer of assets.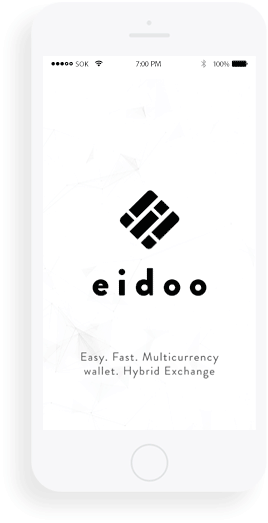 Execution of colored coins:
Within a short period of time Eidoo is planning to publish its new feature of "Colored Coins ". It is believed that it is for the betterment of asset management.
It is also planning to become a hybrid exchange. This means that it will be acting fast like centralization power and safeguard like the decentralization power. The only reason behind this is they are permitting their user to have full control over their resources.
The exchange manager has no way to exploit the users account.
Like all other exchanges it is supposed that it will be quicker and inexpensive.
What is ICO?
Do you know what ICO is? The term stands for Initial Coin Offering. Yes you got it right! Initially it has paved its way from wallet to ICO a new way for Blockchain based start-up. The only reason why these days the ICO are enticing the market more is one can easily avoid the demanding capital-raising procedure which required entrepreneurial and banks.
Token Sale:
Very good news for all iOS and Android users, Eidoo has launched its token sale already which is ending soon. All individuals will get it through their mobile application. Therefore to get that all individuals have to follow some certain steps of downloading:
Features:
It always keep all the privet documents of a user privet and confidential. They are only shared among friends and known members.
It always permits its users to send and receive all digital coins. It also allows reading the QR codes.
It handles all the contacts of the user in a modest customary method.
All the tokens sustained by only Ethereum Blockchain are acknowledged easily by Eidoo.
All the transaction by the users is easily available.
It also helps in backup process for all users for their important resources.
They have joined the Token Sale Campaign for the betterment of the user.
Vision:
Eidoo follows a simple vision which will lead them to succeed. Let's know them:
An easy to use, fast and flexible are the key of Ethereum implantation.
Based on only the standard of ERC20, EVM contacts and with a rooted token system the process of financing is prepared.
With the help of secured, walk able long term alignment Bitcoin execution can be done.
Along with new decorum i.e. RGB and off-chain trusted totaling of profit margins has been decided and open source funding process started.
To conclude with Eidoo we must all know that it is multi-currency and a HD wallet which was made by team of members from Switzerland. One can use the wallet to send, accept and pile all the tokens. On the other hand if you like to help your manager to endow tokens, then you can easily exchange within the app. All the challenges of the project is to help common homes with technologies where communities have problem interacting due to different vision. This helps in organizing different technologies through an exclusive user involvement. It is a body which has brought together both technology and services that exist in today's world already in a different way.
Eidoo Social Community: