DocCoin: Blockchain Protocol For Telehealth Announces Pre-ICO
DocCoin is a worldwide medical system designed by blockchain and smart contract technologies. It's digital alternative to modern healthcare world. DocCoin aims to gather patients, doctors, insurance companies, hospitals, rehabilitation centers and other parties of healthcare world into one ecosystem that will change the future of health industry.
DocCoin will help patients in receiving high-quality medical services, doctors will receive additional practice to improve their skills and will get additional money for services provided, insurance companies will decrease an overall number of fraud cases.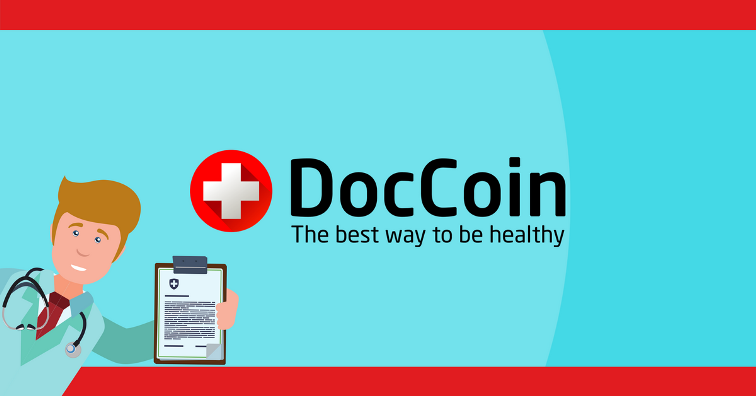 Nikita Zykov, Founder & CEO of DocCoin said "We believe that DocCoin will make healthcare industry more transparent and efficient and users of DocCoin system will benefit from coming changes"
Pre-sale Information
The pre-sale will begin on January 25, 2018, and will end on February 2th, 2018. There is a 50% discount available throughout the pre-sale.
The price per DocCoin Token (DOC) is 0.0001 ETH. During this period there will be a minimum purchase of 2,000 DOC tokens. In order to contribute, visit the website doc-coin.com.
The Crowdsale Information
The crowdsale will begin on February 9, 2018, and will end on March 11, 2018. There will be 80,000,000 Doc tokens available for purchase and tokens will be distributed shortly after the end of the crowdsale.
Day 1-7: 1 DOC – 0.00016  ETH
Day 7-30: 1 DOC – 0.0002  ETH
Token Distribution Information
There is a total of 200,000,000 DOC tokens outstanding, with 140,000,000 available throughout the pre-sale and crowdsale. Any tokens not sold during the pre-sale will be available for purchase during the crowdsale. Tokens will be distributed to contributors shortly after the crowdsale is completed.
Allocation:
70%: Presale and public crowdsale contributors
19%: Team
11%: Early investors
For more information about DocCoin, kindly visit:
DISCLAIMER: This press release/article was provided by the organization referenced. We don't support and we are not responsible/liable for any content, quality, accuracy, advertising, products or other materials on this page. We recommend readers to do your own research before making an investment in any ICO.