17 Best Bitcoin Debit Card | Top Crypto Debit Cards 2021
Many crypto services providing cryptocurrency debit card (crypto debit card) for making payments. To choose the best bitcoin debit card (physical and virtual) for you, Here is a list of 17 best crypto debit cards.
There is a limited number of bitcoin debit cards (or BTC prepaid cards) in the market which makes it difficult to choose the safest card to use. It can be difficult at first as the cards have different fees involved and have difficult terms and settings. Today let's discuss the list of top 18 bitcoin debit cards powered by Bitcoin as well as altcoins. Users can now buy anything from the virtual world with Bitcoin just like any other banking debit card.
Whenever a cardholder makes a payment to a shop, the business owner will get paid in their own cash by these debits cards, and the charges are taken from the Bitcoin balance where users need to pay the conversion fee for crypto to fiat conversion for this payment.
We have also prepared lists for Ethereum and BCH debit cards. You may also like:
Ethereum (ETH) Debit Card List  || Bitcoin Cash (BCH) Debit Card List
Best Bitcoin Debit Cards: 17 Best Crypto Debit Card List
Trastra Crypto Debit Card
The Trastra Visa card is a trusted name in the Crypto Debit Card segment and supports prominent cryptocurrencies such as Bitcoin, Bitcoin Cash, Ethereum, Litecoin and Ripple. The Trastra cryptocurrency debit card enables cryptocurrency users in the European Economic Area to cash out their cryptocurrencies in Euros without any fees. It enables you to accept payments from other crypto users in your wallet and pay for services online and offline using cryptocurrencies.
The card has a spending limit of 8,000 Euros per day, up to 7,700 can be spent on the card and up to 300 euros can be withdrawn from the ATM. The card offers a lot of services such as cash withdrawal, ATM pin change, card-to-card transfers, and balance inquiry at a minimal fee as compared to some of the other providers.
All these features make Visa Trastra Bitcoin debit card a trustworthy companion for all your crypto transactional needs.
Wirex Bitcoin Debit Card
Among all the best-known card in the world, Wirex is the well know and the trusted card of all individuals. Customers get free virtual VISA and charming elegant look at the card they use. It's a card where an individual will get both in digital and traditional form. It is the inexpensive form of a transaction. To issue this card instantly one does not need to submit any documents or get verified. Only they need to register themselves, which is a stress-free process. This card is accepted all over the world. The transaction is free of cost.
Get Wirex Card (0.5% Cryptoback)
Nexo Cryptocurrency Debit Card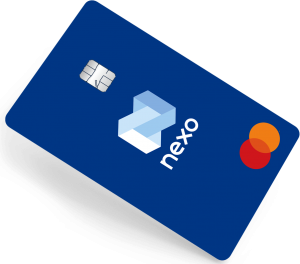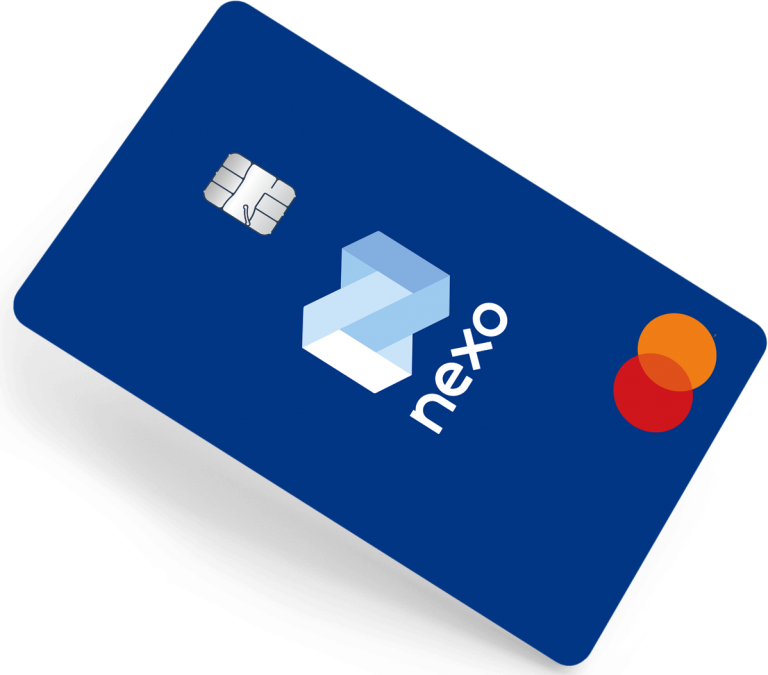 Nexo, a start-up based on XRP, has launched its debit card which allows users to shop with their cryptos without spending them actually. This card is powered by MasterCard and helps users to get crypto loan by putting tokens as collaterals in real-time. This is an entirely new concept, unlike other available crypto cards which convert crypto to fiat realtime for making payments.
CoinBase Bitcoin Debit Card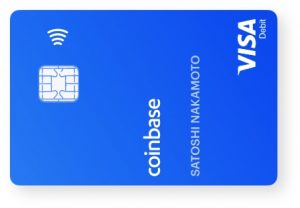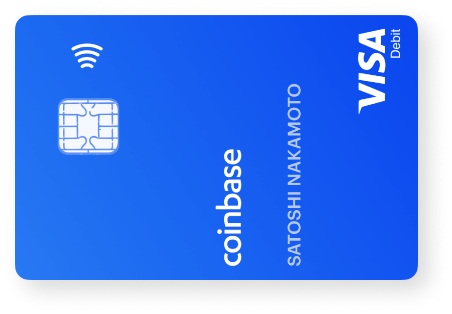 Coinbase recently introduced cryptocurrency debit card which is directly connected to cryptocurrency balance in Coinbase wallets. This Coinbase debit card can be managed through a separate app designed for Coinbase card and available for iOS and Android.  Just like any other VISA debit card Coinbase cards can be used to withdraw cash at ATM's worldwide and can be used to shop anywhere.
Coinbase charges a fee of 2.49 percent per transaction.
No maintenance fees/ No extra cost for ATM withdrawals
Users can withdraw less than £200 per month.
UQUID Crypto Debit Card
Uquid enables crypto payments in Bitcoin and 80+ additional altcoins, including Ethereum, Monero, Dash, Ripple, Litecoin, and many more. The Uquid wallet/debit card also supports 3 different fiat currencies, which include USD, EUR, and GBP. Users can spend cryptos instantly as the transfers of coins from the Uquid wallet to the debit card performed instantly at real-time market rates. It provides both plastic and virtual cards. Uquid android and iOS apps are also available.
SpectroCoin Crypto Card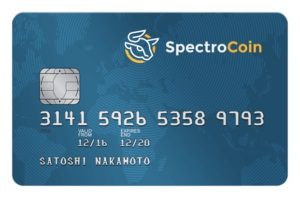 SpectroCoin offers debit cards, which can be used for shopping or at any ATM around the world just like an ordinary payment cards.
Spectro cards are powered by SpectroCoin blockchain wallet so that funds will be automatically loaded to your prepaid card instantly. These c
ards can be denominated in dollars (USD) and euros (EUR). You can deposit in many different crypto as well as fiat including BTC, ETH, XMR, XRP, and many more which will be instantly converted to support coin for your card.
UPayCard Bitcoin Debit Card
Upaycard is another premium Bitcoin prepaid card provider that can be used for online, in-store shopping, and ATMs. These cards are available in both physical and virtual cards and can be used to withdraw funds from thousands on ATMs. There are two types of cards which are Personal cards and Business cards. These cards have different charges, fees, and limits on a number of users. So you can choose the card as per your need.
Bitcard (Bitnovo) Crypto Card
Bitcard is a bitcoin debit card that converts cryptocurrencies including Bitcoin, Dash, Litecoin to Euros. You can order Bitcard online by paying a small fee of 20 Euros without any registration. You have to fill your address where this card will be shipped and delivered to the address within 5 working days. Once the card is received, you need to activate it through an SMS, and after that users can top up and start shopping with the card.
BitPay Crypto Card: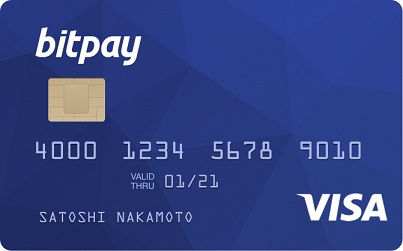 Bitpay is a reputed company in the Bitcoin system which provides payment services for businesses and individuals. It offers to get a prepaid Visa card that is connected through your Bitpay account. The BitPay Card is available to residents in US states. You must have an address (no PO boxes), government-ID, and Social Security no. to apply.
The cost of this card is $9.95 and it around 7 days to arrive in the mail. When traveling outside of the USA, you have to pay a fee of 3% as a cost of currency conversion. There is a flat $2.00 fee for ATM.
Bitwala Visa Bitcoin Debit Card: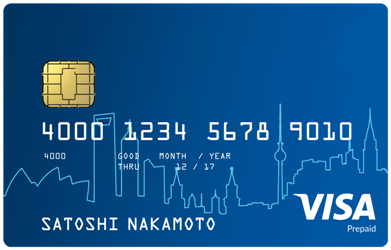 The Bitwala card is a debit card directly connected to the Bitwala online bank account. Powered by MasterCard, the card is accepted globally to pay or withdraw at over 30 million locations worldwide. Bitwala serves all EEA and Swiss residents and cards are shipped for free in less than 10 days. Except for certain ATMs that have their own fees associated with withdrawals, cash withdrawals are for free.
The Bitwala accounts are fully licensed bank accounts enhanced by a Bitcoin wallet and a trading function to bridge fiat and crypto. Together with their German partner bank, Bitwala can offer the most secure and simple way to buy, store, and use cryptocurrencies and fiat money – all in one account.
BlockCard Cryptocurrency Debit Card
BlockCard is the best way to buy what you want with cryptocurrency!   In under 5 minutes, you can create an account and get your BlockCard to use.  Fund your account with 12+ cryptocurrencies. All BlockCard users get both virtual cards and physical cards mailed to them.   You can also withdraw cash at ATMs!   BlockCard is available today for United States residents and coming Q1 2020 for residents of 31 European countries.   There are no deposit fees, transaction fees, or exchange fees.   Plus, BlockCard enables free P2P transfers and the ability to fund your BlockCard with cash at Walmart, CVS, and other national retailers!
No deposit fees, no exchange fees, and no exchange fees.
Pay $0/month when you spend over $750 or just $5/month if you're under $750
Fund your BlockCard with 12+ cryptocurrencies or cash at retailers like Walmart, CVS, or 7-11.
Works at 46 million merchants worldwide
Can be used to withdraw cash at ATMs
BlockCard is the cheapest, quickest, and best way to buy what you want with crypto. 
Crypterium Bitcoin Card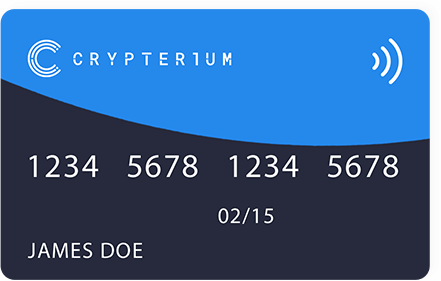 "Your money – Your way". The Crypterium Card is all about turning that bold statement into an actual reality. No matter where you are located, you can order the Crypterium Card from anywhere. If you have an internet connection and a Crypterium Account – you're ready to go! The cards are delivered at a very competitive rate. Delivery charges may vary depending on the final destination (from 10 to 25 U.S. Dollars).
First global Crypto card: Order and use around the world

Unprecedented limits: $10,000 daily / $60,000 monthly

Exchange at best rates: From Top 10 exchanges

Competitive fees: Top up fee: 1%, Cross-border fee: 2%
Keycard (Hardware Wallet + Debitcard)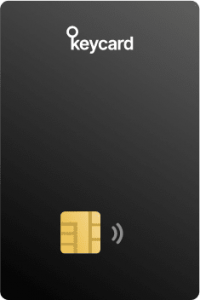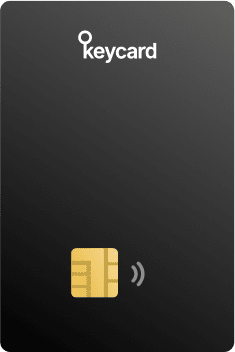 Status, a mobile browser app company has launched its new smart card hardware wallet for bitcoin, and altcoins which are named as "Keycard". The Keycard hardware wallet is a low-cost card device with an easy-to-use interface. The estimated cost of this card wallet is approx $30 only which currently available without any cost for the developers.
MCO (Crypto.com) Bitcoin Metal Card
It is another Bitcoin debit card. It is a metallic card equipped with attractive offers on different categories. There are a total of five different MCO cards differ in features and transaction limits. Users can avail of attractive discounts and fee subscriptions on Expedia, Airbnb, Netflix, and Spotify.
TENX Crypto Debit Card
TENX is the first and topmost card among the premium debit cards of Ethereum which also supports BTC. TENX was in ICO in 2017. The tokens of TENX are referred to as PAY tokens. As of now TENX card/wallet supports BTC, ETH, and LITECOIN while In the future, Tenx is also planning to add more cryptocurrencies.
Paycent
Bitcoin Debit Cards
Paycent is a global mobile wallet that has been developed to be fully compatible with the list of cryptocurrencies including Bitcoin, Ether, Litecoin with high liquidity, and offer seamless conversions between fiat and crypto-assets.
As a service Paycent also provides its customers a debit card that is linked to their digital mobile wallet. Customers are free to make purchases with the use of cryptocurrencies in across 200 countries.
FuzeX Card (Display + Buttons)
Fuzex card is an all in one secure and easy to use cryptocurrency card. The most attractive and outstanding feature of this card is a display and 2FA security. It comes with a rechargeable battery, an e-paper display screen, and 3 small buttons on the card.
Conclusion:
After looking into all the bitcoin debit cards, one can easily make out that they are almost the same. There is not much difference among all of them. What differs is the imprinting and fee slightly, which is common when you buy bitcoin with either a credit card or when you attempt to buy Bitcoin with PayPal or another company that processes payments. Only one should keep in mind while choosing the best bitcoin debit card, they must cost less charge during the transaction and gives you a good profit.