10 Best ZCash Wallets | Top ZEC Wallet In 2021
Zcash or ZEC is one of the fastest-growing cryptocurrencies in the world today. Zcash was launched in 2016 and is based on "Zero-knowledge cryptography" that offers the ultimate privacy protection to all crypto transactions.
The key components of zero-knowledge cryptography are:
It gives complete transaction privacy by hiding the payment history and transactions with the sender.
All the transactions are encrypted that secures them from third-party infiltration.
Users have complete control in whether to hide or show their transaction history.
Zcash is new in the market and has integrated with some of the best crypto wallets in the market. Here is a list of some of the best Zcash wallets.
Best ZCash Wallets For ZEC
Hardware wallets are the most secure place to keep your cryptocurrencies safe. In this article, we have listed four popular hardware wallets from Trezor and Ledger. There are many more hardware wallets offering different features and functionality. You may check the complete list of 25+ hardware wallets here.
Atomic Wallet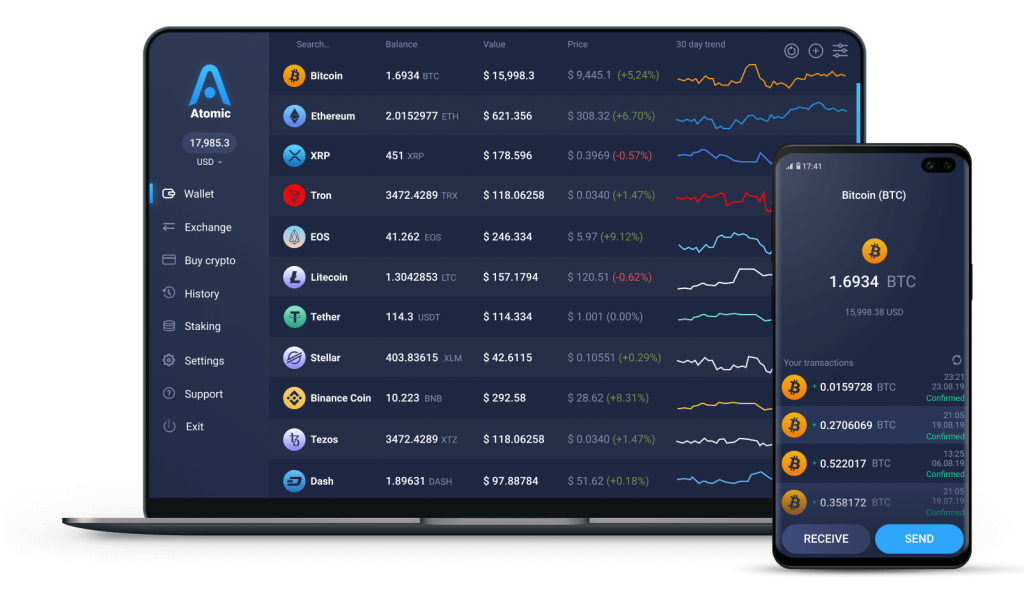 Atomic wallet is an open-source, decentralized secure and anonymous cryptocurrency wallet. Currently, it supports more than 300 coins including Zcash (ZEC) and a big list of tokens. The wallet is available for both mobile and desktop platforms.
Atomic wallet is loaded with complete features of a modern crypto wallet. Users can fully control their funds and have access to their pvt keys. Wallet supports staking for PoS coins and also has a built-in exchange.  AWC is the native cryptocurrency of this wallet which is available in a airdrop, yes you can claim AWC.
Claim your free 15 Atomic Wallet Coin (AWC):
Download Atomic Wallet and complete the setup.
go to setting->airdrop
fill your email id and use p172G5R to get 15 free AWC coins.
Trezor (Hardware Wallet)
Trezor is one of the most trusted bitcoin wallets and supports 14 cryptocurrencies. It is based on the "zero-trust approach" that prevents third party infiltration. Get Trezor Now
Key features of Trezor include:
It is supported by a PIN code.
In case of loss of your wallet, you can recover it with a 24-word passphrase.
It can only be used for storing, receiving, and sending bitcoins. You cannot download any applications in the wallet.
The device can only be connected through a USB port. It does not operate on batteries and is not connected to Bluetooth or Wi-Fi. There is no camera for scanning the transactions.
Trezor Model T(Hardware Wallet)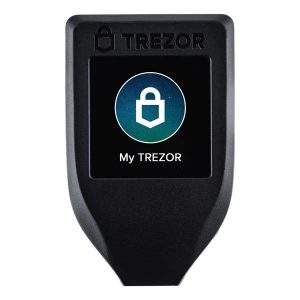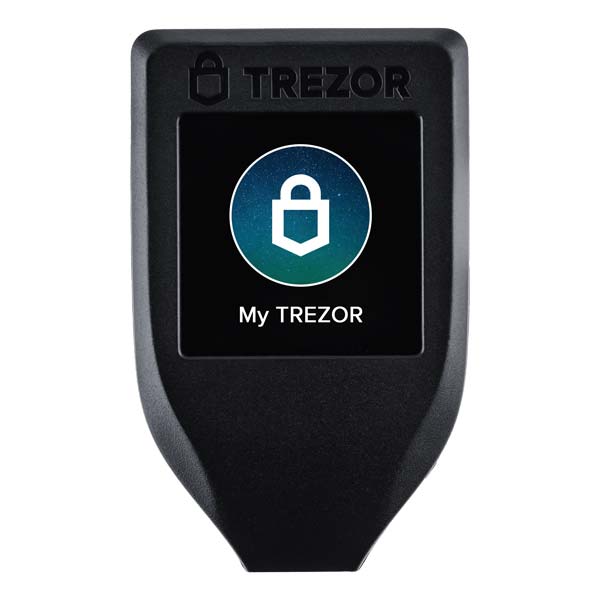 Trezor Model T is a hardware wallet and the latest version of Trezor. It has an LCD touchscreen, microSD, and USB-C feature that makes it easy to use anywhere in the world. Get Trezor T Now
Key features include:
Supports multiple cryptocurrencies.
It is compatible with Windows, Linux, and OS X operating systems.
It supports Android phones.
Ledger Nano S (Hardware Wallet)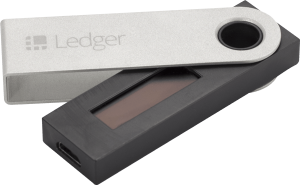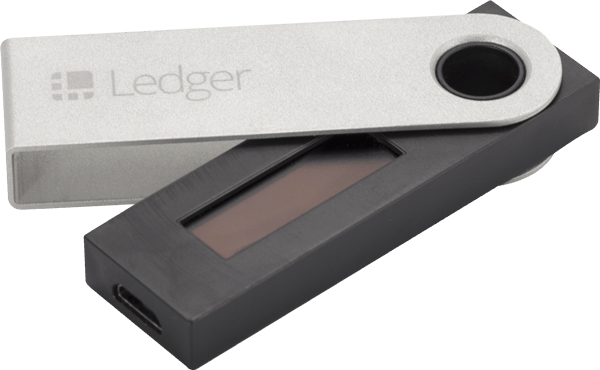 Ledger Nano S is a hardware wallet and has a built-in OLED screen that helps you to check all your transactions with the tap of your finger. Get Ledger Nano S
Key features of Ledger Nano include:
The device comes with a recovery sheet with a 24-word seed code that can be used in case of loss of the wallet.
The wallet comes with a key chain, keyring, and a lanyard so that you can wear it on your neck.
A USB cable.
It is compatible with Chrome, Linux, Mac, Windows 7, etc.
It supports other software wallets such as Ledger Wallet Ethereum, Bitcoin, Ripple, Electrum, Copay, Mycelium, MyEtherWallet, BitGo, etc.
It supports 13 cryptocurrencies including Bitcoin, Zcash, and Ethereum.
You can run other applications on this wallet.
Stores your digital currencies offline.
Ledger Nano X (Hardware Wallet)

The Ledger Nano X is a hardware wallet and supports more than 23 cryptocurrencies including ERC20 coins. Get Nano X Now
Main features include:
The wallet is supported by a secure chip and all your funds are stored safely in the wallet.
Supports more than 100 applications.
It is compatible with Windows 8+, Mac, and Linux.
It supports android and iOS phones.
Guarda Wallet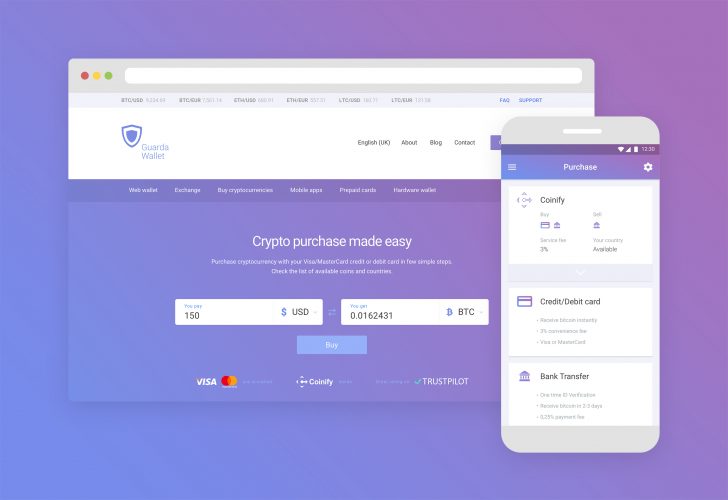 Founded in 2017, Guarda is a multi-currency wallet that supports 45+ chains and 10K+ tokens including ZCash. Guarda wallet is available for different platforms including web, desktop, chrome extension and desktop. It is a multi-signature wallet compatible with the Ledger Nano S hardware wallet. The function which I like the most is the built-in exchange so that users can exchange cryptos without transferring them to any exchange within the wallet only. Apart from the above-mentioned features this wallet also allows users to buy and sell cryptocurrency within the wallet itself. Guarda wallet also supports Zcash's shielded transactions which use a more complicated method and takes longer to perform.
Jaxx Liberty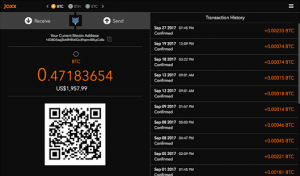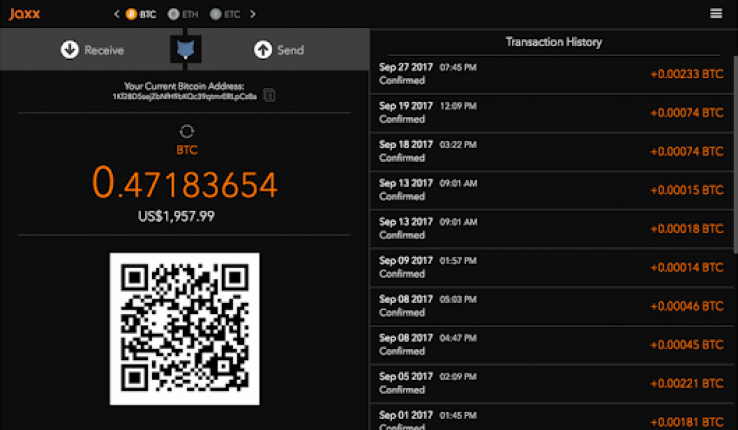 Jaxx Liberty is a multicurrency offline wallet and is new in the market. It supports multiple cryptocurrencies including Zcash, Ethereum, Bitcoin, Litecoin, Ethereum Classic, Dash, and REP. Features include:
It is a desktop and mobile compatible wallet.
Users have full control over the wallet.
Easy conversion of cryptos between Bitcoin, DAO, and Ethereum.
Coinomi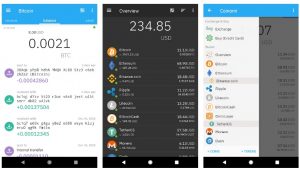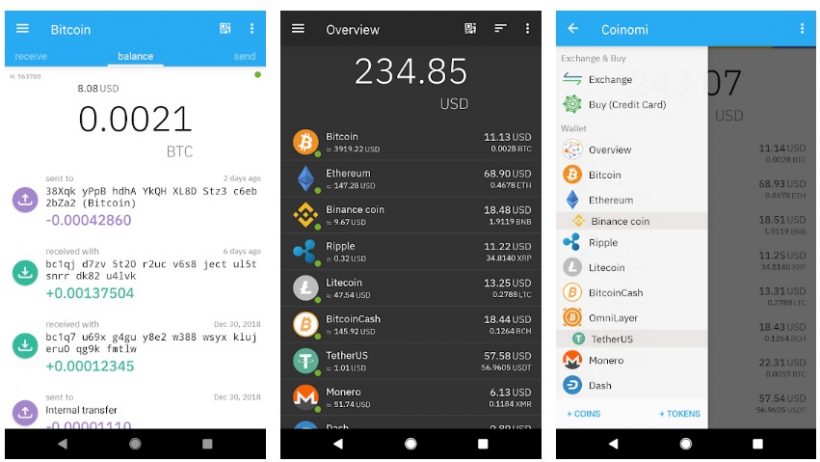 Coinomi is a multicurrency mobile wallet and is available both for Android and iOS phones. It is an HD (hierarchy deterministic) wallet and generates a new address for every transaction. Features of Coinomi include:
It supports more than 70 cryptocurrencies including Bitcoin and Zcash.
The user interface is very simple.
It has a built-in exchange for assets trading.
It supports different languages including Russian, Chinese, and English.
The wallet is completely free.
Exodus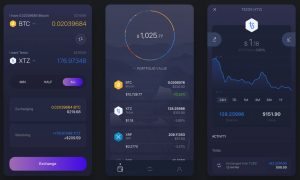 Exodus is a mutli crypto coin wallet available for desktop and mobile platform. The app can be downloaded into your android and iOS phones. Features include:
It supports more than 100 cryptocurrencies.
It has a built-in exchange platform.
All assets are stored offline.
All private keys are encrypted for device security.
Coinbase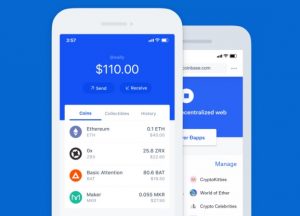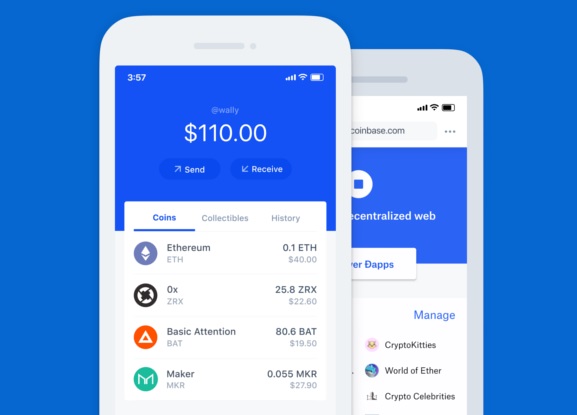 Coinbase is a multicurrency software wallet. It has a wide spectrum of functions and the app can be downloaded into your android and iOS phones. Features include:
All assets are secured through biometric authentication.
It is a decentralized exchange platform where you can download apps, participate in ICOs, buy, and sell cryptos.
The wallet username helps you to pay anyone anywhere in the world.