5 Best Waves Wallets | Top Waves Wallet List 2022
There are only a few Waves wallets are available. We have listed all popular wallets for Waves to that you can decide the best Waves Wallets for you.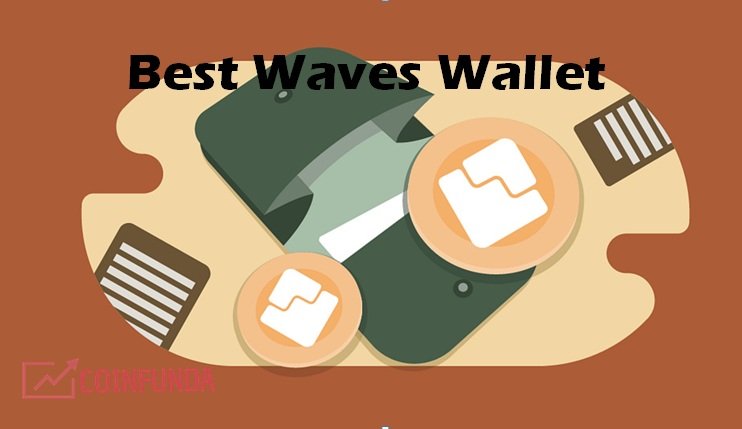 The Waves Platform is a decentralized open-chain blockchain platform for users of the crypto world to create dApps, crowdfund, create and release new crypto coins in the market through blockchain. It allows users to exchange their cryptocurrencies into fiat currencies. The Waves platform is fairly simple and takes only a few seconds to complete a transaction. One of the major attractions of this platform is the ability to tokenize any crypto coin to the token of the choice of the user.
The Waves platform has a user-friendly interface and is available for Android, iOS, and web browsers. It can be used in Windows, Linux, and Mac operating systems as well. It does not take much of the storage space as users do not need to download the entire blockchain in their systems. The Waves Wallet is the official wallet of the Waves platform.
Features to look into before choosing a wallet
A user-friendly interface.
Whether it supports the platform.
24/7 customer support.
Extensive security features.
Development of wallet infrastructure and features on a continuous basis for better functioning.
Best Waves Wallets of 2022
Let us now look into some of the best Waves Wallets to store your Waves coin and their features.
Recommended Read: 20+ Hardware Wallets for Bitcoin and Altcoin
Atomic Wallet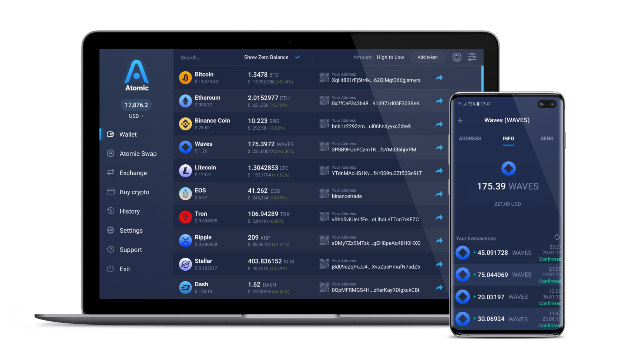 Atomic wallet is one of the top wallets for storing Waves and 500+ other coins and tokens. The app is fully decentralized and guarantees your anonymity, as long as you keep your mnemonic seed in a safe place.
Atomic Wallet is developed for Windows, macOS, Linus, Android, and iOS.
Claim your free 15 Atomic Wallet Coin (AWC):
Download Atomic Wallet and complete the setup.
go to setting->airdrop
fill your email id and use p172G5R to get 15 free AWC coins.
It has a cozy interface and full-packed with important features:
Anonymity and Security

Staking

Perfect UI

5-Star rating on TrustPilot

Multi-Currency

Zero Fees

Instant Exchange and Buy-in Crypto Option

24/7 Support
Guarda Wallet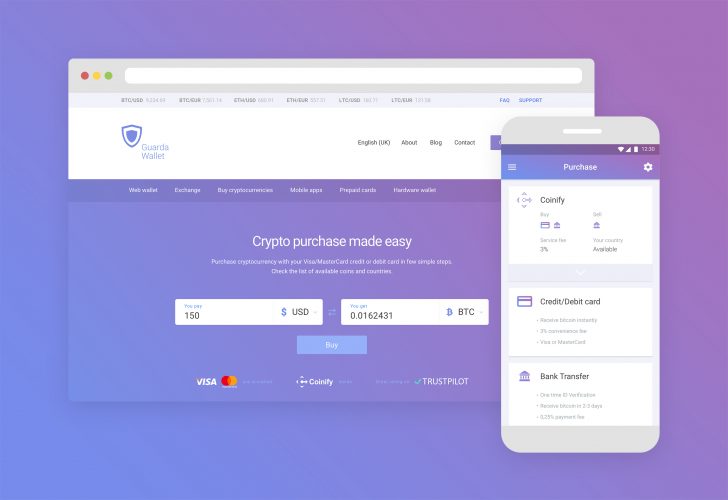 Guarda WAVES wallet is available for Web, Desktop, Chrome Extension and Mobile (iOS and Android). All the storages are multi-currency and non-custodial, so the users have full control of their multiple assets and, obviously, private keys.
Guarda supports over 40 major blockchains and over 10k crypto tokens in one wallet, offers built-in exchange and purchase functions, currency-specific features and more.
When it comes to the interface – fund management with Guarda wallet is an easy and understandable process. Due to being a technologically advanced crypto wallet, Guarda is an attractive pick for the experienced users, but the overall user-friendliness makes these wallets a great choice for crypto beginners, too.
Some of the key features of WAVES wallets on Guarda are:
Secure backup encryption and custody-free storage policy
Built-in purchase and exchange services
Wide range of supported cryptocurrencies with new coins and tokens added constantly
24/7 customer support line with the fastest response time on the wallet market
Cross-platform operations – all the wallets are easily synced across available versions
Currency-specific features of supported coins
Additional services such as ERC20 Token Generator
Ledger Nano S integration
Waves Wallet Android
Waves Android Wallet is a mobile wallet and can be downloaded in your Android phone. The wallet is easy to use and is connected to public wave nodes so one can go through the transaction details and make payments as well. It supports multiple wallets on a single device. Users do not need to login or use their password to show transaction details. Fund can also be transferred through the sharing of a QR code and sharing the app link. It is very important to write down the wallet seed code in a piece of paper or somewhere else for future referral and security.
Waves Wallet iOS
The Waves Wallet iOS is a free mobile wallet. It is also connected to public wave nodes and one can view all transactions and make payments as well. This wallet has all the features of the Wave platform and one can even trade on DEX, store and send tokens, or use it as a bitcoin wallet. Users can send waves or waves tokens via a QR code or address link. The wallet seed is protected by Touch ID and there is a backup seed functionality as well. This is perhaps one of the best Wave Wallets by far, but one needs to know how to use it in an iOS phone.
Waves Lite App (chrome plugin) [Shutting Down]
Unlike the other wallets this too connects with the public wave nodes. Users can verify and complete transactions on crypto coins on the Waves Blockchain Platform. One can also write on the web browser and notify after completing a successful transaction.
Note: Gogole is shutting down Chrome web store. Save your seed and start using desktop or lite web app wallet.
Waves Brain Wallet
The Waves Brain Wallet does not store any private keys and does not have .dat file. While creating an account you need to give a 15-word seed code. So, it is highly advisable not to lose this seed in case of recovery of account. Users also need to create a password while opening an account.
Conclusion
We have discussed list of best Waves wallets for storing Waves for long term investment. All the Waves Wallets can be downloaded from Google Play,itunes, and Chrome Web Store. Waves Lite App can be downloaded https://waveswallet.io/. Desktop wallets can be downloaded from Github. Some of the best features of Waves Wallet is its decentralized voting system, shapeshift, hardware wallets, atomic swaps and messaging.