Cryptocurrency derivatives are gaining popularity over time. Crypto derivatives are not digital currencies but can be defined as financial products like securities or contracts that are used to sell cryptocurrencies or to track the market price of a cryptocurrency.
Derivative trading is a very common way to derive the future prices of other assets, commodities, products, precious metals, and equities. Crypto derivative exchanges are used to trade cryptocurrencies and comprise about one-fourth of the total crypto trading volume. Trading derivatives can be tricky and involves a lot of risk in regards to the lack of liquidity and the volatility of the crypto market.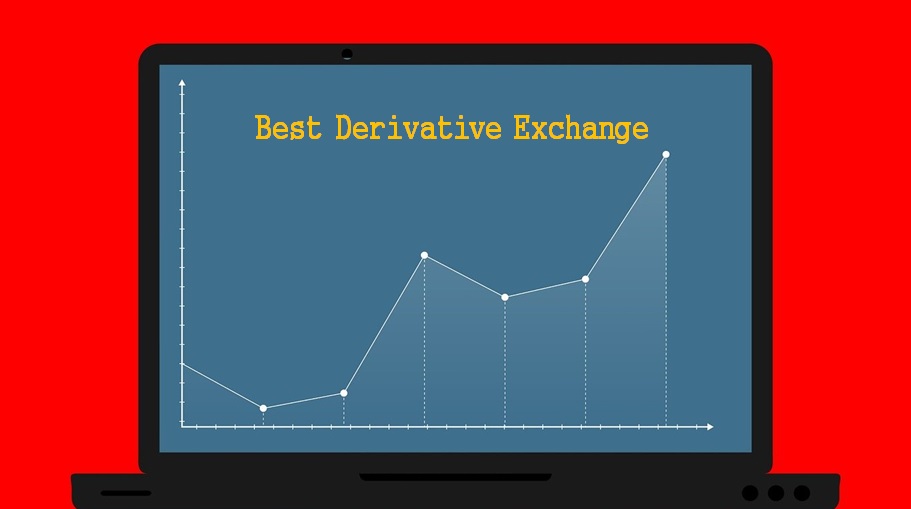 Best Crypto Derivative Exchanges 
Here are enlisted a few of the derivative platforms that not only offer liquidity and stability but are also used to trade other instruments like stocks, commodities, indices, forex, and ETFs.
Binance
Binance is one of the most famous derivative exchanges and is serving the market since 2017. At present, Binance only supports bitcoin and USD. Binance offers leverage up to 125x which is probably the highest in the lot and on top of that a 50% discount for the first 3 months. Visit Binance Exchange
ByBit
ByBit is based in Singapore and was launched in 2018. The platform provides 100x leverage to its users. ByBit supports BTC, ETH, XRP, and EOS. The platform offers fast transactions of about 100,000 transactions in a second. All funds are stored in an HD (hierarchical deterministic) cold storage wallet. Users can withdraw funds up to 3 times a day. Visit ByBit Exchange
OKEx
Launched in 2017, OKEx has its headquarters in Hong Kong. The platform offers leverage up to 20x. To participate, users have to complete a quiz task that showcases their knowledge about derivative exchanges. OKEx offers all the standard derivative tools like order book, trading, and technical tools, price charts, etc. It charges a very nominal fee of 0.01% for makers and 0.03% for takers. Visit OkEX Exchange
BitMex 
BitMex is operating in the market since 2015. One of the prime features of BitMex that separates it from the other derivatives is its liquidity. BitMex allows its users to leverage products up to 100 times on bitcoins and USD. Traders can also take advantage of several derivative tools like trade printing, order book, price chart, and other technical tools.
BitMex fees are 0.075% for market takers and 0.025% for market makers. Signing up for BitMex is easy. You just have to give your email ID and you are ready to go. Visit BitMex Exchange
BaseFEX
BaseFEX is comparatively a new derivative platform and is clean and transparent and has a very user-friendly interface. It supports both bitcoins and altcoins and provides other tools like market charts and pricing, and also real-time asset positions in the market. All user funds are stored in multi-signature cold storage wallets. BaseFEX provides 100 times leverage to bitcoins and about 20-50x leverage to altcoin users.
About 5 to 7 partners have to take part while signing a new transaction which authenticates the security of the funds. The transactions are further secured by a two-factor authentication process. The platform also ensures that no private keys are shared on the server. BaseFEX charges a very nominal fee of 0.07 to 0.20% for takers and there are no fees for makers. Visit BaseFEX Exchange
Deribit
Based in Amsterdam, Deribit is one of the prime competitors of BitMEX. Deribit offers to leverage bitcoins and USD to about 100 times the price. The taker fee in Deribit is 0.075% and about 0.025% for makers. Option fees are about 0.04%. Visit Deribit Exchange
PrimeXBT
PrimeXBT is new in the market and was launched in 2019. The user interface is very intuitive and supports more than 30 cryptocurrencies. To board on to PrimeXBT, users need to register with their valid email ID. PrimeXBT supports trading for cryptocurrencies, forex, stocks, commodities, etc. Visit PrimeXBT Exchange
BitFlyer Lightning
bitFlyer was launched in 2015 and has its headquarters in Japan. It offers crypto trading along with Forex and other products. Users can trade both in Bitcoins and Japanese Yen (JPY).
bitFlyer offers 15x leverage. There are several plans for futures like weekly, monthly, and quarterly. One of the major limitations of bitFlyer is that it does not support too many cryptocurrencies and not even altcoins. Furthermore, the bitcoins are valued against Yen and are mostly suitable for Japanese traders.
CME and CBOE
CME (Chicago Mercantile Exchange) and CBOE (Chicago Board Options Exchange) was launched in 2017. All contracts are done in USD and are meant for institutional and big investors.
In CME, users need to offer a minimum margin of 35% and are done on 1 bitcoin. CBOE, the initial margin is 40% and is based on 5 bitcoins. To trade products, users have to hire a broker or register for a seat in the exchange. Since it requires huge capital inflow, it is mostly not suitable for crypto traders and small-time investors. The trade market is also open for a selected number of hours.