Introduction
Cryptocurrency is no longer restricted to computer geeks and fintech experts. No other sector in the global economy has grown as much as cryptocurrency. People have a wide range of opinions on cryptocurrency. Some think it is the future of money, others feel that it is nothing but a bubble economy. Without taking an extreme stand on either end, we can safely say that crypto is a growing economic force of our era. 
Big companies are trying to get their fair share in the global crypto market. No wonder some of the biggest market players like Tesla and Square Inc. have major investments in cryptocurrency. With Bitcoin trading at an all-time high price, the future of crypto looks bright. Tourism is set to benefit greatly from the rise of digital currencies. Cross-border payments are a major component of the travel and tourism industry. Cryptocurrency is opening new avenues for cross-border payment solutions. 
Top 5 Travel Websites Accepting Crypto Payments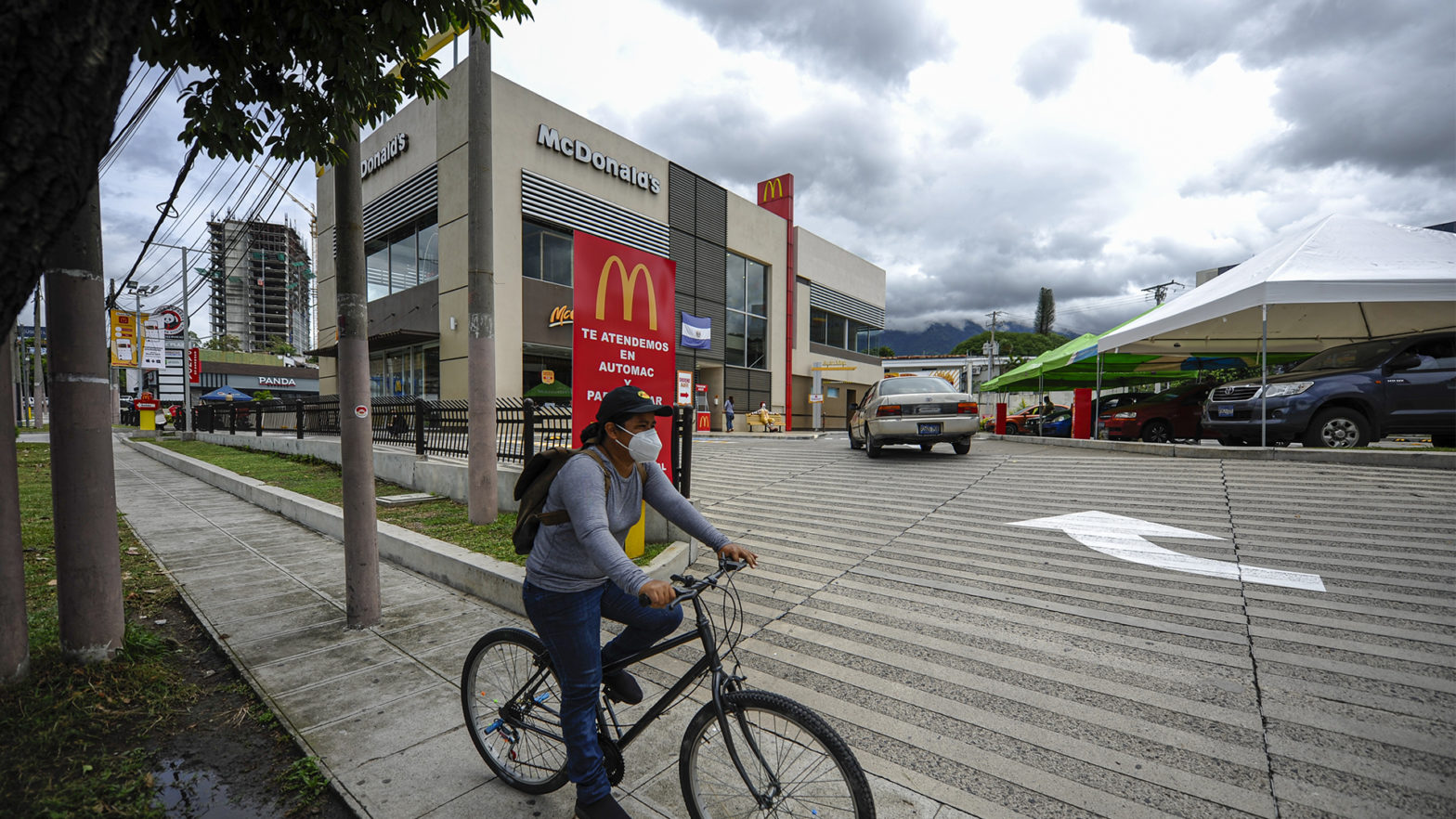 A common misconception among crypto newbies is that it is very difficult to use digital currencies in day-to-day transactions. While it would have been true a few years ago, it is far from the reality now. 
In El Salvador, you can even buy McDonald's with Bitcoin. It is not the case for every country, but ways to spend Bitcoin in daily transactions are increasing day by day. The travel and tourism sector is no exception. More travel websites now accept payments in cryptocurrency than ever before. 
The growth of cryptocurrency is also in part due to the ease of investing in crypto. With the rise in smartphone technology, now all you need to invest in cryptocurrency is a smartphone. With apps like Moonpay, trading in crypto is easier than ever. Easily buy BTC, BNB, ETH, or any cryptocurrency of your choice from these apps. 
Today we will have a look at the top five travel websites that are now accepting crypto payments. While curating the list, our primary focus was on ease of use, availability of services, and a spotless track record. 
Without wasting more time, let's find out more about the five best travel websites accepting payments in crypto.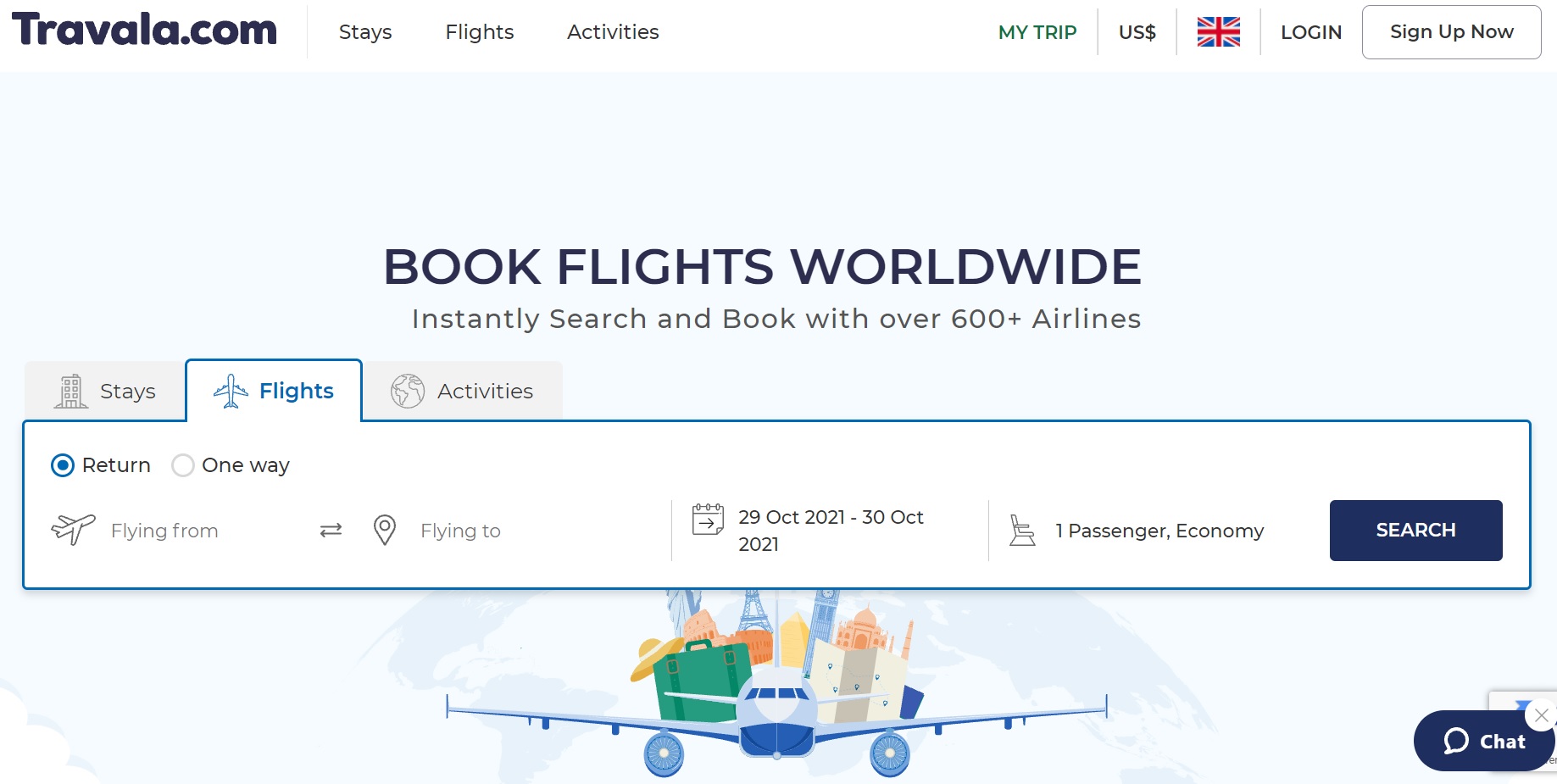 Travala is just like any other major travel website. If you are looking to buy flight tickets or book hotels, you can do it easily from Travala. You will only notice the significance of Travala once you browse through their payment options page. Travala accepts all the major cryptocurrencies currently in circulation. Users have the option of paying through leading cryptocurrencies like Bitcoin, Ether, and AVA. However, they also have the option of paying with less popular tokens like Kishu Inu and OM coins, among others. 
AVA is the native currency of Travala. If you are buying tickets or booking hotels with AVA, you will get special discounts and offers. AVA is one of the most promising cryptocurrencies in the world today. If you happen to be interested in AVA, you will love using Travala and its features. 
Travala has not sidelined crypto payments as just another feature of their platform. Instead, the booking platform is based on the convenience of using cryptocurrency. If you are a crypto enthusiast and a frequent traveler at the same time, Travala has all the qualities to become your best friend. Start Booking with Travala!!!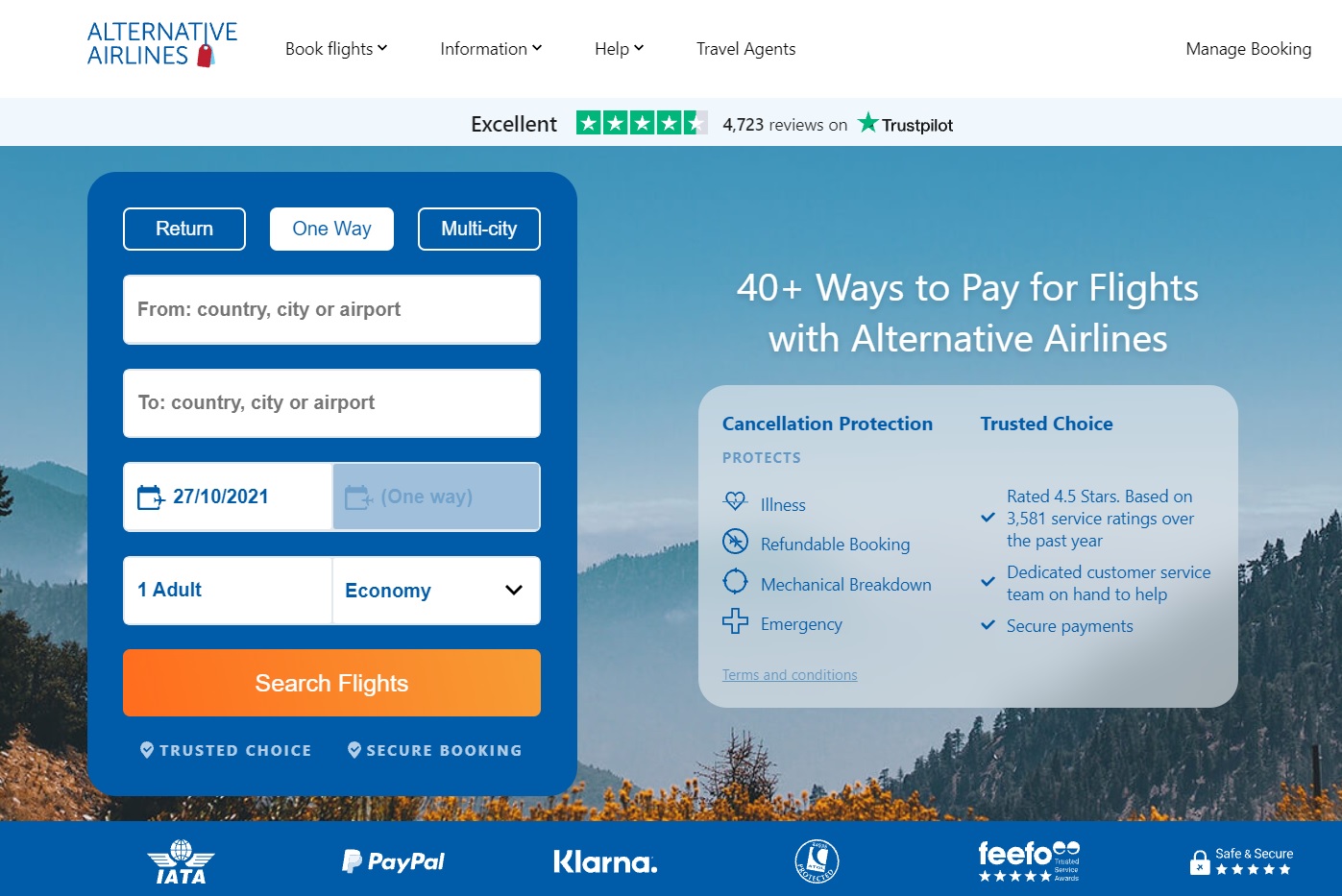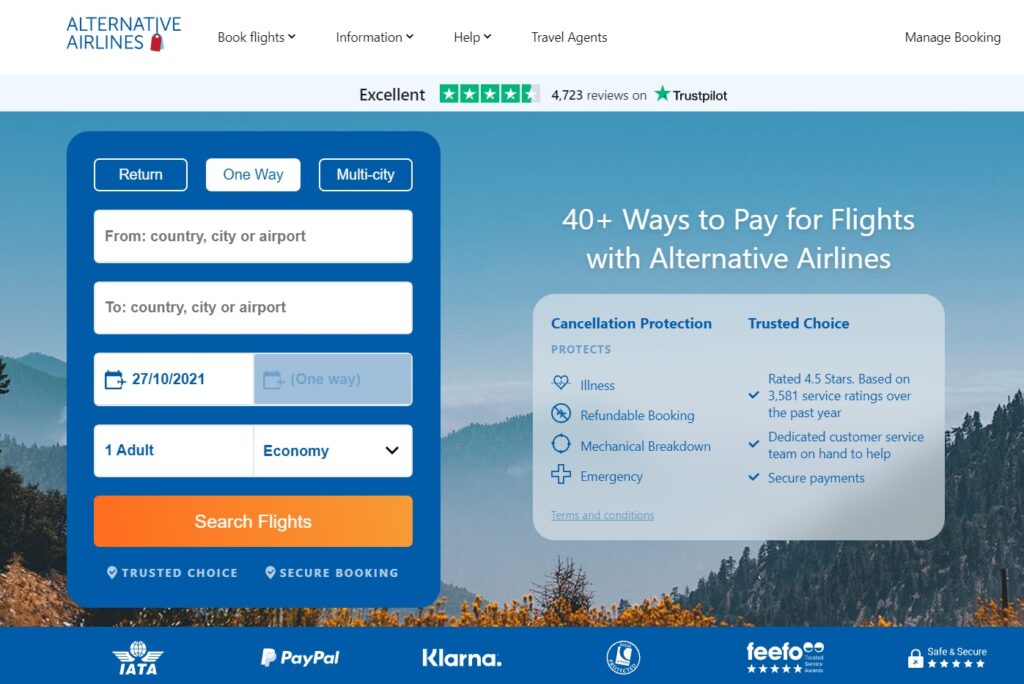 Alternative Airlines is not on our list only because it accepts payments in crypto, but also because it is one of the best flight booking platforms out there. Founded in 2006, the company has grown in strides over the years. With the integration of crypto payment options, it is fast becoming the favorite flight searching and booking platform for cryptocurrency users. 
Alternative Airlines has impressive performance stats that can give any travel company a run for its money. Whether you want simple round trip tickets or wish to go on a complex multi-city itinerary, Alternative Airlines does the job for you. You can pay with more than 160 currencies in Alternative Airlines. Not only that, they have more than 40 international payment gateways available. 
In terms of features and functionalities, Alternative Airlines is the best you can find on the internet. When a company has an average customer rating of 4.4/5, it must be doing something right. You should definitely check out Alternative Airlines the next time you want to buy flight tickets with cryptocurrency. Their platform supports all major cryptocurrencies, be it Bitcoin, Ether, or Litecoin.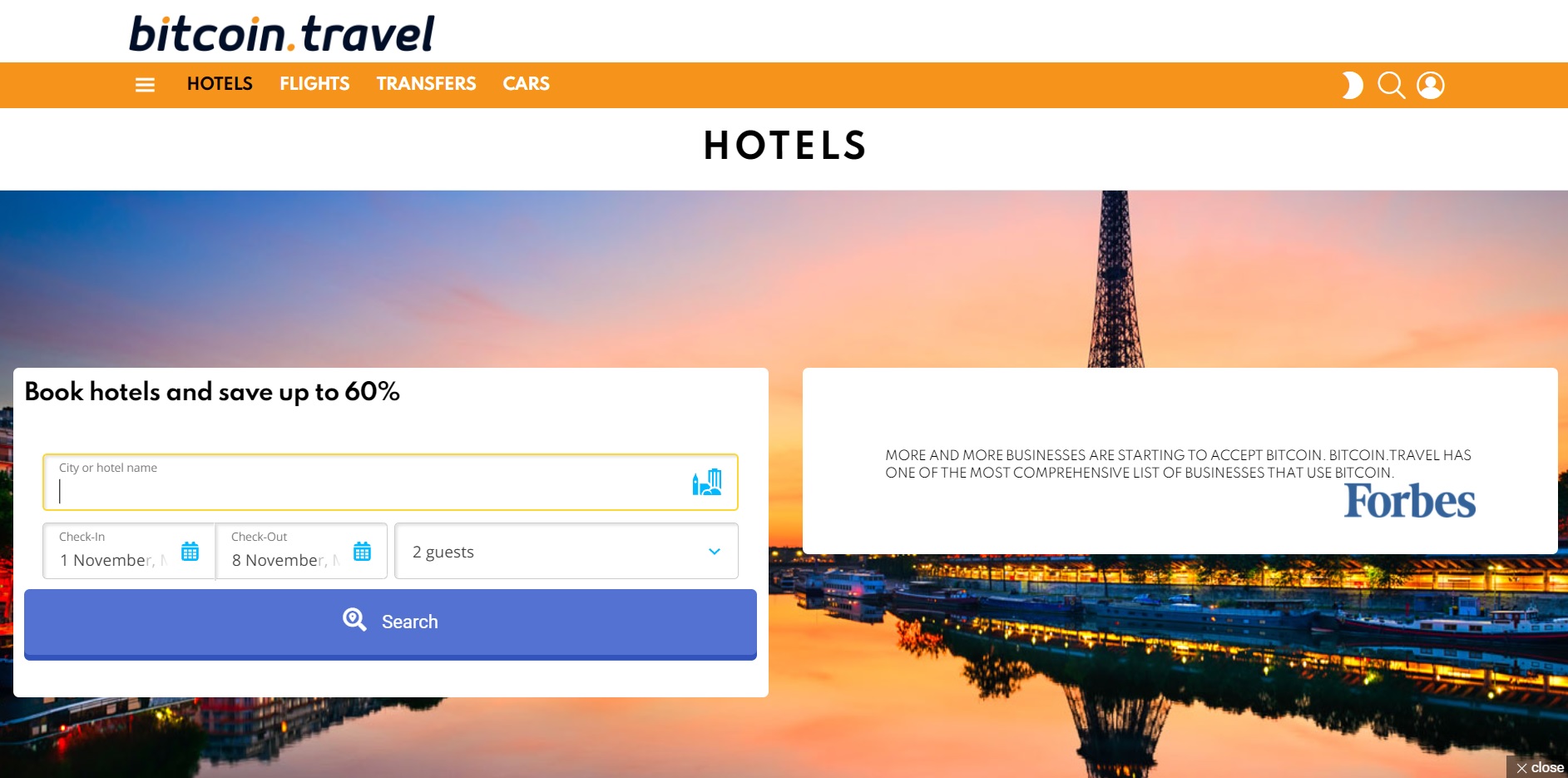 If you are looking for a reliable platform to book your tickets using cryptocurrency, you safely head over to Bitcoin.travel. Being one of the oldest platforms to accept payments in cryptocurrency, they have a solid payment mechanism with top-notch security.
Bitcoin.travel is Bitcoin's own booking platform. On the surface, it looks like any other booking platform that we generally use to get our tickets and book our hotels. However, Bitcoin.travel is set apart by its reliability and wide range of options.
Bitcoin.travel is an authoritative name in the domain of cryptocurrency-based travel websites. The most impressive feature of Bitcoin.travel is its payment options page. In addition to paying with almost any established cryptocurrency, you also get a real-time metric of their performance. You can see everything from a cryptocurrency's price to its market cap. 
You get impressive discounts from time to time on Bitcoin.travel. Using this platform for your travel requirements can save you a lot of money in the long run. Bitointravel has been featured in major media houses like New York Times, CNBC, and Forbes. 
Bitcoin.travel is often the first platform that comes to mind when talking about cryptocurrency-based travel websites. With its impressive performance over the years, it deserves a spot on this list.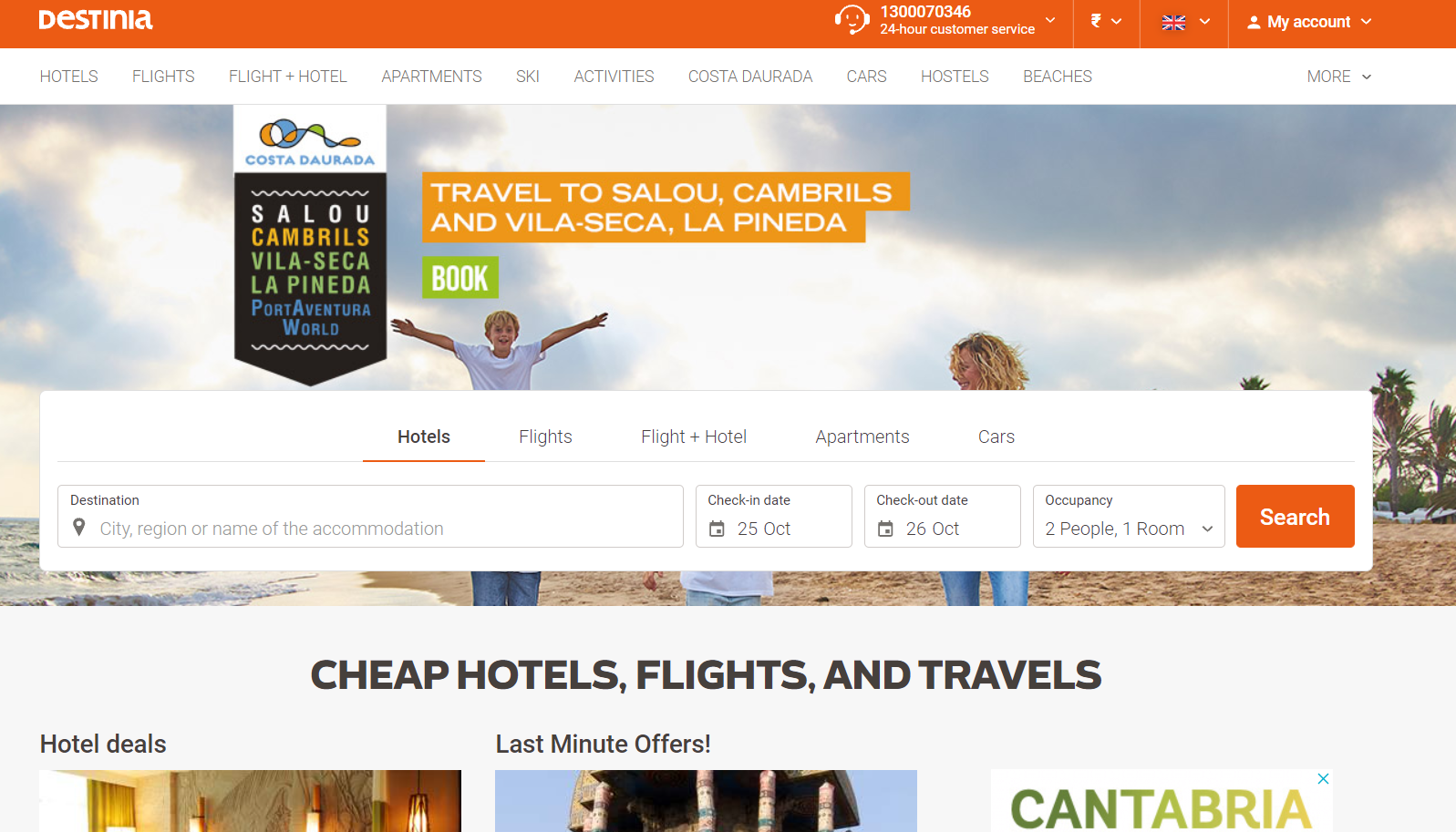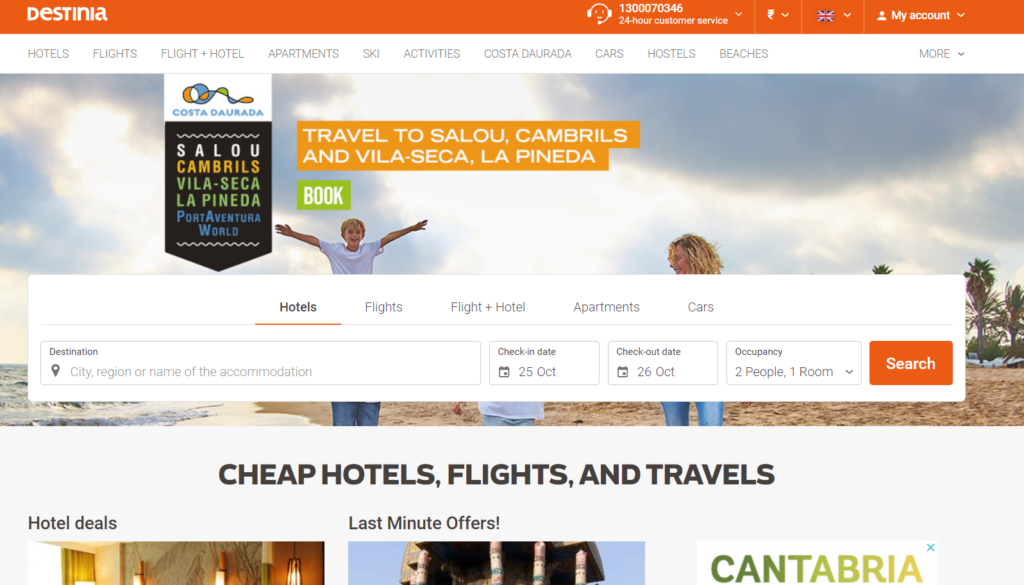 Destinia is a known name in the travel website sector. Their service is both robust and fast. You also get many features on their platform. From booking flights to getting packages in flight and hotel booking, Destinia does it all. They also have different sections for booking activities. You can book a ski experience from Destinia, or book a city tour.
 As you browse through the official website of Destinia, you will come across a wide range of activities for you to book. They also have a dedicated section for booking beach hotels. Apart from hotels, they have an impressive collection of hostels and apartments on their website. In short, Destinia is a one-stop solution for all your travel needs.
For all its merits, Destinia does fall short in one aspect. Unlike Travala or Alternative Airlines, you can only buy their services using either Bitocin Cash or Bitcoin. As more cryptocurrencies are gaining prominence, we can expect to see this change in the future. Destinia is a great option for the average crypto user. If you primarily deal in Bitcoins, the platform has all the services you can ask for.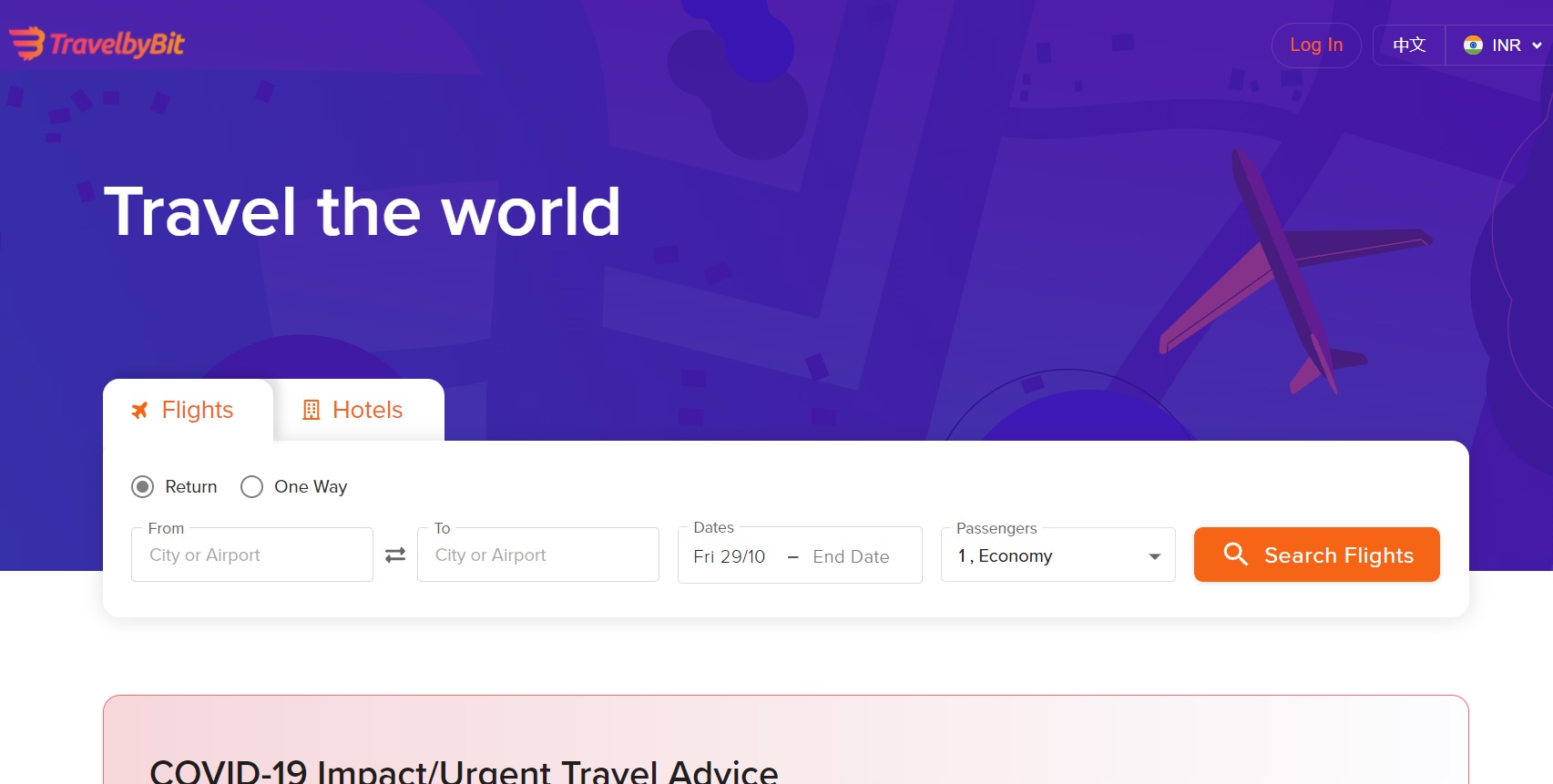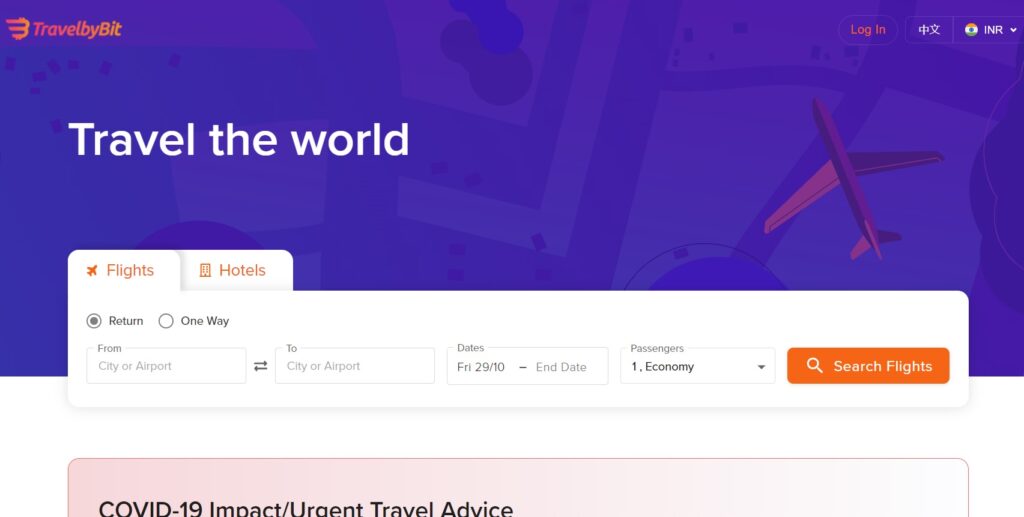 TravelbyBit is our last entry to the list and can be very rewarding if you primarily use Bitcoin for payments. TravelbyBit has a very simple and intuitive user interface. There are not as many options as you will find in Destinia, but it takes care of the basics. If you are someone who likes a clean and organized interface, you would love to use their platform.
Travala, the first entry in our list, is also a partner of TravelbyBit. When you sign up for Travala using TravelbyBit's platform, you get $10 in credits instantly. TravelbyBit accepts all major cryptocurrencies like Bitcoin, Ethereum, Binance Coin, and Litecoin.  Binance also happens to be a partner of TravelbyBit. With the backing of one of the biggest cryptocurrency exchanges in the world, TravelbyBit is one website you can trust to deliver. 
If you are looking for good customer support, TravelbyBit will not disappoint you. Across review sites, TravelbyBit has received positive feedback from its users.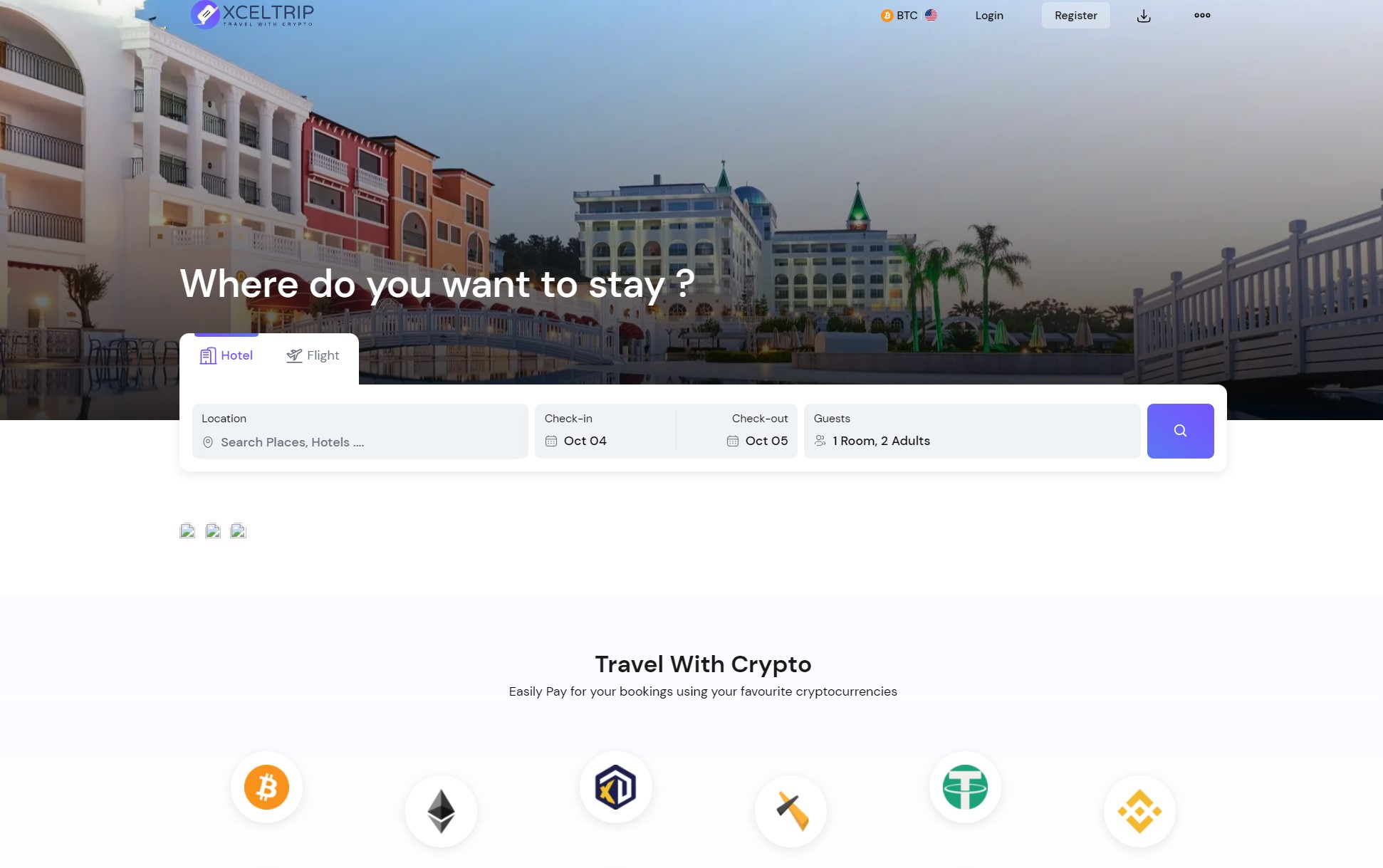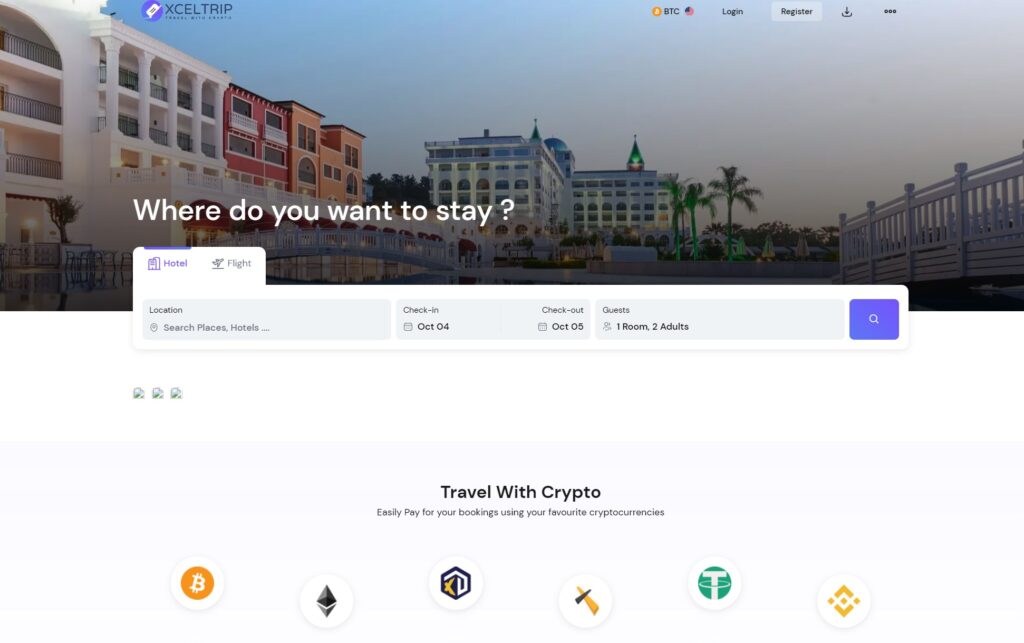 XcelTrip is an ambitious venture set to revolutionize the travel industry through blockchain technology. It empowers travelers to book accommodations, flights, and activities worldwide, all while utilizing a diverse range of cryptocurrencies. One standout feature is their native token, XcelToken (XLAB), which unlocks enticing discounts and cashback rewards. XcelTrip seamlessly blends an extensive network of travel services with the security and convenience of blockchain technology, ensuring a smooth experience for crypto enthusiasts setting off on their journeys.
CheapAir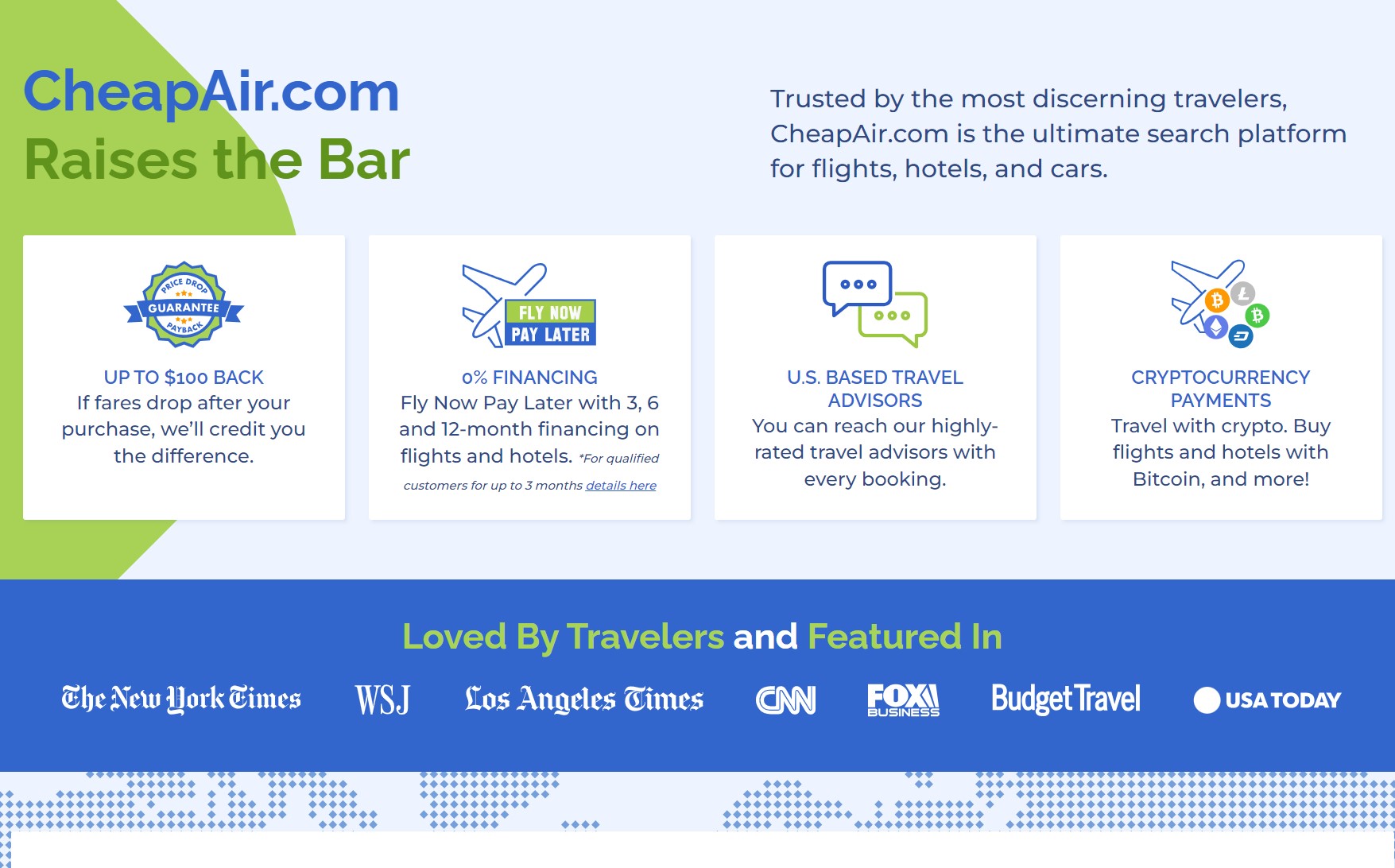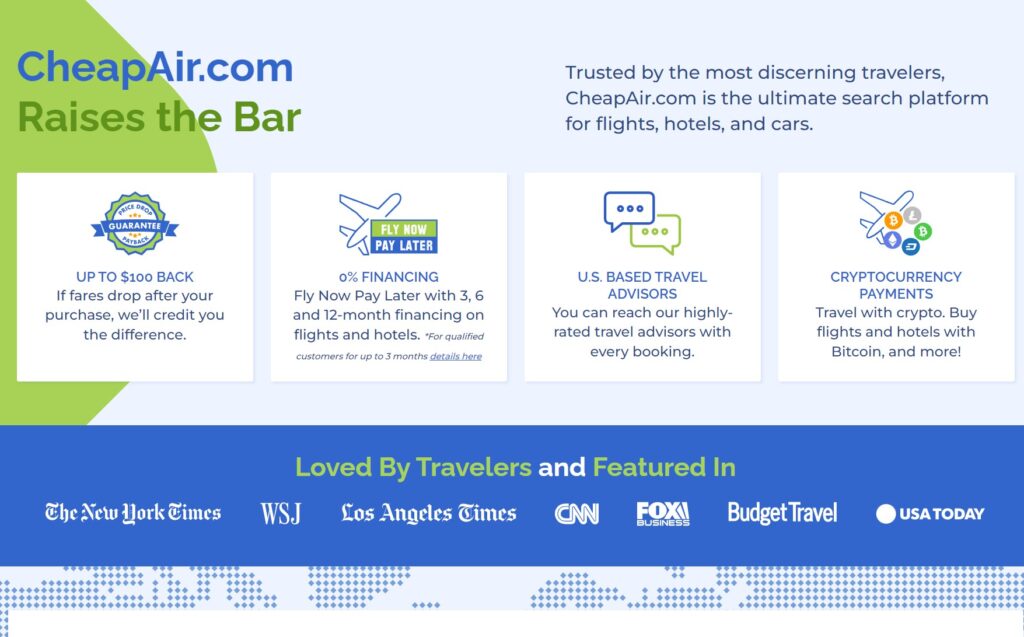 CheapAir is a travel website that offers a variety of features designed to simplify the process of booking flights and accommodations affordably with payments in cryptocurrencies. The website also offers a flexible date search tool, which enables travelers to explore different travel date options, helping them uncover the cheapest fares available.
In addition to flights, CheapAir provides options to book hotels, rental cars, and complete vacation packages, streamlining the entire travel planning process. The website's 24/7 customer support ensures that users receive assistance with any questions or concerns throughout their travel experience. Real traveler reviews and ratings are available to help users make informed decisions about airlines and accommodations
Conclusion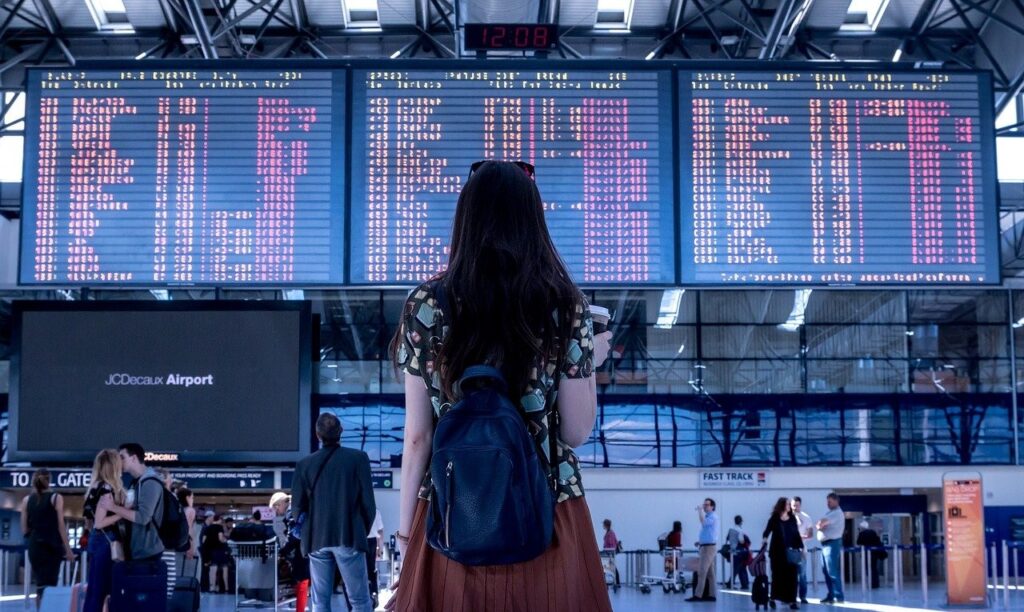 We are increasingly moving to a world where cryptocurrency is becoming mainstream. What was once a deviation from everyday economics is now becoming a norm. Governments around the world are getting interested in crypto, just like top businesses and corporate houses. The travel and tourism sector is showing immense promise in incorporating cryptocurrency into its ecosystem. Our list of travel websites accepting crypto payments is not exhaustive. There are more platforms out there transacting in cryptocurrencies.
Whether we like the idea of cryptocurrency or not, we cannot deny its influence on the world. The sooner you understand these digital currencies, the better for you. As we can see from the example of the tourism sector, more and more sectors will slowly shift to crypto. It is best to be prepared for the upcoming paradigm shift in the global economy. With our list of five travel websites accepting crypto payments, you can now travel the world with cryptocurrencies alone. In the Comments section below, let us know if you have used any of the above for your travels.